Connect me to:

Restaurant Review
Evergarden Hotel Restaurant (Tainan, Taiwan)
2269-1127
Evergreen Plaza Hotel,
Tainan, Taiwan
---
Reviewed by: Vincent Fu
Fall Volume: 2006 Issue: 13(3) page: 27 and 28
---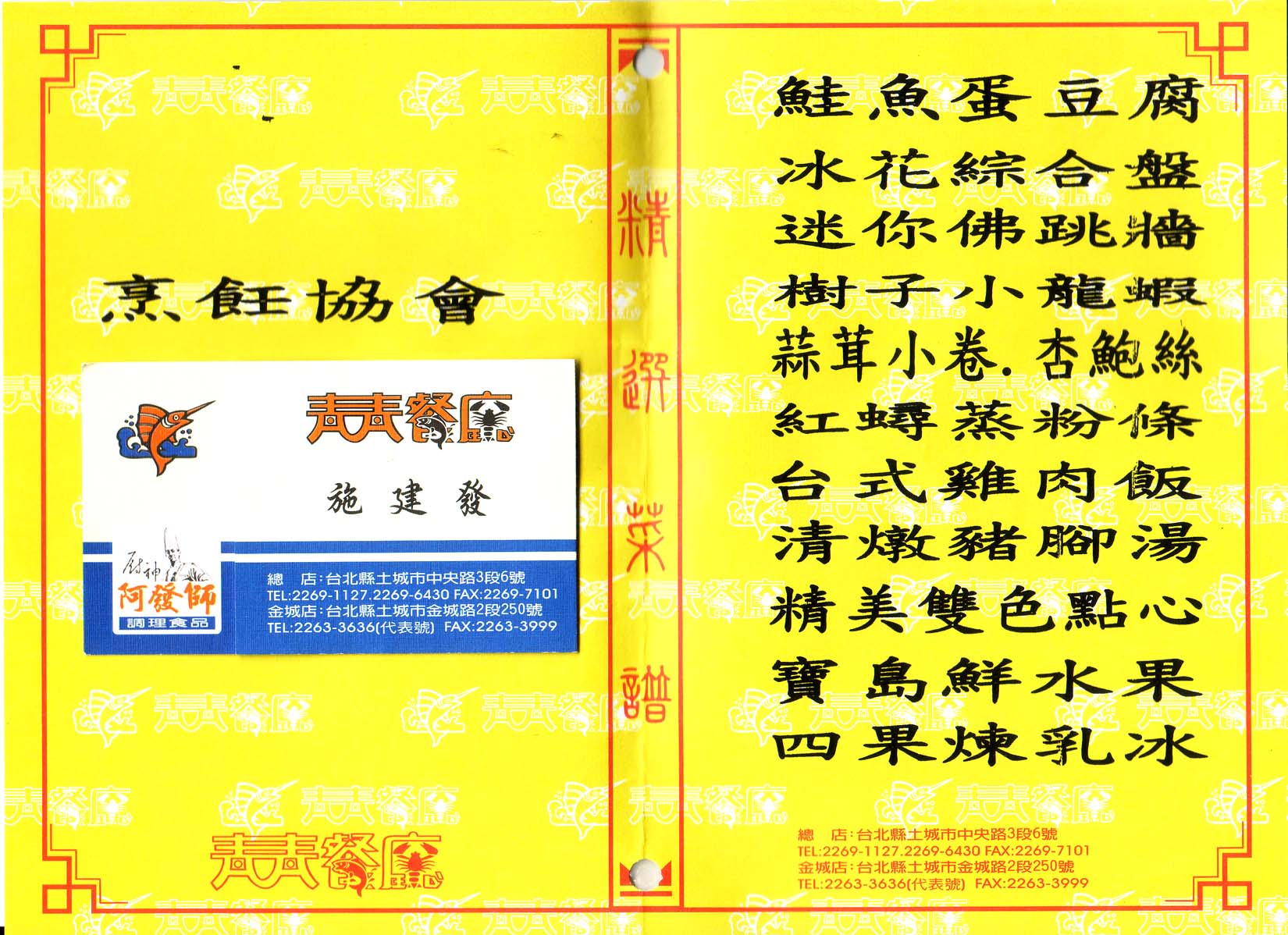 While in Taipei and elsewhere in Taiwan, I learned that Chinese food is a lot better there than Chinese food in America. I think that is so because Chinese food originated in China and Taiwan; so the food there is authentic. Chinese food in America was brought over and modified over the last century; it is not as genuine and not as tasty.
Who am I to say this? My name is Vincent Fu and I am ten years old. I live in Salt Lake City, Utah, and as you can probably tell from my name, I am Chinese. And yes, I do eat a lot of Chinese food, however, it is mainly Americanized Chinese food. I went to Taipei to visit my grandparents accompanying my Dad, Mom, and my younger sister. Dad was able to visit his parents because, among other things, he was asked to be the interpreter for this magazine's editor, Dr. Newman.
While there, I ate almost all the same meals she did, many of which were or will be discussed in the next issue of this magazine. Dr. Newman asked me to take notes and tell her what I thought about the foods we enjoyed together. I wondered what she would do with my notes, and near the end learned that they were for me to use and write an article; wow!
While on that trip, I had lots of terrific food; but let me tell you about the best Chinese meal ever. It was at the Evergarden Hotel Restaurant. Should you go, take the menu and the white card at the top of this article to the Evergreen Plaza Hotel in Tainan to enjoy what I did.
What did I enjoy? The first dish was a plate of pickled pumpkin slices. They were good, but the overall flavor was a bit too sour, in my opinion. The next dish was some spicy bean sprouts. Then I ate some grape tomatoes put in boiling water to take off their skins. Next, they were soaked in a mixture of sugar water and vinegar. These tasted very good. After the tomato dish came some cooked cabbage. Actually, it was some bok cai covered in cheese. With it they served some exceptionally fresh Pu-er tea. I usually do not drink much tea, but I liked it so much that I drank four cups before a cold plate of chicken, fresh shrimp rolls, fish roe, and squid arrived. I liked these ingredients, all of them.
Following that came a platter of fried shrimp rolls. These looked like a typical egg roll, except there was shrimp on the inside. So far, it was my favorite. After these unusual and great rolls came three pieces of sesame fish boiled in a sweet and sour sauce. The next dish had lots of fried shrimp seasoned with salt and pepper. Then I tried some fried trout; it was good, too. They put a big plate of eel and noodles on the table and I had lots. I have never had fresh eel in my life, so it was a great experience for me.
What followed was some soup with fish, oil sticks, oysters, and rice. It was a bit salty, but I liked it anyway. Then I tried some pig's large intestine seasoned exceptionally well. I had more soup, this time it was a fish ball soup. After all of these, I tried some sashimi. It did not taste good, but I re-tried it with wasabi and smoke started spraying out of my ears. It was too hot for this ten year old. The fried dace served next was very good. The last dish was a fruit plate of sliced watermelon, apples, and fire dragon fruit. I liked them all.
I would like to stay in Taiwan and keep on eating the fine food there, but there is no place like home. I did have a great experience eating the food in Taiwan, and I plan to go there again in the near future. Hope it stays as good as it was.
Note: The above is virtually unedited. Vincent shared these thoughts when asked, after the trip to compare Chinese food eaten in restaurants in the United States with those at this Chef's conference-tour that visited in several cities in Taiwan. It is interesting to know that an American-born Chinese youngster who does not live in or near a Chinatown recognizes and appreciates really good Chinese restaurant food.
The adults on this trip Vincent went on, did share his appreciation of the fine Chinese food the selected restaurant chefs made for the group. They arranged to serve us their best. It was so good, even this ten-year-old Chinese fellow recognized differences in Chinese restaurant food in both countries. The Chinese chefs and restaurant managers we went with to Taiwan were almost all immigrants to the United States.
They agreed with Vincent that the foods we ate there were super, one even saying there were lots of changes since his last visit six years ago, all for the better. He found the country and the eateries cleaner, the traffic more orderly, even crossing the street a lot easier than he remembered. He also said there was more variety in dishes and ingredients than ever before. Another chef in our group was impressed that more chefs were professionally trained, many even certified. Yet another one noted that presentations of all dishes were excellent, decor banquet-stye even at non-banquet meals, and the tastes very much better and more sophisticated than when he grew up in Taipei.
Two chefs in the group said they adored the Shin Chin Yuan Lotus Dinner in the town of Jia Yin. There, every dish had lotus flower, lotus root, or lotus seed, or lotus tea in it. The soup with lotus root, crab roe, water shield vegetable, and shredded fried yao tai was a favorite. One of them said to be sure to tell readers that nine parts of the lotus plant were used in the dinner, some she had never tasted before. She and her seat-mate said is was really hard to single out a particular dish as best; but the squid and shrimp cake with pickled lotus stems under a blanket of thin mayonnaise was her choice. That dish alone shows some of the changes coming to Chinese food in Taiwan and elsewhere. It is interesting to note that all the adults agreed that the food in Taiwan was terrific.
The next issue of this magazine will review many of the meals everyone, Vincent included, enjoyed. On this invited tour, Vincent and his family, the Chinese-American food professionals, and this editor were there to bring culinary and herbal practitioners together. People from both of these groups and many of our Taiwanese hosts lectured and ate together. The meeting was sponsored by Mary Yuan of the Fu Yuan Restaurant (already reviewed in Flavor and Fortuneís Volume 13(2) on pages 20 and 21), other Taiwanese restauranteur chefs, and the Taiwan Herbal Association. Several of the many fine Taiwan restaurants that hosted meals for this group are reviewed in this issue. Every restaurant was top notch. We recommend that readers try them all when in Taiwan.