Connect me to:

Restaurant Review
R & G Lounge (San Francisco CA)
(415) 982-7877
631 Kearny Street,
San Francisco, CA 94108
---
Reviewed by: Adeline Shun P. Koepnick
Fall Volume: 2007 Issue: 14(3) page: 14
---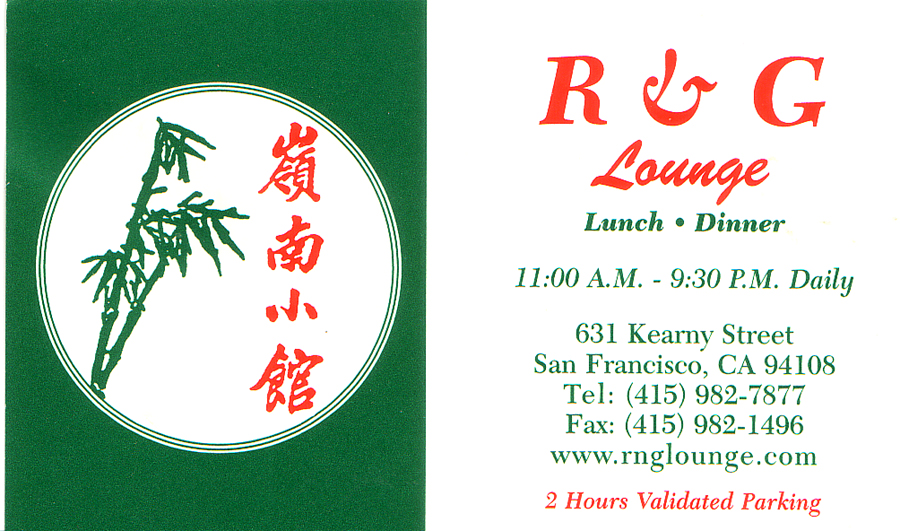 This is a great Chinese restaurant, which you may recall, was reviewed by this magazine's editor in Volume 12 (3) on pages 27 and 28. It was also used as a fine menu update example in Volume 14 (2) on pages 27 and 28. Still, more must be said.
R & G is not a lounge, in the western sense. It is a great Chinese restaurant using original Chinese cooking concepts passed down through the generations. It is influenced by Yin and Yang and other Chinese considerations including philosophy, astrology, medicine, and Feng Shui. The very first page of their menu discusses these and their kitchen puts them into play.
Every dish at R & G is prepared with interactions of ingredients. They bring out tastes that ensure satisfying experiences with items such as fish with ginger or beef brisket with turnip. They have used their talents and these culinary ideas for more than twenty years. No wonder they remain a favorite among Chinatown residents, tourists, financial district workers, foreign dignitaries, politicians, and celebrities including Jackie Chen, Bill Gates, and the Governor of Hong Kong.
Flavors here are hardly different from the home country. Their wonderful cuisine is many generations old and loaded with heavenly tastes and aromas. They emphasize and they maintain the excellent quality they are famous for. And, they seek new and innovative ways to blend old styles of cooking with the new. Thus, they succeed and tantalize each and every diner with fascinating dishes served in their friendly atmosphere.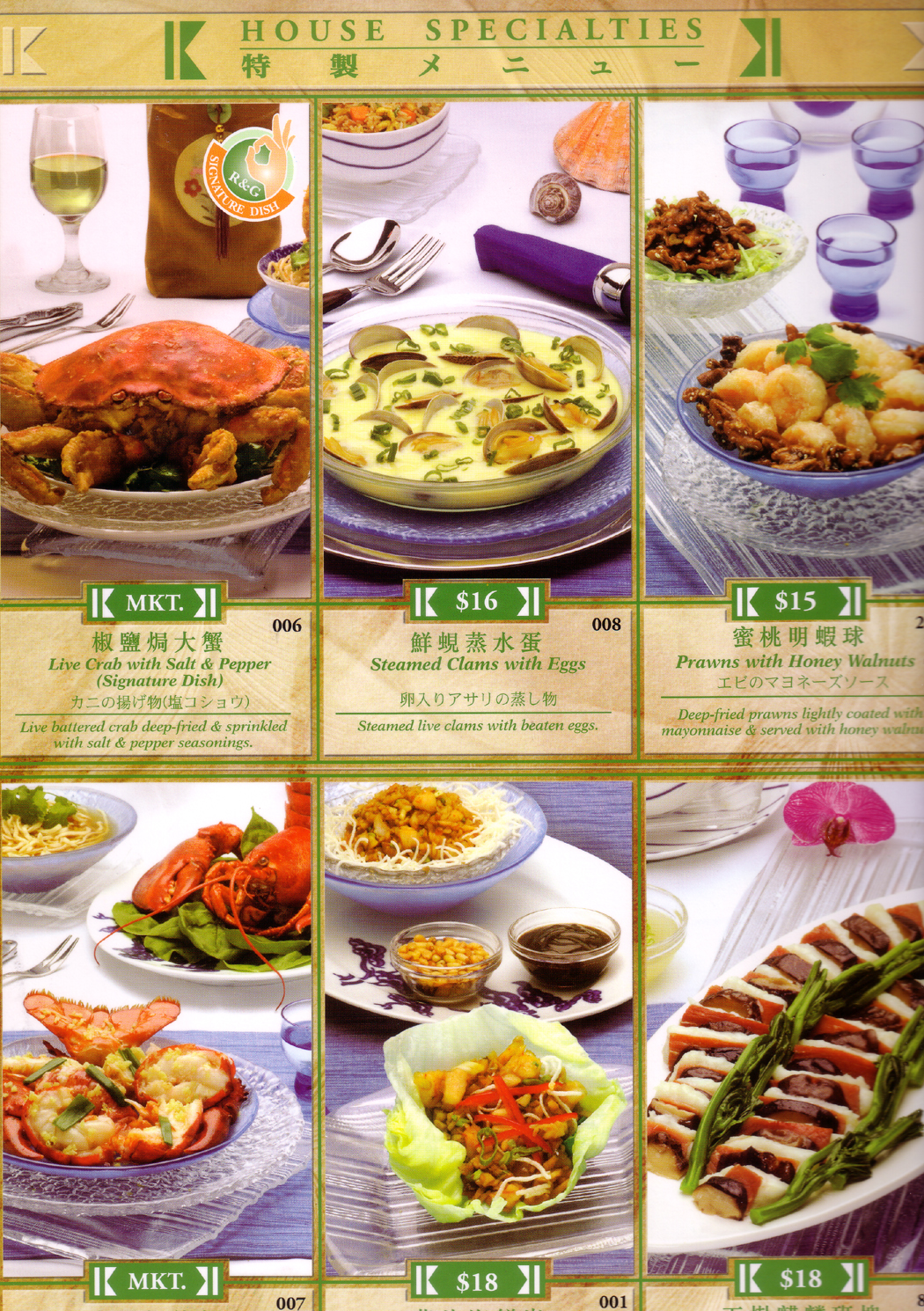 For red-meat lovers, their Beef Brisket & Turnip has rich traditional Chinese flavor. Their Scallops Steak Cubes come with a dark elegant sauce. Both are fabulous, tender, and terrific. Their white meats, such as Barbecued Pork, are lean and meaty; their smoky flavor is addictive. One local favorite, a whole chicken hollowed out, stuffed with special seasoned rice, and deep-fried is well worth the need to think ahead. It requires an order a day in advance. It is worth forking out the money this impressive and flavorful conversation piece requires.
Fresh-from-the-tank fish and shellfish are the hallmarks of their classic Chinese menu; they arrive deep-fried and greaseless. Their salt-and-pepper crab's aroma tempts and the golden glow of its shell tantalizes. Its meat is delicious and moist, its coating full of flavor and so enjoyable.
Nowadays, customers look for not only traditional and healthy foods, but atmosphere, wholehearted service, comfort, and a friendly environment. Here, they get them all.
This restaurant is conveniently divided into three areas. The lower level is primarily for family gatherings or quick lunches. Folks find it warm and lively. The pub in the lobby next to the main entrance is a great place to have a quick cocktail while waiting for friends. There, kids and adults can check out what is on TV while they wait. There is lots of room here. It was designed for the many customers coming for business or pleasure. The VIP rooms, located on the second floor; are perfect places for corporate meetings or meeting private guests. Everyone, with or without an occasion, finds this restaurant most suitable.
The menu is straightforward, clear, and loaded with photographs. These entice when selecting among its many delectables. Cocktails and appetizers are always available and awesome here. The wait staff is professional, always courteous, and always taking pride in their service. They share warm smiles and they make every dining experience a wonderful one. Though not a real lounge, eating here is so relaxing, maybe that is why this truly is called the R & G Lounge.
_____
Adeline Koepnick is an award winning Chinese writer. Her writing style is unique and often includes her flair for humor. From her weekly column to her thousands of articles on food, travel and restaurants featured in newspapers and magazines everywhere, her writing is loved by Chinese from all over the world. She hopes you love it here, too.