Connect me to:

Restaurant Review
Lotus East II (Mt. Sinai NY)
(631) 331-6583
331 Route 25A,
Mt. Sinai, NY 11766
---
Reviewed by: Jacqueline M. Newman
Fall Volume: 2007 Issue: 14(3) page: 17 and 18
---
This review, when it appeared, was titled Banquet Beauty in a Small Suburb. It began saying: Yes, with a copy of this magazine as proof of interest in and caring about real, not Americanized Chinese food, one can organize and enjoy a great banquet. It can not happen that very day, and probably not if you never ate in that particular restaurant. It can happen and be successful if you get to know the owner and/or manager and speak to him/her on several occasions. With some effort, you can convince that person of your desire to make a very good banquet at their Chinese restaurant. Speaking about showing this magazine, its goals and yours are a big help.
My husband did that solo at a small place more than fifty miles from the nearest Chinatown. It was a restaurant whose clientele is virtually all non-Chinese, and whose dishes are more ordinary Chinese-American than special. He pulled this off even though the menu does reasonably well in the 'Chef's Specials' column but it does not holler 'Banquet Chinese food.' Actually, its listings are more typical Chinese-American than Chinese banquet.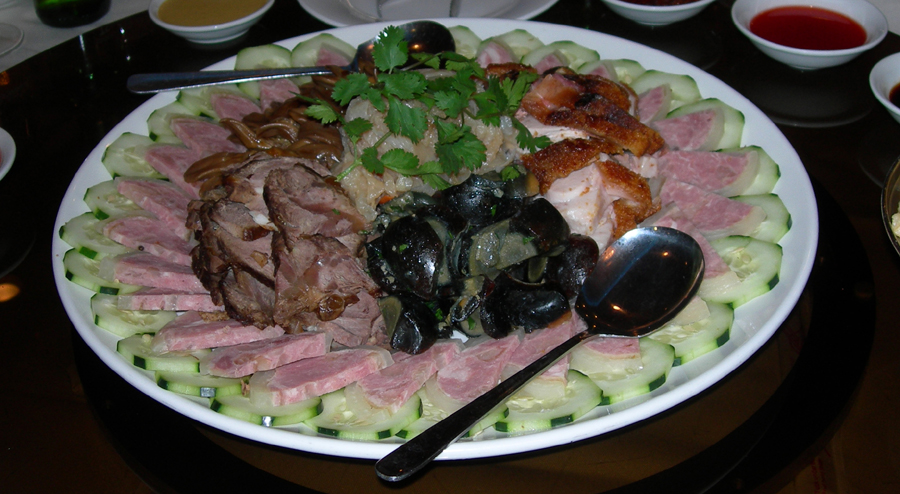 Like many of our readers, he loves to eat dishes handed down from China's gourmets. He wants dishes reported as consumed at great Chinese banquets. He cares about how they are made and how they are presented. He wants to educate others about fine Chinese foods, the world's longest continuous food culture. His goal was to make a banquet in a place near his work where he could bring others and show them how great this cuisine can be. After all, his wife adores it and eats it often, very often.
He had tasted lots of fine Chinese food since he married her. He knew what he wanted, but he had never successfully convinced a small-town out-of-the-way Chinese restaurant to produce a fine banquet. He knows a little about this cuisine, even cooks a few non-banquet dishes himself. But could he get a local place to produce a banquet he would be proud of? Could it make a banquet where he could bring his wife, the Chinese food guru. Would they both like it? And, would he be so pleased he would want to do it often? The quick answer is, for sure! You can, too, if you do what he did.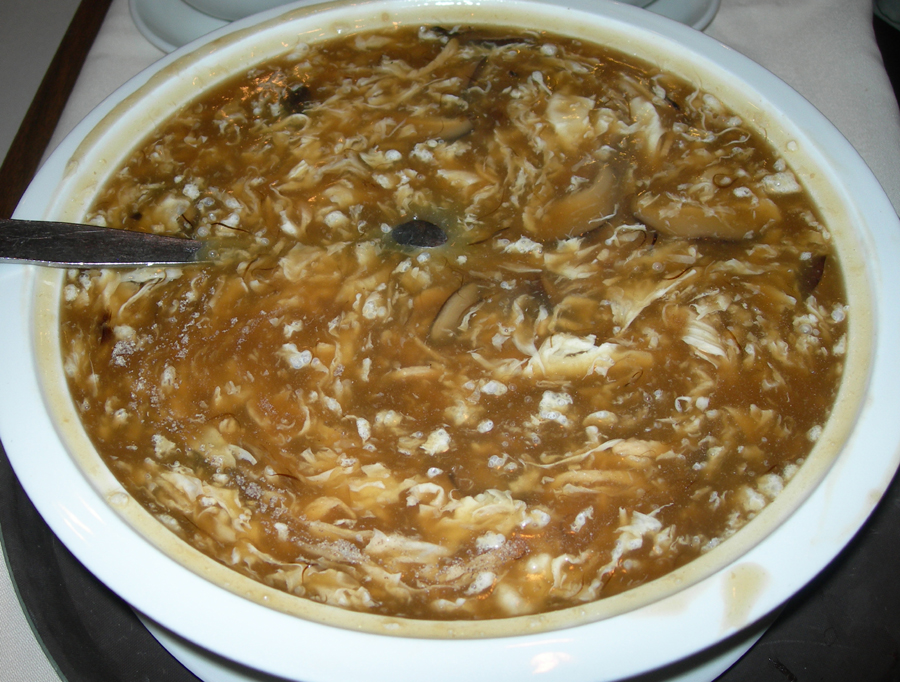 So, restauranteurs and Chinese food lovers, listen up. You can do this. Restauranteurs can help you and in so doing, improve their own business and their bottom line. Customers can get great Chinese food if they put forth the effort and can convince a restauranteur that they know what is good and that they want the chef to really strut his stuff. My husband did that with the help of Mr. Lo. Read on as to where he accomplished this feat.
LOTUS EAST II in Mt. Sinai on Long Island is where he challenged the manager, Mr. Lo, to work with his chefs and come up with a very good banquet menu. He wanted a banquet menu that Mr. Lo's best friends would appreciate. He wanted one that Chinese guests, even restaurant owners, their families, and their friends would want to attend. He did not simply accept the original suggestions given him out of hand. What he did after he saw them was to discuss them over and over again. Only after that did he suggest two kinds of changes. The first was to add a dish or two that he personally adores and believes are served at typical Chinese banquets. The other was to work within the abilities of the chef and the pre-determined price target for a table of ten including tax and tip, but not including alcoholic beverages. They would be on a drink by drink basis.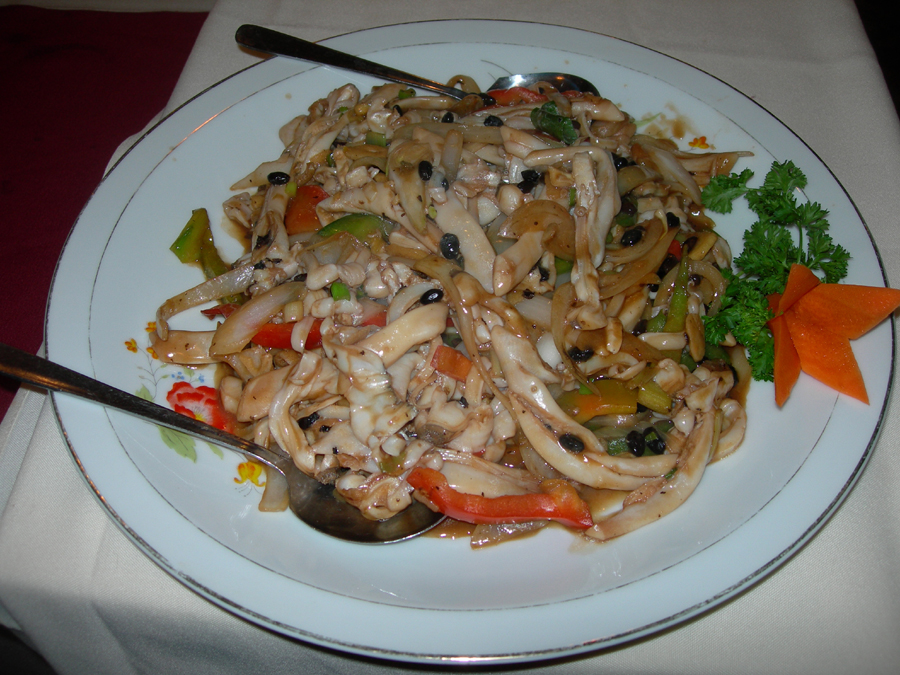 Before the bargaining began, my husband assured the owner that if the banquet was great, he could expect more of them, at least one or two each year. At first there was some hesitation about price for the table and the time-consuming dishes my husband wanted this restaurant's kitchen to prepare. Mr. Lo said he could do more if assured the price would be per person. This became real bargaining, and giving in on some issues is a must in any bargaining situation. Reluctantly, my husband agreed first on this economic issue. As their true bargaining went on, with my husband gave in to the first item, Mr. Lo gave in on the second and so on, until they were able to come to terms. The menu was set, the price finalized, the date and time determined. The actual number of attendees was left for three days before the event, give or take a few.
For the record, the first banquet arranged and ordered in this manner did happen a few years ago. It was very successful, and attendees and restaurant staff said it was great. True to his promise, my husband has done it about half dozen times since. Owners, staff, and those joining adore the arrangement. It is a profitable opportunity for the restaurant, and a fine one for regular customers to see. It pleases everyone, and it delights my husband. Attendees often return on other nights with spouse, children, and friends. That makes the banquet an advertising winner! One recent guest plans to make a somewhat similar meal. He says if it is as good, he will take family and business associates there a few times a year.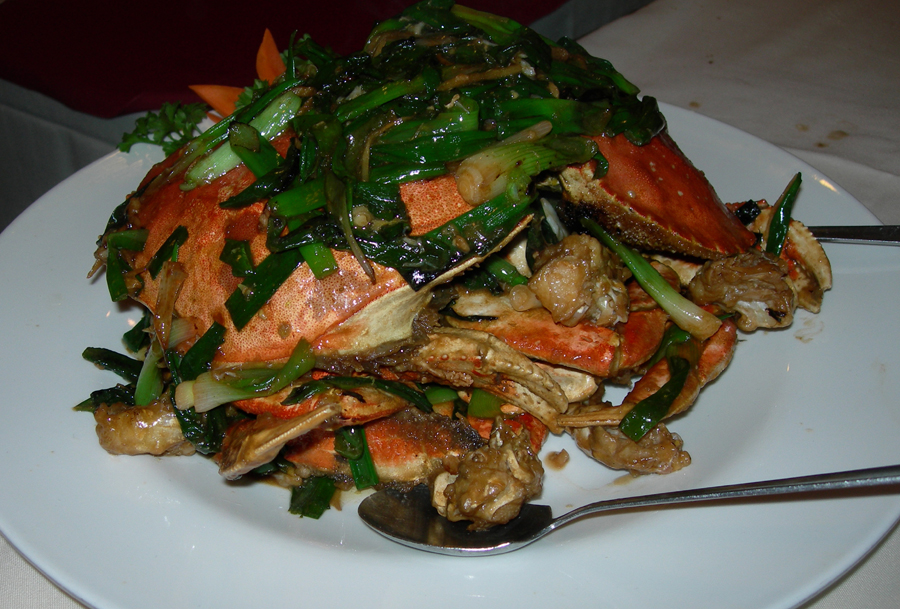 Price was determined based upon how many expensive and or exotic dishes were ordered. This was no beef and broccoli dinner. It was a ten-course banquet plus ice cream and fruit. The purpose of those last items was to make non-Chinese eaters leave happy. Fine restaurants usually end with good coffee, good Chinese restaurants in America end satisfying their customer's sweet tooth with ice cream. On one occasion the banquet was for twelve, another time thirteen came to the table, and on a few occasions two tables of nine attended a banquet. Cost, per person, was fifty-five dollars, an absolute bargain considering the menu decided upon by host and owner.
Where is this banquet-preparing restaurant? On Long Island in the town of Mount Sinai, about seventy-five miles from Manhattan's Chinatown and more than fifty-five from the Chinatown in Queens. Very few Chinese live in this suburb but it does have quite a few Chinese restaurants and take-out places. Not one of them within fifty miles is known to serve Chinese gourmet food. About a hundred Chinese people live in this town and this restaurant has been there with Mr. Lo managing it for most of his seventeen years in the United States. If he can do it, a restaurant near you can, too.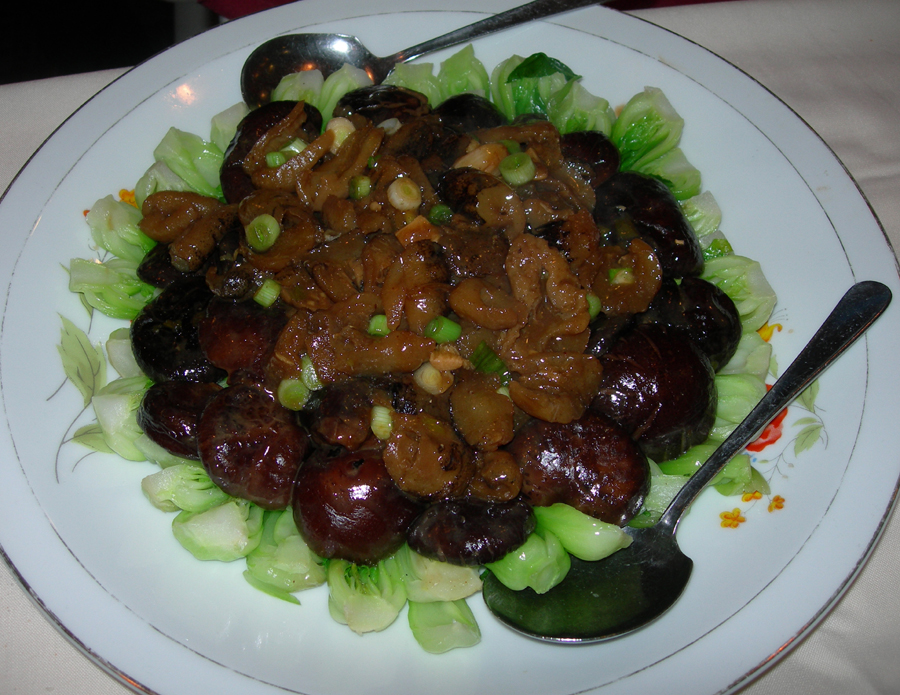 The last menu was a winner. It began with a large cold platter loaded with Roast Pig, Hundred Year Eggs, Seasoned Beef, Duck Tongue, and Jellyfish, all surrounded by a green ring of cucumber slices. It was followed by a House Special Sharks Fin Soup. Sharks fin dishes are auspicious and the Chinese adore them; and they are unbelievably expensive. They can cost a hundred dollars or more per person. A banquet needs at least one dish with this honorific emperor-loved sea food.
Dungenous Crab with Scallions was the next dish. Two huge crabs cut in pieces came piled high; they tasted heavenly. My husband's favorite Chinese food is sea cucumber; known by its French name, it is bÍche de mer. Baby Sea Cucumber, Black Mushroom, and Baby Shanghai Bokcai came next, and it was very good. The sea cucumbers were about two inches long and with smooth exteriors. They were savory and succulent, the mushrooms meaty, and the vegetables bright green and crispy. This texture and taste contrast was a winner.
Peking Duck was next, two of them, already carved off their frames, layers in a lovely mound, the four legs at north, south, east, and west corners. Waiters filled the thin Peking Duck doilies, as the dough is called, with hoisin sauce, cucumber strips, and some duck skin. They rolled and presented one to each diner. And almost all of the guests, except a vegetarian, bit in and devoured this classic and delicious dish.
Soy Sauce Chicken followed. It was presented Chinese style, on the bone and put together to look like a whole chicken even though it had been chopped into small pieces. Served with colorful shrimp chips, it was juicy and just wonderful. Returning to dishes from the sea, as most banquet offerings are, Razor Clams in Black Bean Sauce came next. Shells removed, loaded with whole black beans and not a paste, these fine fermented legumes came with fried onions as part of this dish with pieces of red and green peppers. The color and texture contrasts were outstanding, the clams soft and super.
Staying with foods of or close to the sea, Frogs Legs with Melting Mouth Peas, Leeks, and Straw Mushrooms followed. They were succulent and soft, and though they did require eating hands on, most did not mind getting them dirty as the sucked all the meat from their bones. Wet wipes were at the ready after they were devoured.
Then Pork Chops in Peking Sauce came. This is not a banquet dish but it is one loved by many Westerners. It was served near the end of the meal, was a very large portion, and it was totally consumed. Then, filling any cracks, Long-life Noodles followed. With bits of shrimp, chicken, pork, Chinese black mushrooms, carrots and other goodies, these came tossed into the fresh noodles.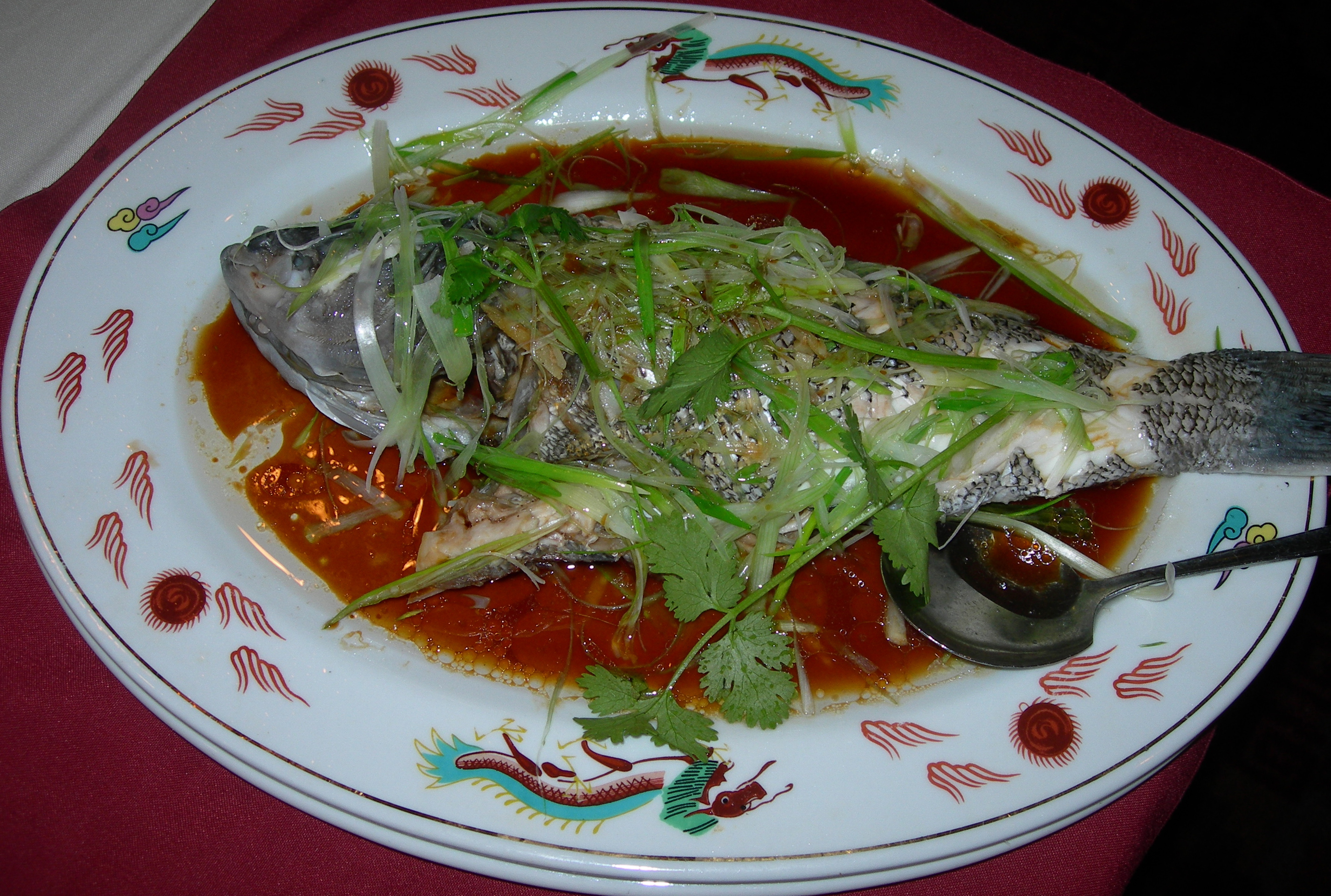 As any good banquet should, this one ended with a whole steamed fish; it was Steamed Sea Bass with garlic and scallions. Following this came those scoops of ice cream. Not alone, they were accompanied by pieces of canned pineapple and cubes of red gelatin. Next to them, a plate of orange slices was set down. Surely, the ice cream was a bend to the Americans, the oranges showed Taiwanese heritage of owner and his staff. Both were devoured.
Owners, staff, and the well-filled eaters at our tables all commented that the banquet was great. Most hope to be invited another time. As a paying guest, and a Chinese food guru, I join my husband in being convinced that others can and should try to make a real Chinese banquet at their local Chinese eatery.