Connect me to:

Restaurant Review
Restaurant Shanjai (Chihuahua, Mexico)
410-04-03
Ocampo 509,
Chihuahua, Mexico
---
Reviewed by: Jacqueline M. Newman
Fall Volume: 2007 Issue: 14(3) page: 30 and 37
---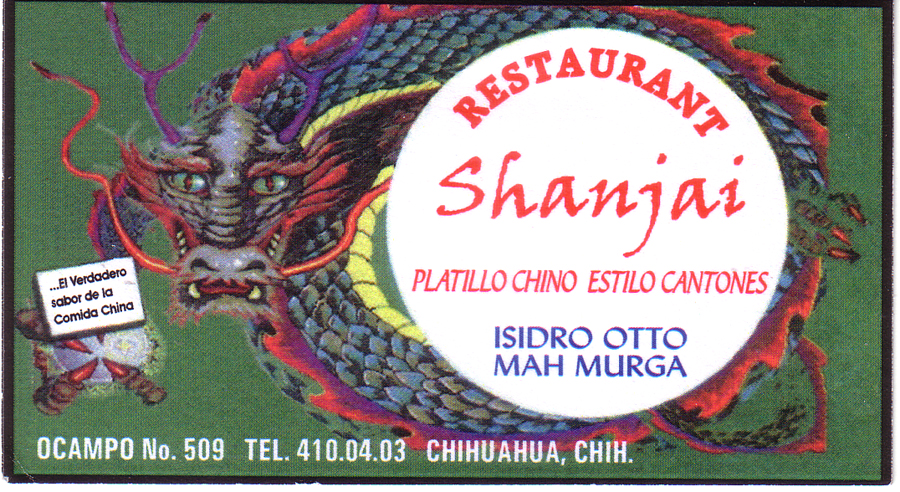 Owned and operated by a Cantonese gentleman for a quarter of a century, this is the oldest Chinese eatery in this city. He is its chef since its inception, and name is Isidoro Otto Mah Muraga.
The menu in Restaurant Shanjai is only in Spanish, no Chinese on it to help us, no English either. Not one customer here at the time we are there speaks English, nor French nor German, nor any language anyone in our groups does. So when ordering, we are at a loss as we know not many a Spanish word beyond 'yes' or 'thank you.'
In a bit, a fair-haired Swedish-looking gal appears and goes behind the cash register. I jump up to try to speak to her, and break lucky, other than the fact that she arrives halfway through our meal. Anyway, we are delighted to meet Mrs. Brendaly Mah, the owner's daughter. She is fluent in English, has attended a Colorado university in the United States and is delighted to answer all our questions. This she does after introducing us to her dad. He almost looks Japanese, but says he has none of that heritage and is one hundred percent Cantonese, born in Guangzhou. Staring at her fair hair, she tells us her Mom is Mexican, and that the five year old boy playing with her father resembles him more than the ladies in the family. Pregnant with another, that next grandchild may look more like the ladies in her family.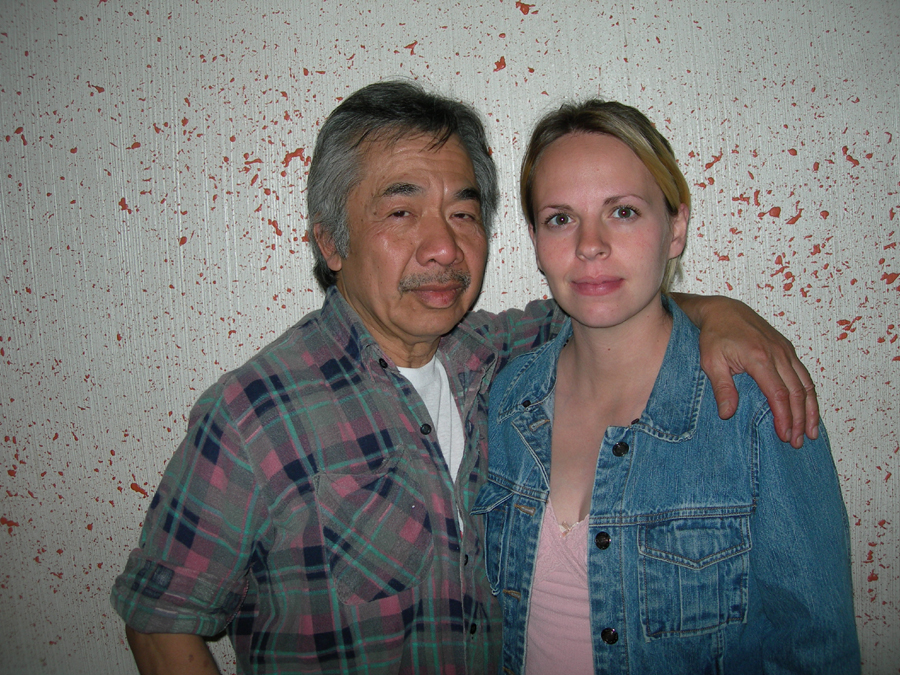 Mrs. Mah is a wealth of information. She tells us lots about the Chinese restaurants in this city, most no longer owned by the Chinese, though they once were. Why this is so, she can not venture a guess.
Her father's restaurant has a two-page typed menu that reminds us of Cantonese menu look-a-likes in New York in the 1940's. There are offerings from Column A and Column B to be used when selecting a complete meal at one of the set price amounts. The food reminds us of those days, too; all simple, fresh, and tasty.
We are a group of four and our order does sound to us like four different and interesting-items. We oder before she walks in and are not sure of how they will be made or even what they really are. We tried to ask for four bowls of white rice and a pot of green tea earlier but had trouble explaining what we wanted. We did not know what was understood. When we told this to Brendaly, she sped them on their way, though never said if we received them because of her or because we had made ourselves understood.
Our order was for Fideo Cristalino Cantones, Cameron Shangjai, Ala de Pollo con salsa de Ostion, and Carne de Res con Pimenta Marron. We did know one item requested was shrimp and one was a chicken dish. However, we had no notion of how they would be made, though we did hope for variety. We had tried to illustrate a teapot and bowls of rice, the latter with 'number 4' on it. We learn that my artless illustrations were of little help even knowing the Spanish word for rice and the Chinese word for tea.
The Pollo dish turns out to be chicken wings in a thin oyster sauce; they are delicious. The Christalao is a crystal-clear mung bean noodle mixture with cut up shrimp, pieces of red-edged pork, western celery, baby corn, lots of scallions, and a minimal amount of brown sauce. 'Cameron' or the shrimp is a stir-fry with many of the ingredients in the noodle dish along with wood-ear fungi, whole shrimp with tails still on, water chestnut slices, pieces of bamboo shoots, diced ham, and cut-up scallions. This house-named dish is very good, and we enjoy all of its vegetables as we are feeling vegetable deprived, a common sense when traveling. The Carne de Res is marinated beef with plenty of peeled green peppers and a load of onions. The meat is super-soft so we know it long-marinated in baking soda. Brendaly is surprised to learn this is no-no in the United States because its thiamin is inactivated and unavailable for absorption; that even though Americans are not thiamin deficient.
This lovely chef's daughter tells us that their Mexican clientele often orders Chop Suey, Cantonese Fried Rice, and Pato Almendrado, which is duck with almonds. These, she said, are the favorites of their Mexican customers. She says they do not appreciate the green tea as we do, and that they adore fortune cookies. We note these are distributed by C. Pacific Foods, Inc. of Sante Fe Springs CA. They have a long ingredient list including flour, sugar, water, salt, egg, margarine, natural and artificial flavor, and FD & C yellow #5 and #6 colors. They serve them and mints with the check. The mints say: Platillo Cino Estelo Cantonese Restaurant Shangay. The last two words match the spelling in the telephone directory but not the one on their business card nor the menu.
Most Chinese restaurants in this city are buffets. We had, before coming, intended to visit several whose names were suggested, but learning that, we changed our mind as we detest buffets. One, a restaurant in a Hong Kong chain of three, which we did not realize was a buffet, had a fire the night before. Herefore, we did make changes in our pre-panned eating itinerary.