Connect me to:

Restaurant Review
Liaoning Restaurant (Flushing NY)
(718) 886-4383
140-09 Cherry Street,
Flushing, NY 11355
---
Reviewed by: Jacqueline M. Newman
Summer Volume: 2007 Issue: 14(2) page: 26 and 36
---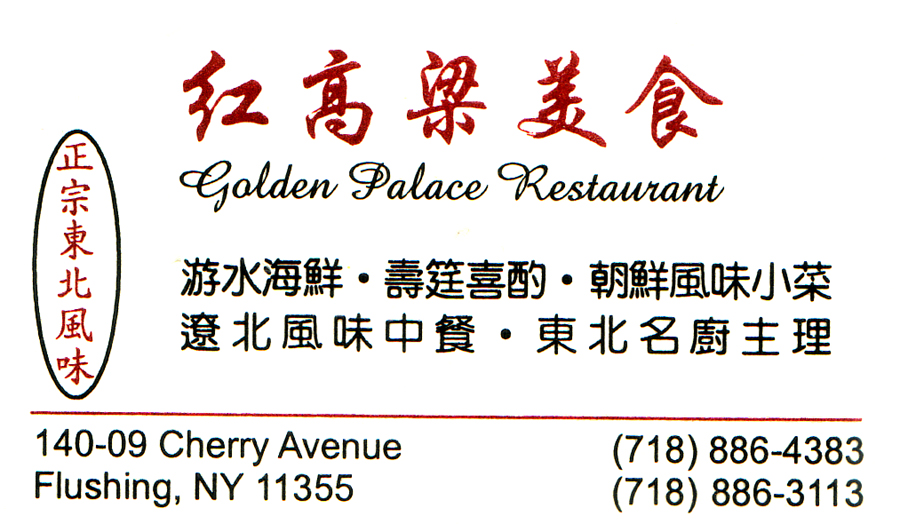 Liaoning has yet to change their menu or business card but it does have a new red and white awning. Michael Wong, the chef and owner, is too busy cooking. He does mean to get around to it and apologizes that his business card and menu still say Golden Palace Restaurant. New things he serves are on the wall, but only in Chinese, so do get someone to translate these for you.
Be patient and understanding, just enjoy his food until he gets to that. He does most of the cooking, is very busy, tends this small place with minimal help, and those who discovered his culinary talents keep him hopping. Most are more than tolerant, as we are.
His menu has many jellyfish dishes, as does another Dongbei eatery--Waterfront International. The one we adore here is his Jelly Fish w. Hot Sauce. The sauce is from scratch, he adds some cucumbers to the dish, and be forewarned, it is very addictive. So are his Roast Pigs Knuckles, his Skin Jelly, and his Smoked Chicken, and his Smoked Rabbit. Ask for any of these with that wonderful hot sauce.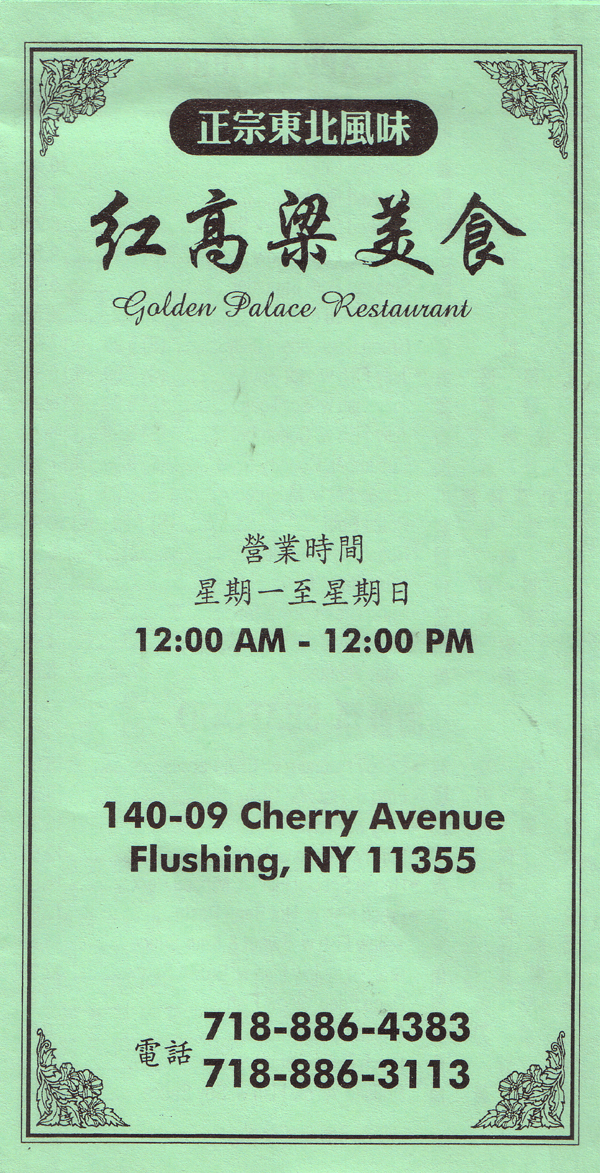 On our first visit, we ordered Fried Lamb with Scallion. It looked and tasted like the one at the Waterfront International, another Dongbei place. His Seafood w. Tofu in Casserole was wonderful but would benefit from more seafood. Ours came with but one shrimp, lots of squid, and one crab claw. It was a toss-up as to who got what because there were three of us. The Sour Cabbage Dumplings here are tender but not pretty. Ignore their looks, they taste terrific. Even better, order the Leek Dumplings; these are terrific, too.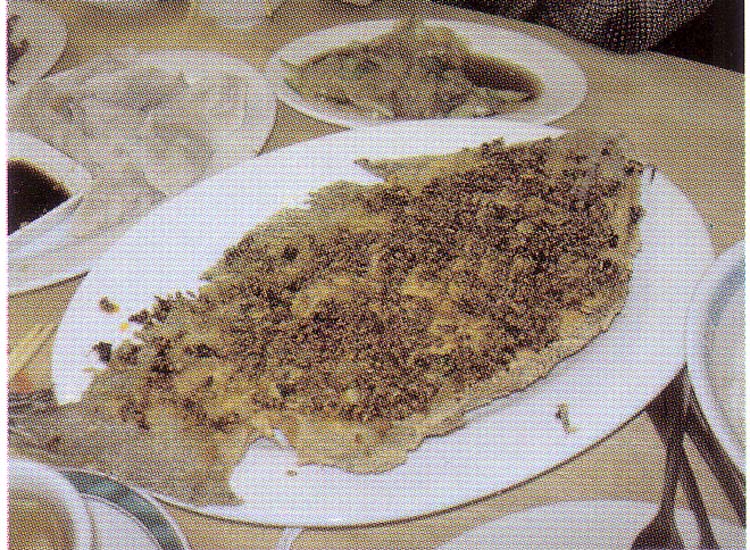 < On subsequent visits we try the Beef w. Potato in Casserole, the Pork Bellies in Brown Sauce, Deep Fried Eggplant, Sliced Potato w. Fresh Hot Pepper, Stewed Braised Chicken, Fried Pork in Orange Sauce, and the Dried Tofu w. Fresh Hot Pepper. We love them all. Our favorite dish here is Crispy Flounder w. Chili Pepper. For those at our table who did not like piquancy, they ate fish below the bone because the sesame-chili sauce only coats the top of the fish.
The menu in this and many Dongbei restaurants list many of the same dishes, but here one can get super Smoked Rabbit, Smoked Chicken, and Smoked Pork Shoulder. They are not to be missed, nor should the Pork Tender w. Sea Cucumber. The latter uses pork tendons. A bit similar to the same named dish in the Sichuan Province, this one's home-made hot sauce makes it even better.
The front door of the Liaoning Restaurant, aka the Golden Palace Restaurant, welcomes guests in Chinese and Korean. As soon as one enters, the staff also makes you feel welcome. They adore pleasing their customers; their food makes it easy.