Restaurant Review
Buddakan (New York City NY)
(212) 989-6699
75 Ninth Avenue,
New York City, NY 10011
---
Reviewed by: Shirley Shuliang Cheng
Spring Volume: 2009 Issue: 16(1) page: 30 and 33
---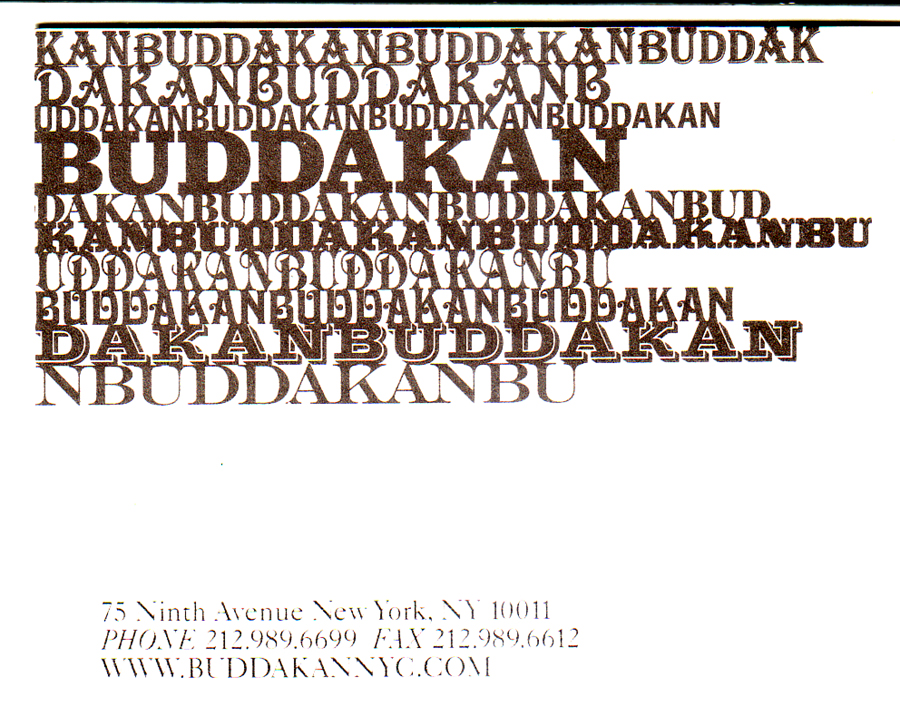 There are many Chinese restaurants in New York City including this one, a modernc Chinese eatery. Whenever friends, students, or colleagues ask for a good upscale one in Manhattan, I need to tell them that not too many fit that bill. One reason, lack of culinary educated or well-trained Chinese chefs. Many American culinary schools offer Chinese cuisine or Asian cuisine courses to their students, as does the one I teach at, however to learn Chinese cuisine takes more than the three-week Asian cooking class I teach. It takes years.
I read about the above-named restaurant in an issue of Food Arts Magazine and in various newspapers. Until recently, I did not have a chance to visit but when I finally did dine here, I found this eatery in Manhattan in a large black building with a very small black sign. First-time customers can miss this tiny external bit of advertising. The Chinese have an old saying: 'Good wine and food are not afraid if there is no sign.'
Buddakan opens at 5:30 pm; and a small crowd of waiting diners are already gathered then when I arrive. Decoration inside, described in minute detail in both the New York Times and in Food and Arts magazine, impress as do the kitchen operation, when I got to see it.
The night I visit, executive chef Yang Huang and his sous chef, Dale Talde, both graduates of the Culinary Institute of America (CIA) in Hyde Park, New York are on duty. I did not inform them I would be coming. None the less, they warmly welcome me and show me every corner of the kitchen. They also introduced me to the staff.

At a wok station run by six cooks including three Chinese and three young Americans, one of them on a CIA externship, I see the grill and deep-fry stations, an appetizer preparation area, the Peking duck station, and one area for desserts. The walk-in cooler, filled with shelf upon shelf of neatly stacked dumplings, spring rolls, and vegetables, indicate they feed ever-so-many diners each evening. Outside it, a group of Chinese cooks make Cantonese Spring Rolls, Lobster Egg Rolls, Edamame Dumplings, and other appetizer goodies.
Standing in this restaurant's spotless kitchen, I find it busy with smoothly operating lines. I see enormous differences between kitchen management at a normal Chinese restaurant and at this upscale Chinese one. Working here means one is ten times busier. It is more difficult than being a chef in a typical Chinese restaurant.
Chef Yang Huan emigrated from China's Guangdong Province at age twelve. He graduated from the CIA in 1996 and speaks Cantonese. That is a big advantage when recruiting and communicating with his Chinese cooks. I remember the former executive chef here, Michael Schulson who told me he serves lots of Chinese food and ever so many dumplings.
In my opinion, American chefs believe one just adds some soy sauce to make their food Chinese. Making Chinese dumplings is not easy, and seeing the doubt in my eye back then, Chef Schulson smiled and said, "We have Chinese cooks making the dumplings." When I heard that, I knew he could serve real Chinese dumplings. Therefore, I looked forward to trying them and seeing how they were now.
Touring the kitchen with this new pair of Chinese chefs, I was looking forward to evaluating the food I ordered. Before anything arrived, my waiter comes by to say the chefs will be sending out some samples. That is great because I can then taste even more than I had hoped to. I order a glass of Riesling Leitz, Kabinett Rheingan 2006. That good German wine goes well with the Chinese food I ordered.
The first dish, Jade Shrimp Dumplings made with shrimp, pea shoots, and water chestnuts comes. These cute little items are shaped like gold fish, their thin crystal-clear wrappers are made from wheat starch and boiling water. They hold tender pink shrimp and green goodies within. In just one bite, the subtle fresh pea shoot flavor conquers my taste buds. I have tasted many dumplings, but never any with such tender pea leaves. What a brilliant idea! A dish of dipping sauce sits idly by, as there is no need to dip and sip, upsetting the Riesling-dumpling perfect match.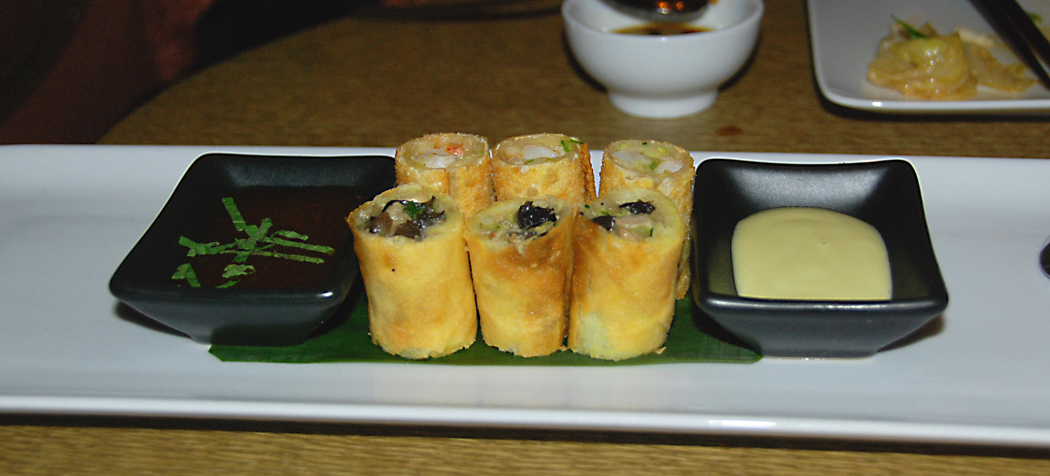 Cantonese Spring Rolls and Lobster Egg Rolls, cut in half and placed on a rectangular black plate come next with two sauces, one at each end. Both rolls have crispy light brown exteriors. One set is filled with tender lobster and cabbage, the other arrives filled with ground chicken and wood ear mushrooms. Both taste delicate without any sauce. The acidity of wine cleanses my palate, its light body matches the tender lobster. The only unsatisfying aspect are the accompanying chili and mustard sauces; they taste commercial. I mention this to the chef and he agrees but advises most American customers like them.
Next comes a hot Steamed Sea Bass Roll. It is a small fillet of fish wrapped with blanched Chinese cabbage leaves and garnished with fine julienne of ginger and scallion. Before serving, the waiter drizzles hot oil on top releasing an herbal aroma. The fish is tender and rich and it simply melts in my mouth.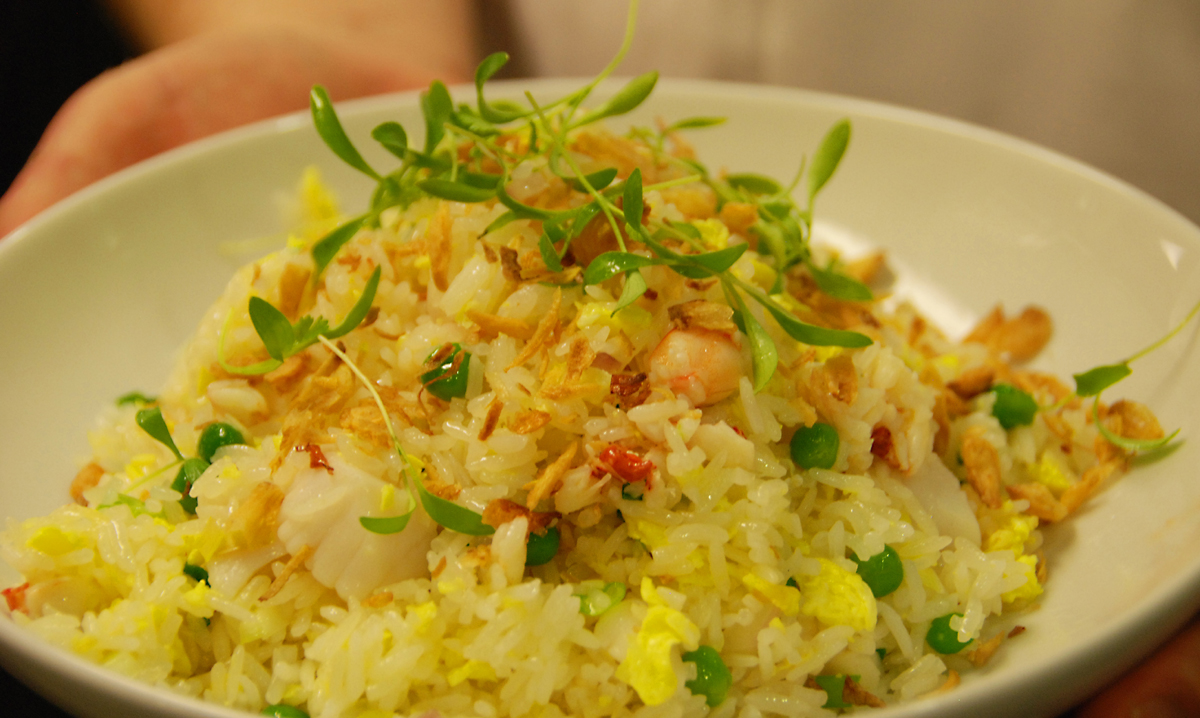 Shrimp Fried Rice with Wok Scrambled Egg, an elegantly presented dish, comes next. Its garnish of radish-sprouts makes it come alive with color. Another garnish, light brown crispy fried shallots, adds a taste surprise. The long grain jasmine rice is fluffy and coated with egg yolk. This so-called 'gold wraps silver' the Chinese believe is lucky.
Edamame Dumplings, a Buddakan signature appetizer, are jade green and beautiful in their glossy translucent wrappers. Before coming, I read praise for this particular course. However, once here and tasting them, I do not like the stuffing. I think it needs something crunchy or chewy.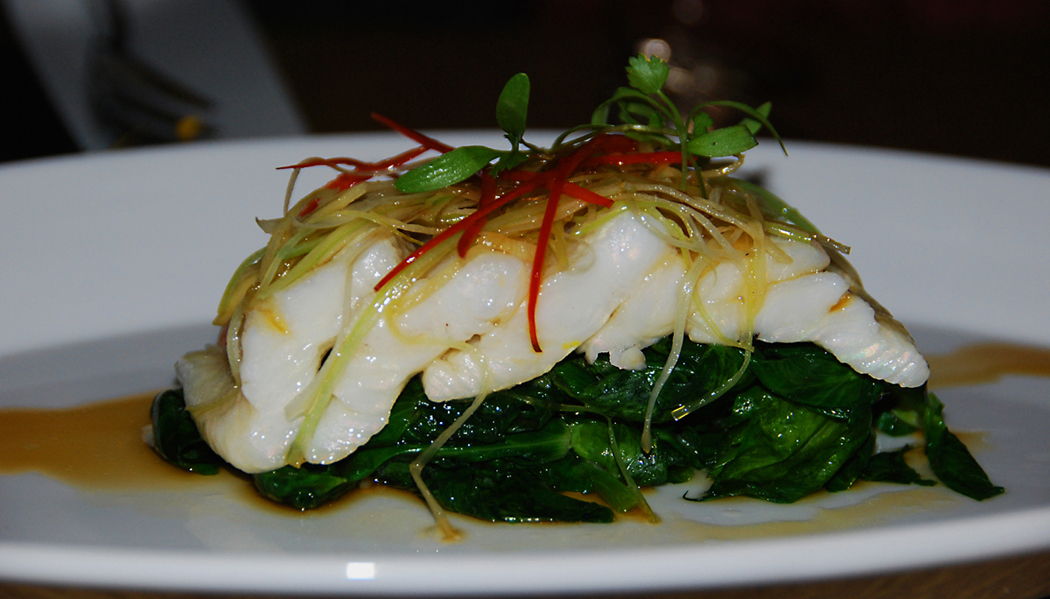 My last dish that evening, Cantonese Steamed Sole Fillet, is similar to the earlier Steamed Sea Bass Roll but lighter. Traditionally, Cantonese steamed fish is a whole fish with skin on and bone in. Using sole fillet upgrades this dish so non-Chinese can enjoy it, too. It melts in the mouth and I enjoy the stir-fried pea shoots found under the fish.
Worth noting on this visit as I scribbled my notes, are patrons at a neighboring table who exclaim, "Oh my god, this is so good." I turn to ask what dish garners this reaction. "Wild Mushroom Chow Fun" answers one of the husband-wife pair from White Plains. Both say "Buddakan is the best Asian restaurant in New York City," and they tell me they love the food and come often.
Food critic Fred Ferretti, in his 'A Rat in the Kitchen' column in the New York Times in 2008 says, "Let us be clear: authentic Chinese cookery is not so elusive. It can be found in the United States; the chefs capable of re-creating China's greatest dishes are here. What these cooks need, I suggest, is to be challenged. I urge this New Year that those charged with informing us about true Chinese food make resolutions to educate themselves so that in time they may issue, with confidence, such challenges."
As a culinary educator, I agree one hundred percent. I hope more young chefs take on Chinese food challenges. May they fill the void for quality, upscale Chinese restaurants as does Buddakan.
_____
Shirley Shuliang Cheng is a Sichuan culinary-school and restaurant-trained chef trained in China. She now teaches, and has for many years, at the Culinary Institute's Hyde Park, New York campus. These she teaches the Asian foods course. Her students advise that she is a terrific though tough educator and really does prepare them to work in Chinese and Western restaurant kitchens.