Connect me to:

Restaurant Review
New Broadway Seafood Restaurant (Elmhurst, Queens NY)
(718) 699-0688
83-17 Broadway,
Elmhurst, NY 11373
---
Reviewed by: Jacqueline M. Newman
Summer Volume: 2009 Issue: 16(2) page: 24 and 25
---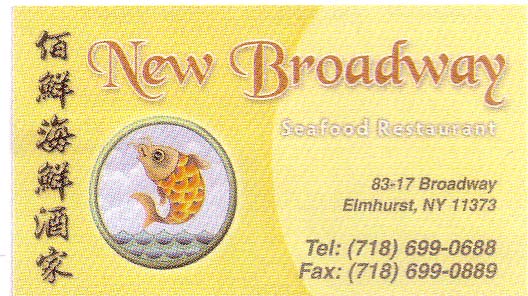 New Broadway Seafood Restaurant is on the same block as Hua Rong but as different as day and night. This eatery is Hong Kong style and packed at mealtime, less so between meals.
At lunch, dim sum carts serve upscale foods sounding similar but are better than most, many with new twists. Steamed Oyster come with black bean, chili, XO, or another sauce, you pick. Duck Tongues come with really very special soy sauce. Garlic Squid Hong Kong Style, our number one favorite, is a good substitute for a trip to that Fragrant Harbor. Look carefully at items as they pass by and see if you can spot those with extra seafood, different vegetables, and different tastes.
Braised E-fu Noodle with Crab Meat, and ones with vegetables and mushroom are very special; both fired over and tasty. Pan Fried Flounder with ginger and scallions is as crisp as can be. Whole Fried Jumbo Shrimp are loaded with pepper while the House Walnut Shrimp are lapped with sweet sauce and glazed walnuts.
Menu dishes are made to order using the freshest of sea foods. Poultry dishes use fresh birds, too. Abalone and sea cucumber require a selection; want yours from Japan or Australia? All vegetable dishes are outstanding. Stewed Bean Curd has lots of vegetables and mushrooms, Sauteed Bean Leaves arrive in broth; and Fresh Asparagus with Bamboo Pith swims in soup, while Watercress with Bean Curd Sauce comes aromatic and cooked perfectly.
Four kinds of shark's fin soup are available, snail and razor clam dishes are fresh and fantastic, and their home-made black bean sauce needs special mention, as does the lobster or Dungeness crab listed eight ways on the menu. Only tasted three to date, plan to return soom for some others.