Connect me to:

Restaurant Review
Baozi Inn (London, England)
020-7278-6877
25 Newport Court,
London, WC2N 7JS UK
---
Reviewed by: Jacqueline M. Newman
Summer Volume: 2009 Issue: 16(2) page: 25 and 26
---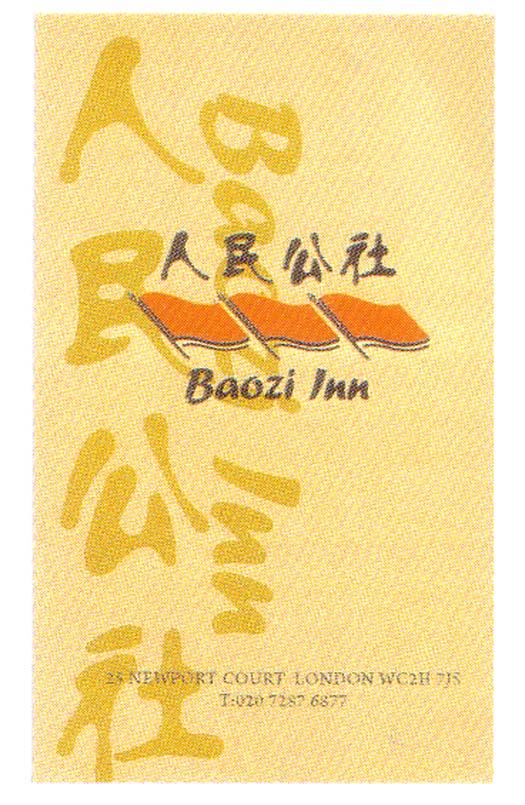 Baozi Inn is a place we stumbled into. It is a new Sichuan restaurant we had heard of but not recalled until in London. It is small and on a corner, and we are starved and need lunch. It looks like a place that will fit the bill.
Their short menu highlights Sichuan snack food includes bao zi and noodle dishes. They are perfect, served promptly, and one might say 'full steam ahead' as there are less than two dozen menu offerings. We try close to half and all are delicious. The Chengdu Dan Dan Noodles are excellent under a blanket of scallion slivers crisp and atop some super hot oil. Sichuan Spicy Beef Noodles and Spare Ribs and Winter Mushroom Noodles are great, too. The tender wheat noodles sit under a handful of succulent ribs, bones soft, super, juicy and genuinely yummy.
Dragon Wantons (their spelling) are available with red oil or in savory broth. We opt for the piquant ones and are rewarded. Bao zi come with chives, radish, or pork, a big bargain at a pound and twenty. We over-indulge, have one of each, and are not sorry.
Unusual and unusually good are their Sour and Hot Sweet Potato Noodles. Likewise, the Sichuan Fragrant-and-hot Pork Noodles. Spiced Peanut Salad, and the Laver and Seaweed Egg Soup are ordered at the next table; they look like winners, too.
Recommendation: Go early and get lucky. Everything is freshly made, but not everything always available. Enjoy the flavorful offerings, many bold and beautiful. All are served by a caring wait staff. We wish this fine facility a long and healthy life as they serve terrific Sichuan snack foods.