Connect me to:

Restaurant Review
Veg (London, England)
075-9052-4246
33 Old Compton Street,
London, W1D 5JU UK
---
Reviewed by: Jacqueline M. Newman
Summer Volume: 2009 Issue: 16(2) page: 26
---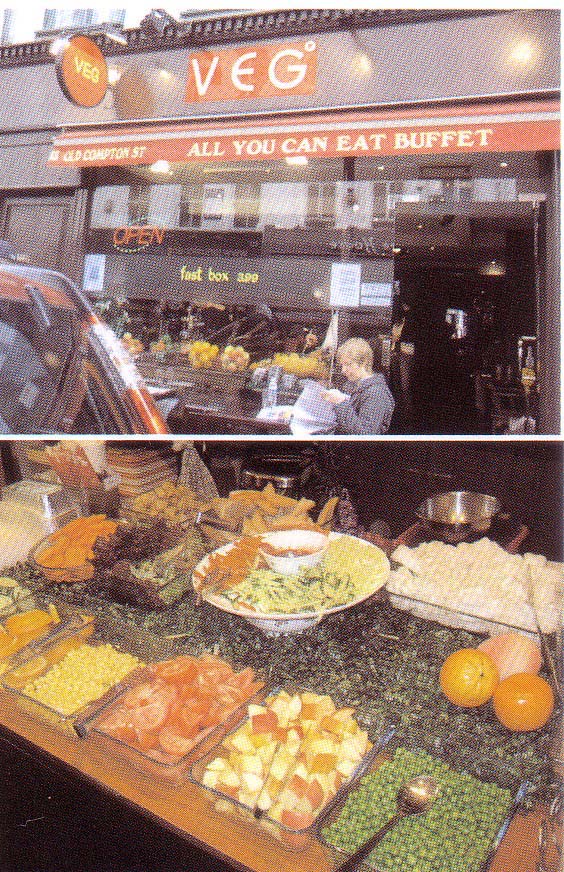 Veg says it features a buffet called 'fast box.' On their four-by-six hand-out it says "Tai Chinese fresh veg style." We say it is one fine vegetarian eatery. A block from a restaurant whose name intrigues, namely: Wok to Walk, and across the street from Tuk Tok, this all you can eat buffet in London's Soho is a find; and chocked full of colorful fresh fruit and vegetable offerings, many cooked more than once during a meal.
No business card on the two days we go there, the handout says "food is healthy" and we say it has karma, is clean and crisp. It also says the sample menu includes "veg chow mein, curry rice, crispy soya duck, black beans soya chicken, sweet and sour veg, chicken, spiced aubergines (eggplant), special fried rice, Singapore noodles, lemon grass pot, spring rolls, dim sum, basil salad, seaweed green curry, and many more." The wait-staff speaks Chinese among themselves, English to their customers. They point to a sign about 'meditations, tai chi, and chi kung classes.'
All the foods look gorgeous, some cut fancifully. The bean sprout salad has its sprout heads removed, a few tails remaining. Peanuts are in a bowl and beautiful, noodle dishes delicious, soy preparations spicy or subtle, others soft or chewy, and all are top-notch. The fresh cut-up fruit in the window can be had before or after, the half dozen sauces there to season any of the foods. We manage to have two large plates of vegetables and a third of fresh fruit. We leave full and fully appreciating their fine food.