Connect me to:

Restaurant Review
Tse Yang, Li Tai Pe and Top Delice (in Three Swiss cities)
Geneva, Lucerne, and Interlaken, all in Switzerland
---
Reviewed by: Jacqueline M. Newman
Summer Volume: 2009 Issue: 16(2) page: 26
---
Switzerland is a country where one can set one's watch on trains schedules. However, here we discover that eating is not as prompt. We remind all to request the check, too, or involuntarily linger after every meal. So eating Chinese food is, time-wise, very different here, as is fondue--when Chinese style. At Restaurant Falcon a Red See and elsewhere fondue can be a casserole or a pot filled with hot oil to cook one's own slices of beef, other meats, vegetables, too. We learn the menu phrase here 'at discretion' means 'all you can eat.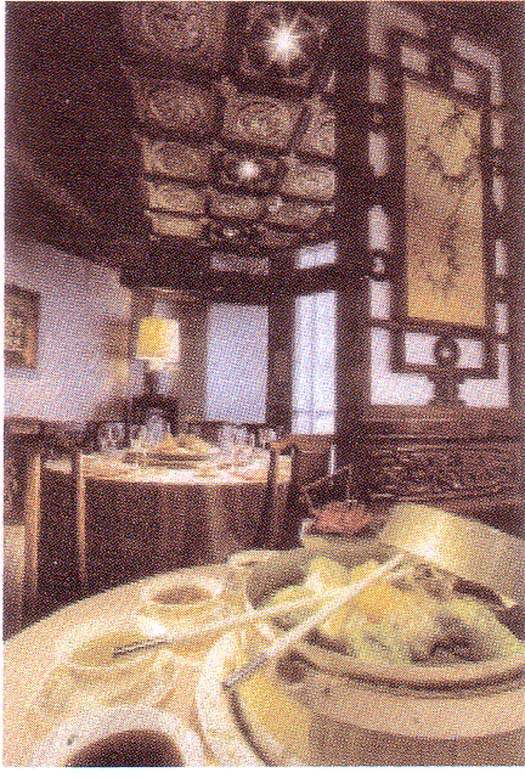 IN GENEVA, Tse Yang; Quai du Mont Blanc 19; phone: 41-22-732-5081 is at an outpost of the Paris-originated team of elegant Chinese eateries worldwide. We reviewed its New York cousin in Volume 8(1) on page 27. Here, the dining room is more gorgeous and most tables face the lake. Food is worth savoring slowly. It is considered one of the ten best eateries in this business city. Enjoy their fine classic Cantonese food and other Chinese delights; and like the surroundings, everything is upscale, priced accordingly, presented superbly, and tasting terrfic.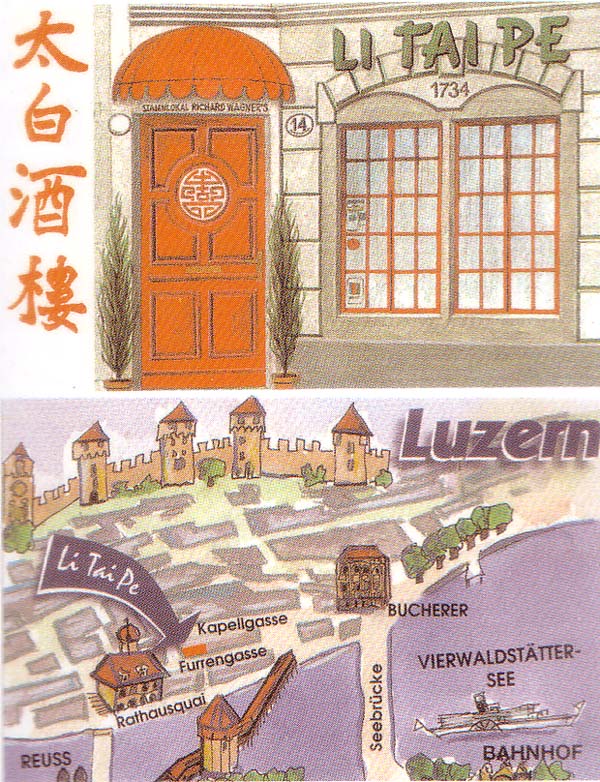 IN LUCERNE, Li Tai Pe; Furrengasse 14; phone: 041-410-1023 is in an older part of the city. The restaurant is older, too, founded in 1966, and near the Chapel Bridge. The menu is modern, their hours have lunch ending at 14:30, dinner starting at 18:00. This is very Swiss time, we know because we arrive at 14:32 on our watch, which is often runs fast, and the kitchen is already closed. A pity, as the atmosphere is quite traditional. The food said to be 'authentic Chinese cuisine served in small separate rooms.'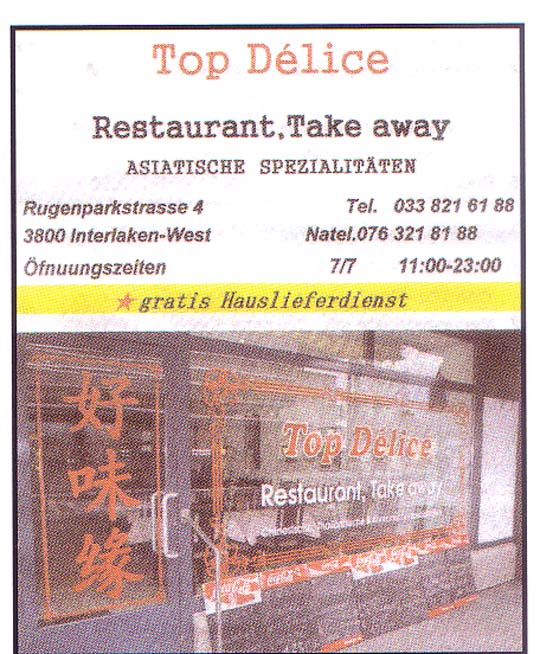 In INTERLAKEN, Top Delice; Rugenparkstrasse 4; phone: 033-821-6188 is one of three small Chinese eateries in this tourist town. Thankfully, it is open long hours, does lots of 'take-away business' as they call take-out; and they do it all day and late into the night. The chef here is young and from Guangzhou, our waitress comes from Hainan Island, and the owner is too busy to speak with us as he is playing on his laptop. What is different here it that every dish comes with a free bowl of rice, other places charge two and half Swiss francs, and one actually weighed ours and charged by the number of grams. Top Delice only serves Chinese food but its previous owners served Chinese, Thai, and Korean food. Also different is their menu is in German and English; most others have theirs only in Chinese. Here, most dishes are deep-fried or swimming in gravy. The Pork Sichuan Style includes lots of tender meat mixed with slivers of carrot and onion, and little bits of lettuce, bamboo shoots, even garlic slices; all in a very piquant hot sauce. Other dishes look and taste alike with few obvious Chinese ingredients. When asked why, the waitress says "authorities tightly control imports, and many good Chinese sauces and other foods can not come into this country; also, fish here is expensive as are many other foods. When Chinese guests come, they can get really good Chinese food if they order in advance."