Connect me to:

Restaurant Review
China Quick (Marrakech, Morocco)
024-42-25-01
22 Rue Tarik Ibnou Ziad, Gueliz,
Marakech, Morocco
---
Reviewed by: Jacqueline M. Newman
Fall Volume: 2009 Issue: 16(3) page: 24 and 25
---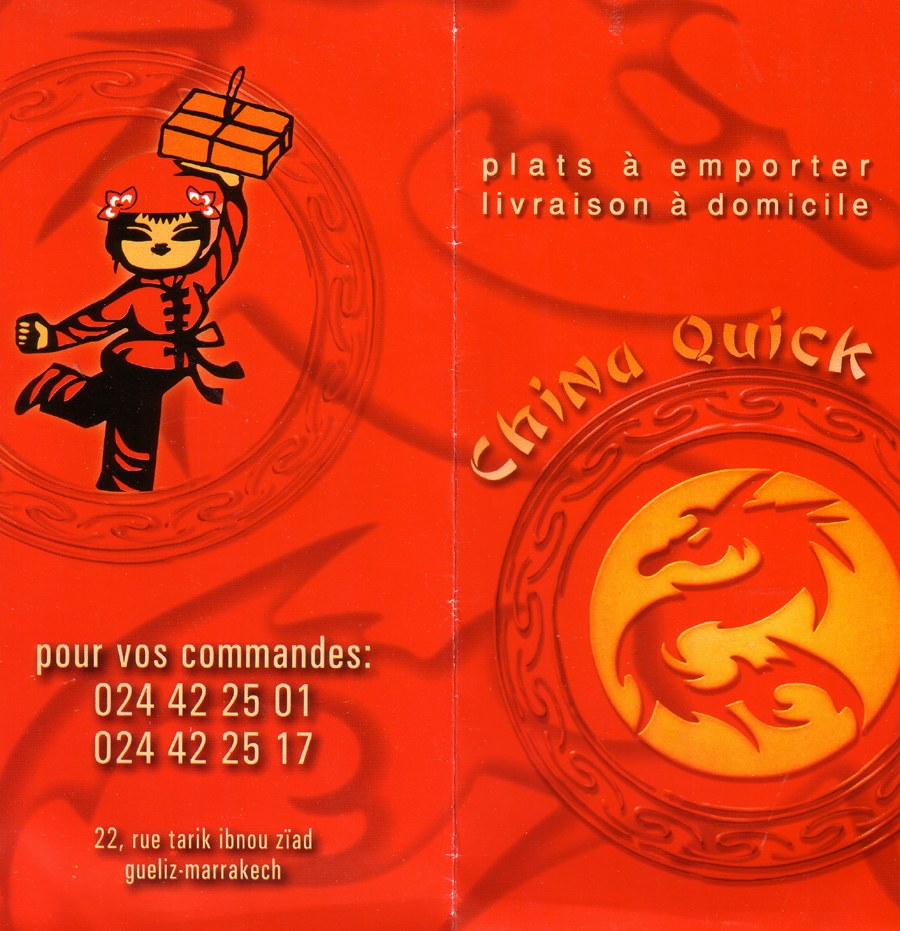 Is Chinese food available everywhere; and how Chinese is it? Both good questions to ask when going to Morocco. The answer: There are places with no Chinese food, some with very little, and still others with really good Chinese food? In this North African French-influenced country, there is little and in some cities none as locals like almost all their food with saffron and their tea with mint? While both of these are commonplace as is the omnipresent Tagine, their long-cooked chicken, beef, fish, or vegetable stew prepared in a conical dish heated from below with charcoal, there often is no Chinese food because the flavors are so different.
Chinese food does not include couscous, a special steamed and fluffed wheat berry, nor is there any Bastilla, a dish usually made with pigeon set between layers of phyllo. There is also no Harira, the vegetable soup prepared with rice and noodles. Maybe there are so few Chinese eateries because there is also no Midfouna, a stuffed flat bread jokingly called 'breakfast pizza.' So the basic questions remain: Are there Chinese restaurants in Morocco? What sort of Chinese food do they serve? And who prepares it?
Many told us about a great Chinese restaurant in Casablanca. Actually there were four listed there in the country's telephone directory. However, truth be told, only one was actually Chinese. There were none in Fez, none in Essaouira, and just one in Rabat. That lonely one was called 'Hong Kong' and supposed to be near the train station, but we could not find it.
There were four restaurants listed as Chinese in Marrakech. One was actually Vietnamese, and another served sushi, Thai, and Vietnamese food along with very few Chinese dishes. The third was purely Vietnamese, did have a few Chinese offerings, and in looks, could pass for a Qing Dynasty eatery. But, there was one fine Chinese restaurant manned by a local whose experience was limited to Vietnamese cooking before he became chef at this four-year-old Chinese eatery. Of course, we had to try it.
CHINA QUICK turned out to be a block and a half from our hotel. Abdelah Ait Ahfobriym was its very experienced chef with expertise practiced far from China. Actually, he was chef for fourteen years at Dragon d'Or and three others at Ton Kinoise. Both of these restaurants were in Casablanca; and do not be fooled by their names, both are Vietnamese. Half-Berber and half-Moroccan, this native Moroccan chef also cooked at Asia Morille, a Vietnamese and mixed-Asian restaurant nearby.
From him and others, we learn that most Asian restaurants deliver more food by motor-bike than they do to tables in their eateries. They do this using a red metal box on the rear of a bike. Some have menus in French, and many tout ' Plats a emporter livraison a domicile" saying they offer 'home-cooked and they deliver imported foods.'
The food at the China Quick is Chinese, but neither fast nor fast food as its sign and name imply. The kitchen, up a flight of stairs, is tiny and with no wok. It does have a pair of commercial deep-fryers, four nearly ten-inch aluminum fry pans, one chef, and a kitchen helper. The chef here wields these pans perfectly adding fresh foods from the fridge and dry ground seasonings from seven nearby tiny plastic containers.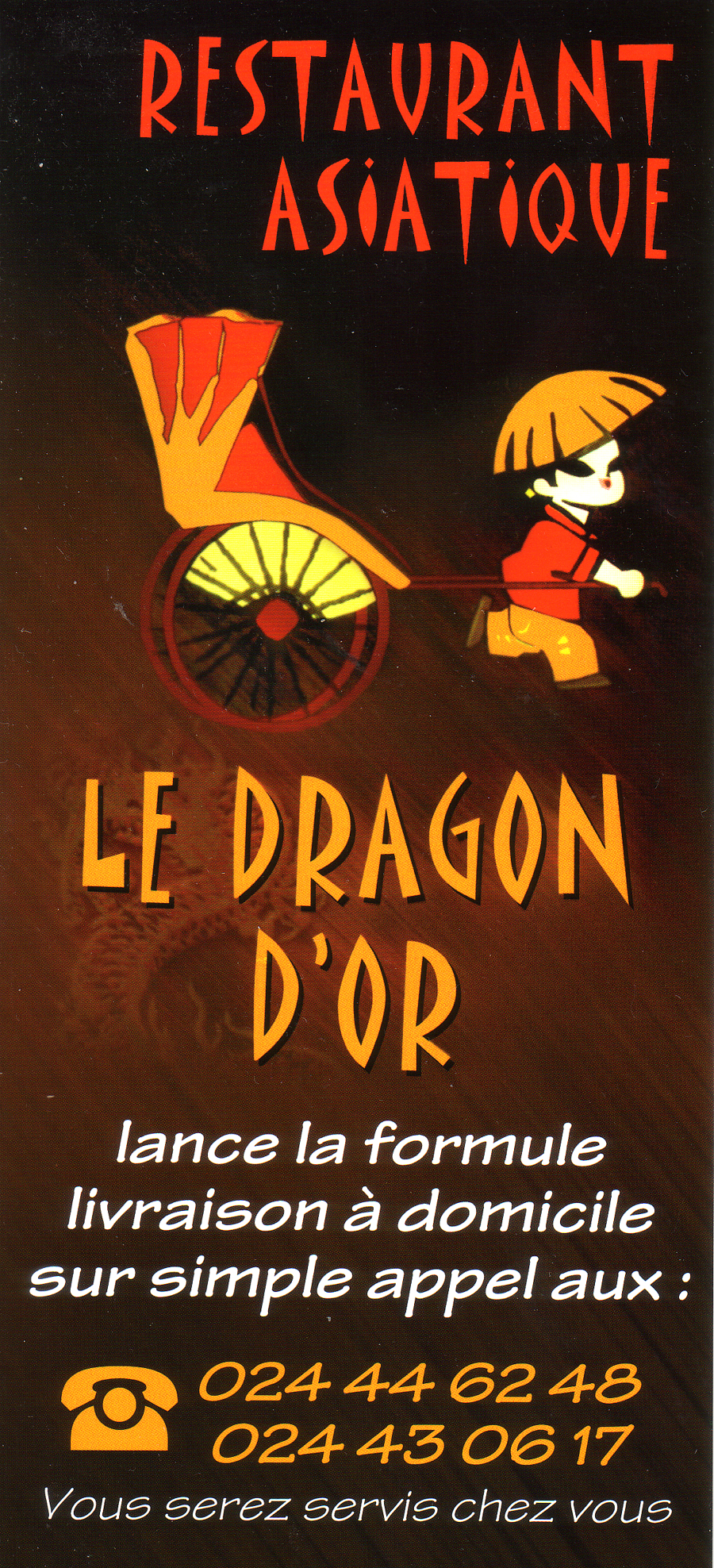 When we order and ask for chopsticks instead of the lonely fork at each setting, they arrive two minutes later and come in the front door and in a plastic bag. Presumably they come from Dragon d'Or because the chap who carries them in wears a black silk jacket embroidered with that logo.
In Morocco, virtually all green tea comes from China, and it is served in small glasses with fresh mint. Not so in this Chinese eatery. Ours came in a ceramic teapot, was super, had no mint, and was green Jasmine full of floral buds and lovely tastes. Another tasty treat arrives when the chap from the nearby restaurant does. It is was a pair of sauce dishes one with dark the other with thin soy sauce and a third one with a wonderful hot sauce. These are for dipping the freshly fried shrimp chips that came at the same time.
Our order, accompanied by lots of steamed white rice, answers one of the above questions. Yes, real Chinese food can be had in Morocco. We have Canard aux Bambous et Morilles, a stir-fried duck with bamboo shoots and cloud-ear fungi, the duck meat hand-torn from a cooked carcass. After stir-frying it, this Cantonese dish, circa America in the 1940's, arrives with meat and accompaniments in an almost clear sauce flavored with powdered ginger.
Poulet au Gingembre is chicken cooked similarly but without bamboo shoots. However, it begins cut-up and raw, and it swims in an even lighter sauce. We mix it with two of the three dipping sauces and the taste is enhanced. Crevettes Sautees aux Vermicelles de Chine includes lots of small shrimp, minced chives, cloud ear fungi, and oodles of pre-soaked then simmered bean thread noodles. This was the most flavorful dish in our order; it is very Chinese and very tasty.
All foods at China Quick are served efficiently and with care by Ait Aissa Ahi in his grey silk Chinese jacket. He advises that this twenty-or-so seat small spot in this very Qing Dynasty looking restaurant is busy at dinner-time. We are lonely at lunch. He tells us his customers are mostly local, except for tour groups, and that the locals return and often.