Restaurant Review
Hong Kong East Ocean Seafood (Emoryville CA)
(510) 655-3388
3199 Powell Street,
Emoryville, CA 94608
---
Reviewed by: Jacqueline M. Newman
Fall Volume: 2009 Issue: 16(3) page: 30 and 31
---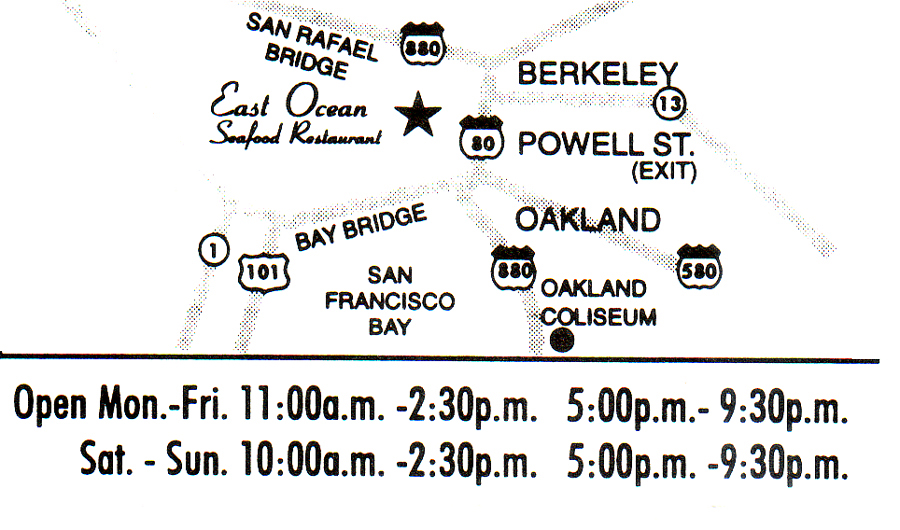 An Asian taxi-driver, who says he was born in Korea and is of Chinese descent. He mumbles his Korean friends never go with him to a Chinese restaurant though he often accompanies them to Korean and Japanese places. He asks us if we know his favorite Chinese restaurant and could he take us to it. Off we go but only if we treat; he counters that offer that the cab ride is on his tab.
So we go to HONG KONG EAST OCEAN SEAFOOD near a marina. It is a two-floor find where we read the fifty-two dim sum delights on the menu and the dozen other items called 'desserts.' There are also specials but no rolling wagons anywhere.
We grab a table and with pencil and carbonless forms for ordering, each of us selects a few items. Lucky that we did not arrive mid-day or on a week-end between eleven and half after one. Had we, he says the lines then are very long. We check off some items and foods come quickly. Were I a paying customer, he would not be happy with that as dim sum is supposed to be leisurely.
My cabbie friend and I enjoy Steamed Dry Scallop Dumpling Soup that is similar to Shark's Fin Dumpling in Soup. Here, they are loaded with Chinese leeks. Noodle in Clay Pot sounds tasteless to me as I did have it once before, but not here. I did not tell him that I recall it is bland. My cabbie companion wants it and I am glad he did. The liquid is rich, the content wonderful. Steamed Chicken Paws, Shrimp Transparent Dumplings, and Eggplant and Mushroom are the best ever; his choices, too.
The dishware here is not wonderful, all too chipped. On a really dreadful looking one, probably the best food item comes, their D.F Stuffed Pear and Scallops. D.F. here means deep-fried and this superior snack tastes as though rolled in Panko, those large crisp Japanese breadcrumbs. This deep fried dim sum is on a thin slice of ripe pear atop a one-inch mound of mixed minced shrimp and scallops. It could not have been better! Mango Pudding, from the dessert menu, my choice, comes bright and beautiful. Tortoise Plastron and Herbal Jelly, also my selection, sounds unusual and when it comes it is mostly grass jelly. After eating these selections, we ask for a dinner dish of Shark's Fin Soup with Fresh Crab Meat, a fitting ending after the long drive from downtown.
Glad I allowed myself this free cabbie ride. In many cities, taxi-drivers have knowledge about where many customers want to eat. They probably hear tales of the bummers when they take customers back to their hotels. So, if you want a food or facility you are not familiar with, try a cabbie. Even treat one and you will probably enjoy an eating adventure; we surely did!