Connect me to:

Restaurant Review
Two Restaurants in France (Annecy, France)
Le Mandarin ;11 Rue de la Gare; Annency, France an,
Le Pekin; 12 Avenue de Chambery; Annency, France,
Annency, France,
---
Reviewed by: Jacqueline M. Newman
Summer Volume: 2009 Issue: 16(2) page: 27
---
In Annecy in France, which is across the border from Switzerland, half hour south of Geneva, this city hosted the winter Olympics in 1992. Its fifty-five thousand permanent residents often explode; the tourist bureau told us there were quarter of a million in 2007. No wonder, the weather resembles Portland, Oregon, Cezanne once wenta few kilometers up the road to Talloires, and that very town is mentioned in A Thousand Places to Visit Before You Die along with two of its four-star restaurants, neither Chinese. The tourist office, though, does tout seven Asian restaurants, and five of them are Chinese. We find three in a two-block radius.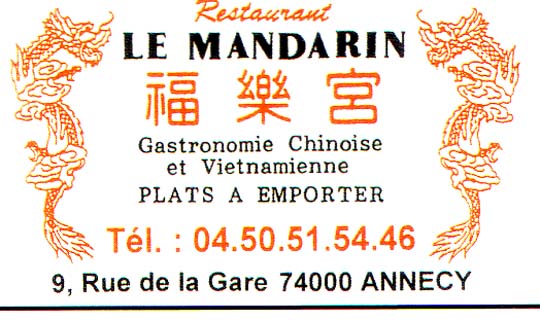 LE MANDARIN; 11 Rue de la Gare; Annecy, France; phone 04 5051-5446, closed the day we are there, is a take-away place serving young folk. It weighs everything they select, and charges accordingly.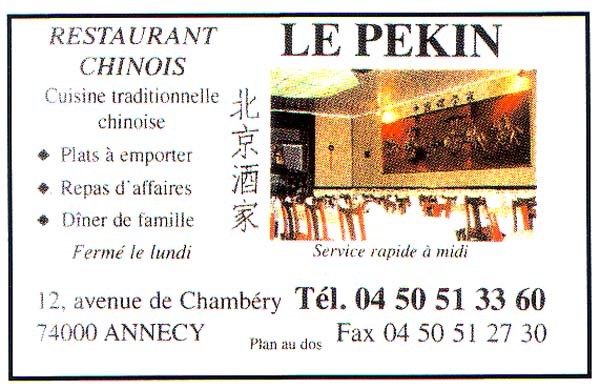 LE PEKIN; 12 Avenue de Chambery; Annecy, France; phone 04 5051-3360 is a real find. This place hosts quite a few tour groups, one from Indonesia was eating when we were there. Its menu in French and English, and a waitress two days on the job spoke to us in English telling us her name is O'Brien. Turns out she married an Irish English language teacher, was from Inner Mongolia, and was just great! This eatery has the cleanest fish tank ever, and lots of lovely calligraphy and Chinese art gracing its walls.
We order six dishes, Frogs Legs with Ginger and Chives. Flour-coated and fried, they come with stir-fried onions and green peas, and are fresh and fantastic. Claws of Crab (really crayfish) come as ordered, with black bean sauce, carrots, and straw mushrooms. They also arrive with strips of carrot, green pepper, onions, and young ginger; and they are great, too. The other dishes we order are Cantonese Roast Duck with orange slices, Pork with Perfumed Mushrooms and Bamboo Shoots, and Lamb with Ginger bathing in broth. All the dishes are good Cantonese food, the service is super, and we really enjoy every dish in this fantastic place.