Connect me to:

Restaurant Review
Mellie's Seafood Restaurant (Flushing NY)
(718) 886-2988
137-81 Northern Boulevard,
Flushing, NY 11354
---
Reviewed by: Jacqueline M. Newman
Winter Volume: 2009 Issue: 16(4) page: 30
---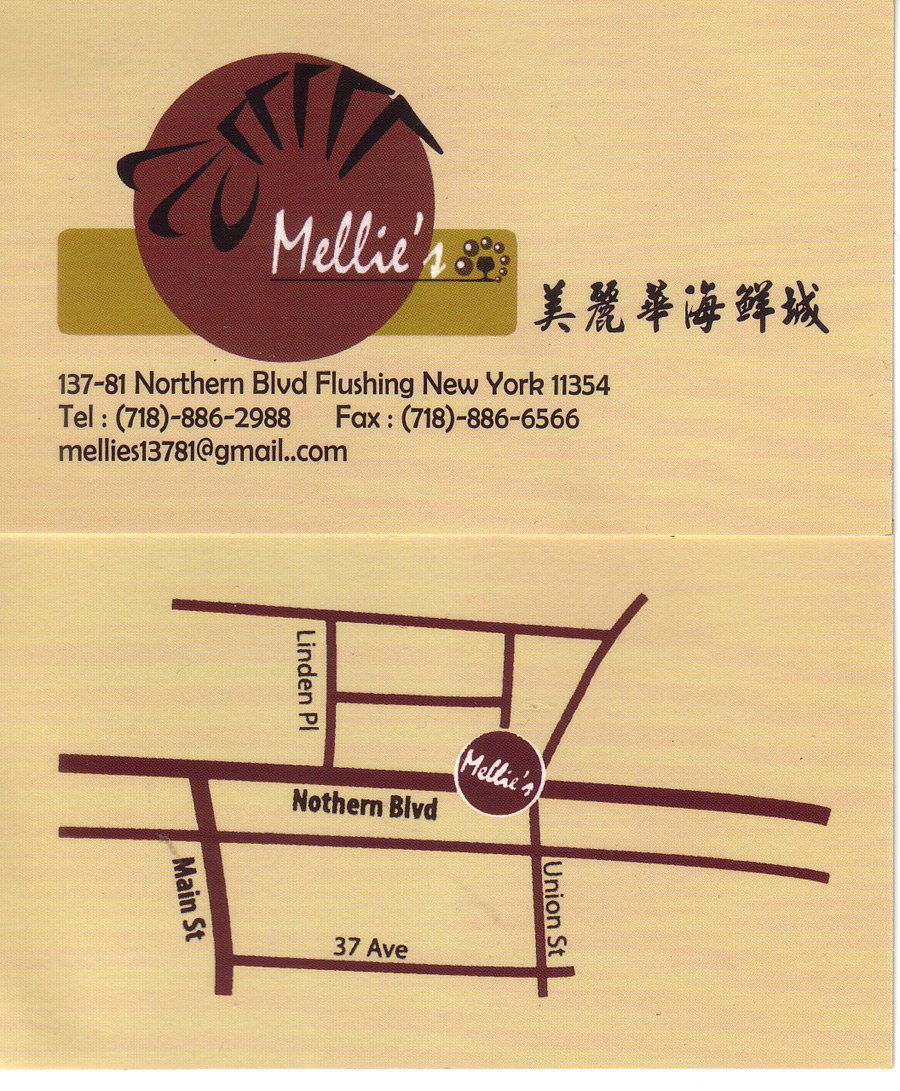 Mellie's is a place this magazine's Associate Editor advises we should try. Had he; or was it his intention we go first? To satisfy a hankering for Hong Kong-style Chinese food, which they feature, we did, and we go several more times.
The focus is on seafood, of course. At lunchtime there is fine dim sum, good lunch dishes, fish and non-fish at very reasonable prices. Then and at dinner, they are well-prepared. The manager tells us this place is owned by the same chap who owns Chao Zhou Restaurant at 40-52 Main Street, also in Flushing. hat is a place we have often frequented late at night as it is open until two in the morning. Should you not know Chao Zhou, it has a big red bowl and a set of chopsticks in it on its roof, and hanging ducks and other roasted foods in its front window. They serve breakfast from half after seven in the morning, make masterful noodle soups and congees all day, and have a large menu of dishes from its namesake region and elsewhere in China.
Mellie's is a one-hundred-plus seat up-scale newer, finer, and fancier spot with a small attended parking lot around the corner. Here, no roast meats grab your eye when you enter. Instead, fish swim in tanks at the entryway, the aisles are wide, the place gorgeously appointed, and all is ever-so-shiny. No exaggeration that, when we went to the Ladies Room, our lipstick smiled back from all of its plumbing fixtures.
The food at Mellie's shines, too. Most dim sum is better than at other places, and we have learned to love the small-plate lunch selections. Those of fish were tempting, tasty, and terrific; inexpensive, too. It is hard to decide at noon-hour whether or have dim sum from the rolling carts or one of those delicious dishes on the lunch listing, or eat from the dinner menu. We have tried all three, and they pull us back to try yet others.
We love the specials on small pink cards on each table, but only after Tammy or William stop by to translate them. They are only in Chinese. Not on the menu or any card are their Fried Mai Fun Noodles. These pan-fried pizza-shaped triangles come plain or buried under beef, spinach, and minute mushroom bits. We adore them and the fact that they only have egg whites holding them together. Ask for that version, it is terrific.
On one visit, everyone at our table agrees the dim sum dish of chicken feet are the best ever, Wanted to order another portion, but so many things are so good that we restrain ourselves. The two dozen lunch dishes on the card do not advise they come with a bowl of rice and alone make a marvelous meal. The sable fish is super, so are the dozen or so casseroles all differently priced mid-day and each less than seven bucks. We love the Squid in Brown XO Sauce, also the Chicken with Mixed Vegetable. Every one is made magnificently, and all dinner dishes to date have been divine.
This restaurant really wants you to enjoy the food and the service. Clean plates often replace those whose food has been finished, so mixing sauces one to another is never a problem. If pea leaves in garlic sauce is your thing, order them early because the serving is huge, its size overwhelms, and they are so good you do not want to deal with them when full. Oysters, clams, crab and other crustaceans are all cooked to a tee, never overcooked. Meats are tender, and vegetables are great.
For those that have learned to like bubble beverages, the bar obliges and makes fine fruit and tea mixes, their mango mixture is marvelous. This rather new spot is one block east of the new huge and spotless GW supermarket. We like going there after we eat, on a full stomach. It is a welcome walk though its many aisles; the selections, like those at Mellies, all look perfect. Another similarity, both have too many to choose from, parking is easy, and both are worth going to and enjoying.