Connect me to:

Restaurant Review
Hunan House Restaurant (Flushing NY)
(718) 353-2138
137-40 Northern Boulevard,
Flushing, NY 11354
---
Reviewed by: Jacqueline M. Newman
Winter Volume: 2009 Issue: 16(4) page: 30 and 31
---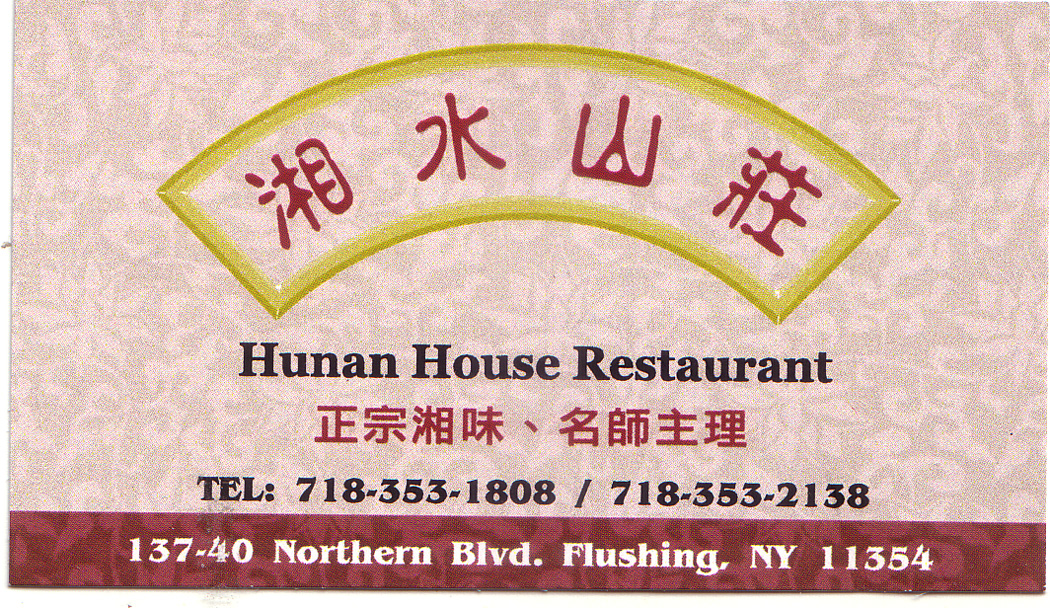 Hunan House is another new destination where one can enjoy many different Chinese foods. Here they are all from the provincial home of a past loved-hated Chinese leader, Chairman Mao. This eatery, almost directly across the street from the Mellie marvel and the GW supermarket, arrived on the scene early in 2009.
Lots of Chinese and Western Ladies lunch here and love its offering of two dishes out of twenty-two, soup and tea included, all for less than thirteen dollars. The dishes are all Hunanese and all are very good. Want more or go with more people, it is less than six bucks for each additional dish. The women we spoke to really do know good Chinese food; they do not go for the price.
On many visits, four of us devour much food in the three dishes we order, and once when we select a fourth, there is take-home because we can not finish all of them. Food here is good, filling, and with portions of good size.
Dinner dishes are a bit higher, portions even larger, and specials or no, one gets to dine on many Mao marvels as the dinner menu has forty-one house specials, and among the dozen we have tasted to date, one is better than the next. Many are spicy; Mao did believe he was hot stuff. And there are more things to chose from that are not listed as specials.
So far, among those with no red pepper indicators that are piquant, we enjoy their Preserved Fish with Garlic, Sauteed Liver Hunan Style, Eel with Bean Sprouts in Hot Chili Oil, and Sour String Beans with Minced Pork. Without a kick, we also love their Lamb with Cumin Flavor or and one can have it with beef instead. Also good is the Sliced Cured Pork with Dry String Beans, Braised Pork Mao's Style, Steamed Spare Ribs Hunan Style, and Special Duck Hunan Style. There are many non-specials tasting particularly special. These include Sliced Fish Sauce Soup, Shredded Potato with Vinegar Sauce, Braised Pumpkin with Ginger and Scallions, and Frog in Ginger & Scallion in Casserole Pan.
Mao Zedong had many losing notions in Hunan and elsewhere in China; yet as we make our way around the Hunan House menu, every item is a winner. Would that other restaurants stuck to the foods they are supposed to tout, and make them taste that good.