Connect me to:

Restaurant Review
Lang Zhou Hand Pulled Noodle Restaurant (New York City NY)
(212) 219-0889
21 Division Street,
New York City, NY 10002
---
Reviewed by: Jacqueline M. Newman
Winter Volume: 2009 Issue: 16(4) page: 32
---

The 'in' food is noodles. Different places in China have different cuisines, all those from the north love noodles. Lanzhou is famous for its flour foods, their wheat and rice noodles, minced meat noodles, and all kinds of noodles served with what westerners would call gravy or soup. Chinatown is serving lots of Langzhou-style hand-pulled noodles many from the city of Lanzhou; so is Brooklyn's Chinatown. These are sold in the streets of this city since late Han Dynasty times, and Manhattan and Brooklyn are doing in new small stores in both these boroughs.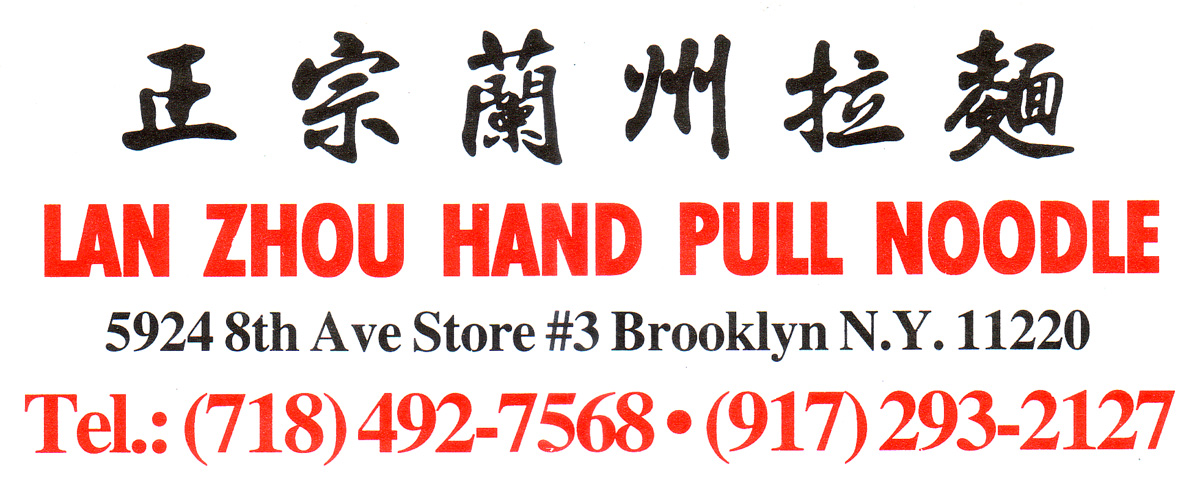 One can have delicious beef noodles. sour ones in a fermented soup, spicy ones hot, cold, or at room temperature, and savory ones reminiscent of the Tang Dynasty. The best are had pulled, we like ours with beef tendons or ox tail. Here they are also available with spare ribs, roast duck, and lots of other things including dumplings, vegetables, even eggs. Best are the hand-pulled noodles with anything else. We watch, marvel, grab a seat and enjoy them. Some issues back in Volumes 13(2) on page 16 and elsewhere we tasted and touted EASTERN HAND-PULLED NOODLES; 28 Forsyth Street; NY NY. Mr. Gao, their noodle-puller par excellence was also touted in Volume 12(3) on pages 14 and 33. Now he has many noodle-pulling competitors.
Try any or all these noodle competitors. Most offer hand-pulled, rice, and dry noodle combinations with beef, pork bone, tripe, roast duck, short ribs, ox tails, vegetables, and selections of sea food. Lan Zhou also has steamed dumplings, fish balls, meat balls, and special Fujianese wonton soup. Hand-pulled offers pickled mustard, beef hocks, eel, vegetables and eggs, and many other items. They also serve what they term, a Bento box, with one of the above and steamed rice. And as to their noodles, they can be hand-pulled, knife cut, egg noodles, thin rice noodles, or a plethora of other selections.