Connect me to:

Restaurant Review
M & T (Flushing in Queens NY)
(718) 539-4100
44-09 Kissena Boulevard,
Flushing, NY 11355
---
Reviewed by: Jacqueline M. Newman
Spring Volume: 2010 Issue: 17(1) page: 33 and 34
---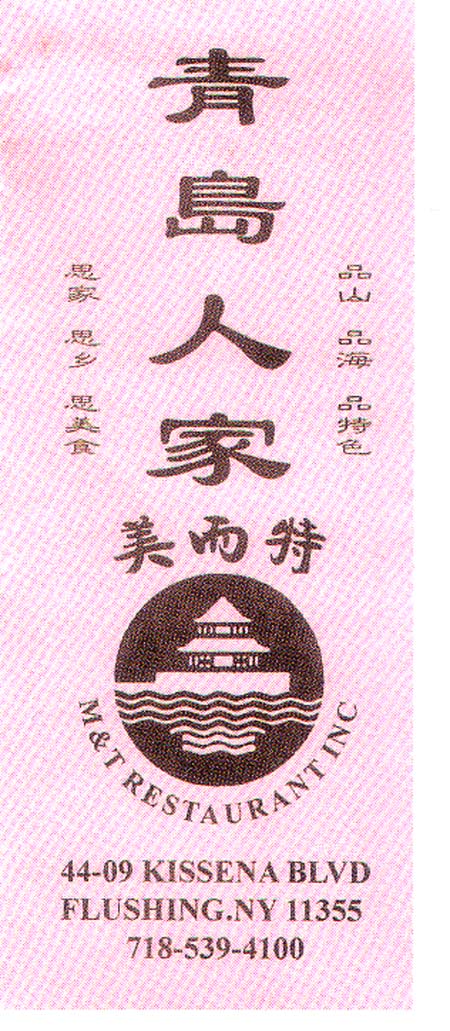 At M & T Restaurant, Chef Li Jun specializes in the foods of Qingdao. He and the owners as well as all the staff are from this Yellow Sea city. To our knowledge, it is the only restaurant in the United States serving only foods from this resort which is also an industrial city. Opening this past summer, its six tables include four rectangular ones for four, and two round ones for six. We did once squeeze seven around a round one learning little place left for serving dishes.
Walk in and see colored papers touting many specials on one wall. Opposite and in the front is a cooler showing off some of them. Behind that, beer on tap showing off Tsingtao from this city's brewery, as the beer is spelled. The New York Times, in Dining Briefs touted this restaurant, even cited their Pickel with Hot Sauce (spelled that way on the menu). It said it was made with broccoli. Check the greens and hot peppers dish we ate there the day the article was published, and broccoli no, the vegetable is leafy and more akin to spinach.
Eating at M & T several times, we know the chef cuts and cooks foods fantastically. Having visited the city, we also know Qingdao foods are mostly from the sea (read an article about this city in this issue). Many in this Flushing outpost did remind of those eaten there, albeit some years ago. Tea in this restaurant, like many ingredients, come directly from in or near Qingdao. Tea is from nearby Laoshan and a mountain tea garden. They serve it properly and less than hot; it is young and green.
The menu does have a few translation idiosyncracies, but staff advises there will soon be another with corrections. One such, Baby Shrimp with Tendons, were soft and succulent, but made with shrimp seed, not a crustacean in sight. For the record, that is the correct way to prepare it. Its tendons, mo-er, baby bok choy, scallions, and carrots were magnificent. So good, we went back the next week, husband in tow, as tendons are one of his favorite foods. However, he never got any. We called ahead and requested a chef-selected typical Qingdao meal. After its many dishes, no room for another, not even one promised to hubby.
The pre-ordered meal was great, as judged by the two Chinese and five others among us. Most dishes were listed on those colorful wall-hanging cards, a few were on the printed menu. Anyone wanting the fantastic dishes we enjoyed, nay devoured, take the Chinese menu owner James Tang wrote down for us (and note it is not in the order as served).
Our meal , many items shown on these pages, begins with jellied pigs ear. The best we ever enjoyed; it glistens and tastes oh-so-good! Next, comes a dipping sauce and lightly battered fish-strips with huge pieces of crisp-fried hot peppers. Amazing to all is the sauce, no salty taste though made of stock and soy with something tangy we do not recognize. Never mind, we dip and dine in a second amazement, no hint of piquancy even when we chomp on those fried hot pepper pieces.
The next dish tastes terrific, its tiny clams and some peanuts enhance thin pieces of wintermelon cooked in their own sauce. A wonderful cooling palate pleaser comes next, jellied seaweed with multiple toppings including fresh coriander. Shimmering and looking brown, when put in a plain white bowl, as pictured, note it is close to clear; also close to heavenly.
Laoshan, the nearby mountain already mentioned, is less than twenty miles from Qingdao, and the source of the special fried ginseng we had next. A first for many of us, it will not be the last, as we enjoy this creatively cooked batter-coated herbal. After it, whole shrimps spicy and in their shells did arrive. As the Chinese do, we eat them shell and all, head to tail, devouring these succulent savory swimmers.
Small less than half-inch in diameter home-made fish balls are next. Their texture, contrasted with Taiwan cucumbers, carrots, and baby bok choy, is beautiful. They have no starch to bind their minced fish. One at our table says they taste like her mom's gefilte fish. They are better than those of my mom, even better than those my grandma made, and she was a great cook.
Soup follows filled with white hairtail fish and tofu, and red goji berries. Spicy and special it is, that comment from a lady who swore she would never again taste this long skinny imported frozen fish. Vegetarian birds nests arrives thereafter the outer shreds of potato reminding of the new Olympic stadium in Beijing. They are filled with sweet bean paste and glutinous rice and also remind of eight precious pudding ending many a Chinese banquet. But they are not a sign that our meal is to end. Shreds of sweet and sour fish top things off followed by more soup. It is similar to the earlier one but nothing within.
As a Chinese expression goes when thin soup comes at meals end, it is there 'to fill the cracks.' No one had any needing filling. We are satiated and happy. We all know we finished an outstanding meal.
Rare is the restaurant that serves such fine food banquet style and for so little loot (twenty bucks each, tax and tip included). We did have rice, at our request, but that was because who would want to waste a drop of the super sauces? No food went back to the kitchen, every dish was a dinerís delight, and not a single person found fault with a single dish. That explains why on many week-day nights folks wait for tables. After eating here, bet you will add to the throngs seeking to savor many of the dishes touted on the wall and the many more on the menu. Learn about the foods from Qingdao, and like my husband, bet youíll be back many times; and he already has!