Connect me to:

Restaurant Review
Chopstix (Brooklyn NY)
(718) 238-1300
8405 5th Avenue,
Brooklyn, NY 11209
---
Reviewed by: Jacqueline M. Newman
Summer Volume: 2010 Issue: 17(2) page: 35 and 36
---
Going to another borough brings additional good Chinese chow, such is the case at Chopstix. It is a 2009 Top 100 Chinese Restaurant award winner overall and a winner in the 'Top 100 Healthy eateries' category. This casual and consumer-friendly restaurant, led by Tommy Ly, sports an open kitchen environment. Coming to this Chopstix means eating at a place dedicated to affordable Asian food in an up-beat casual setting, one that also serves sushi. The kitchen, overseen by Chef George Wong and his staff, prepare favorite Chinese dishes mixed with a few from Southeast Asia.
Our first visit came after driving around Brooklyn's Chinatown for half hour with no place to park. We then checked into other addresses in the same borough and headed for one of them. One in our crew who grew up in Brooklyn deemed Chopstix close. With many one way streets and others under repair, took twenty minutes to again search for parking. In but another few seconds we spied a nearby municipal garage and that meant eating was just around the corner.
After ordering, we were recognized. Also, we were given a red envelope upon leaving. Not wanting to insult, we quickly put it in a pocket; later on, when looking at it, it turned out to be a one hundred dollar gift card. On a second visit, made a bee-line for that garage, waltzed in with six in tow and ordered ten dishes. Turns out, that taught us how really affordable Chopstix can be. That bill with tax topped the gift by only five bucks. Leftovers provided the young couple in our midst with two more dinners. Both visits kept us in agreement with Yelp Reviews, that their service is fabulous, their food among the best, and their prices affordable.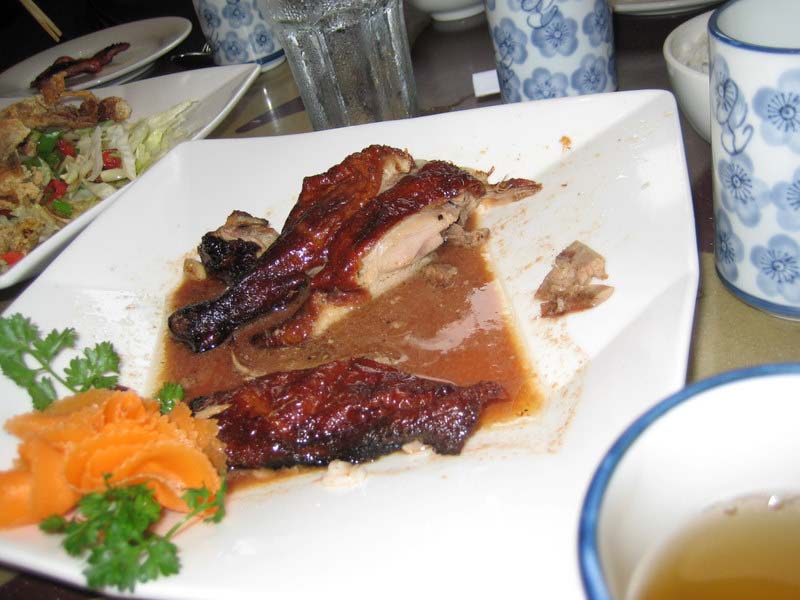 A chalkboard behind the counter listed two specials on the first visit, one Crispy Soft Shell Crabs. We had to have it. It was fantastic and we were glad we did. Lucked out as six weeks later there it was again. Once again it did charm us. Roast duck comes mostly boneless; that won our hearts, too. Not so the Beef Sichuan Style, which on the menu has an orange pepper indicating piquancy. It needs more hot peppers within to earn the name of that province.
All dishes are well-made, not bold, but nonetheless expertly flavored. A kids birthday bash in session on our second visit was for two dozen non-Chinese young-uns. They occupied one-third of the sixty-one seats, all ages in attendance having a blast and making empty plates.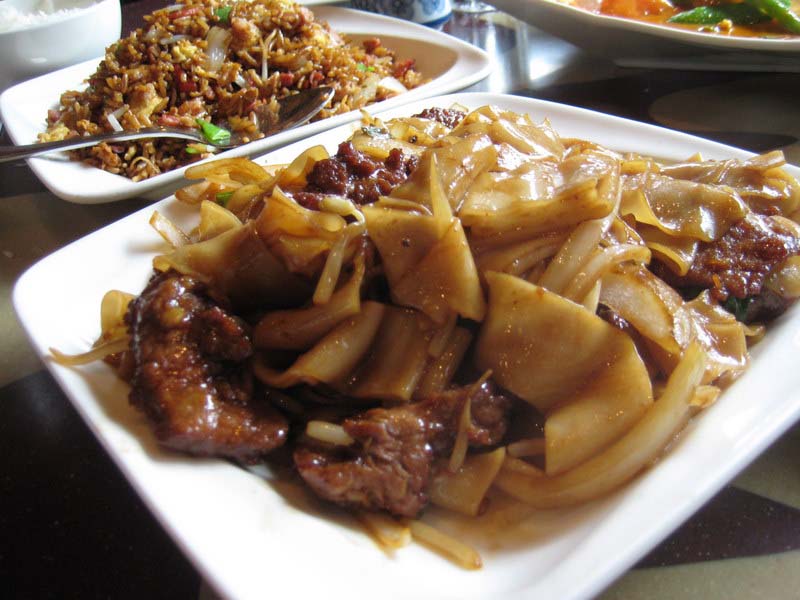 We order BBQ Boneless spare Ribs. Tasty even with no bones to chew on. We find it inexpensive and out-standing. So is the Beef Chow Fun, and the Pork Fried Rice. Chinese Eggplant and Sauteed String Beans in Garlic Sauce win us over, too. Tilapia, with ginger and scallions is on the lunch menu, it surprises as it is not a whole fish but a large one-inch fish steak. We find it fresh and fine, as is every dish we order and eat at Chopstix. Speaking of fine, Thai Red Curry with Chicken is made Chinese style, its white meat made velvet-style, silky, and super. The only other non-Chinese dish we order is Pad Thai Noodle. The rice noodles come with shrimp, bean sprouts, minced shallots, are topped with many minutia peanuts, and are yum, yum!
At the next table, a couple with two young girls finds father and the eight- or nine-year-old wolfing down sushi. Mom and one child about three years younger are enjoying Thai Red Curry with Beef. The young tyke loves it and we are surprised because we have the same dish but with chicken; we know it offers a high level of piquancy.
Must mention, on the second visit, we arrive about half after two on a Saturday and watch the two dozen parents and birthday kids eating heartily, and others, ourselves included, waiting for an empty table. These young folk and their chaperones leave maybe half hour after we show up. The staff quickly clears, separates the tables, and sweeps the floor. Good thing they are pronto, lots of us are waiting to be seated.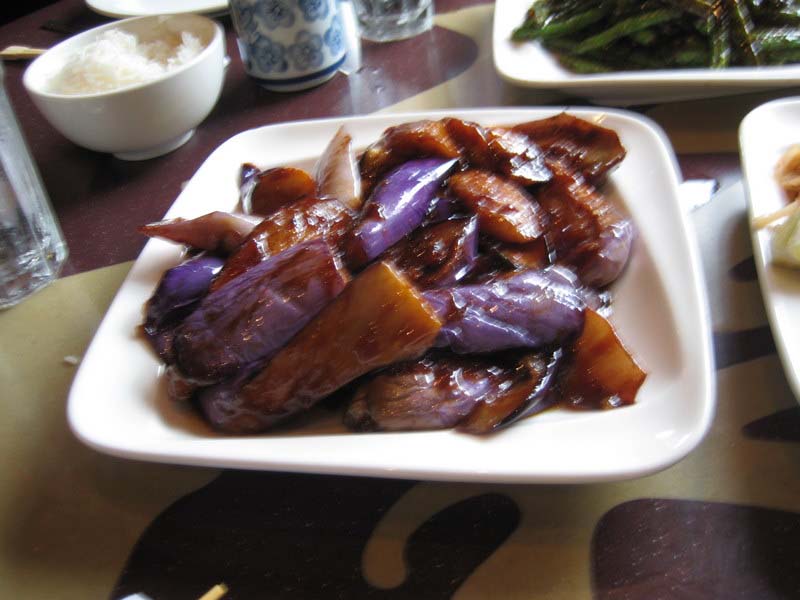 We eat and eat for two plus hours asking that not all dishes arrive at once. They oblige, change plates evert time they bring a few dishes, fill our teapot and water glasses many times, and are most accommodating. With hardly any empty tables, we note some take-out and are surprised. It is not even near a mealtime.
For finely prepared delicious and affordable Chinese dishes and parking possible, we truly enjoy Chopstix. Seems lots of folks know to come here to try their pan fried or steamed vegetable, pork, chicken, or seafood dumplings and the many dozens of their other beloved dishes be they chicken, beef, pork, or seafood, or masterful lo mein, chow fun, mei fun, and cellophane noodles dishes. This tells us Chopstix can deliver; yes, they do that, too !
On yet another trip to this borough, we enjoy Cantonese chow at the humongous EAST HARBOR SEAFOOD, 726 65TH STREET, in BROOKLYN'S SUNSET PARK. Readers might also remember another trip to Brooklyn with its ever-growing Chinese community, when we did feast and fill up at PACIFICANA; 813 55TH STREET; BROOKLYN NY 11220. That large lovable spot was reviewed in Volume 16(4) on page 32.