Connect me to:

Restaurant Review
Lan Sheng (New York City NY)
(212) 575-8899
60 West 39th Street,
New York City, NY 10018
---
Reviewed by: Jacqueline M. Newman
Summer Volume: 2010 Issue: 17(2) page: 36
---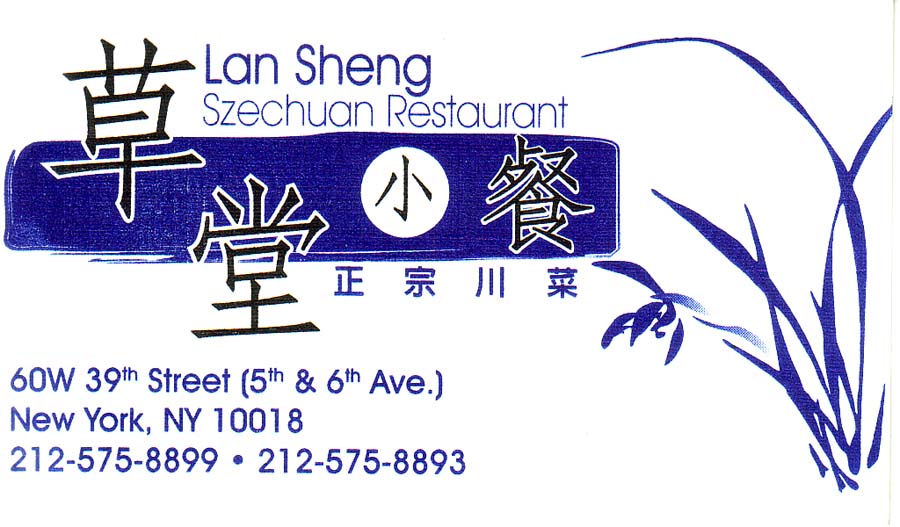 One day when shopping in mid-town, we stop in at a new spot in a neighborhood shy of really good Chinese food. The place we drop in to is Lan Sheng. We went there the third week after they opened (or so we were told by Nancy Lon Yang and chef Wang Zhong Qi); and we did love their food. Later, we learn they opened several weeks before, still trying things out. This upscale sophisticated restaurant serves fantastic Sichuan food beginning with a small free portion of an appetizer. While there, we learn that those wanting take-out who order more than twenty bucks worth, are comp'd an order of Sichuan Cold Noodles, Wonton in Hot Sesame Oil, or Wontons made Sweet and Sour. Go for the noodles, they are top drawer and terrific.
As we often do eat in a Sichuan eatery, we begin with one of our favorties, Ox Tongue and Tripe in Chili Sauce. It is a large order, does not pander to those not Chinese, and does have their share of delicious hot peppers. This dish is simply superlative.
Gui Zhou Beef is loaded with beef dried and fried and hot peppers pickled and from a jar. There are many pieces of fine dry-fried marinated beef with lots of scallions and bamboo shoots. The platter is pretty, loaded too, with carrot rolls, scallions, and fresh coriander. Reminds of a similar dish we delighted eating in Chengdu.
Frog in Mini-hot pot arrives with quite a few of those yummy pickled hot peppers, also straw mushrooms by the handful, and piles of scallion pieces. It and every dish here is equal to food from the Sichuan Province. Even the free pao cai appetizer, there to stimulate appetites while waiting for dishes ordered, is special. Not just cabbage solo, it is in the company of carrots, and red peppers and did keep company several days soaking up each other's flavors.
General Tso's Tofu is related to Mapo Doufu; eating it with Dried Sauteed Soybean Sprouts, crispy and creative, also Pine Nuts with Corn and Sauteed Vinegar Potato Strips makes for a very special Sichuan meal.
When shopping on Fifth Avenue, do take a break and delight in their lunch specials; all are just under seven bucks. We had a hard time selecting among the three dozen delicious choices. Lunch comes with soup, Spring Roll, and a choice among three different rice selections. Midtown no longer wants for good Chinese food from the province of Sichuan.