Restaurant Review
Two Regional Restaurants, Shandong and Sichuan (Paris, France)
---
Reviewed by: Georges London
Summer Volume: 2010 Issue: 17(2) page: 17, 18, and 19
---
Before beginning to discuss these two regional restaurants in Paris, a brief summary of the context, that is the history of the Chinese in France. That is something not very well known, even locally. Only two European countries have large Chinese populations, France and England. In France, there may be some six hundred thousand Chinese; some say this number might grow to the million mark in a few years. However, these numbers are an estimate. Why is that? Because obtaining ethnic statistics is against the law in France.
What is known is that the Chinese population is essentially divided in two groups: refugees and economic immigrants. The first group migrated generations ago from China to Southeast Asia including Vietnam, Laos, Cambodia, etc. and they arrived in France recently. The second group came directly from the People's Republic of China, in particular the provinces of Zhejiang, Shandong and Liaoning. The first large but temporary immigration dates from World War I. Then, about one hundred thousand men were recruited principally from the regions around Shanghai to work in the factories, to build roads, and to dig trenches. After the war, only a few thousand remained. Interestingly, they were joined in the early 1920's by student-workers including Zhou Enlai and Deng Xiaoping, among others. This nucleus of workers grew slowly via economic immigration from the Zhejiang province. In the 1970's, there were large migrations of ethnic Chinese from the diaspora, mostly 'boat-people' with distant memory of their origins. Most of them came from Chaozhou in the Guangdong Province near the Fujian border. Since the recent liberalisation of the Chinese economy, newer immigrants arrive directly from China, usually to rejoin an existing community; for example, many came from Wenzhou in Zhejiang. Very recently, a new group has arrived from the three provinces of Dongbei, northeast of Beijing, namely Heilongjiang, Jilin, and Liaoning.
In Paris, there are three main Chinese enclaves. The oldest but least visible is in the 3rd arrondissement (a district), mostly a working area composed of small factories and wholesalers. The second is in the 13th arrondissement or the Chinatown of Paris. This is more correctly called 'Asiatown.' Around 1975, this area began to be inhabited by the refugees from Southeast Asia. These immigrants, sometimes quite educated and financially secure, have a special rapport with a China they have never known. Many left, sometimes many generations ago, and mainly from the Chaozhou region. The third Parisian area is in the 19th arrondissement. This is perhaps the neighborhood which is the most Chinese. It is a mixture of overflow from the 13th arrondissement and other economic immigrants who came directly from China, in particular from Wenzhou in the Zhejiang Province; this is south of Shanghai.
Since the refugees from the diaspora form the largest and most well-off component of Chinese in Paris, there are now a large number of restaurants that serve Chinese-Vietnamese-Laotian-Cambodian cuisines. It is interesting to note that many native Frenchmen, especially those who have not travelled too much, think there is an 'Asian Cuisine.' Hence, authentic Chinese cuisine has been hard to find until recently. The restaurant scene is now changing, albeit slowly. Some of the eight great regional cuisines are beginning to be clearly represented.
What follows are reviews of two Chinese restaurants devoted to two of China's great regional cuisines, those of Shandong and Sichuan. The main culinary overlap is Hot Sour Soup which I believe originated in Sichuan and is also claimed as Northern cuisine. Curiously, the name of this soup in the Sichuan restaurant is Soupe Pékinoise!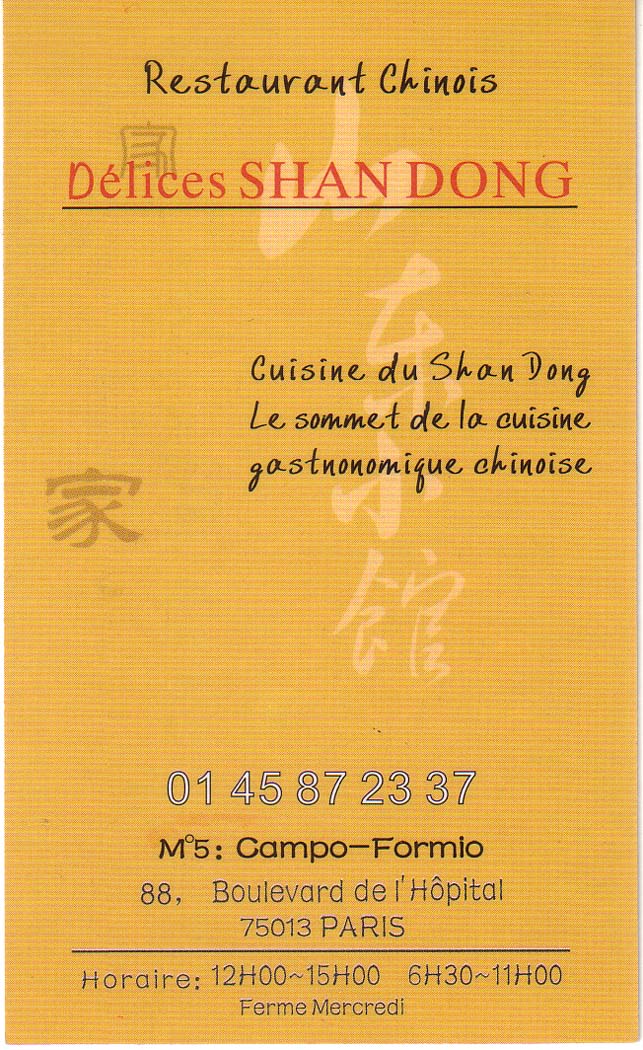 DÉLICES DE SHANDONG; 88 Boulevard de l'Hôpital; 75013 Paris, France; phone: 01 45 87 23 37 is near the metro stop Campo Formio. This restaurant is open only from noon to three in the afternoon and from half after six to eleven in the evening. It is closed on Wednesdays.
The tastes of the food in this family-style restaurant are quite unique in Paris where the specificity of Shandong food is unknown. The food is authentic, freshly prepared daily, and served in generous portions. The cost of a meal is about twenty Euros per person, wine or beer included, a very good quality to price ratio.
The restaurant is small, serving a maximum of sixty people, and has a large glass terrace extending onto the sidewalk. The wait staff, all from Shandong, as is the chef, is friendly and alert. They make suggestions for authentic tasting. No English is spoken and the menu is only in Chinese and French. Not a fancy restaurant, its restroom is in a nearby courtyard, beer cases are stacked at the entrance, there are Formica-topped tables that are bright red, and there are paper napkins. Nonetheless, the vibes are good, giving the feeling that a Chinese family is cooking a meal just for you.
Customers include a heavy mix of Chinese, often young, and the restaurant is sometimes crowded, especially at noon. The neighborhood is quite lively during the day with a nearby Medical School. It is calm at night and not too far from Chinatown.
A reasonable number of dishes are offered, many very original. Expect lots of onion and garlic to accompany squishy seafood such as jellyfish and sea cucumber, and pork from ear to tail. All is homemade, simple, and with no MSG. There are no fixed-priced menus, and any dish is available for takeout, which is prepared very quickly.
Here are some of the dishes named in French, their English names are in parentheses.
For appetizers, which range from five to eight Euros, there ARE Langue de Canard Parfumé (Fragrant Duck Tongue), Oreilles de Porc aux Concombres (Pig Ears with Cucumbers): OK though I prefer to nibble on my wife's ears! There is also Racines de Lotus au Gingembre (Lotus Roots with Ginger).
Among meat and poultry items costing between eight and twelve Euros, there are Tripes Sautées Nature (Stir-fried Tripes), Intestins de Porc Frits et Pimentés (Spicy Pork Innards), Sauté de Rognons aux Piments (Stir-fried Spicy Kidneys), Agneau Sauté à la Ciboulette (Stir-fried Lamb with Leeks).
Some seafood dishes are Soupe de Calamars et de Tofu (Squid and Bean Curd in Soup), Crevettes à la Sauce Aigre-doux (Sweet and Sour Shrimp), Crevettes Laquées (Shrimp in a Sweet Smoky Sauce). Some vegetable dishes are Pousses d'Ail Sautées au Porc (Stir-fried Garlic Sprouts with Porc) and Aubergine Sautée à l'Ail (Stir-fried Eggplant with Garlic).
Another soup is their Soupe avec le Goût Pimenté et Aigre (Hot and Soup). There are noodles, raviolis, dumplings, and breads including Raviolis aux Légumes Façon Qingdao (Qingdao-style Vegetable Dumplings) or Raviolis aux Crevettes (Shrimp Dumplings), and there is Pain à la Vapeur (their Steamed Mantou Buns).
For beers and wines they sell Tsingtao of course, also spelled Qingdao Beer, and they have a modest choice of wine.
By the way, the owner seized the opportunity to get the address of this restaurant since the word for 'eight' sounds like the word for prosperity in Mandarin. Readers may recall the opening ceremony of the Summer Olympics in Beijing began on 8/8/08 at 8 seconds and 8 minutes past 8 pm.
This simple family-style restaurant serves authentic Shandong cuisine with a blend of flavors difficult to find elsewhere, at least in Paris. Look for the six photographs of its food at www.qype.fr/place/183961-Delices-Shan-Dong-Paris/photos/336753
RESTAURANT DÉLICES SICHUAN; 16 Boulevard de Strasbourg; 75010 Paris, France; phone: 01 40 18 56 37 is at metro stop Strasbourg-Saint Denis. it is open from noon to half after two in the afternoon and from seven to eleven evenings; and it is open seven days a week.
The name of this restaurant has changed from Panda and Chengdu, however, the people and the menu have not changed. In particular, the chef is still from Sichuan, while the wait staff is from Shandong or Cambodia, or originally from Chaozhou.
The food in this large restaurant is appetizing and quite unique in Paris where the specificity of of Sichuan food is relatively unknown. The food is quite spicy as you can imagine and it is served in reasonable-size portions. The cost of a meal is about thirty Euros per person, wine or beer included, and it too, has a good quality to price ratio.
The restaurant is large with several sections including a small glass terrace on the sidewalk. The wait staff is pleasant and reactive, they made suggestions as we planned our menu. English is spoken here, and the menu is in Chinese, French, and English. A large number of cloth red chilis hang on the walls as a warning that here hot foods are served. There is lots of gold and red everywhere, the tables have linen tablecloths, covered with paper, and there are paper napkins. Our table had a lazy Susan in the middle.
The customers here include a mix of Chinese and non-Chinese; and we have sometimes seen Chinese businessmen arrive at noon en-masse to sit in the rear and do their business thing. This restaurant is located at a crossroads in Paris where the Indian sub-continent concentrates its shops and restaurants in the Passage Brady nearby and Africa takes care of its appearance in the multiple hair-styling salons. A large number of authentic Sichuan dishes are offered but unfortunately the menu is not very well organized. There are fixed-priced menus from about nine to fifteen Euros and they propose typical Sichuan fare. A unique feature of the menu is the Fondue Sichuannaise or Sichuan hotpot. It is offered in many variations from chicken or beef to shellfish. It is supposedly for two persons, but my experience indicates that three normally hungry people would be quite satisfied. Their hotpot has two sections, one for a mild sauce, and one for a spicy sauce known as mala.
Here are some of their dishes beginning with their appetizers. There are Nouilles Sichuannaises (their Dan Dan Noodles), Raviolis Sichuannais (Sichuan Dumplings), Raviolis Sichuannais aux Crevettes (Sichuan Shrimp Dumplings), and Raviolis de Shanghai (their Shanghai Dumplings).
Their cold dishes include Tofu aux Ciboulettes (Tofu with Scallions). And their soups include Soupe Pekinoise (or Hot and Sour Soup). Among their specialties is Poisson Sauce Aigre Douce (Sweet and Sour Fish); a clinker that I should not have ordered as it is not from Sichuan! There ARE also Fruits de Mer Croûtes de Riz (Seafood in Sizzling Rice), Crevettes Sautées aux Piments (Kung Pao shrimp), and Lotte à la Sauce Piquante (Monkfish in Spicy Sauce).
Among their meats and Poultry, we have enjoyed Bœuf à la Sauce Piquante (Beef in Spicy Sauce), Poulet Impérial (Kung Pao Chicken), Porc Yu Xiang (Pork in the Style of Fish), Poitrine de Porc à l'Ancienne (Twice-cooked Pork), also Poulet Chong Qing (Chongqing Chicken), Porc Sauté au Sec (Dry-cooked Pork), Bœuf Sauté Sec aux Piments (Dry-cooked Beef) and Agneau au Gingembre (Lamb with Ginger).
Their vegetable selections include Aubergines Yu Xiang (Eggplant in the style of fish), Haricots Vert Piquants (Dry-cooked String Beans), Pâte de Soja Pimenté (Mapo Tofu), Aubergines Malar (Hot and Numbing Eggplant), and Concombre Aigre Pimenté (Hot and Sour Cucumbers).
For dessert, this restaurant offers Glace au Taro (Taro Ice Cream); they have beer and wine including Tsingtao (Quingdao beer) among others, and reasonable choices of wine. This large somewhat sophisticated restaurant does serve many authentic Sichuan dishes with a blend of flavors that is difficult to find elsewhere in Paris and at reasonable prices. You can find seven photos of this eatery at: www.qype.fr/place/183970-Cheng-Du-Paris/photos