Connect me to:

Restaurant Review
Palacio Danubro Axul (Santiago, Chile)
56 (0)2 234 4688
Reyes Lavalle 3240,
Santiago, Chile
---
Reviewed by: Jacqueline M. Newman
Fall Volume: 2010 Issue: 17(3) page: 35
---

On the block behind the Los Condes Town Hall, this eatery is in the El Golf or upscale residential area of downtown Santiago. We learn about it searching the web, querying countless Chileans living in the United States, calling folks at the consular offices at the United Nations, etc. While so doing, two restaurant names came up often, one more than the other in this capital city in a country on the west coast of this long skinny South American country. This eatery was closer to downtown, the other was many subway stops away.
We are fortunate to visit Chile before the earthquake. Though time is always short, travel in this city was easily accessible then. Both of these Chinese restaurants opened in the 1980s, both serve Cantonese food with a sprinkling of other Chinese regional dishes, and as is often the case, time abroad only allows visiting one of them.
Palacio Danubio Axul's entry is as upscale as is the rest of the place. The take-out menu says: The Best Chinese-American Restaurant in Town. It advises that delivery requires ordering an hour before anticipating your food. They do think of everything!
On the way in to this two-hundred-eighty seat eatery one passes two full-size Xian-soldier-replicas guarding us and the eatery. They set a lovely stage in a gorgeous place that sports an in-house menu that is extensive and elegant; magnificent, too. It is loaded with color photographs of almost every dish. The food, when it comes, is simply beautiful too, and expertly prepared by local folk, we see not an Asian among them.
Chinese food here is made with a few minor Chilean adjustments such as in the mild Mapo Doufu. Nonetheless, it looks and tastes like great Chinese food, probably because the chefs were trained, thanks to some fifteen others imported from China, who stay four years to train them. Clearly, they did an excellent job as they now make delicious Peking Duck, many dim sum delights, and dozens of other fantastic Chinese dishes.
Owned by Giovanni Vanni and his Mom, Teresa, both are on site virtually every day seeing to it that their patrons get phenomenal service and fine food. Three generations back their family did hail from Shanghai. Grandson Giovanni built this place making it one of, if not the classiest Chinese restaurant in all of South America. He bought and brought things from China, also searched the rest of the world to acquire lovely Chinese artifacts for decor, and he purchased machinery and ingredients to cook great Chinese food.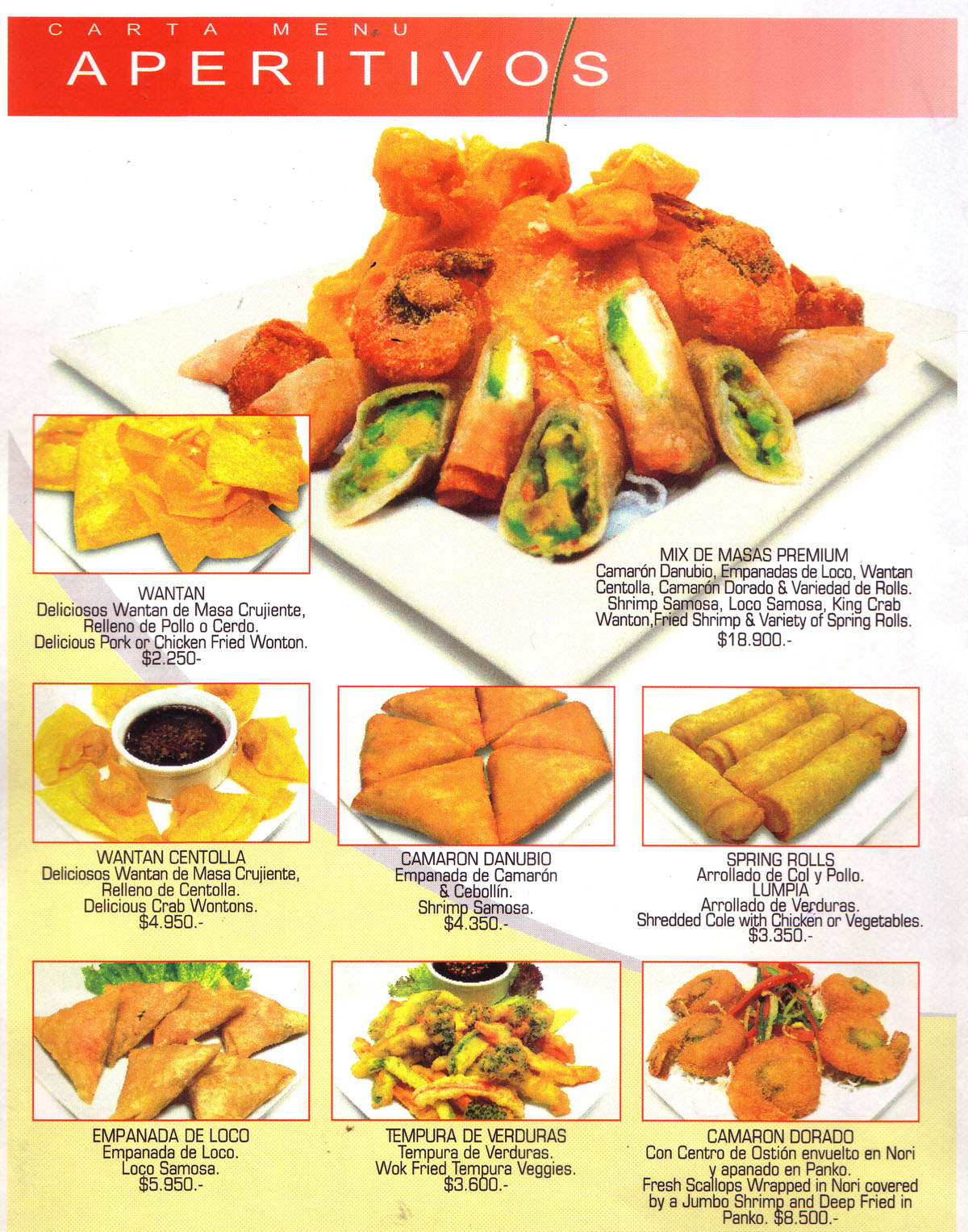 We dined on a dozen dim sum, one very Chilean, the others very Chinese. The former was Aji Rellano made with covina paste, cheese, and garlic. The other taste treats replicated foods from all of China. Every fried one was great and greaseless, the steamed ones savory and super. Our Peking Duck came sitting on crispy fried rice noodles, themselves showing not a drop of fat. Presented boneless, except for the legs and wings, their lovely presentation matched all exquisite visuals here.
Another winner was a pile of Machas Tausi, said by the locals to be razor clams. They come under a blanket of minced mushrooms, peppers, and other vegetables, and to us look like arctic clams. We learn they are a local favorite and do understand why they are adored. The Mapo To Fu looks different. Not what we expect, but delightful in its own right. Made with brown bean curd cut into thin slivers, pork strips to match, and accompanied by slivers of seaweed, scallions, bamboo shoots, and mushrooms, we enjoy its visual and textural differences, even if its taste is a continent away from home. We learn later it is made this way because locals do not like spicy foods but do love this milder version. Looking around that is confirmed as we see it on almost every table.
We taste many other dishes, all made exceptionally well, served with class, presented perfectly, and tasting terrific. We also learn, when Mr. Vanni comes to sit with us, that this owner studied food service management at a university in Florida, there learned ever nuance of what a great restaurant should be, now visits the best annually in many countries, and he applies everything he learns and sees. One simple example, top eateries now use lovely white square dishes because food on them looks clean and luscious. He replaces all his plates and platters so his customers can see and savor their delicious delightful dining dishes. We appreciate every item of attention and see that those at other tables in this sophisticated Chinese restaurant do, too!