Connect me to:

Restaurant Review
Ciprianny (Villa Gessel, Argentina)
46-3223
Avenue Villa Gesell,
Villa Gessel, Argentina
---
Reviewed by: Jacqueline M. Newman
Winter Volume: 2010 Issue: 17(4) page: 25
---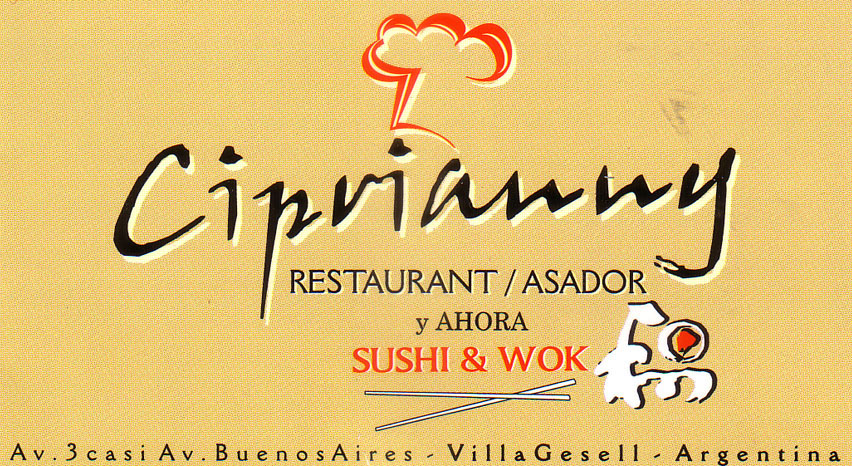 Ciprianny was reviewed in the column titled: On menus in other parts of the world. This 'asador y ahora' boasts both sushi and Chinese wok dishes along with local barbecue and other Argentinian foods. While the Chinese food may be limited, for Argentinians seeing its wok flaming in its window next to a chap making sushi, then tasting these wok-made wonders is a real tasty Asian treat.
Before going to this small resort town, we are assured by the restaurant owner of Akie Malem in Mar De Los Pampas, that there is no Chinese food in this area. We found this hard to believe. However, who are we to doubt a local foodie who serves super Eastern European dumplings called varenikas? After all, his business card says his dumplings are Bobe's, his wife's bubbe or grandmother, and they are her recipe. We can attest that they are great, though clearly not Chinese!
One day, in the town of Villa Gisell, we pass Ciprianny and see the word 'wok' on their awning. As he is our driver, we yell for him to stop as we need to see the menu at this place. The next night we implore him to take us back to eat at this four-ethnic-eatery serving Argentinean BBQ, Italian, Japanese, and Chinese food; and he does.
At Ciprianny, the Chinese menu section says they incorporate 'artes orientales' and we note there are four different chop suey selections, so we order and taste two of them. We learn that one is better than the next. Many folk rub noses on their front window to check out how they cook these wok items. They should wander in as we did because tasting is even better than looking.
Before those local 'artes orientales' we ordered arrive, we enjoy six wonton filled with cheese and a few minced vegetables. They come with sesame oil and a ginger dipping sauce. They taste Chinese and equally important, taste terrific. There are lamb, chicken, pork, and seafood Chop Suey selections. In addition, there are five different Chow Fun ones (add ham and eggs to the above choices), and four 'Chao-mien' dishes.
We wonder how popular these offerings are because we only see ourselves eating them. For whom do they cook them? Later, we note them wok-ing them, presumably for others. Every time they fire them over, and hardly add soy sauce, they are adding lots of culinary pizazz. We note that our restauranteur friend-driver wolfs them down; we do, too.
They are better than the parilla we also order. This meat is made over wood. It is grilled, dried out, chewy, and close to tasteless. We do not try anything Japanese or Italian. When full, we leave this eatery duly impressed. Our Argentinian driver loves the Chop Suey and Chow Fun dishes and we are surprised, not that he likes them, but that the Chow Fun are made with rice. We are also surprised that this Ciprianny has a sister restaurant in Buenos Aires at Avenue 3 Casi. We stayed there for half a week and did not know that, nor did our driver who used to live there his entire lifetime. If the staff in Argentina's capital city is as phenomenal as our waitress was in Villa Gesell, that restaurant must be a winner, too.