Restaurant Review
Yangzhou Chinese Restaurant (Lukasa in Zambia, Africa)
0955-422789
Plot 8, East Roach, Jasmondine,
Lukasa, Zambia
---
Reviewed by: Audrey Spindler
Winter Volume: 2010 Issue: 17(4) page: 25
---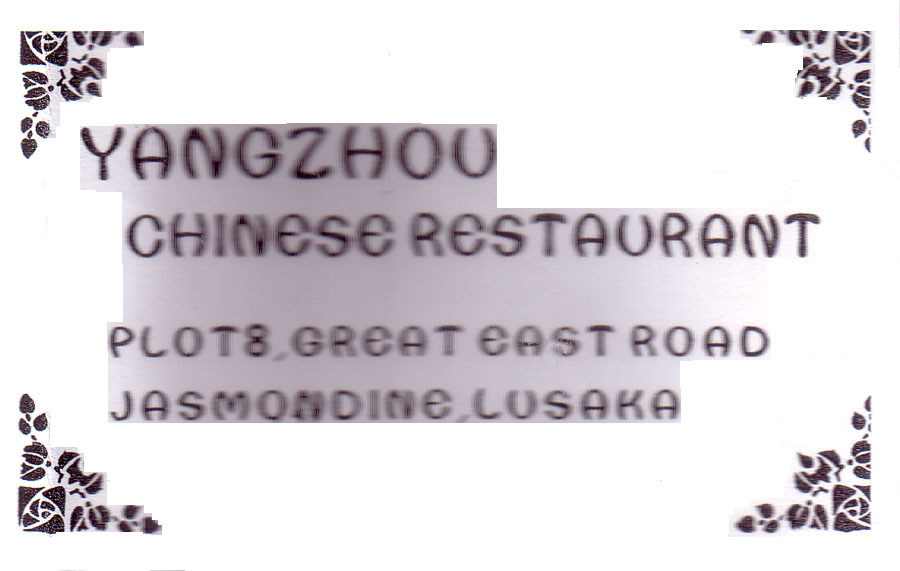 Yangzhou is in a walled compound and considered a safe place to park a vehicle. Its outside is bright and white with red trim and Chinese lanterns. They entice going in to this eatery located in its bow-shaped Sub-Saharan African country where its Chinese food is offered in an attractive newly-decorated look with walls and table covers a bright, creamy yellow.
Zambia is part of the former British colony of Northern Rhodesia, and folks here study in English, the language of government and commerce. Foods in Zambia might not be what one expects, though their staple foods includes rice. It was introduced from Tanzania, as were beans, another staple food. They came here in interesting ways.
The best known contribution to Zambia from China, also to Tanzania, came via the construction of the Tanzara Railroad that connects Kapiria Mposhi with Dar-es-Salaam. It was completed in 1970. Furthernore, there are, scattered throughout the country, shells of buildings of former farm cooperatives or factories started by the Chinese whose influence was greater in the 1970's and the 1980's than today. It is interesting to note, in the opposite diection, some mechanics and other skiller laborers went to China for training. That was in the 1980's.
Chen Ping recently acquired the restaurant in the early part of 2008. She is from the Sichuan region, her primary chef from the Yongzi region. The first time we went to eat there, she was introducing some new items on the menu. At that time, a dinner consisted of six items and cost eighty thousand ZMK or about fifteen American dollars. On our second visit, seven dishes were sampled and they cost about the same.
After sitting down, chopsticks arrive in nice yellow fabric holders. They are unusual for Zambians who traditionally eat with their right hand. No problem, they have adapted to and use knives, forks and spoons, so many do try using these wooden sticks. Full-flavored Duck Soup with Dumpling is our first course at both meals. The dough delights are filled with cooked duck minced with chives and Chinese cabbage; all common foods easily available in Zambia. This dish is excellent the first time we eat it, and a bit doughy on our second visit. That first time, our soup had a few pieces of baby bok choy. They are absent the second time around. We miss the color they add to the soup. Also on that repeat visit, there are many bones but little meat in our soup. That is the inverse of the same soup on our first visit.
Calamari Sizzler is another item consumed at both meals that we enjoy here. On the first trip, the squid is nicely flavord with ginger and garlic, lightly fried and tender. The second time we have it, it is over-cooked and not as well flavored. A pity!
Sweet and Sour Pork appears as small pieces of spareribs in a rub, not a sauce. It is strongly flavored with anise and not a bit sweet. This dish is very different from standard sweet and sour dishes we and many others know in American Chinese resataurants where batter-fried pork pieces swim in sweet and sour sauce along with pieces of green pepper and pineapple.
With the Sweet and Sour Pork at our first meal, we try a dish of Quick-fried Broccoli. It does not have much flavor and does taste a mite salty. Broccoli is available in the bigger cities of Zambia, including in Lusaka, Kabwe, Kitwe, Ndole and Kasama; it is also found in Livingstone. I think it is there for the tourists. This vegetable is popular among more affluent Zambians, but does remain largely unknown to the vast majority of its countrymen.
At our first meal, the broccoli is accompanied by peanuts flavored with anise, and tofu prepared with marginally sour chili and chives. These nuts, called ground nuts here, are staples in Zambia. Tofu is not, so the restaurant makes its very own bean curd.
Fried Rice, Beef Ribs and and Chicken Xing Yang completed the meal on our second visit. The beef ribs contain a good deal of cartilage and gristle and have little meat though their flavor is beefy touched with anise. The chicken dish carries a good deal of warmed-over flavor, and the Fried Rice similarly disappoints.
At both meals, I am in the company of those not familiar with Chinese food. The first time, my companion is a Tanzanian who enjoys the meal very much, that is except for the calamari. He savors the duck soup and peanuts. The second time my companions are two Germans who also thought the food not freshly prepared. They are glad to eat the calamari. It is not readily available in Zambia except in Lusaka or Livingstone.
The proprietor is present at the first meal and is given a copy of Flavor and Fortune. She is told that something about her restaurant might appear in that publication so she supervises the preparation of the dishes and does make some suggestions; and we are given a tour of the kitchen. She is not present the second time and the dishes simply are not as good. Both times there are other Asians and a few Africans dining there, the second night with larger patronage. Wonder if that had any impact?
Should you go there, do share your thoughts about this Chinese restaurant.