Restaurant Review
Chinese Duck Village (Oakland Gardens in Queens NY)
Korena-Chinese
(718) 428-5959
221-34 Horace Harding Expressway,
Oakland Gardens, Queens, NY 11364
---
Reviewed by: Jacqueline M. Newman
Spring Volume: 2011 Issue: 18(1) page: 25
---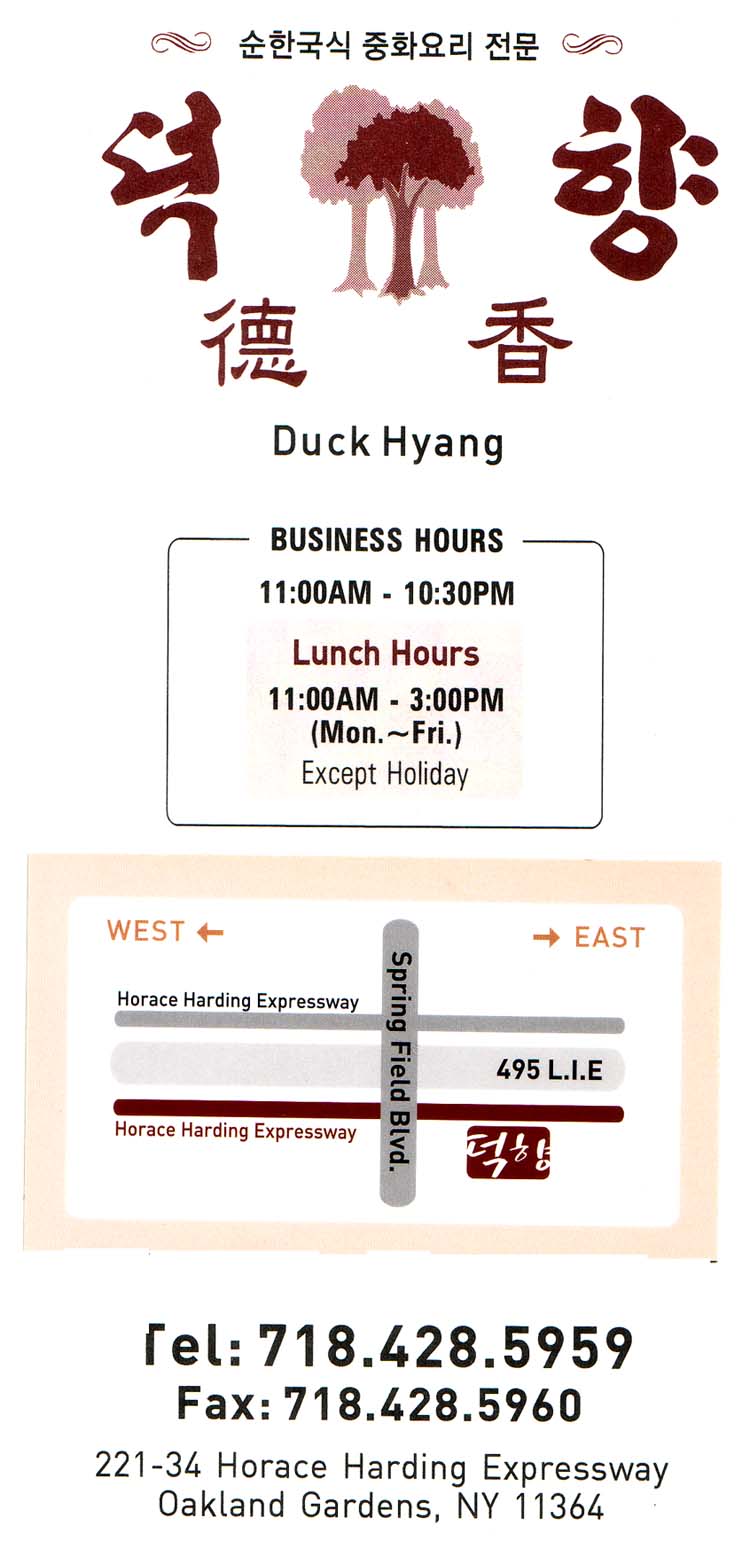 This restaurant is a new nifty Korean-Chinese place whose menu and business card say: Duck Hyang and the outside awning says: Chinese Duck Village Restaurant. Just east of Springfield Boulevard on the south service road of the Long Island Expressway, the awning is welcoming, so is a picture below it of the dish Samgye Tong which is a rice-stuffed small bird with ginseng and other herbs. Featured in its super infused soup, and we knew we had to try it; and are glad we did.
Korea's northern border is Siberia and Manchuria, it faces China to the west over the Tulam River, and Japan to the south and east across the Sea of Japan which they call the East Sea. Through the millennia, this country has come under assorted Chinese influences, many culinary, and still maintained some of its own individuality.
Relationships with China probably began when a Korean kingdom thought itself a part of Liaoning, circa 400 BCE. Since then, there has been a high regard for the Chinese and their food. The Chinese langauge, also highly regarded, was used on all official documents until the 15th century. Then, King Sejong created a Korean alphabet called hangul or onmum.
Koreans are descendants of nomadic tribes of Mongolia and of Caucasian folk from Western Asia. Its people did pay their respect to China probably because they were never dominated by them; and they are grateful for Chinese intervention helping them when the Japanese invaded.
The owners of this Korean-Chinese restaurant, Mr/Mrs John D. Park and their chef, Chin H. Kim, are from Busan (previously spelled Pusan); they came to the United States in 1983. Busan is South Korea's second largest city. It is a seaport with close to four million people, many of whom adore Chinese food.
Duck may be part of this restaurant's name but it does not dominate its menu. Matter of fact, only one duck dish is on it and called Duckhyang Ori. It is roasted and available whole or half. What appears most are noodles. They are hands-down most customers favorite dishes. The most popular one arrives in two bowls, one plain the other an onion sauce mixture. We order this Gan Jjajang and it comes with Special Brown Sauce. Seems to be the 'must order' dish and is on almost every table. A portion is set before each and every diner. A few do opt for Jjajang-myun, simply noodles with brown sauce; and fewer still get Uni-jjang, noodles with Special Brown Peking Sauce.
Every one of these wheat noodle dishes come with their own black onion sauce on the side. A staff member comes by to mix it in. We quickly learn why they are addictive, and do know that one with Special Brown Sauce will always adorn ours.
We began with Mul-mandoo; these eight steamed dumplings are yummy. We also have their Japchae-bab or Rice with Vegetable, Pork, & Starch Noodles dish. It is yummy, too. So is Samsun Maewoon Bokuem-bab, a Spicy Seafood Fried Rice. Mapah Tofu is a dead ringer for Sichuan Mapo Doufu in Chinese restaurants, this one better though less piquant. Contrary to popular opinion, most Korean food is not spicy. However, the kimchi that comes to every table can be hotter than hot; and it is meant to be eaten with other dishes raising their hots, as desired.
Mushroom & Chinese Cabbage is on the menu and just above the Bean Curd with Mushroom dish. We meant to order that one but pointed to the item below. Disappointed when it arrives, we quickly learn it should be a must order, too. The bean curd in this dish and in those others that feature it is blanched and arrives with no beany taste. The mushrooms in it are thick, plentiful, and superb. The Cold noodles called Samsun-Naengchae are refreshing and special. Topped with meat, cucumber, seafood, and a hard-cooked egg, we save some for the meal's end. They surely do finish things off splendidly. A knowledgeable grandson knew to add mustard and vinegar to this dish. He has many Korean army buddies and we, too, learn to love it that way. We offer them our thanks.
Never mind which name you know this eatery by. Just learn where it is and do arrive early should you want lunch which is served Monday through Friday, eleven until three. The lunch menu has many recognizable Chinese dishes such as General Tso's Chicken and Beef or Chicken with Broccoli. They are good, but the Korean-Chinese dishes are better. Mix and match, if you must, but do have several Korean-Chinese dishes. You will be glad you did.