Restaurant Review
Mu Lan (Cambridge MA)
(617) 441-8812
228 Broadway,
Cambridge, MA 02139
---
Reviewed by: Jacqueline M. Newman
Spring Volume: 2011 Issue: 18(1) page: 26 and 27
---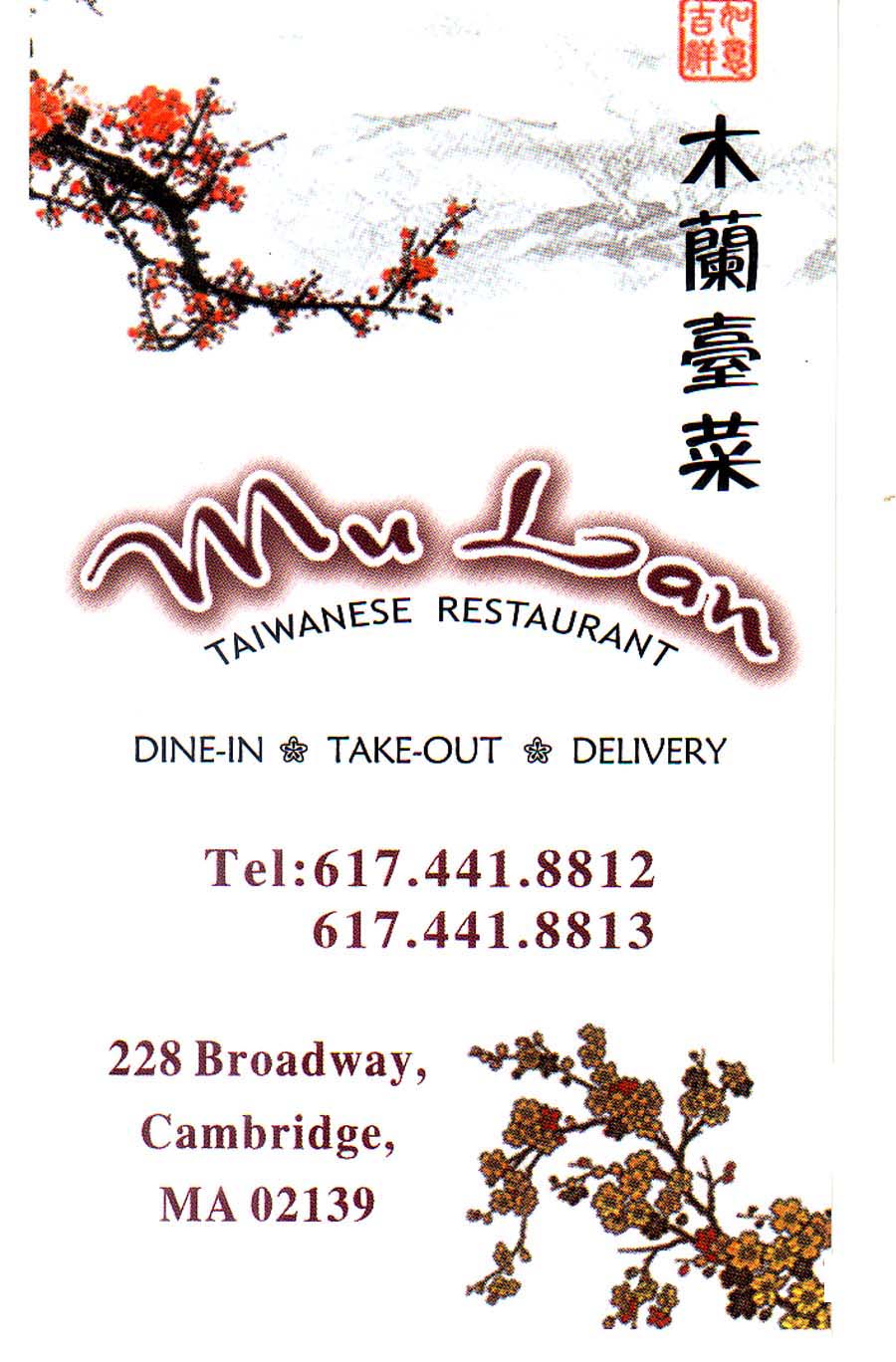 On a recent trip to the Bay State, my son said we needed go eat at this Taiwanese restaurant near M.I.T. Almost as hidden as was its namesake, a brave woman named Mulan who kept her father and family from dire consequences, it is a winner as she was when she dressed like a man, went into the army to save face, family finances, and her father from literally losing his head.
Finding and eating at this six-year-old restaurant should not be a secret. We went and devoured their delightful large-portion dishes. Our wallets lost little when final financial reckoning ended our visit there. We were six, order ten dishes as there were many items we knew not or had to have. We cared not if leftovers made dinner the next night. Those ten dishes set us back twenty bucks a head, nothing to lose one's head over even though we did over-order.
This Mu Lan has a terrific menu of more than one hundred and fifty dishes including some they call 'must try'recommendations. One of these was House Special Fish made mala or super spicy with divine pieces of Tilapia swimming in a burning hot casserole. Its sauce was so good that after eating out every piece of fish, we took it home to use in another dish the next night.
But back to our marvelous meal at Mu Lan. After sitting down and deciding what to order, wonderfully warm peanuts and a dish of pao cai made with pickled carrots, napa cabbage, and a few pieces of hot pepper arrive. It did get our salivary glands working. We ask the staff to serve dishes two by two so none would get cold as we dig in into each pair of dinner delights. The freebies were so good we ask for seconds, and our appetites rose to the challenge.
The first two dishes are ten Chinese Vegetable Dumplings and Hundred Layer Pancakes. The latter is akin to scallion pancakes and could not be better, the dumplings win our hearts, too.
Our half Smoked Duck, Salt and Pepper Shrimp, Smoked Pork with Leek, Cuttle Fish Casserole, the aforementioned House Special Fish, Eggplant with Basil, Beef Tendons in Chili Sauce, and Pumpkin Pan Fried Noodles are all winners. That last dish is ordered with chicken, but can come with beef, shrimp, or simply with vegetables. It and every dish is exceptionally good.
On this scorching night, the peanuts and pao cai come with glasses of ice water decorated with a slice of lemon. That is good, too, but we still have many pots of tea. Their air conditioning helps to keep us cool.
There is one minor complaint, too many dishes come with two-inch-cut green leeks. Also, the duck arrives from the refrigerator. Nevermind, the phenomenal whole fresh cuttlefish, perfectly fantastic cooked beef tendons, super smoked pork, and terrific Tilapia more than made up for these small problems.
Other dishes, no slackers either, are very good. They are so good that we manage not to care and just eat them all and the rice we order to slurp up their super sauces. On that hot night, we do appreciate the house special cold red bean soup served gratis at meal's end. Chef Hua Shui Huang is a hidden gem, and the service here is good thanks to staff training by his wife, Hong Tan. We know that every trip to visit our son will require at least one repeat trip to Mu Lan. If you live closer, you can go more often.