Connect me to:

Restaurant Review
Yangming (Bryn Mawr PA)
(610) 527-3200
1051 Conestoga Road,
Bryn Mawr, PA
---
Reviewed by: Michael Gray
Winter Volume: 2011 Issue: 18(4) page: 21
---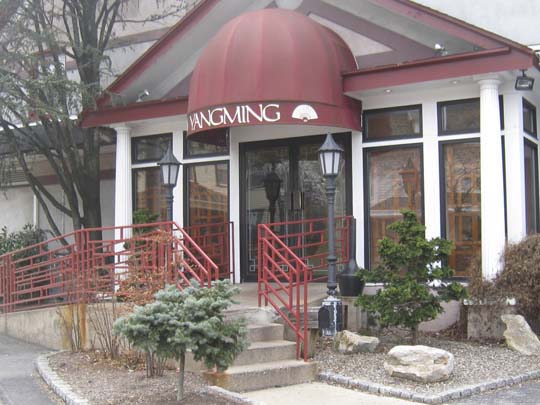 Yang Ming is a most deserving award winner. Tops in the 'Overall Excellence' category, many do ask "who owns this winning eatery; how did he/she get into the restaurant business; is it classy; does it have fine service; how did it get to the top, and is its food really tops?" No small feat to be first in 'Overall Excellence' for any restaurant. Certainly not one owned by a quiet, unassuming, and most generous Chinese restauranteur.
In 1970, Taiwan native Michael M. Wei enrolled in a graduate program in Journalism at the University of Missouri. To help support himself, he started working in a Chinese restaurant in the town of Columbia, one near his new academic home. Here, he began his restaurant career. Later he worked in another Chinese restaurant in Washington, DC and then liking the industry, opened his own restaurant nowhere near the others. That one was in Philadelphia, Pennsylvania.
Twenty years later, Mr. Wei purchased the sixty-year-old Conestoga Mill in Bryn Mawr, Pennsylvania. Previously, there had been eatery, tavern, general store, post office, and grocery store there; some since 1765. After a year of interior and exterior renovations, Yangming Restaurant opened. Many wonder what its name means. The answer: 'sunny and bright.'
In January of 2011, Chinese Restaurant News calculates their pre-determined point system and honors Yangming. Do see Flavor and Fortune's previous issue about the Top 100 Chinese Restaurant Awards. Announced at their annual banquet, and sponsored by Chinese Restaurant News, they call Mr. Wei to the stage and tell him, the press, and all guests in attendance that his restaurant in Bryn Mawr is the winner of the number one or top spot of any Chinese restaurant in America in this 'Overall Excellence' category.
Wanting to see it and taste for myself, as the new Associate Editor of this magazine it was appropriate that I check it out. A recent visit confirmed that Yangming serves up both classical Sichuan cuisine as well as modern innovative Chinese dishes: and it does them exceptionally well, as I learned with a small group who accompanied me there.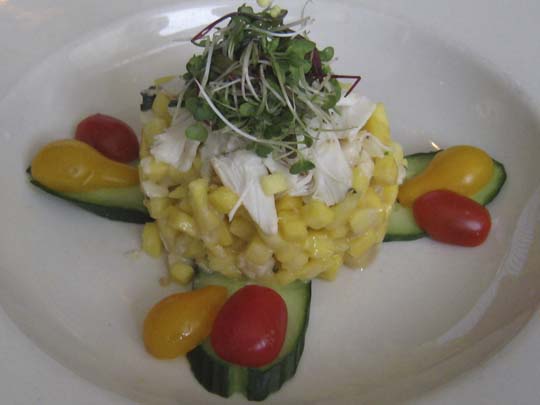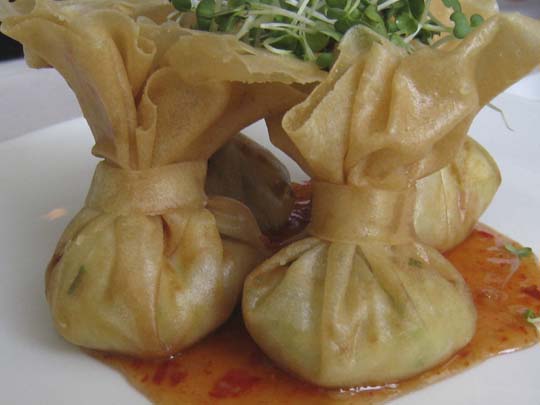 We began our meal with a few great starters. First among them, tantalizing Golden Crabmeat Purses filled with jumbo lump crabmeat and cream cheese atop a sweet chili sauce. What followed were a set of inviting, excellent, and succulent Steamed Crabmeat Saumai. Following them came interesting Rice Paper Lobster Rolls filled with a delicious mixture of lobster, celery, and shiitake mushrooms. Our last starter was a colorful Crabmeat and Mango Salad with golden kernels of corn. We found this dish refreshing to see, greater to taste.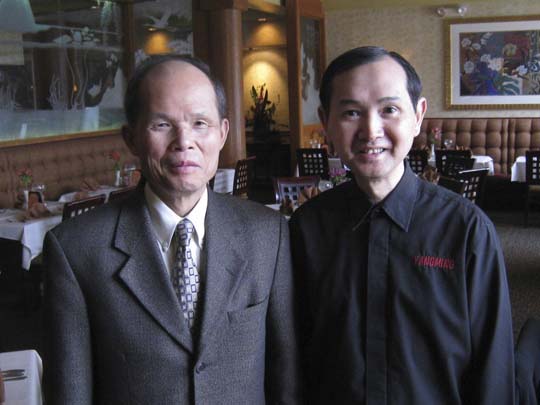 Our waiter, Richard Huynh, a Chinese-Vietnamese chap seen here with Yangming's owner Michael Wei, has been there since opening day. He continues to provide excellent service. After the above starters, he brought Chicken Curls in Lettuce, an innovative take on an old classic. They made us giddy with delight as we downed the minced chicken, water chestnuts, mushrooms, celery, and pine nuts, all ladled into lettuce cups. They were so good we managed to gobble them up and very quickly, too.
Then came three satisfying entrees including a savory Cumin Lamb, a tangy Mapo Tofu, and a plate of piquant Dry-Fried Green Beans. Must mention we ate everything in an elegant well-appointed dining room equipped with a full bar, and we enjoyed it all.
Other than what we ordered, a Chef's Surprise Dinner is available for two or more persons at thirty-three dollars each. So can an Eight-course Gourmet Dinner. That needs a minimum of four folk and costs forty-three dollars for each of them.
At our meal, our stomachs were more than topped off, and even so, we discussed the many dishes we would dream about for future visits. A few of these will include Peking Duck Salad, Six Steamed Treasures in a Lotus Leaf, and Chicken Purses with Chinese Plum Sauce. We ask and learn that these Purses are filled with mango, asparagus, walnuts and sweet peppers. Peking Duck here is thirty-six dollars and always available, not just for those who order it in advance. That is on our 'next time' list, too.
Enjoy a few of the pictures I took at that meal, and check out others posted on their web site. Better yet, get to Yangming to taste them on your own.

PS: We will post the pictures very soon!