Connect me to:

Restaurant Review
Szechuan Spice (Minneapolis MN)
(612) 353-4281
3016 Lyndale Avenue South,
Minneapolis, MN 55408
---
Reviewed by: Michael Gray
Winter Volume: 2011 Issue: 18(4) page: 22 and 26
---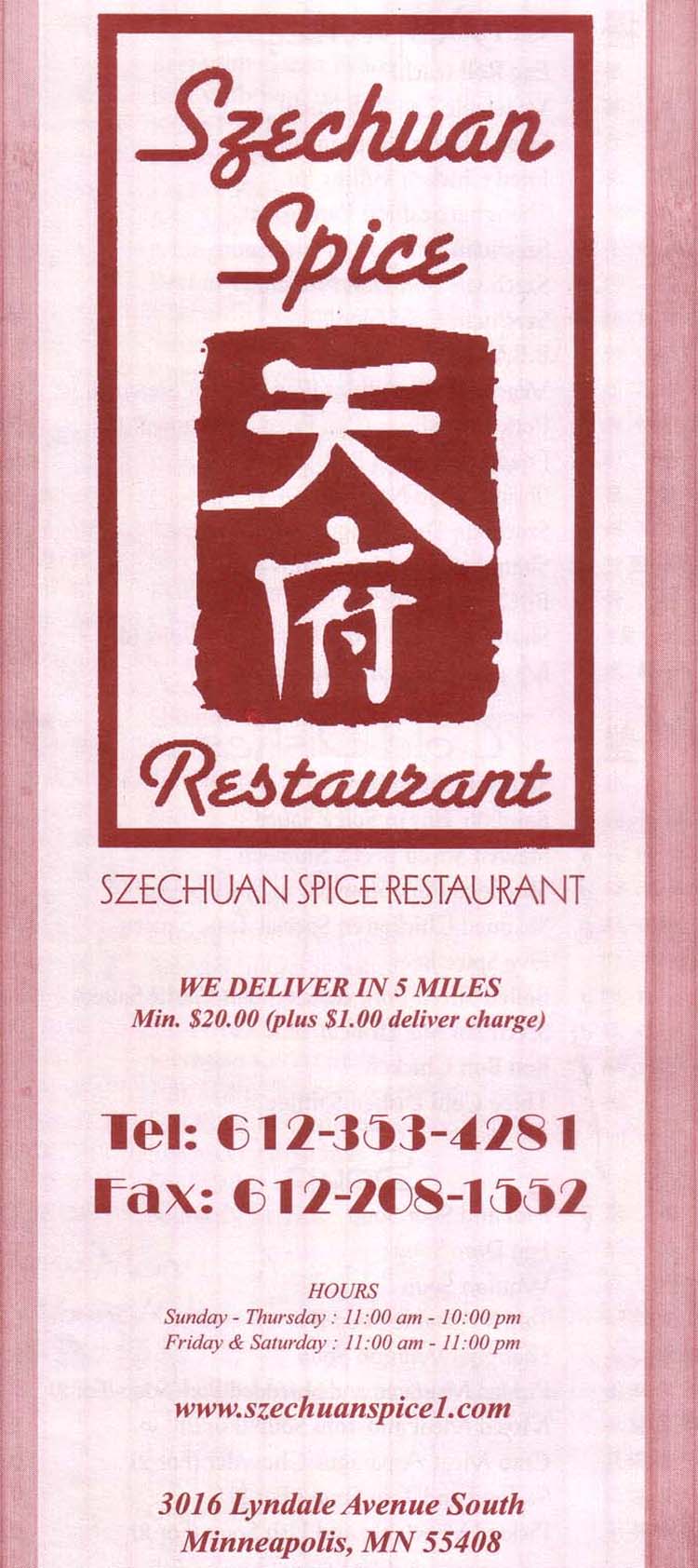 You may recognize from Ned Flanders in The Simpsons, but I prefer my surprises mild; and it was a mild surprise to discover how agreeable Szechuan Spice can be. Their Chinese name, Tian Fu, means 'Heavenly Province' or 'Land Of Plenty,' sobriquets for Sichuan. This eatery is a terrific addition to the Lyn Lake neighborhood of South Minneapolis. Do hope they endure.
The interior is dark purple, the liquor license in place. It appears to seat around eighty-five with several round tables for large groups. Sit near the front to avoid the TV, though anywhere brings service prompt and friendly.
Here, Szechuan Kung Pao Chicken was negligibly sweet, not over-sauced, and appropriately spiced. I was well-disposed to their Sautéed Pea Shoots. They were expertly prepared though I do prefer mine with more garlic. An endorsable version of Ma Po Tofu can be ordered with or without Pork. Szechuan Doubled Cooked Pork, a traditionally made Sichuan classic is done justice to with its graceful bits of black beans and green pepper. Should you not like fatty bacon, stick to their plain Double Cooked Pork.
They have about three dozen lunch specials ranging in price from three fifty as is Bamboo Tips in Spicy Sauce, to eight-fifty for Kung Pao Shrimp. Entrees here are more than seven smackers but they do come with Rice, Egg Roll, and Soup. Lunch is Monday though Friday from eleven to three. Did pass up the soup dumplings which come in sets if six. Have to save them for another trip when I will take some food pictures here.