Restaurant Review
Uncle Zhou's Restaurant (Elmhurst NY)
(718) 393-0888
83-29 Broadway,
Elmhurst, NY 11373
---
Reviewed by: Michael Gray
Spring Volume: 2012 Issue: 19(1) page: 23
---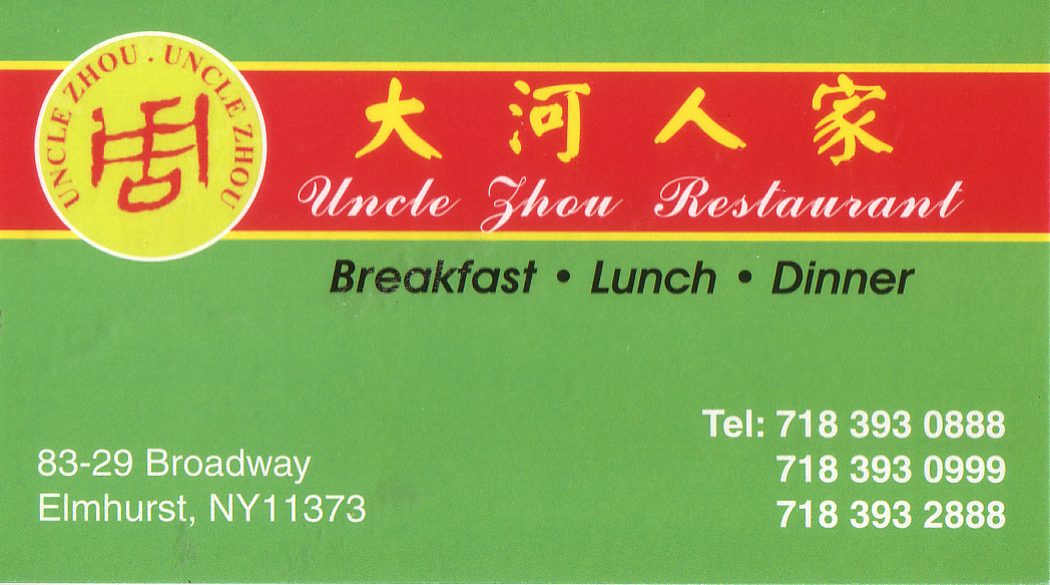 A dozen of us gathered recently with a good friend and food afficionado, Sandeep Gyawali. We are there to sample Four Treasures Wrap, a Chinese version of a dish known in Europe as Turducken. This Chinese version is plus one, and all are not the same poultry items.
The Chinese call this dish Four Treasures Wrap. Their poultry items start inside with deboned quail. It is stuffed with rice, peas and shrimp. Others report the quail stuffed with mushrooms and ham, still others include all of these items. The stuffed quail is placed inside a deboned squab. Then the stuffed quail and the squab are placed inside a deboned chicken. These three birds are--you guessed it, stuffed inside a deboned duck.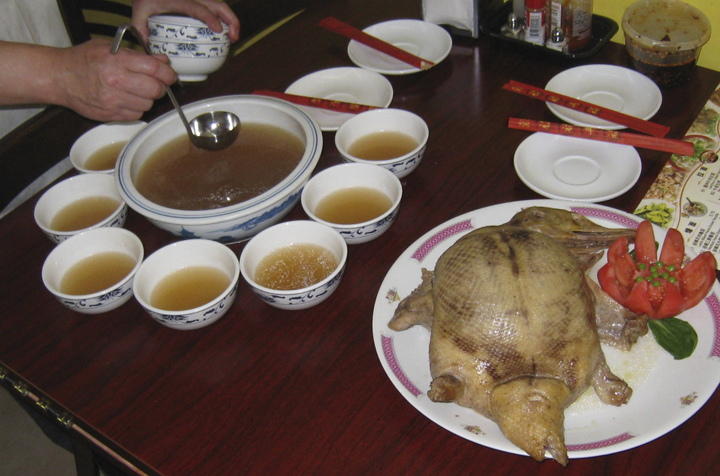 At this restaurant, all four poultry items are purchased live, then plucked and gutted before preparing them and putting them one inside the other. Together they are steamed in a good stock with ginger, onion, Shaoxing rice wine, and salt. The steaming process needs six hours. From live birds to eating, it takes two days to prepare this dish. Incidentally, the cost is $225.00.
Apparently Chef Chen Yongxiang, who lived at the end of the Qing Dynasty and died in 1938, invented this dish in the city of Kaifeng. Legend has it that after the Empress Dowager Cixi fled Beijing during the Boxer Rebellion in the summer of 1900, she first went to Xian and then on to Kaifeng. There, Chef Chen made and presented this dish for her pleasure.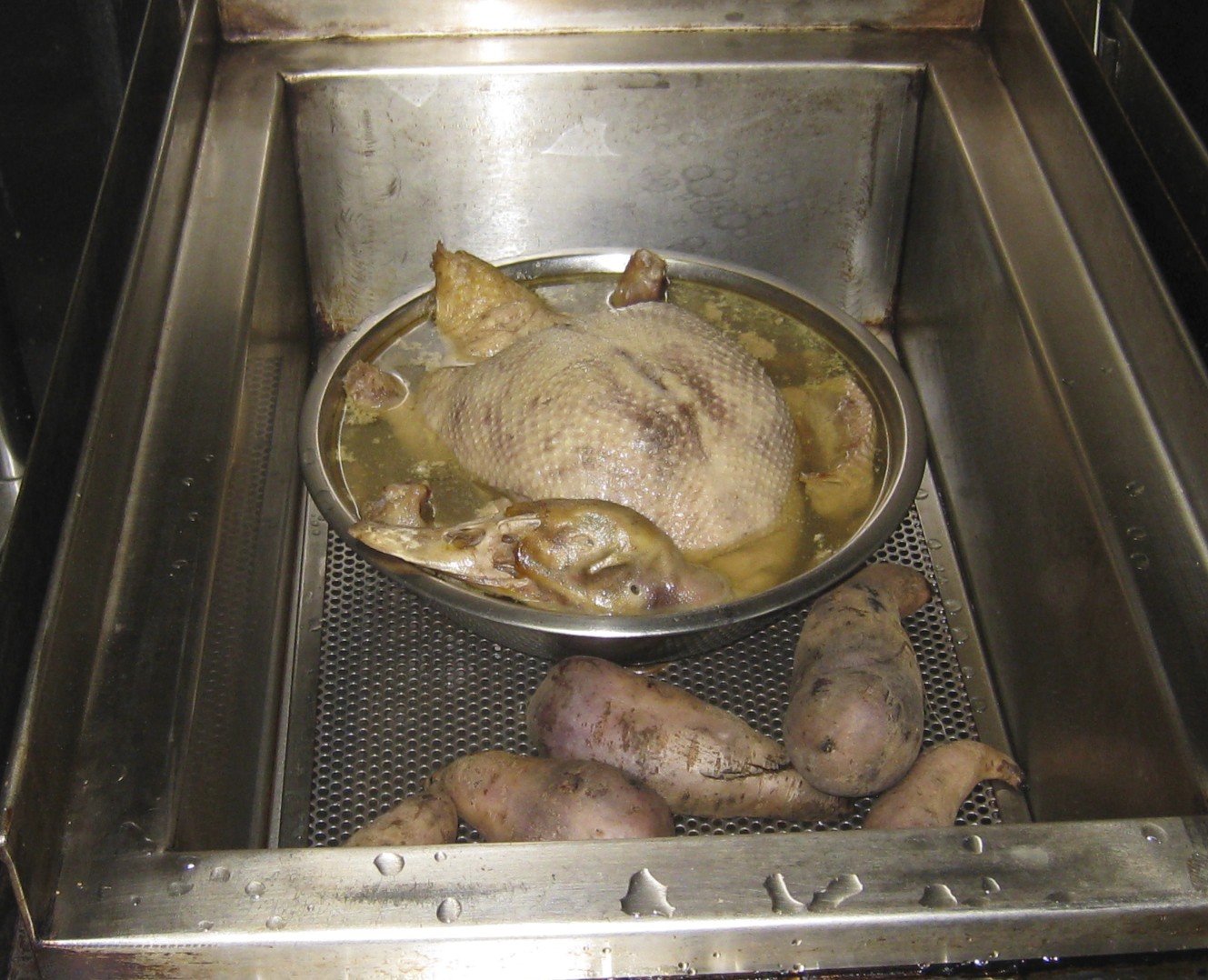 Our verdict, "Everyone should have this dish at least once in a lifetime. Having it at Uncle Zhou's, we find it skillfully prepared and artfully presented. Basically this "Quailsquaducken" as I have named it, is sliced open, the meat served in bowls of its steaming broth. This one dish could easily feed two dozen folk as part of a balanced diet. They would love it as it has sublime broth and succulent meat.
For our balanced meal, the appetizers we order include Shredded Tofu, Seaweed, Pickled Cucumbers, Pork in Aspic, Fried Carp, and a Pork Vermicelli dish. The Pork in Aspic could have used a vinegar dipping sauce but maybe that is not Henan style.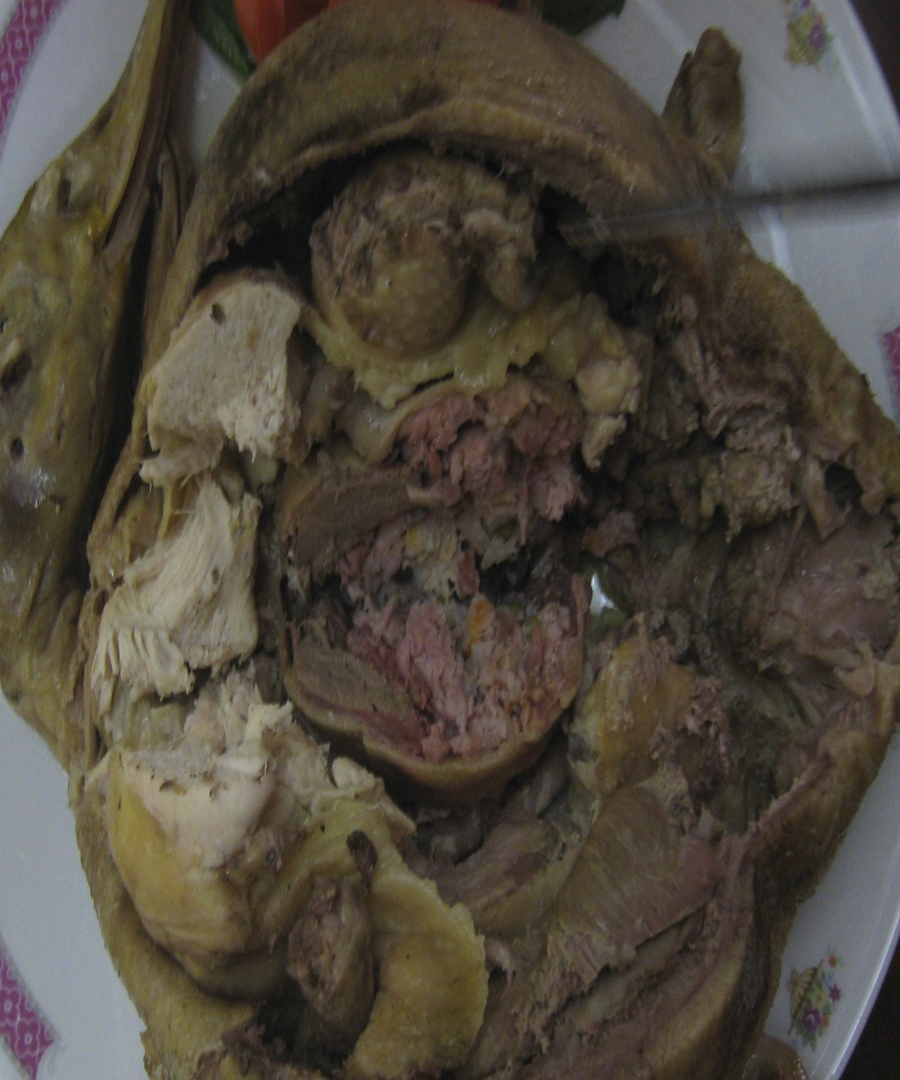 For main dishes, both Seafood Dumplings and Lamb Dumplings along with Tomato and Egg Knife Shaved Noodles, Pork Intestines with Hot Peppers, Spicy Crispy Shrimp, Sweet and Sour Fish with Dragon Beard Noodles, and Amber Winter Melon are ordered, too; they are all enjoyed.
Sandeep offers more detail and advises everyone is pleased with this dish. He says they should be as owner Steven Zhou is a genial host who clearly aims to please, and who does deliver. He reminds us all that a bird from a live poultry place, where every one of the ones used at this Uncle's place comes from, and is a different breed than those available in a supermarket or most restaurants geared towards Americans. These birds tend to be older by choice. They have a denser and chewier texture, and a more robust flavor than those used to Purdue or Tyson poultry.
Some might find them gamey, but immigrants who grew up eating similar fowl relish their taste. The broth accompanying this dish is incredibly flavorful, as is every bird's flesh. The flavors are straightforward poultry with just enough roots and wine to allow for some brightness. I was fortunate enough to take some leftovers home and able to enjoy them again. They made for a memorable meal at the restaurant, and great leftovers thereafter.
For those who have no idea what this dish actually looks like, enjoy the photographs I took, as did Sandeep. Should you want to personally enjoy this dish, gather a crowd, order it more than two days in advance, and add to it items to make your own balanced meal.