Connect me to:

Restaurant Review
456 Restaurant (New York City NY)
(212) 964-0003
69 Mott Street,
New York City, NY 10013
---
Reviewed by: Jacqueline M. Newman
Winter Volume: 2011 Issue: 18(4) page: 24
---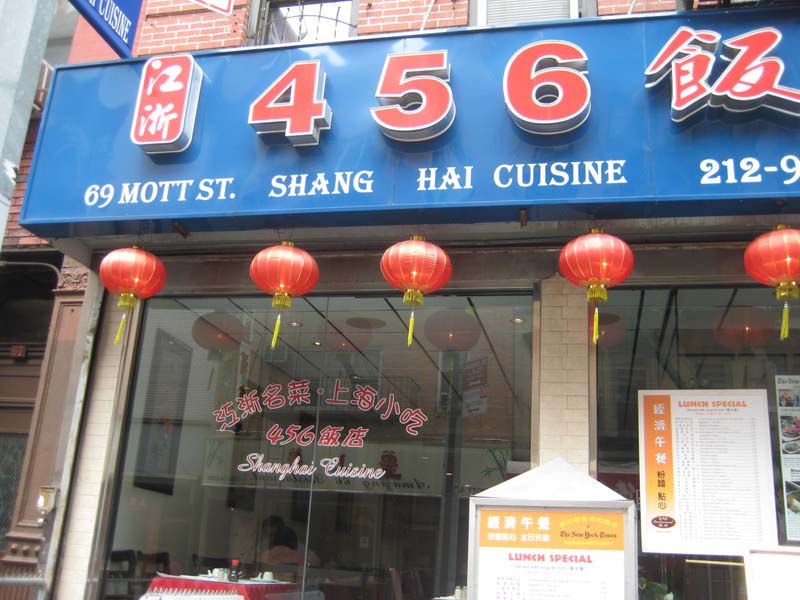 This Chinatown restaurant on its menu says 'since 1963' and we agree. However, it needs an addendum saying 'but not continuously' because it was closed for some years. Truth be told, years back it was one of our favorite restaurants. That was in the days before our children were in their teens. Now their children are out of theirs.
A winning hand, speaking Cantonese and thinking of the game of mah jong, this restaurant in its earlier incarnation was called 'Say Eng Luk.' That is Cantonese for '456.' Eating there helped our children cut their teeth on Chinese foods from Shanghai and Ningbo. Then it was located on the east side of Chatham Square, and for a very short time, had a second venue on Chatham Square's west side, too.
Born again, thanks to the efforts of the original owner-family under Harry A.K. Hsu, a grandson Zhou Hui Li, he is the current chef, and a fine one, too. We visited the new location and recognize many of his grandfather's recipes. We found sixteen of them in the current 'Chef's Specials' box, and to date are halfway through tasting them. There are other equally great ones elsewhere on the menu. We are tasting many of them, as well.
In the latter batch, Ning Bo Fried Two Delights, and Whole Flounder Fillet w. Seaweed bring back wonderful tastes and terrific memories. So does the Fried Yellow Fish with Tofu Curd Skin, and the Chrysanthemum Fish with Pinenuts. The capitalization is theirs the tastes still sophisticated and true to the original, are retro-wonderful.
On a second visit, we took friends, one with Shanghainese heritage. She was thrilled to enjoy their dishes, said they reminded her of her family's cooking. Her husband, an Anglo, agreed. They both said every dish was first rate. She drooled over the Spicy Beef Tendon, and one with eel. Both of these are favorites my husband always wants to order. So everyone was very happy as they were delicious.
On another trip, ordered an old favorite, Fish Head Casserole. It was as good as can be, two generations later. Likewise the four other casserole items tasted so far. The West-lake Beef Soup is also superb. Another fond memory, the Braised Buffale Fish Tail in Brown Sauce (their spelling), comes with two tails and the same terrific taste it had several dozen years ago.
We used to live closer and could, but rarely did walk to Say Eng Luk. Now we need three times the time, the car to the LIRR, and the subway to their door. Matters not, we will visit repeatedly. Memories of fantastic tastes do grow better over time, but memories of this winning hand grabbing chopsticks and consuming every last morsel on every plate stay the same. So 456 by any name remains a winner!