Connect me to:

Restaurant Review
Koi Palace (Daly City CA)
(650) 992-9000
365 Gellert Boulevard,
Daly City, CA 94015
---
Reviewed by: Jacqueline M. Newman
Winter Volume: 2005 Issue: 12(4) page: 25 and 26
---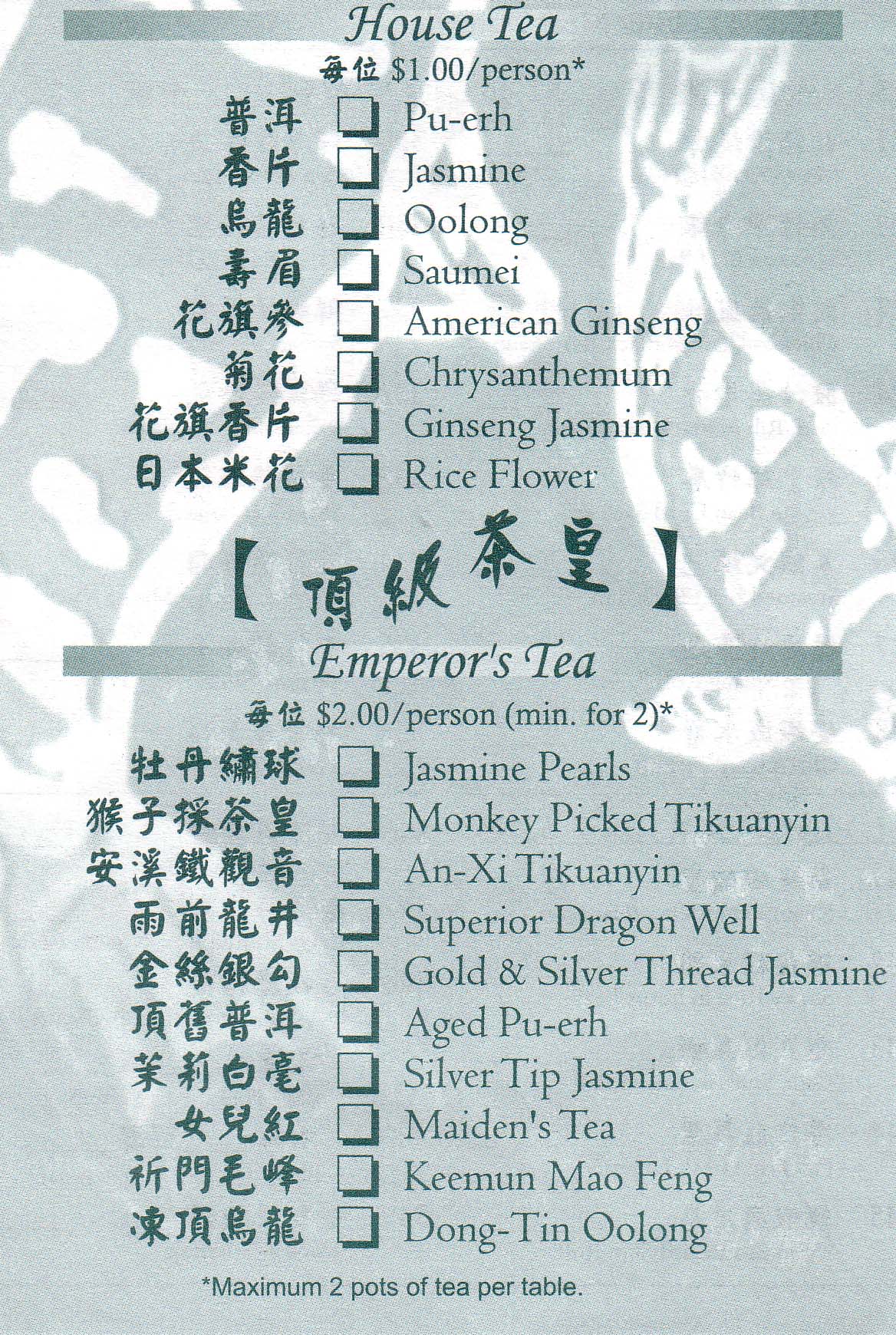 Want what may be the most popular dim sum ever? This requires heading to a place that takes no reservations, has long waiting lines, gives excellent driving instructions on the phone, and serves fine food, some of it Hakka. To get there requires a car or a cab and leaving the downtown areas of San Francisco. It is worth so doing.
Follow their advice and go south on 280 towards San Jose, and exit at Hickey. One block to the left is Gellert Boulevard. Good thing their instructions are so precise. Not making an immediate right into the Hollywood Video parking area is to get lost. This Palace is at the rear of the Serramonte Shopping Plaza. Maybe the line would be shorter if their instructions were not so good.
Koi Palace is at the rear of a multi-ethnic shopping center with Outback Steak House, Cecilia's Mexican eatery, and several non-food spots. Arrive and see throngs of expectant hungry folk outside their front door waiting for some of the four hundred fifty seats within. Be firm, nay pushy, and do get through the throngs. Head for the ladies in back of the stuffed waiting area. Garner a number and a dim sum menu from them, then settle back awaiting a call. On week-ends that can be thirty minutes or more.
While waiting, and if wanting to be a sardine in their waiting room, you can read the frenzy of accolades, watch the tanks of swimming lunch and dinner fish and sea foods, even visit the lovely restrooms. Ask for banquet menus of eight possibilities, $266 to $668 for ten items for ten people plus dessert, that will elevate efforts on your salivary glands. On a future visit, we plan trying at least one of them.
Then, mentally or in reality, check off those dim sum your heart does desire. In reality, leave room for others not on that list. They come around on trays, no room for carts in this palace. And when seated, ask your wait staff person about specials of the day. Known as a place for seafood delights at dinner, some make it as unannounced dim sum offerings. Quickly decide among the eight regular teas and the ten others in a category called Emperor's Tea, or you can get very ordinary stuff. If you do not ask, sometimes the staff forgets to tell and you are the loser. Try an aged Pu-er (also known as Bolai to those who speak Cantonese), or Jasmine Pearls, Superior Dragon Well, or Monkey-picked Tikuanyin, four Imperial teas worth savoring. Prices are by the pot and for the table, so do enjoy them.
Koi Palace has small tables around their goldfish pools in the main room, and larger tables in satellite spaces. In that central room, there are four poles atop antique-looking teapots. Though the tables are tiny, their ambiance is expansive. Enjoy while waiting for tea that arrives in a Japanese metal teapot. It comes loaded with tea leaves and is put over a candle warmer; more water comes as needed. When brewed and consumed, that first cup is just OK, the future is brighter.
Eating here is to feel welcome and wonderful. The kitchen, watched by those standing near the desk, puts out nearly two hundred different dim sum selections each weekend. Many are on the regular menu, a couple of hundred others are possibilities that can be ordered. Want to know them, check out their web site: www.koipalace.com to learn them and more about this nine-year-old eatery.
Whatever you order, save room for the touted heath-giving southern treat called gui ling gao. It is a Turtle Shell Jello-type dish to keep you healthy. The last time we had one was at the famed Pan Hsi, a lakeside restaurant in Guangzhou. There and here, they serve this herb-infused dessert-like delight pouring a sweet syrup atop before setting it down.
Of all the items tried, a couple of dozen, much to the embarrassment about the size of the bill which was low, only one was poor. Usually a family favorite, their Sharks Fin Dumpling in Soup comes cleverly served in an onion-soup crock, the liquid stays exceptionally hot, the shrimp get overcooked, and the pieces of sharks fin are hiding.
The menu offers several scallion-type pancakes. The Green Onion Round Cake comes crispy and Cantonese, and chock-full of scallions. It is gorgeous, grease-less, and great. Shrimp-stuffed Green Pepper is not on the menu, and if available when you are there, do order it. It comes, lightly charred, over-stuffed, and great with its fired-over taste and perfectly prepared shrimp.
Cold plates are usual and unusual. Pickled Duck Kidney, not often available, sits on delicious light brown soybeans, and is a tender treat. With it are squares of a pickled yellow vegetable root. This provides terrific taste and texture contrast; and it goes well with Pan Fried Golden Oysters. That item comes with four lightly-battered beauties and a sweet/tart dipping sauce. They are freshly made and fabulous.
This Palace deserves many return visits, be it for dim sum or dinner. One indulgence, is selecting among the ten sharks fin soups, another, trying all fourteen of their clay pots. There is much more on the fourteen-page dinner menu, making many trips in order. We have a local friend who comes twice a month and tells us she keeps returning and still has not tried all the dishes in her 'I still want to sample things' list.
Dim sum is available from 9:00 am to 3:00 pm; dinners start at 5:00 pm. Weekdays they can be enjoyed until 9:30 pm, on weekends, enjoyment needs to end when the clock strikes ten. Another ending of interest, one we never saw before, is the check. It suggests a tip of 15%, 18%, and 20%, calculated for everyone's dining tariff. The food was so good, the service just a bit better than ordinary; we opted for the middle amount.