Connect me to:

Restaurant Review
Chef Jia's (San Francisco CA)
(415) 398-1626
925 Kearny Street,
San Francisco, CA 94133
---
Reviewed by: Jacqueline M. Newman
Winter Volume: 2005 Issue: 12(4) page: 26
---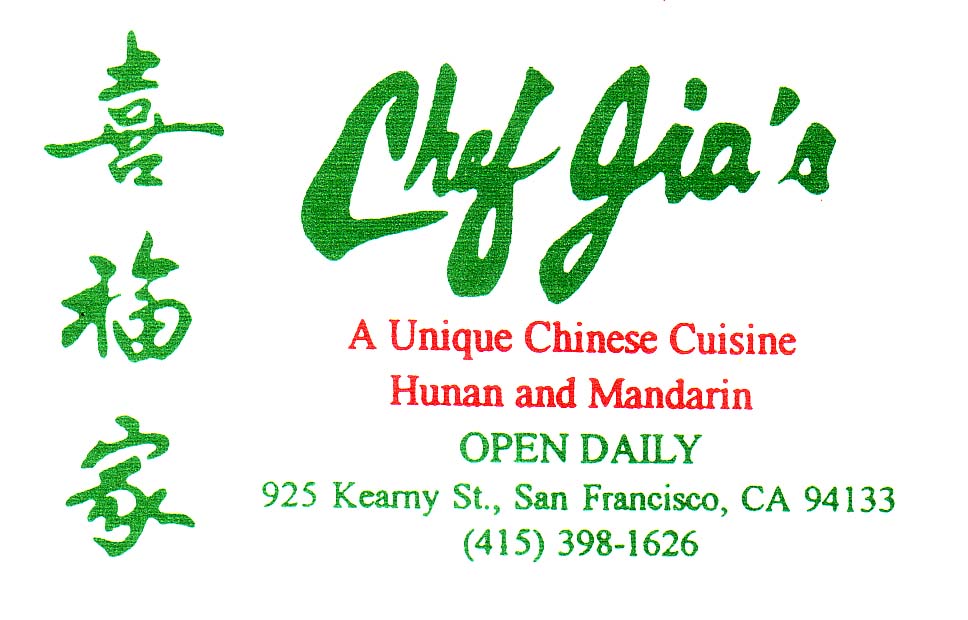 It is easy to forget there is Chinese high-end food and very, very ordinary kinds. Where do folk go for comfort food that is not expensive but tasty, well-prepared, and grandma used to make?
Chef Jia's is such a place. Located on the edge of Chinatown, its card says it offers "A Unique Chinese Cuisine." Grandma here, really the owners wife, is unique. She is forever cleaning the place and tending to every customer's needs and wants. She and her husband provide caring service and home-made-type foods. And like grandma's place, it is spotless.
Chef Jia was a two-time culinary competition winner some years ago. The first time at the Chinese Cuisine Competition at the 1983 San Francisco Fair and Exposition. He won a special award there. Then, at the 1984-85 Fair and Exposition, he won First Place. Now, he wins respect and oodles of customers because he serves affordable food as a hidden economic marvel in San Francisco's Chinatown. Everyone wins at his restaurant, and everyone is in for many surprises.
The Hot and Sour Soup has lots of chicken breast meat, shrimp, bean curd, cloud ear fungus, and eggs beaten in. The Onion Cake with Peanut Sauce is excellent and unusual, battered and deep-fried. It comes with peanut sauce on the side and lots of scallions, onions, and chili bits within.
Prawns with Yam are loaded with garlic, lathered with a fine brown sauce, with scallion upon scallion is mixed in. The Honey Chili Chicken, like all chicken dishes at this restaurant is made with chicken breast meat. It comes deep-fried and with green beans. Hunan Chicken, also breast meat, is stir-fried and mixed with broccoli, zucchini, and gads of garlic.
The day we stopped by for dinner, tea was a wonderful chrysanthemum jasmine mix. No tea is served at lunch so this was a double delight. At lunch and dinner, there is water, soda, beer, and wine. Most folk walk in and order their beverage and their dishes from memory. Rare is the one who asks for a menu. They know it and delight in the food and the price. At lunch it is less than a five, less than a tenner per person at dinner; cash only. They know the winning chef is at the wok, and the food is humble and Hunan.
They also know that except for a delightful Dry-braised Whole fish that requires patience before arrival because it is steamed first and braised next, all else come quickly. They know that among the one hundred plus dishes for dinner, more than ninety are $7.95 or less. And they know to order Imperial Spareribs. They come golden, crispy, gooey, and sauce laden, and they cost less than eight bucks. They probably also know that in 2002 this eatery was reported as one of San Francisco's ten best, touted in Gault Miillau.