Connect me to:

Restaurant Review
Chef Chu's (Los Altos CA)
(650) 948-2696
1067 N. San Antonio Road,
Los Altos, CA 94022
---
Reviewed by: Jacqueline M. Newman
Summer Volume: 2005 Issue: 12(2) page: 11 and 12
---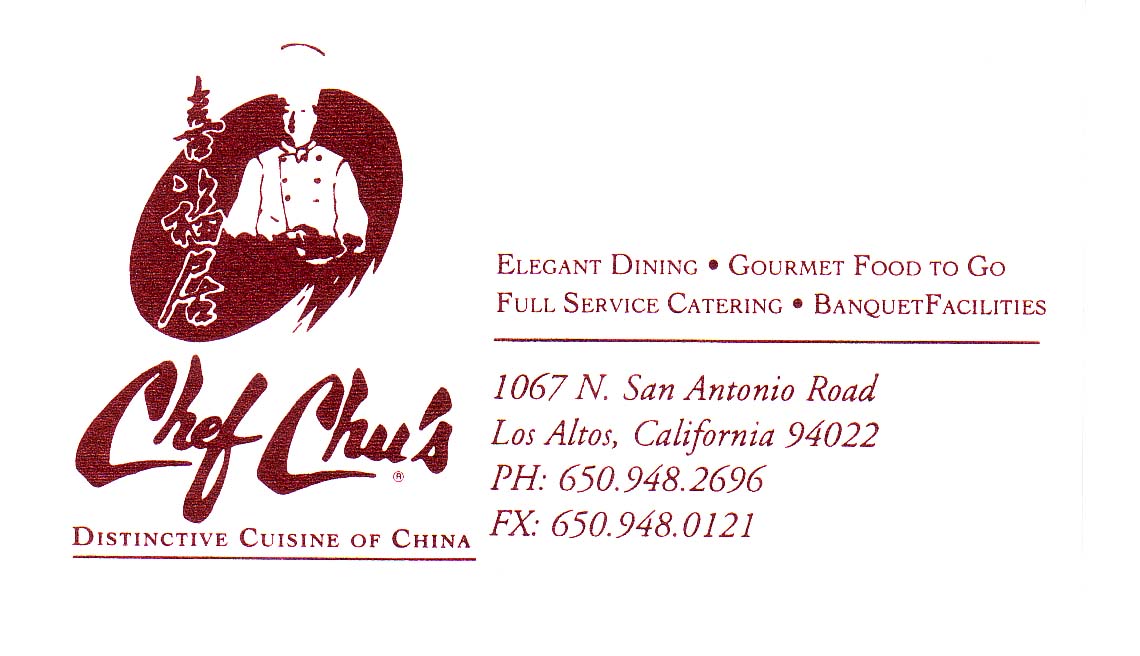 Larry Chu prides himself on elegant dining, gourmet food to go, full-service catering, banquet facilities, and creative cooking classes, all with wonderful Chinese restaurant food. Most recently, he added culinary tours to China to the list of things he does. A recent trip and tour, wending its way on the legendary Silk Road was one such tour. In business since 1970, Chu began his restaurant career with only a take-out window. Now he has an up-scale restaurant that does all of the above, and more. He and his wife, and now two of his five children host all guests as if they were personal friends. They are top-of-the-line hosts making everyone feel wanted and at home.
This restaurant has many ever-changing menu offerings, so extensive, that selecting is no easy task. Worry not, the Chu family and all of their staff are ready to help, and help you may need when selecting among the nine soups, and the almost one hundred dishes, appetizers through desserts. There are choices to be made in the poultry, seafood, beef, lamb, pork, tofu, vegetable, over rice, noodles or chow fun, banquet dishes, and from the chefís signature dishes. Were that not enough, many of any of these can be adjusted to have chicken, shrimp, beef, pork, or be prepared vegetarian style, instead of the way the menu indicates it is served.
The restaurantís ambitious menu is under the hand of a very ambitious man; and he is to be emulated. Restaurant owners slow down when they achieve success, not this one. Chef Chu is not satisfied just with success. He likes to try, test, and retry new recipes and cooking techniques even though his food never strays far from its traditional roots. And for this, he is to be commended!
The food served deserves accolades, the eight hundred or so who dine here each week can attest to that. He is recognized by them and by City Search, the Palo Alto Daily News, and the San Jose Magazine, among others. Locally, this chef has been called a standard-setter, and he is. One expects and gets no less from this Sichuan-born, Taiwan raised, son of a gentleman from Hunan.
Chu not only tends to customers and staff, he constantly keeps the restaurant up to snuff, and wants to and succeeds in doing likewise in his ever expanding community. He donates time and talent to those in need. The day we were there, he rushed back to his restaurant after working with several other Chinese chefs serving several thousand meals to the homeless.
Like customers who come from afar, we wanted to be spoiled. We wanted to try many of his well-known and lesser known dishes. Selecting what to finally order was aided by the manager on duty who was, we learned, his son. We were later helped by the boss himself. Both suggested elimination of some dishes, substituting others. And like all customers, we felt comfortable with their suggestions because we knew we were in good hands. But nonetheless we did want to overindulge a bit in some of his Signature Dishes. They jumped off the menu saying Ďorder meĒ and though they thought we had enough, order several of them we did.
The first appetizer ordered was a delight. It was Minced Shrimp in Lettuce Cup. Six crustaceans came on iceberg lettuce, its edges cut with pinking shears. They looked yummy, and offered fine contrasts in temperature, texture, and taste. We loved these finger grabbing delights and wrapped each in a crispy lettuce leaf exterior. The menu said Mu Shu (Any Way You Want). It was an appetizer, and we wanted ours with chicken. Never before have we had such paper thin pancakes. They were served in a red tortilla dish and remained warm and moist. We used all the generous filling of chicken, eggs, cabbage, tiger lily buds, shiitake mushrooms, slivers of scallions, and bean sauce. The pancakes, also called pi or skins did not break or leak. They held together as well as any we have ever had.
Another signature dish we devoured was the Pan-Seared Rack of Lamb with Lemon Grass Accents. The meat was marinated in a melange of sauces. The six ribs were succulent and sumptuous; they were perched bone up circling crunchy bright Chinese broccoli stems. Western looking, yes, the taste was typical northern Chinese.
Chef Chuís was, this past October, selected as one of the Top 100 Chinese restaurants in the US. See the listing in the hard copy of Volume 12(1) on pages 20 - 23, or Chinese Restaurant News' own website. After eating there, we concur that this man and his restaurant know many details about Chinese food, and he executes them flawlessly. His food is fantastic and should you want to try some at home, get a copy of his cookbook, published some years back by inquiring at www.chefchu.com
We learned that Dungeness crabs are best at two and a half pounds, and if the one served was an example, do not ever buy one of a different size. It was spectacular in taste and texture. Though not on the menu, this manager special recommendation came coated with flour, oil-blanched, then served with tiny pieces of crisp fried garlic, hot peppers, and shallots. It swam quickly to the top of our best-ever dish-list. We dipped the crabmeat in his heavenly home-made XO sauce and knew why he is a top chef.
Even simple home-made dishes were well cooked at this restaurant. The Fresh Basil-garlic Chicken cooked in a clay pot was tasty and terrific with red pepper, large pieces of boneless chicken, tiny slivers of black mushrooms, garlic, and chili peppers. This Taiwanese dish could not have been better.
We ended with Red bean Ice Cream that arrived with a side of a red bean-paste garnish. That seemed a little western, but emperors did have ice houses and ate cold and frozen foods. They did not need to wait for the Cold Food Festival and Chef Chu knows a lot about Imperial Chinese food history. He made us, and the many others who hugged and kissed him as they left, feel royal.
Would that Los Altos was closer than three thousand miles from where we live. Were it so, we would try every item from this Bay area restaurantís menu. Not one single one of the almost dozen dishes we had disappointed. To us, he exemplifies one who learned to cook and now learns not to depart from the distinctive classical Chinese cuisines of his heritage.