Connect me to:

Restaurant Review
Jai Yun Restaurant (San Francisco CA)
(415) 981-7438
923 Pacific Avenue,
San Francisco, CA 94133
---
Reviewed by: Jacqueline M. Newman
Summer Volume: 2005 Issue: 12(2) page: 13, 30, and 31
---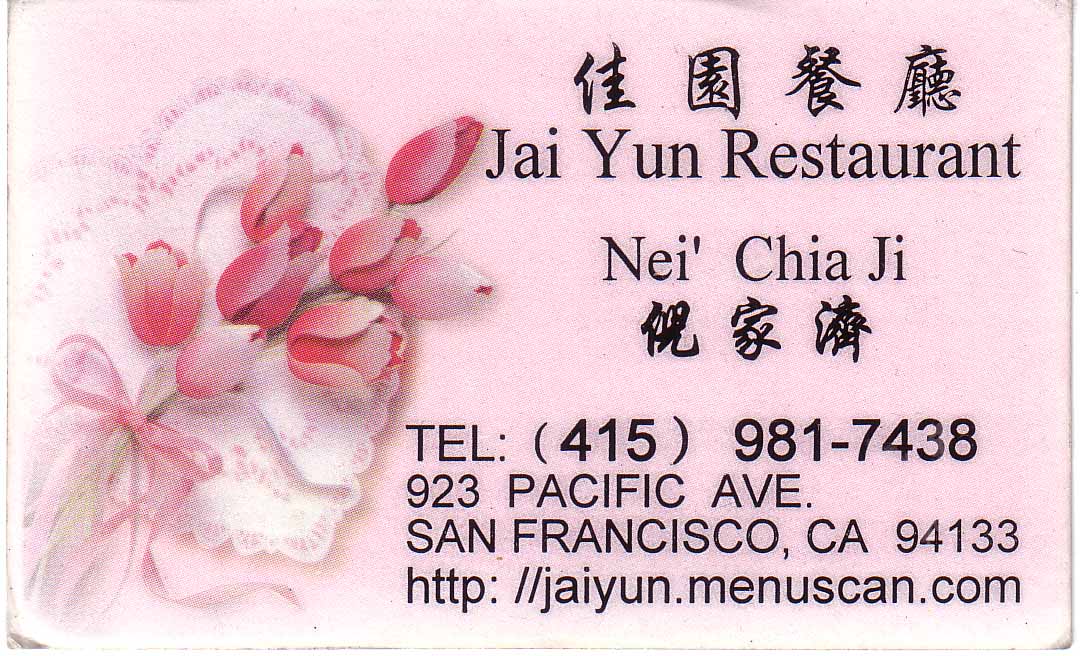 Jai Yun means 'home' and this small restaurant feels like you are eating in one. Of all those tried, it was the most unusual, a 'not to be missed' side-street gem that almost always requires a reservation. It seats about thirty-two and one could be lucky and get a table if just stopping by, but the odds are small. We recommend making reservations in late afternoon and days before you want to eat there. One reason to do it then is because the chefís fourteen year old son is there to translate for his dad. Tell him or whomever that speaks English, or if you speak Chinese yourself, then tell Chef Nei Chia Ji a Nanjing native, what price you want to pay per person, tax and tip excluded. Actually, should you stop by to make arrangements, you get to read a typed page before garnering date and table. That is what we did.
Jia Yun's chef is often called 'the chef's chef' and appropriately so. Many of his customers are chefs. They pay to eat, evaluate, and figure out what he did to make each dish so special. Chefs learn by looking and tasting; and here they can learn a lot.
Chef Nei did have a restaurant, maybe two in China, but before he tried cooking he was a carpenter. Actually, the first restaurant he had, if we understood correctly, was a space he redid; originally it was his momís tailor shop. This craftsman knows and respects spaces and tools, cleavers included, and he handles them better than anyone we have ever met. His blade background shows how important cleaver cleverness can be; and he has lots of that cleaver acumen!
Chef Nei's English-language-page has dinner prices, not dishes, and lunch is rarely served. The dishes he makes on any given day are decided when he shops. He uses only the best ingredients and he makes them magnificently. We were exceptionally fortunate on two fronts. The first was that we could get a reservation for eleven people on short notice in the middle of a week, and the second, that we were recognized. The latter led us to believe we got more dishes than the forty-five dollars per person we paid. Others we spoke to later said that might not be so.
And lucky we were because Chef Nei is no longer a novice to the restaurant scene in San Francisco. His eatery has been pointed out several times and been called one of the top one hundred in a region loaded with great restaurants, three thousand plus in that cityís telephone directory with many more in close proximity.
In our singular experience there, we did note that we had almost all the same dishes served to other tables, but count what others had we did not. We were served many many appetizer plates and sixteen main course dishes. Truthfully, one was better than the next. How this chef can do that solo, the only other help in his kitchen is a chap washing dishes, and a lady--presumably his wife--and his son serving the dishes he cooks. He does this six-days-a-week, first shopping, then cleaning and cutting, then pre-prepping things that need that type of attention, and finally cooking for folks who most often start arriving at 6:30 pm or thereafter.
Our visit was at the end of 2004. That day, his prices started at $35.00 per person and rose to $150.00. But he featured $35, $45, and $55 per person meals. We wondered what one gets at the lower end; and one day want to return to try the upper end of his economic scale. Whatever his prices, we can attest his foods have origins primarily from Jianzhe, that is not a place but a term used for foods with origins in Jiangsu and Zhejiang. A few do have Shanghainese, Sichuanese, and Hunanese influences.
While talking to his son and making arrangements, we were recognized. At that point, Chef Nie ran to the rear kitchen and ran back with the December issue of Chinese Restaurant News. Your editorís picture, giving out awards to the top 100 Chinese restaurants in the United States was plastered all over that issue. Pointing to the magazine then to me, he smiled and said "Jacqueline Newman." I handed him my Chinese name card and corrected his pronunciation; because in 1976, a good Chinese friend in Beijing gave me my Chinese name and my first chops. It says: Ja-kwei-lin New-man.
As his son had explained when we made the reservation, everyone gets only a spoonful or two of every dish. We were worried if there would be enough but quickly learned it was the opposite problem. There was more than we could possibly consume, try though we might to swallow every delicious bite of every delicious dish.
Our meal, as all meals here, comes without a menu and without a notion of what lies ahead. Ours began with poached duck, chilled pickled cucumber, braised beef slices, and kung cai, a vegetable considered fit for an emperor. Next, in the appetizer category, came mock goose made with sheets of bean curd, marinated Chinese cucumbers, a differently marinated lotus root salad, and a mountain of jelly fish served with shards of cilantro. The other appetizers were marinated Chinese cucumbers cut as fine fans, slivered coriander with brown tofu, sliced smoked beef on a bed of yellow soy beans and served over gai lan stems and under red peppers and lotus seeds. Then came red radishes sliced more than one way, steamed wined chicken, a salted duck dish, and mustard greens with black sesame seeds served in a barely piquant and very appetite stimulating hot sauce. Every one of these delights did more than whet the appetite, they woke it up and tantalized taste buds as everyone tried to figure out the marinades and sauces.
Yes, that was just the appetizers. They were a wonderful statement of what careful clever concentration can do to mostly vegetarian foods. Many at our table went home to try harder to improve cutting skills; we could see that simple ingredients cut cleverly do impact taste. As we waited for the first main course, not knowing what or how many dishes were designed for our delight, we thought of what Chef Neiís son had said a few days before when we made the reservation; it was: ďmaybe ten or twelve main course dishes but that depends on what my father finds in markets where he shops.Ē
We waited and wondered about size and number. The appetizers came on half empty big platters, which we did not appreciate until later. Main course dishes arrived on the same size plates, but quite full. Only the first dish was far less than loaded; but it was more than lovely. This simple yet stupendous dish of abalone and egg white was ethereal in texture, exotic in taste.
It was followed by fried gluten sticks mixed with tiger lily needles, red peppers, slivers of scallions, and a still unidentified pickled vegetable root. The flavor of ingredients and sauce combinations remained as elusive as the yet to be figured out vegetable. Gingko and shrimp were the main ingredients, they were decorated with shards of red and green pepper and chips of tangerine peel and beef fried. They were clumped in egg white and flour, As in all Chef Neiís dishes, they were cut in a plethora of thicknesses and shapes, made with many ingredients, many sauces, and many culinary techniques. Fresh soy beans with pieces of tofu sheets, marinated cucumber slivers, and wolfberries followed.
This degustation-type dinner continued with a steamed white Korean-type melon cross-hatched but not all the way through. It sat on a bed of kelp covered with a minced beef meat sauce. Rice noodle sheets with in-house smoked pork came with green leeks; and simple marinated button mushrooms cross-hatched finer than one can imagine came five to a toothpick. That was the only finger-food we had. They came with warnings from our server-son not to swallow the wood inside of them. The toppings from his dad of minced pickled red onions, Thai basil, had plenty of piquancy
My husband was in heaven when a very-long-cooked pork shoulder arrived prepared Shanghai-style. The meat literally fell of the bone, and everyone pulled some off with their chopsticks along with eating some of its mellowed fat. They found it and the meat, the best they had ever tasted, as did my hubby. Chinese celery and braised brown bean curd followed, then chicken pieces with peanuts, scallions, hot peppers, and pickled vegetables. Eggplant Sichuan-style came next, crispy on the outside, soft and succulent within. A marinated steamed then roasted duck followed, and it was also vaguely spicy and as soft as could be. A squirrel fish came quickly thereafter on a bed of crisp deep-fried spinach slivers. It was either ling or a rock cod, no one was sure. It was accompanied by gai lan with golden needle mushrooms and small amounts of sharks fin. The final dish was lobster with the tiniest slivers of chili pepper and minutia ones of cilantro.
Each appetizer and main course looked and tasted different, and each had a different texture. They might sound somewhat similar but that is as far from the truth as can be. They were different colors and most were prepared in different ways. What was amazing was that many had parts marinated, most with different vinegars, soy or other sauces, and most were cooked differently and that each dish was cooked many different ways. Some were marinated before, others after, and one or two so treated in the middle of their preparation process, etc.
Chef Nei came to the United States in the early 1990's to work at a Ramada Inn; but then returned to China. He came back in 1998 and worked in restaurants in Milpitas and in the Sunset District before striking out on his own. We learned that his prix-fixe dinners are popular, always have twenty-plus dishes almost always feature a half dozen made with different types of tofu.
This small smiling magical man usually wears his favorite baseball cap, it is red. He exudes an air of relaxed confidence, and many think making this many dishes for this few people is a snap. Perhaps it is for someone who once ran three restaurants simultaneously in Nanjing. Like the many steamed, brined, braised, and beautifully cut super-fresh ingredients he uses, he is super good and a super red-hat red-hot chef. While reservations are a must, we encourage splurging, this is for many, a once in a lifetime experience.