Connect me to:

Restaurant Review
David's Kitchen (Salt Lake City UT)
(801) 463-0888
3317 South State Street,
Salt Lake City, UT
---
Reviewed by: Steve from Long Island
Summer Volume: 2005 Issue: 12(2) page: 29
---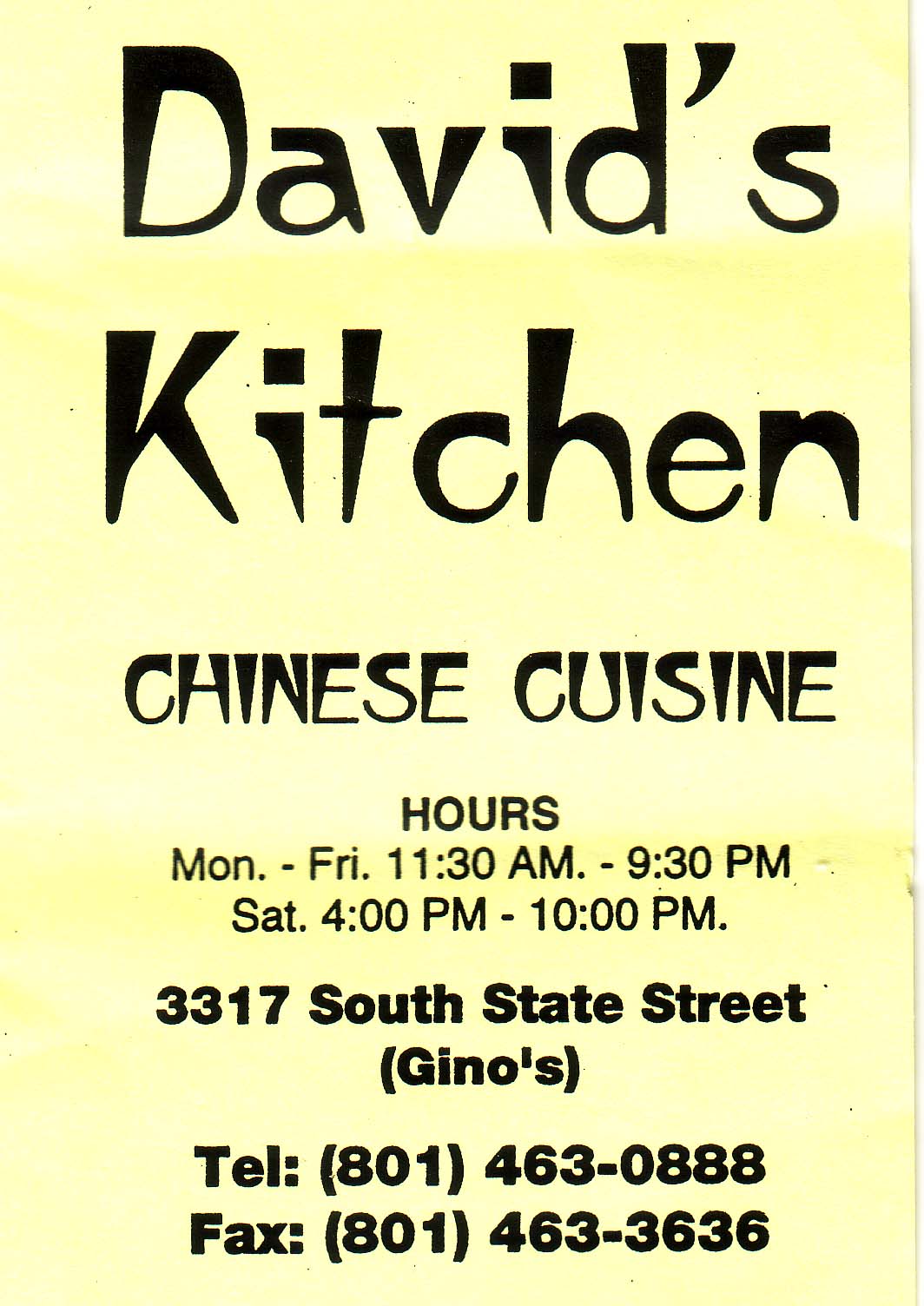 As indicated in the Newman's News and Notes column, a reader writes that he was introduced by a friend to David's Kitchen, a little charming Chinese restaurant and one of the best he has encountered in a long time. He advises it is not that much different from a lot of others of that genre, but it is one to return to. He did so when skiing in the nearby Wasatch Mountains and when visiting Salt Lake City. The he, is Steve, a savvy Long Islander who knows good Chinese food, travels a lot, and eats out most of the time at home or when on the road; and he writes the fllowing:
"I recently made two visits there with but one friend, and report that the Pot Stickers are just great. The Shrimp with Walnuts and the General Chu's Chicken, both are very good indeed, too. He try the Hot and Sour Soup and comment it is good though a bit too hot for my friend; he wonders if they are trying to win over their Tex-Mex fans. We also try and recommend the locally brewed Tfeffleweis half-wheat beer calling it a great accompaniment to Chinese food.
I say the presentation of food here is impressive, something I usually do not notice at Chinese restaurants. On a next trip to SLC, I recommend other friends try this eatery. The menu advises there are half dozen family dinners for two for under twenty bucks, each with four dishes, one of which is Ham Fried Rice. And there are sixteen special lunches Monday through Friday under six and a quarter that also include the Ham Fried Rice and the daily Soup special."
If you visit an unusually good Chinese restaurant, the editor says to do what Steve did, and tell us about it. Also, send a menu and a business card. We may ask a local we know, have a staff member visit, or if possible go ourselves to check it out. If your letter entices, and even if the menu sounds ordinary as this one did, and even if it has omissions like this one with no fish with fins and scales, we will be able to assess if the Chinese restaurant needs noting. This one does have one lobster and one scallop dish and nine shrimp dishes as well as nine chef's suggestions with four other foods of the sea.
So please help us by being a roving reporter. Tell us about your favorite place(s), and with your permission, we may share your information with others.