Connect me to:

Restaurant Review
Hong Kong Flower Lounge Restaurant (Millbrae CA)
(650) 692-6666
51 Millbrae Avenue,
Millbrae, CA 94030
---
Reviewed by: Jacqueline M. Newman
Fall Volume: 2005 Issue: 12(3) page: 28 and 28
---
On an El Camino Real corner between Freeway 280 and Highway 101 sits this lounge. Its age, like that of any fine woman, remains a mystery. Patrons, waitresses, hostesses, and management seem unsure or unwilling to share a uniform number. We heard from eight to eighteen years since it first oopened. Younger still, is its valet parking. We only went once--and for dim sum, so we can not speak to the only complaint heard about this restaurant. That was that car retrieval is too slow. We had arrived earlier than the valet and were able to park for free underneath and by ourselves. Be advised those spaces are few, tight, tough to get, and tougher to get out of.
Age and parking aside, no one questions the quality of the food. Within half hour after opening, the place was packed, people already waiting for tables. If need be, we'd wait too, because the clay pots here are some of the best ever. About three bucks a pop at noon-time, oops--we mean a pot, they are something to order and enjoy. Looking around, many folk did just that. Our Rice with Chicken and Black Mushroom was wonderful. The Sliced Pork and Preserved Vegetable even tastier.
We were told that the hundred plus dim sum selections are all terrific, some unusual. Seems everyone knows this place even though it is a good half hour from downtown San Francisco; and that there are others by the same name downtown on Geary Street, also in Oakland and elsewhere. Many in this name-only lounge come early to enjoy many of their treats that touch the hearts of their patrons. Our waitress told us why they touched hers, then helped us pick those to touch ours. In the dozen-plus tried, only one missed its mark, a Duck with Mixed Vegetables. The reason, it needed to meld its many goodies. Had we come two or three hours later, it would have been better.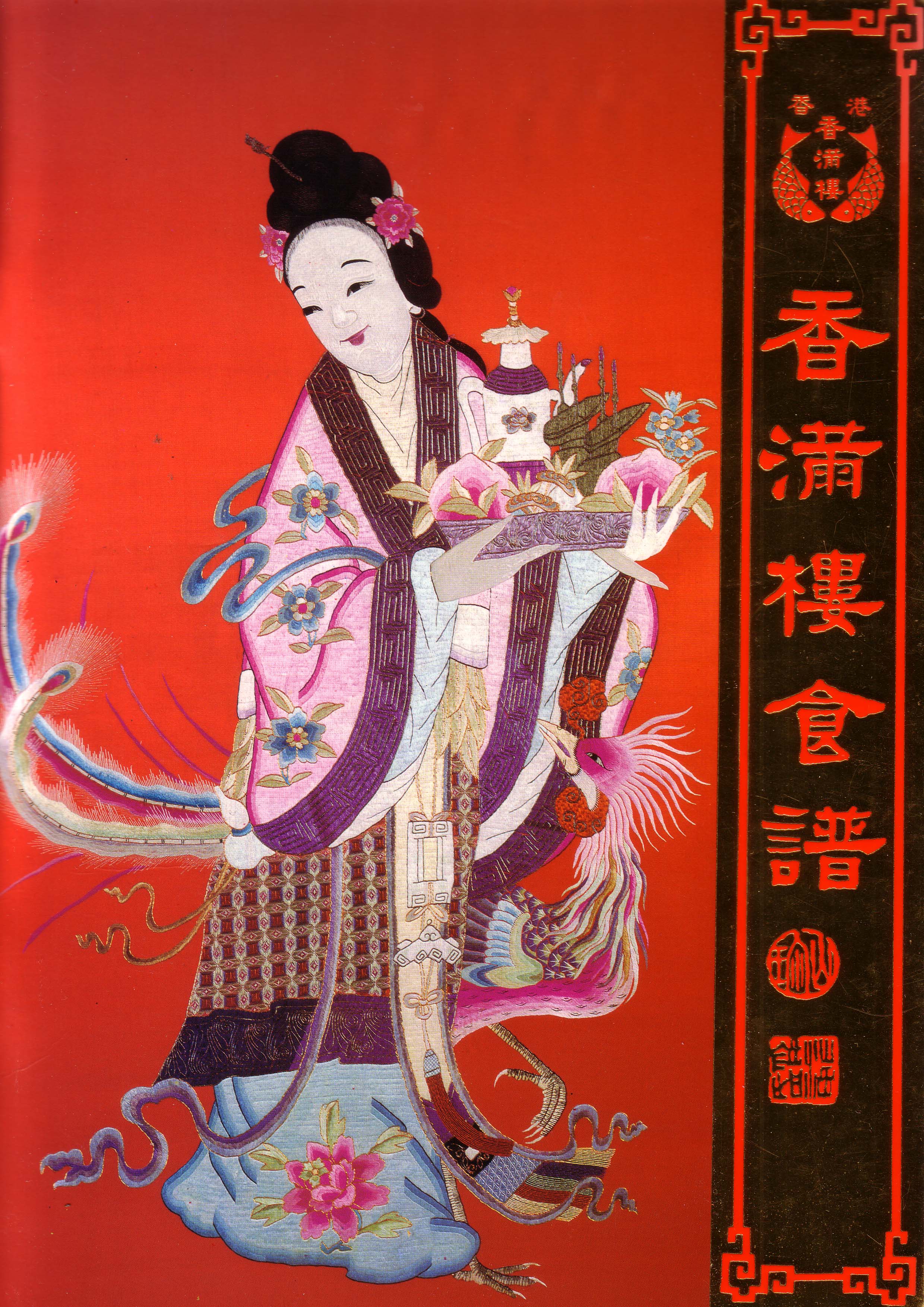 Not to be missed is the Ginger, Egg, and Pigs feet in Sweet Vinegar. This new-mom and family favorite is popular after childbirth. It is rarely available in restaurants; but here it is, and phenomenal. It should be eaten by new and old moms, pops too. With no new baby to celebrate, no need for its high-calcium content, we dug in and devoured ours in total delight. Had we not ordered so many other dishes, we would have had another.
Dishes at this multi-storied Hong Kong Flower Lounge are all well made; the customers eating them well-heeled. The red cover of the dinner menu, shown on this page, is glossy and grand, as is the place. Prices match, but are worth every penny; and really are not so high if thinking rationally. Where else can one always get Braised Superior Shark's Fin Soup with real crab meat for a mere thirteen dollars? Like most other dishes, this is a high-end item whose small portion is worth its tariff.
Very special and lots less expensive is their Curried Squid, which comes with tripe. The Layered Bean Curd in Wine Sauce is layered and loaded with black mushroom slices and tofu fried and rolled. It is a wonderful imitation of goose, the top browned and looking like poultry skin. We close our eyes to find it meaty. Were they never opened, we easily could be fooled into thinking we are actually eating goose.
Canadian Chicken Congee comes highly recommended, the Meatball Congee does too, both with cause. On week-ends, Steamed Chicken, Fish Maw, and Mushroom can be had, also the Peking Style Pan Fried Meat Bun. There are many marvelous BBQ selections, fewer available on weekdays all there on week-ends. Crispy Roast Pork can be had Chinese or Thai-style; both are delightful. As we are too full for the sweets, but had we not been, deciding among the eighteen of them would be a tough task.
This two hundred seat eatery offers more than a hundred dim sum selections and a like number of different things at dinner time. Some have Hakka overtones, such as the clay pots called Chow Fun with Conch, and the Preserved Mustard Green in Black Bean Sauce. Likewise the Ho Fun in Soup with Beef, Shrimp Balls, Crab Meat, Sliced Fish Meat, and Bean Sprouts; and the Fried Rice with Dried Scallop and Egg White. Dinner dishes, we are told, include more fabulous Hong Kong, Cantonese, and Hakka finds and even items such as Vietnamese Noodle in Soup with Roast Duck.
Many dishes, at dim sum or dinner need ordering in advance. On our next trip west, we surely will want to eat and enjoy this place that changes your plates frequently, provides excellent service, has a large menu, and provides fine ambiance. It is not too far from the San Francisco airport, so stopping here coming or going can be a delicious idea. A cabby said many of his customers request he do just that. She loves to accommodate and confided when she does, it blows her tips. She said, it is worth it to eat here. Cabbies often know great places to dine. This one did and now you do, too.