Restaurant Review
Old Mandarin Islamic Restaurant (San Francisco CA)
(415) 564-3481
3132 Vincente Street,
San Francisco, CA 94116
---
Reviewed by: Jacqueline M. Newman
Fall Volume: 2005 Issue: 12(3) page: 29 and 30
---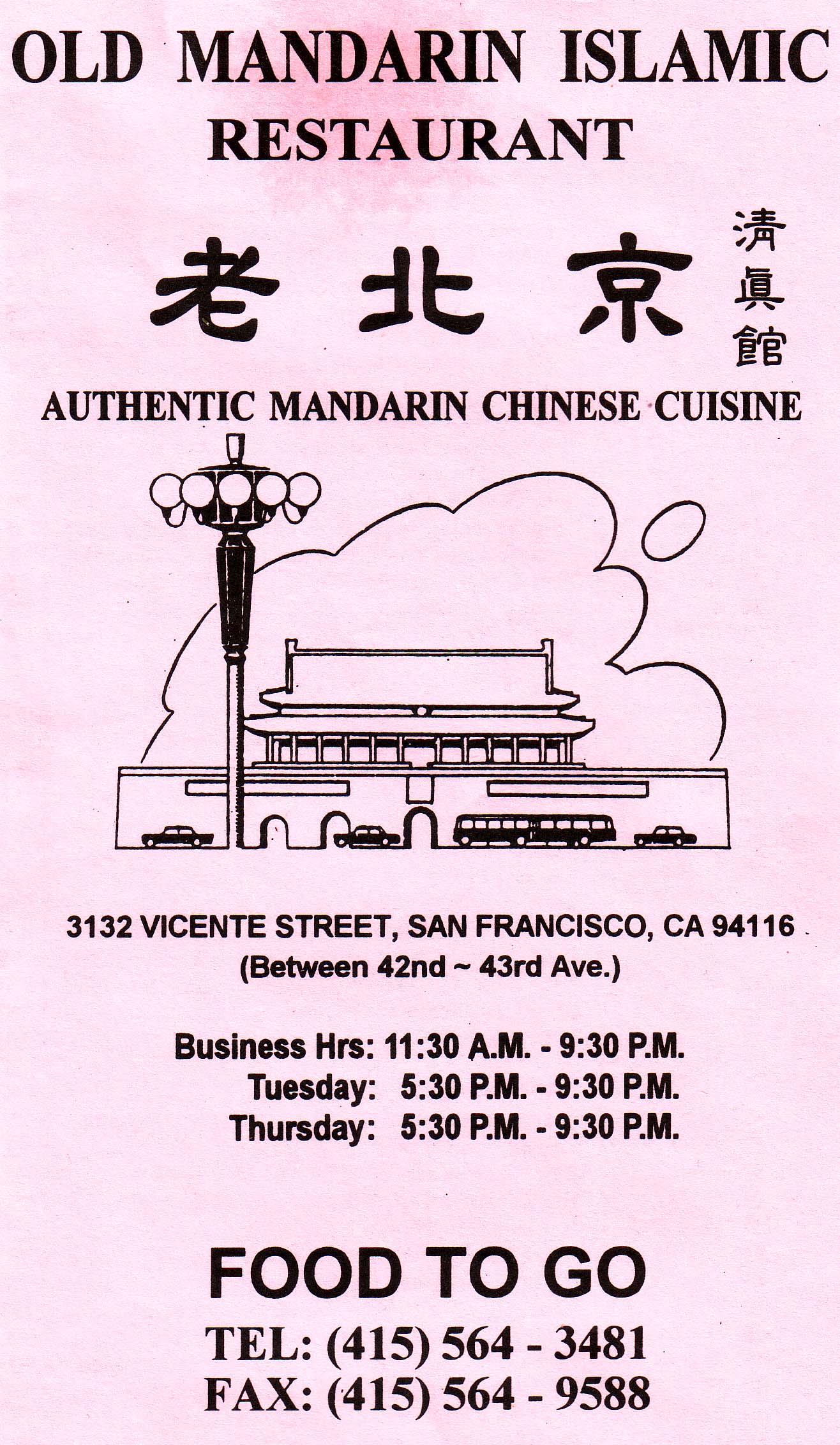 Opened in 1997, and recognized then and now as the place for permitted or 'halal' food, those observing the dictums of the Koran know this place. Join them and the legions of nearby faculty, students, and staff at the San Francisco campus of the University of California who dine here. It is one of the top ten Chinese restaurants listed in the San Francisco Chronicle, and now one of our top ten in the Bay area.
Tommy Yang, owner and chef, is a master. His tiny kitchen produces food to delight everyone, Islamic or not. We loved the seven dishes we had; and delighted in the fact that the staff there also helped us order many of them. They were excellent suggestions. Others were gleaned from Carl Chu's Chinese Food Finder: in The Bay Area, still others with input from half-dozen folk who helped us select them.
We thank all of them including one of Chef Yang's relatives. We told him and others that we were willing to put ourselves in their hands if they treated us to the best Chinese Islamic food. We wanted what their Islamic patrons ate. We wanted them to forget we were Caucasians, and remember we wanted the very best on their menu. The chef surely accommodated.
Well outside the downtown area, and off Route 1 and between 42nd and 43rd Avenues, getting to this Mandarin means following instructions that might say: Head to the ocean and look for it after the Sunset Supermarket. We stopped to shop there, and savored and splurged on this market's wonderful Chinese food. Actually, we wished we lived in the neighborhood then we could shop and eat nearby.
When we started eating, it was with a super soft set of Hot Braised Lamb Ribs. Though we asked for a small portion and it did look rather large, we managed to eat all ten ribs and all the braised napa cabbage they came with. More succulent they could not be, their meat fell off the bone and into our mouths. No effort was required to polish them off scooping up every bit of the tomato-cumin sauce they are made with.
Next, we taste Stirred Flour Ball with Three Flavor. The waitress said it is a Beijing Islamic speciality. We can easily see why the Flour Ball food makes beloved dishes. This one is made with strips of beef and chicken and squares cut off a ball of dough. These goodies are stirred with peas and carrots, bean sprouts, cucumber, and celery, and it is a meal in itself. Nonetheless, we did devour it all, and we begged to learn how to make the dough. Sorry to advise, a secret it remains.
Peking Beef Pie comes as a flat and filled pancake of ground or maybe hand-chopped beef. We cut wedges, and wonder at its goodness outside and in. Lamb with Ground Bean Sheet arrives looking plain and prosaic. We are surprised that it tastes piquant; and are pleased that it is a hit at our table. It includes bean sheet pieces, large and small, and scallions, bean sprouts, and cilantro, among other things.
We order dumplings and are about to ask where they are, when West Lake Lamb Dumplings are set before us. They are large, and when dipped into the accompanying black vinegar, are luscious. They are followed by Peking Style Da Lo Noodles. This pasta is on the bottom of a casserole, topped with slices of cloud ear fungi, and sticks of cucumber on one side, straw mushrooms similarly cut on the other. We start to dig in, but our waitress stops us. No, no, she intones, then tosses the varied texture foods, and says "OK, now eat" and we do. Every last strip of this soft and crunchy mix is magnificent. What a texture/taste combo simply seasoned and simply super.
Last we have Fried Sweet Cakes, a dim-sum-like dish filled with brown bean sauce and chopped peanuts. My husband, who avoids this type of food, gives in to my pleading and takes a small bite. Then he downs it all, neither its sweetness nor his full stomach seem to be at issue.
I take a bathroom break mid-meal and am glad. Getting there requires going through the kitchen. It offers an opportunity to pause long enough, there and back, to watch this Islamic master chef at work. That experience and the entire meal is worth the trip from downtown. There is one major disappointment here; it is a two tea-bag terrible pot of hot tea. A minor additional problem was the all-too-close TV blaring western news. No one seems to watch it.
There are a growing number of Islamic restaurants and a web site that lists many of them. From it, we learn this restaurant is not open for lunch on Tuesdays and Thursdays. It gives little more than hours, addresses, and phone numbers. That said, dine there at dinner or for lunch on the other days.
Old Mandarin is a reliable golden oldie with a full menu. When you go, be sure to order one of their seven 'flour ball' specials. And, if you learn how to make the dough, please share that secret.