Connect me to:

Restaurant Review
New Concept Restaurant (Monterey Park CA)
(626) 282-6800
700 S. Atlantic Boulevard,
Monterey Park, CA 91745
---
Reviewed by: Jacqueline M. Newman
Summer Volume: 2006 Issue: 13(2) page: 19
---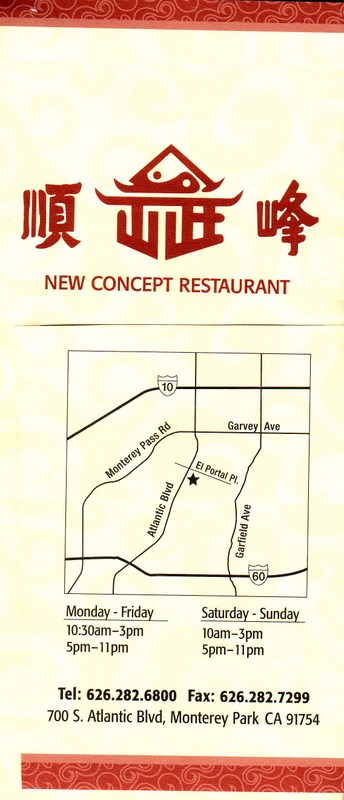 NEW CONCEPT RESTAURANT in Monterey Park is worthy of your attention. Invited by friends, as guests of their friends, we enjoy a dinner organized by Andrea who e-mails her faithful followers when the next Asian or another dinner will be. She orders, they come, they adore being together, and they get to know the best foods at her finds.
This lovely place, two years old when we are there, is elegant and upscale. However, we do taste more classic than clever concepts. Our twelve-course she-arranged-it banquet begins with seven small delights from their special dim sum menu. It is a somewhat new concept, should you use it to check off items wanted. Most of them are older concepts including the very good BBQ Pork Bun, and the OK Pork Shui Mai, Shark's Fin Scallops Dumpling topped with a sliver of scallop, three shrimp, and very hidden shark's fin pieces. Pan-fried Turnip Cakes with Spicy X-O Sauce include home-made and marvelous X-O sauce. Shredded Fried Sundry Scallops Taro Cake are excellent with reconstituted dry shrimp sitting in a deep-fried egg-roll-wrapper-basket. Har gow come translucent, their exteriors tough, succulent sweet shrimp within.
None of the above are new concepts to us and most Chinese, but better than nice is every platter comes with beautiful decor, though most are the same or a similar gelatinized flower or two. Newer still is Lavender Flavored Rice Cake. Sounds similar to earlier dishes but surely is not. Made with black rice that turns everything pretty and purple, this cake is topped with white gelatin setting off its deep, dark, soft, savory bottom.
A watery fish and noodle soup, a Fish Shunde Style arrives. Its pieces of cucumber, carrot, and wood ear slivers are tasteless as is the broth. We ask manager Winston about its origin and he says, "this river soup is like Mom makes when you first come home." Maybe if that is what you get, you should not come too often. The Fried Bean Curd in Duning Style is next, the tofu looking as if it exited the freezer. It may be crisp, but is it worth eating? Everyone at our table tastes and passes.
Finally, a real new concept presents itself. Fried Prawns with Oatmeal, the flat rolled type; they are sprinkled on top. Interesting and an improvement. Three Cups Fillet of Fish in Tai-Wan Style follows. When this casserole's cover is lifted, the aroma of caramelized garlic makes everyone salivate. The few diamond-shaped red and green peppers add colorful touches, the basil leaves a beautiful bite. We dig in and devour.
Not on the printed menu prepared for us, the meal ends with Buddha Delight, delicious and with more than a dozen items adorning it. Many take a small taste but we over-indulge; it is not a new concept, but a nifty one.
Pan-fried Cabbage, Mushroom, and Lotus Root end our main dishes. Everyone enjoys this southern dish, more Taiwanese than first thought. We get no Japanese concepts on the menu such as the large number of sushi offerings. There are others we need to return to try, and we do liking but not loving Stewed Bird's Nest with Papaya, Braised Prime Beef Slices with Satay Sauce, Pan-fired Jellyfish with X-O Sauce, Boiled Clam in Japanese Sake, Ginseng Pot Lobster Sashimi, Preserved Goose Feet, Macao BBQ Roasted Pork, etc. New Concepts maybe, but less than nifty. Coming to this eatery means making old and new dish decisions; not an easy task, but surely fun to try.