Read 6536699 times

Connect me to:

Tianjin
Regional Foods
Spring Volume: 2017 Issue: 24(1) pages: 29 to 30
---
Long a gateway city to Beijing, Tianjin is fifty miles Southeast of the country's capital city. It is China's fourth largest city and a major seaport half an hour by high speed train. In Tianjin, one boards at Tianjin South' main station to get to the capital quickly.
Historically, this was a city of migrants. There were many foreign settlements here from 1858. It is a major trading port and a place where British and French were early power players. Living with them were Japanese, Germans, Austro-Hungarians, Italians, Russians, and others in this cosmopolitan city with strong Russian and Japanese influences that still exist today.
Once divided into nine international concessions, this city was known for them and for the strong monsoons that occasionally blew in. Here, blended cultures existed, ones that mixed foods from China's north and south; a mite more southern than northern.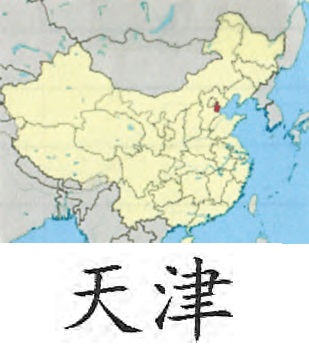 Tianjin was a busy seaport as well as a melting pot of peoples. It was a city with places ancient and modern, folk and food from all over China, a place with dry winters, hot and humid summers, lots of fish, and sandstorms from the Gobi Desert that could last for several days.
In Tianjin, temperatures on some days in July, do range from twentyfive to eighty degrees Fahrenheit. There are two to three thousand hours of sunshine in the Fall, mostly in October, and there is lots of warm rain in July and August. Air quality here can be thick enough to taste but no one seems to mind, at least they never say so. The name of this city means "Emperor's Ferry.' It guards Beijing with people not only of many different cultures, but also of various faiths. They support many forms of local art, are known for their great sense of humor, have lots of tolerance, and frequent many elegant dining and snack locations.
Many folk come here to enjoy Ancient Culture Street, the Tianhou Temple dedicated to the Goddess of the Sea, see the Confucius Temple, the Wang Hai Luo Cathedral, and more. That church was destroyed several times including in 1870, during the boxer rebellion of 1900, and in an earthquake in 1976. Repaired most recently in 1983, people keep coming to see it, the Dabei Monastery near the market place the Laughing Buddha at its entrance, see Guanyin, and the Tianjin Eye which is one of the world's tallest Ferris Wheels, three hundred ninety-four feet tall. They oogle at it and at the Frenchbuilt cathedral called Xi Kai, at the many colonial buildings on Jiefnang Street. They also go to the Chian House Museum, and the Tianhou Temple.
People also come here to eat their famous Goubuli Dumplings filled with delicious pork. They come to enjoy Stone-grilled Beef, braised Prawns. Crabs with Seaweed, Corn Thimbles, and many other local and imported dishes. They love all their snacks including those steamed buns; they are stuffed with pork or other juicy fillings, enjoy the Earhole Fried Cakes that are filled with red beans and sugar, the Shibajie or Fried Dough Twists named for the street where first made, and many more snack foods. The most famous fillings in many of their dishes include walnuts, prunes, and/or sweet osmanthus, all are very popular.
This seaport city also has other sea foods, often served in big bowls alone or with other foods from the land. Most are salty and fresh, braised with lots of fresh bean curd or made with dried bean curd sticks. Some eat theirs with different kinds of ham, and many flavor them with southern seasonings.
Local pancakes are popular here, the most loved are those made with mung bean flour rolled with scallions, eggs, and fermented bean sauce. Some prefer theirs as guobacia, made with other ingredients.
Locals and visitors flock to Nashi Street or make a bee line to Jingyuan, once known as the Garden of Serenity. Now, it has an exhibition oft Puyi's life. Others go to Zhangyuan to see this grand mansion's exterior at 59 Anshan Road. They can not go inside but can imagine Dr. Sun Yat-sen and his wife living here. This they did for some months in this 1915-style building. Others go to Italiante Street to see the two hundred or so Europeanstyle buildings on the north bank of the Haine River. Still others go to Marco Polo Square to see and be seen.
Tianjin once was a small walled city. Now it has more than sixteen million residents, most of whom know it was first built in 1404, and that the entire wall is gone except for small parts from 1860 Many come here to the concession areas from years ago that no longer exist in this Hebei former capital.
There were a few rebuilt since the major earthquake but they are curious about the close to three hundred 'Fortune 500' companies headquartered here. Most come just to enjoy the Grand Canal begun years ago and opened during Sui Dynasty times (589-618).
The Boxers did seize control of this city in 1900, were defeated and forced back from where they came from soon afterwards. Then, this city became the provincial capital of Hopeh, later fell to Japan in 1937. and Americans surrendered in December of that year though the Boxers did remain in control until August of 1945. World War II ended all local battles and peace has gratefully taken over since so people can only worry about their next main dish.
Prawns Braised Popo Style
Ingredients:
2 pounds large shrimp, shells cut open, veins removed
3 Tablespoons Shao Xing wine
1 cup vegetable oi, separated in two halves
5 slices fresh ginger, minced
3 Tablespoons fermented rice and its liquid
3 Tablespoons mashed ripe tomatoes
2 Tablespoons sesame oil

Preparation:

1. Dry shrimp with paper towels, then toss them with the wine, half the oil, and the ginger, and set aside for half an hour at room temperature.
2. Heat a wok, then add the other half of the oil, and when it is hot, add half the drained shrimp and stir-fry until they are almost pink, then take them out of the oil and fry the other half of them, each time removing them to a pre-heated bowl.
3. Dry the wok, add the fermented rice and the mash tomatoes, and after one minute, return the shrimp and stir until they are hot, no more than two minutes, then add the sesame oil, and serve in the same bowl, after drying it with paper towels.
Guizhou, Ignored by the Dog
Ingredients:
12 ounces ground pork
2 Tablespoon sesame oil, divided in half
3 Tablespoons ground chicken fat
3 Tablespoons dark soy sauce
3 Tablespoons fresh minced ginger
10 dumpling bun dough

Preparation:

1. Mix ground pork and the chicken fat and two tablespoons ice water and stir slowly and carefully until all is incorporated into the meat, then add the soy sauce, and the ginger, and continue stirring until it, too, is stirred into the meat.
2. Brush a bowl with very little of the sesame oil.
3. Roll each batch of dough until about six inches, then wrap it twice around two tablespoons of the meat mixture sealing all edges of the dough with water brushing its outside with the rest of the sesame oil. Steam over boiling water for eight minutes, then put them on an oil-brushed bowl, and serve.