Read 6545695 times

Connect me to:

Dai Minority: Festivals and Food
Holidays and Celebrations
Fall Volume: 2017 Issue: 24(3) pages: 16 to 17
---
These are the water-splashing folk also known as the water-sprinkling ethnic population. They enjoy this event beginning on the third day of their New Year, a festival that occurs around the middle of April. It is their Lunar New Year, and they dress in their finest and celebrate it. Designated as a Chinese National Intangible Holiday, during its first day or two. On this holiday, they wash all Buddha statues, and then make merry, watch dramas about the Dai, fly lanterns called kongming with candles in them, and after dark, let them fly into the heavens. They also fly kites, make music, and do lots of feasting during this Buddha birthday bash celebrating this icon they adore.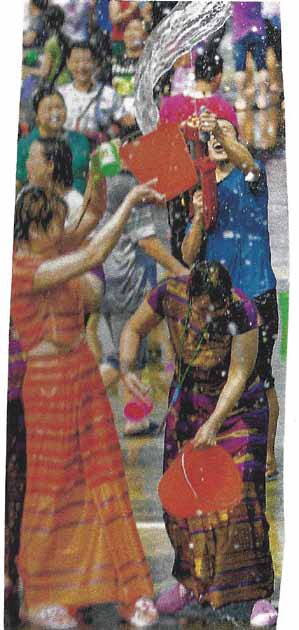 Their water-splashing festival is also celebrated in Cambodia, Laos, Myanmar, and Thailand, and everywhere Dai people live as this Dai Buddhist holiday is enjoyed by all Dai. It has been enjoyed since the 12th century CE, and is a holiday the Dai adore. Before the holiday, they clean their houses and make them spic and span. They prepare and cook many fine Dai foods, have a Reunion Dinner the night before, ala New Year's Eve, and every guest who does drop in this night or any day of this week-long holiday are invited to enjoy it with them.
As already indicated, the Reunion dinner starts the night before, but if all the family can not get there for it, they may delay it until the night of the day it begins. They like having all the family there, gathering at the home of the eldest, space permitting. Visiting elders and others are invited to join on the second day, and their water splashing events, as seen in the picture on this page, usually begins on the third day.
Water splashing is celebrating the coming year, good health, and their good fortune. The water splashed on this holiday is to wash away any ill fortune left over from the year before, and to set the tone for the coming year not wanting any this year either. The splashing usually begins on the third day and on that day they also have dragon boat races, fireworks at night called gaosheng, and singing and dancing day and night on every day of this upbeat holiday.
For the Dai, water is their God of Life. This god brings his people happiness, holiness, and light. For them, clean water early in the day makes everyone happy because together, they are washing away thoughts of any disaster that did or might befall them. Doing so, they chase each other with pails of water for good luck, and they bang on elephant drums for happiness. They also beat gongs to scare away evil spirits as they are making merry.
Something else happens during these festivities. On this holiday young folk seek marriage mates. Young girls having already made small decorated cotton bags to throw at the boys to attract their attention. If the boy it is aimed at fails to catch the one thrown at him, he needs to put flowers in her hair. If she fails to catch one he has thrown back at her, she must put a flower in the button hole of his shirt. Playing back and forth this way, if a boy and a girl take a fancy to each other, they can sneak away to a quiet place and initiate their romantic relationship; and many do.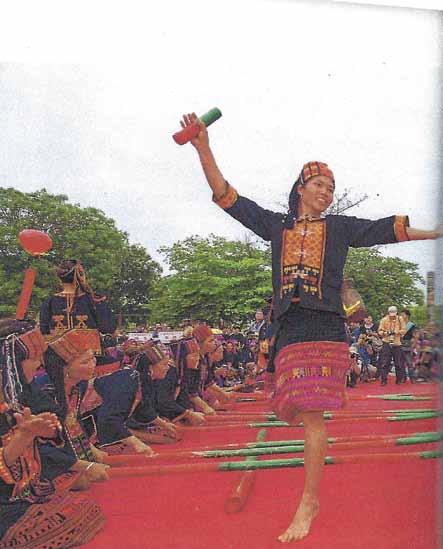 Before this festival, girls and their mothers have prepared sticky rice cakes and special dishes for each other, for their guests, and for any close friends and family who drop by. They also use them when calling on neighbors and friends to wish them the best for the coming year.
In the streets, young and old do peacock and white elephant dances and they all love watching the races from the river banks. In front, that is in the bow of most boats, someone will shoot one or more arrows as they cheer each other on.
Many boats have gaosheng or gunpowder-filled bamboo tubes at the ready. They ignite them and let them ascend upward. This is both fun and a contest. The tube that goes the highest will win a prize and that person will get lots of kudos if they are the winner or one of them.
They say these tubes are tribute to their gods, the water god included. They are also tributes to their sages, their folklore, and to each other, and they have been making these items for months in anticipation of this event.
The picture on this page is a girl doing a 'bamboo pole dance' one of many events done during this water splashing holiday.