Joyce Chen: Flavor and Fortune's First Awardee
People
Spring Volume: 2018 Issue: 25(1) pages: 18 to 19
---
Celebrated restauranteur, cookbook author, television personality, and entrepreneur, Joyce Chen was born in Beijing, China on September 14, 1917. This September 2017 is the 100th anniversary of her birth. She grew up in a highly regarded family in Jiading, a suburb of Shanghai, and was the youngest of nine children.
Her name, Joyce, was given to her by one of her teachers who said it was appropriate because she was always so joyful. One learns, as recounted in the Joyce Chen Cookbook, she was very interested in cooking and was encouraged by her mother to learn from the family chef so she "would never eat raw rice."
Joyce Chen fled the communist regime in 1949 with her husband Thomas, and her two small children. On recommendation of a Harvard-educated Chinese journalist and relative, she settled in Cambridge, Massachusetts on Kirkland Street. A few years later the family moved to Alpine Street near Fresh Pond, also in Cambridge. After they moved, Chinese graduate students from Harvard, MIT, and Boston University did flock there to socialize and enjoy her Shanghai and Beijing cooking. They sorely missed it in America. She did prepare it for them and her family along with other Chinese cuisines.
Joyce Chen's first public foray introducing Chinese cuisine to Westerners was at her children's Cambridge school. It was a fund raising event called 'the Buckingham Circus' and there she made egg rolls for the food table. Later, not seeing them there, she surmised they were not popular and were put out of sight. To her surprise and delight she was enthusiastically greeted with requests for more of them as that first batch did sell out immediately. She went home to make more, and so her legendary 'Joyce Chen egg rolls' entered the school's culinary history.
Soon thereafter, she taught the cuisines of China first in her home, later at adult education centers in Cambridge and Boston. Her friends encouraged her to open a restaurant, and in 1958, she and her husband opened New England's first Mandarin Chinese restaurant. It was on Concord Avenue in Cambridge and there, she introduced classic Northern Chinese dishes such as Peking Duck, Moo Shi Pork (as spelled on her menu), and Hot and Sour Soup.
She coined the name 'Peking Ravioli' for the first potstickers served in New England, and to this day, New Englanders still call all potstickers 'Peking Ravioli.' Thanks to them and many other dishes, her restaurant experienced tremendous success as she did awaken Americans accustomed to Chinese- American fare such as chow mein and chop suey to new authentic tastes of China.
Her Joyce Chen Restaurant was the most famous Chinese restaurant in America in the 1960's. Customers came from all walks of life to enjoy her food. Among the notable fans were Nathan Pusey, then president of Harvard and Julius Stratton then president of MIT. John Kenneth Galbraith, Danny Kaye; Beverly Sills; James Beard; Julia Child; and then US Secretary of State, Henry Kissinger were there often. Kissinger proclaimed her Peking Duck "better than those in Beijing!"
She did open a second restaurant in 1967 called Joyce Chen's Small Eating Place. Also in Cambridge, it was in Central Square. MIT professors did complain that her first eatery favored the Harvard community. Her last Joyce Chen Restaurant closed in 1998.
Earlier, in 1962, she published the first edition of her Joyce Chen Cook Book. It included home-style recipes of Mandarin, Shanghai, Beijing and Chongqing dishes. Then, in 1968, she started and hosted a nationally broadcast PBS television series called "Joyce Chen Cooks." That program introduced thousands to Northern Chinese cuisine.
Realizing the lack of properly made utensils in the US for Chinese cooking, Joyce Chen designed cookware and cooking utensils with her name on them. Among them, she introduced the very first flat bottom wok which she called the 'Peking Pan.' After her death in 1994, her cookware company was sold, and that was in 2003.
Embraced by her Chinese restaurant chefs, this inspired her to make them available to other chefs and the general public who did love and embrace them.
This was a bold and unique move at that time because bottled Chinese stir-fry and other sauces did not exist in America or most other non- Chinese markets. Her company, Joyce Chen Foods, is now run by her son Stephen who continues to offer Joyce Chen's iconic frozen 'Peking Ravioli' potstickers, healthier Chinese sauces, and many Chinese ingredients. Most are now available in many American and other markets and supermarkets.
After president Richard Nixon opened diplomatic relations with China in February 1972, Joyce Chen, her son Stephen, and her daughter Helen were some of the first Americans to go to China. So did this magazine's editor, but on a separate trip. Chen's trip resulted in a PBS television special called, "Joyce Chen's China."
In September 2014 she was honored with her own U.S. postage stamp; it is seen on this page and was part of a set of American commemorative stamps of her adopted country's culinary legends. It did sell out quickly. Joyce Chen died in 1994; her granite marker reads "Beloved Mother" at its top. Her Chinese name, Liao Jia Ai, and Chinese women keep their maiden names, is also there in Chinese characters with an inscription in English saying: "To live in the hearts of those we leave behind is not to die."
This great famous lady will never leave the hearts and minds of the hundreds of thousands she introduced to authentic Chinese cuisines. She brought them to them and taught them in the US. This magazine's editor is one of her thousands of fans.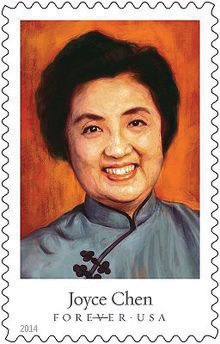 This information, taken from an article written by her daughter, Helen Chen, is about her mother, a world famous Chinese cooking authority. Like her mother, her daughter who wrote this article is one as well. Her daughter also taught and wrote Chinese cookbooks, including Peking Cuisine' published by Orion Books in 1997, 'Helen Chen's Chinese Home Cooking' published by Hearst Books in 1994, 'Easy Chinese Stir-Frying' published by John Wiley and Sons in 2009, and 'Easy Asian Noodles' published by John Wiley and Sons in 2010. Both mother and daughter are well-known cooking authorities honored and adored. Both are worshiped as fantastic experts teaching and writing about Chinese cuisine. Readers need to know that this magazine's editor is in total agreement.