Read 6544757 times

Connect me to:

Bitter Melon: Not Always Loved
Vegetables and Vegetarian Foods
Summer Volume: 2018 Issue: 25(2) pages: 15 to 17
---
This vegetable, botanically known as Mormordica charantia, is not always appreciated when green or white. The first half of its name is probably why as it often is somewhat or very bitter. Some say it looks like a relative of the cucumber or zucchini. That is only true if it is the one with no bumps. Some are more bumpy, others totally smooth. The former are more common as seen on this page.
The Chinese call them ku gua, and say that the bitter ones best illustrate the ups and downs of life. We see them as a great vegetables to balance the five basic flavors in a meal. Ones this bitter in a dish or a sauce, do help maintain good health. Eating these vegetables has been discussed in some earlier issues such as in the 2003 Volume 10(3) one, the 2008 Volume 15(2), and in 2014 in volume 21(1).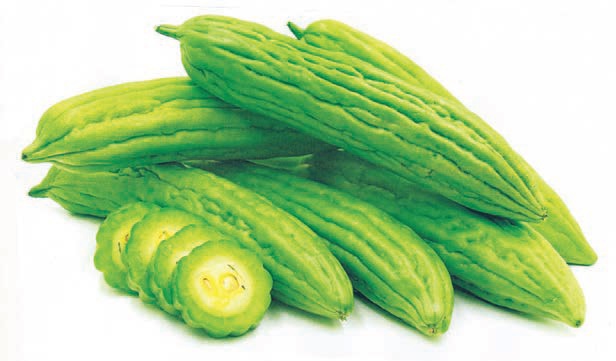 Many did question this editor, she does wonder if they did taste it yet? Some people enjoy this vegetable, surely those with light green skins. The ones with dark exteriors taste more bitter than they do. We recommend the recipes below and others from this magazine's web site. Try one or two and be pleasantly surprised.
Keep in mind that their bitter taste should not take center stage, but compliment other dishes served with it. Bitter ingredients are great with sweet and rich ones. They make meals planned to include all basic tastes even better; and why we recommend serving these different tastes together.
Bitter melons do have many seeds and are related to squash and similar vegetables. They are known to have health-giving properties. Those that want to grow them should be pleased to know they are easy to grow and are virtually pest-free. Some are called, though we know not why, balsam pears. Those that admire their bumpy exteriors, do need to peel them before using them. And, do keep in mind that, the lighter their color, the less bitter they are. Introduced in China from India in the 14th century. TCM practitioners tout them for treating indigestion, internal cleansing, settling an upset stomach, treating diabetes but reducing blood sugar levels, curing inflammations, reducing viral and bacterial illnesses, treating gout and jaundice, and helping ease removal of kidney stones.
The Chinese prefer them in dishes that are thermally hot and often slow-cooked. Some serve them tepid and with black beans. Others flavor them with osmanthus flowers or syrup. Several tell us they like them all of these ways. Some did say they will try them, and we hope they do. Only then will they appreciate them. We wonder why their hesitation. Maybe the word 'bitter' puts them off. If that is their problem, they need to buy those with very light skin try one of the recipes below.
We like them all, and readers can, too. Some say to eat them is to ichi ku, which means 'to eat bitterness'. Others believe they represent hardships as acceptable behavior worth pointing to with pride, even one to brag about. We ignore that thinking and just enjoy cooking and eating them; you can, too.
Those that like bitter melon, often like stinky bean curd, durian, and other less-loved food items They should not serve these items together. One recipe below can be eaten cool or cold. We like it made with one green and one white bitter melon together.
Most recipes below should be served with other main dishes; and they can be eaten in any part of one's meal. We believe that true with most Chinese dishes as most do have ownership with any part of any meal. Do cook them and tell us what you think. Our very favorite is the last one. Maybe you should try that one first.
Bitter Melons With Black Vineger
Ingredients:
2 bitter melons, one white and one dark green, peeled and cut in small strips
1 teaspoon coarse salt
1 Tablespoon thin soy sauce
1 Tablespoon Chinese black vinegar
1 teaspoon sesame oil

Preparation:

1. Discard the bitter melon peel, their seeds, too.
2. Boil three cups water and blanch the pieces of bitter melon for up to one minute, drain, and mix with the salt, then allow to come to room temperature.
3. Mix in the soy sauce and vinegar, then add the sesame oil, and serve.
Pork and Bitter Melon Soup
Ingredients:
3 slices fresh ginger, slivered
½ pound boneless and skinless pork fillet, cut into thin strips
1 dark green bitter melon, peeled, cut in half, seeds discarded, remaining flesh slivered
2 quarts pork, chicken, or vegetable stock
2 teaspoons thin soy sauce
½ teaspoon sesame oil
½ teaspoon coarse salt
3 small eggs

Preparation:

1. Put prepared ginger, pork, bitter melon, and stock in a soup pot, bring to the boil, and quickly reduce the heat to a simmer for ten minutes.
2. Add soy sauce, sesame oil, and salt, and then simmer ten more minutes before turning off the heat.
3. Break each egg into the soup mixture and cover the pot for five minutes, then mix vigorously, and serve in individual pre-heated soup bowls.
Shrimp and Bitter Melon
Ingredients:
1 Tablespoon vegetable oil
2 Tablespoons black beans, rinsed and chopped
½ pound fresh shrimp, peeled, veins discarded, each cut in four pieces
1 bitter melon, peeled, seeds discarded, and coarsely chopped
5 teaspoons cornstarch, divided
1 teaspoon granulated sugar
1 Tablespoon thin soy sauce
2 scallions, slivered on an angle
½ cup chicken stock

Preparation:

1. Heat a wok or a large fry pan, then add the oil and when hot, add the black beans and shrimp and stir-fry for one minute.
2. Then add bitter melon and half the corn starch, stir- fry one minute, then add sugar, soy sauce, and scallions, and stir-fry one minute.
3. Mix in the rest of the cornstarch stirred with the chicken stock and keep stirring this until it thickens. Do serve in a pre-heated bowl.
Spare Ribs With Bitter Melon
Ingredients:
1 cup vegetable oil
3 cloves peeled garlic, each one smashed
3 Tablespoons coarsely minced fermented black beans
1 pound spare ribs, each cut in two-inch pieces
3 Tablespoons cornstarch
1 large or two smaller bitter melons, peeled, their seeds discarded, sliced into one-quarter-inch slices, each circle cut in half
3 Tablespoons Chinese rice wine
1 Tablespoon granulated sugar
2 Tablespoons water chestnut flour

Preparation:

1. Heat a wok, add the oil, then the black beans, and stir- fry this for one minute. Then remove this with a spider or slotted spoon and set it aside.
2. Toss the spareribs with the cornstarch shaking off any excess, then add the ribs to the oil and stir-fry several times for seven minutes until the ribs are brown, crisp, and thoroughly cooked. 3. Remove them from the oil and set them aside. Use the oil for another use or discard it.
4. Add the wine, sugar, bitter melon pieces and the water chestnut flour to the wok or pan and stir-fry for two minutes. Then transfer them to a pre-heated platter and serve.
Fish Stuffed Bitter Melon
Ingredients:
3 bitter melons, green or white, sliced into rings about one-inch wide, seeds discarded, then blanched for two minutes
1 pound cod or halibut, skin discarded, bones removed, the flesh chopped
3 Tablespoons minced fresh ginger, divided
1 Tablespoon thin soy sauce
1 teaspoon sesame oil
½ cup minced fresh coriander
2 scallions, thinly sliced on an angle
1/4 teaspoon ground white pepper
3 Tablespoons cornstarch
2 Tablespoons vegetable oil

Preparation:

1. Blanch bitter melon pieces for two minutes, then pt them in cold water for two more, then dry them with a dish towel.
2. Mix fish filets with half the ginger, the soy sauce, sesame oil, coriander, scallions, pepper, and one tablespoon of the cornstarch, mixing well, or putting in a blender for one minute.
3. Toss the dried bitter melon with the rest of the cornstarch and stuff a tablespoon of fish between every two slices.
4. Put oil in a wok or fry pan, and cook the stuffed bitter melon pieces until golden brown on each side, then remove these pairs to paper towels.
5. Now put the black beans, garlic, ginger, chili pepper pieces, oyster sauce, and the soy sauce and sugar into the wok and str for two minutes, then add the bitter melon packages and coat with some of the black bean sauce, and then serve them.
Bitter Melon With Salted Yolks
Ingredients:
2 bitter melons, peeled, seeds discarded, cut in two-inch lengths, then into thin strips lengthwise
2 cloves fresh garlic, peeled and slivered
2 salted egg yolks, beaten or mashed, as needed
1 scallion, slivered on an angle
2 teaspoons granulated sugar
1 teaspoon coarse salt
1 Tablespoon vegetable oil

Preparation:

1. In a two-quart pot, boil the bitter melon strips in two cups of water for one minute, then remove them to a bowl.
2. Mix the ribs with the garlic, egg yolks, scallion, sugar, and salt.
3. Heat a wok or fry pan, add the oil, and when hot, add the bitter melon strips and all the other ingredients and stir-fry for two minutes. Transfer to a pre-heated bowl and serve.