Read 6278144 times

Connect me to:

Chengdu: Capital of the Sichuan Province
Summer Volume: 2019 Issue: 26(2) pages: 29 to 30
---
Also transcribed as Chengtu and known as Xijing, but that was in the 17th century, this is a most populous city in Western China, the fifth largest in population, and according to a recent census, has more than ten million people.
Called the ''Land of Milk and Honey" or the 'Country of Heaven,' Chengdu was China's capital during the Three Kingdom's Era (220 - 280 CE). Now and during the Middle Ages it was an important commercial , economic, and financial city that was established in 311 BCE. Its metro and urban areas now each has one thousand seven hundred sixty square miles with a population of more than fourteen million each counting prefectures and sub-provincial parts of its city. Home to the Sanxingdui and Jinsha archeological sites inhabited more than four thousand years ago, both are worth visiting.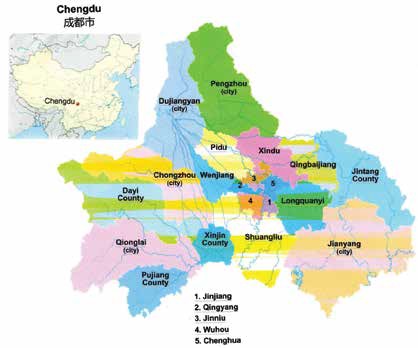 Chengdu, today, has one of the world's busiest airports, is an Air China hub, and it has a very busy railway station. This city is home to a dozen consular offices, has almost three hundred Fortune 500 company offices, and is known as the Gingko biloba city or the Hibiscus City.
Many do not know it was the first in the world to introduce paper money. Nor do they know that during the 1300s, Marco Polo visited and wrote about it. He even said that tobacco was produced here, the city and surrounding area the center of cigar and cigarette production when he went there. It is a planned city, one goal of its founders, that every citizen have only a two-minute walk to the nearest park.
The home of Du Fu, a poetry sage, and of Chuan opera, this city is known for its magical masks, its Shu embroidery, its Sichuan cuisine, and of course its endangered giant pandas. With lots of fresh water from the Minjiang River rushing down the Minshan Mountain, it no longer is prone to flooding as it was before Emperor Li Bing started a many year project to carve though the Yulei Mountain building the much needed irrigation system called Dujiangyan. That now controls the flooding and divides the water to alleviate the horrible floods of the past. This massive project is still functioning, and is a UNESCO World Heritage site worth visiting.
In 1869, a French missionary, Armand David. found a black and white animal he thought was a bear; but it was not. Fossils found since tell us it was a giant panda first appearing on earth some two or three million years ago. As we did, you can see them at the Giant Panda Research Station established in 1987 that is some five and a half miles from downtown Chengdu. Go see them, and visit one of the many tea houses as locals do. They are symbols of this city, as is the bamboo that feeds the pandas.
This city was a cradle of Taoism, with three important monasteries, the Cheng Daci, Wenshu, and Baoguang, and its many historic temples. All are wonderful reminders that it was important for thousands of years, and still is. Probably all local Chinese know about Chengdu as they probably read a most famous novel. The Romance of The Three Kingdoms when they were students in school; it takes place there.
Food is popular here, Shanghebang Cuisine, is a variation of Sichuan cuisine. It is lighter in taste and the most loved of all foods in this province. Here, the shops are popular, too, as they were in the past when it was the Shu Kingdom. They still are today, and that was clear they were not only popular but upscale and sophisticated. Their windows showed gorgeous clothes, and when we walked its streets this past year, the windows showing them off were sophisticated and beautiful. They are more sophisticated than any other city except perhaps the windows in Beijing.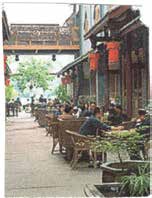 There is a Sichuan Cuisine Museum in the Pidu District with a very tasty food court. Do visit it and meander in the Qingyang District where the Kuanzhai Alley has wonderful narrow streets. Also get to the New Century Global Centre, it is the world's largest building, floor space wise. It has many retail outlets, a theater, a cinema, many offices, a fancy hotel, and a water park, too. Be amazed at its fifteen thousand parking spaces, its skating rink, huge picture screen, an artificial beech with waves, and the Mediterranean village housing all of them. Chengdu has lots to see, do so in a leisurely manner, and have tea a few times, too.