Read 6536838 times

Connect me to:

Suzhou and Its American Sister City
Chinese Food in China, Hong Kong, and/or Taiwan
Winter Volume: 2005 Issue: 12(4) page(s): 13, 14, 15, and 17
---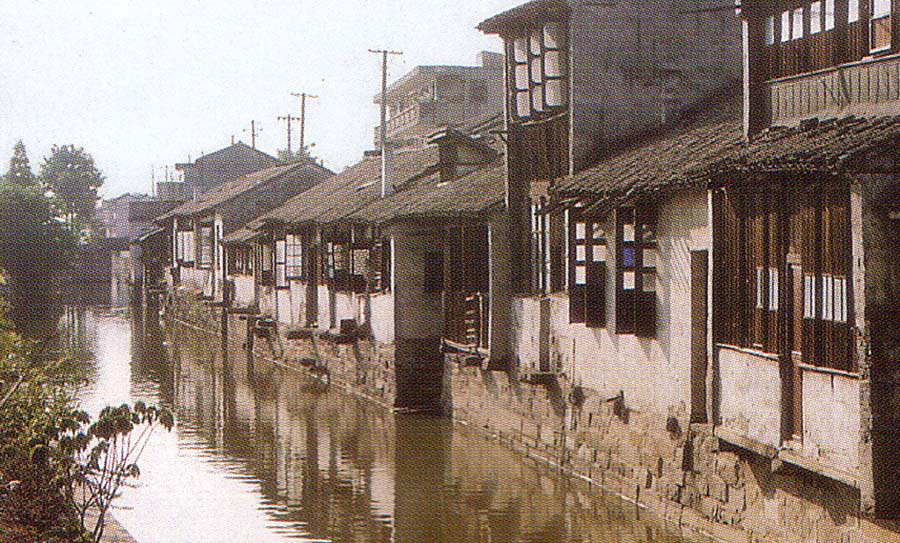 Suzhou, before the use of Pinyin, has been spelled Soochow. Suchou, and other variations making similar sounds. This famous city is in the Jiangsu province, a jurisdiction which used to be spelled Kiangsu.
Suzhou was once known as the City of Wu, also as Wumen, later called Gusu; and later still, during the Song Dynasty, called Pingjiang. Perhaps it had all these names arose because it is one of China's oldest cities so there has been lots of time for all of the name changes. Iron was smelted here years back, and silk weaving rose to becoming world class.
This famous city is about fifty miles west of Shanghai, one hundred and thirty miles southeast of Nanjing, and situated in the southern Yangtze Delta region. People here speak the Wu dialect, make silk and sandalwood fans, and produce one of the four most famous embroidery types in China. They ship it everywhere as transportation from here is easy, Suzhou is on an axis of the old Imperial canal systems.
This city and its environs boast many lakes and canals. One famous one traverses the region north to south, from Beijing to Hangzhou. That is why some call this city the 'Venice of China.' Its smaller canals connect with China's Grand Canal, the largest internal waterway in the world.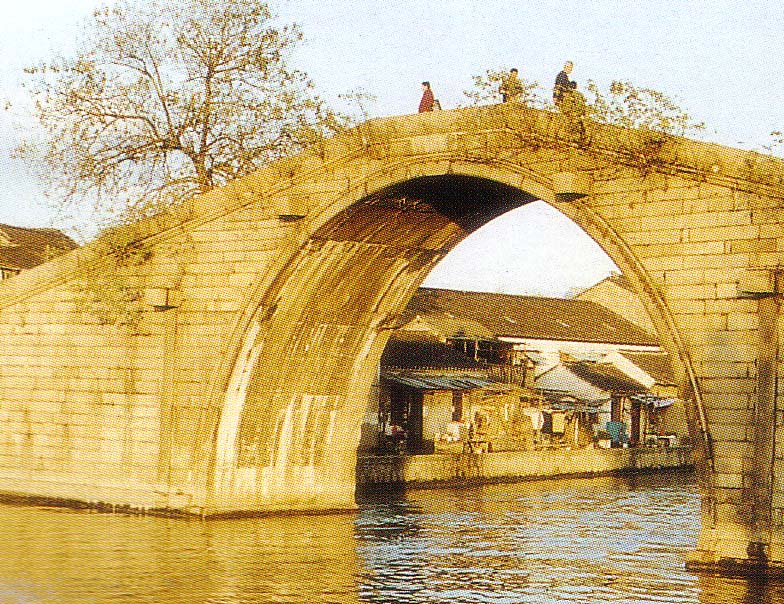 Way back when, the King of the State of Wu built his capital here. In 1986, it celebrated its 2500 birthday. Modernized over time, it has streets parallel or at right angles to each other. One thing not straight are the lovely old hump-back bridges traversing the canals. Called 'paradise on earth,' this city is a major scenic attraction and a famous cultural one. One Chinese proverb says that: In heaven there is paradise, on earth Suzhou. Another says this city has the most beautiful women in China. Clearly, they are telling something; that on needs to go there.
To the city's southwest, about a dozen miles away, is the famous Lake Taiho, on the Imperial Canal. Nearby the city are many hills, all with historic and cultural interest. Everything here is so special, the area is listed as a World Cultural Heritage site.
The city is known for its silk, paintings, engravings, opera groups, ballad singers, and its very special cuisine. The food stresses quality over quantity, and because it borders on so many rivers and has so many canals, fish and seafood are specialities. Locals here like their food sweet, and they emphasize original flavors of foods. The city is known for crab feasts and Dazhaxie, a dish using the roe or eggs of the crab. Other specialities are made with eel, fish, shrimp, and duck. It is also known for its beautiful and special dumplings, and for its sweets. These were discussed in Flavor and Fortune's Volume 4(3) on page 15. As this issue is out of print, you can find this article on this magazine's website: www.flavorandfortune.com
Some of the best candies we remember eating in this city are among its specialities. The Saltwater Pumpkin Seed Candy, Pine Nut Cakes, Sesame candy and cakes, and all their roasted and dried nuts, to name but a few; they were terrific. So was a visit to their Pine and Crane Tower Restaurant. It began with phenomenal dumplings and ended with fantastic sweet goodies. The dumplings stand out in our mind because they sat on a tray, were miniature, and each looked like the different vegetable it was representing. Each made of dough, painted perfectly, and filled with a vegetable mash. When biting into one, the flavor of the vegetable it represented came bursting into the mouth. They looked like garden gems and tasted like the freshest and best vegetables ever eaten. All at our table only wished they could carry them back to the United States and show them off.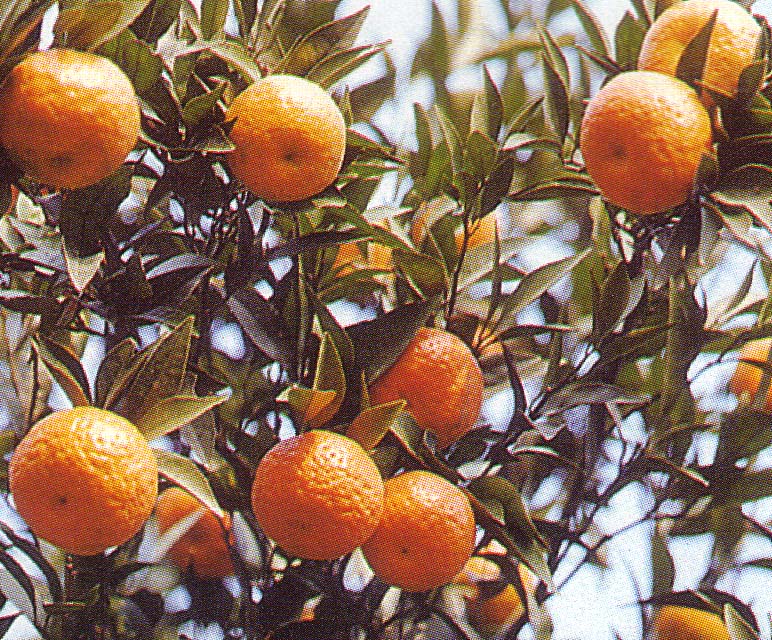 Also to be shown off are the efforts of the local farmers. They grow rice, wheat, rape, and tea, and have mulberry orchards to feed the local silkworms. The region produces delicious tangerines, crisp red-water caltrops, bright-colored bayberry fruits, great chestnuts, good ginkgo nuts, lucius loquats, and perfect pomegranates.
Near Suzhou are tea gardens producing Bilouchun tea that is green and gorgeous. Food factories dry and flavor melon seeds, stuff red pastries, sweeten bean curd, make something called river eel candies that look like fried eggs, manufacture date and rice cakes, supply the locals with lots of lily and green bean goodies, fried minced pies, sesame cakes with jujube jam, and shredded pig-fat rice cake. Popular in local restaurants are soups with names such as Nantung Gorgon Fruit, and Quail Egg and River Fish Lung Soup. With all these good foods, living in Suzhou can truly be heavenly.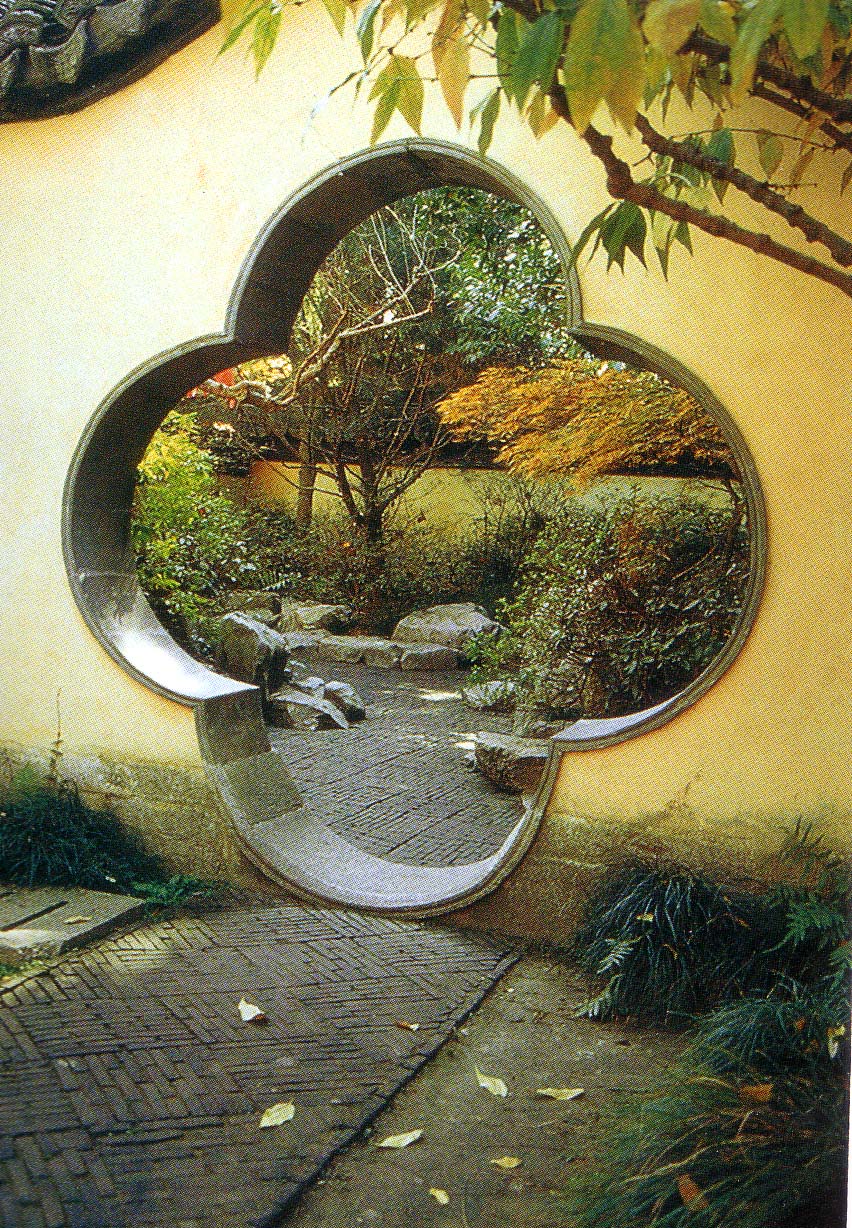 Within and outside the city are magnificent classical gardens. The first of them was probably constructed just before the tenth century CE. Some say there are sixty still there; however, we never found that many nor could anyone name them.
It is these gardens that connect the city to Portland, Oregon, its American sister city. The connection may be because of Portland's large Japanese Garden; but more probably it is because of a spectacular Classical Chinese Garden. Visiting this only Chinese one in Portland is certainly a must.
When in Suzhou, if time is short, get thee to the Plain Man's Politics Garden, the Garden of the Forest of Lions, Garden of the Master of Nets, Garden of Harmony, and the Tarrying Garden, at the very least. These classically correct places have their gorgeous greenery fed by the waters of the canals. Also, get thee to the Panmen Gate, and do visit the Ruiguang and the Twin Pagodas, the Shrine of Wang Ao, and the Beamless Hall in the Kaiyuan Temple. With time left over, go to the Hall of the Arhats, the Guoyun Tower, and of course Tiger Hill. That last place, a mite away includes all the elements essential to an esthetically perfect hill complete with rocks and stones, plants, trees, pagodas, and waterfalls.
Portland Oregon's Classical Chinese Garden is also not to be missed. It is at Northwest 3rd Street at Everett and its concepts of harmony and tranquility are designed to reveal themselves at every turn. It was built by artisans from Suzhou. Walk in and feel its grace and calming effect. Called Lan Su Yuan, one falls in love at the entry. One delights in its four-sided room known as the Hall of Brocade Clouds, its Knowing Fish Pavilion, Tower of Cosmic Reflections, and it terrific tea house. Learn more about this garden by going on to its website: www.portlandchinese garden.org
Portland has, as does Suzhou, some terrific Chinese restaurants even though they do not feature foods form there. Learn more about them in the next issue of Flavor and Fortune.
Learn more about all Chinese classical gardens in a book by Lou Qingxi. It is one in the Cultural China Series and called Chinese Gardens. It is available at the Portland Garden's gift shop and on line. Impatient for the next issue? In the meantime, try some Suzhou foods by preparing the following Suzhou recipes.

Vinegar Carp
Ingredients:
2 pound center cut of half a fresh grass carp, scales removed
1 Tablespoon vegetable oil
2 scallions, cut into half-inch slices or smaller
4 slices fresh ginger, slivered, and divided in two
1 teaspoon salt
dash of coarsely ground black pepper
2 Tablespoons thin soy sauce
2 Tablespoons sugar
2 Tablespoons Chinese rice vinegar
1 Tablespoon peeled fresh tomato, juice squeezed out, then minced
1 Tablespoon cornstarch mixed with half-tablespoon cold water
Preparation:
1. Rinse and pat fish dry, then lightly score it on the skin side before putting into a pot of boiling water. Turn of the heat, and let the fish rest for fifteen minutes before removing to a warmed platter.
2. Heat wok, add the oil, then fry the scallions and ginger for one minute before adding all of the remaining ingredients. Stir them for two minutes, then pour over the fish, and serve.

Gingko Nuts, Cabbage, and Bamboo Shoots
Ingredients:
2 Tablespoons vegetable oil 1/2 head Napa cabbage, cut into strips the long way, then across into three-inch pieces
1/4 pound ginkgo nuts, precooked or canned
1/2 cup bamboo shoots, sliced into pieces the same size as the cabbage
2 Tablespoons soy sauce
1 Tablespoon sugar
1 Tablespoon cornstarch mixed with one tablespoon of cold water
1/2 teaspoon sesame oil
Preparation:
1. Heat wok, add oil and stir-fry the cabbage until it starts to wilt. Add the ginkgo nuts and the bamboo shoot strips and stir-fry two minutes.
2. Then add half cup of water and all the remaining ingredients. Cook until it starts to thicken, then serve.

River Shrimp in Wine Sauce
Ingredients:
1 square fermented bean curd
1 teaspoon black bean paste without garlic
1 teaspoon vegetable oil
2 Tablespoons sesame paste mixed with four tablespoons of hot water
1 Tablespoon sugar
3 Tablespoons Chinese rice wine
1 teaspoon Chinese brandy, such as Maotai
1 pound river shrimp, preferable live ones
Preparation:
1. Mash fermented tofu, then mix well with the black bean paste.
2. Heat wok, add the oil, then the sesame paste and water mixture, the sugar, and the rice wine and brandy. Stir and remove, do not make this sauce hot, just warm.
3. Dip one shrimp in the sauce, then suck the meat out of the shell, and discard the shell. Continue until they are all consumed.

Taro Balls with Shrimp and Chestnuts
Ingredients:
1 pound taro root, peeled and steamed for twenty minutes, then cooled
2 tablespoons vegetable oil
1 scallion, minced
20 small shrimp, boiled for one mintue, then drained
10 cooked chestnuts, mashed
1 teaspoon Chinese rice wine
1 teaspoon salt
1 Tablespoon cornstarch mixed with one tablespoon water
1 teaspoon sesame oil
Preparation:
1. Mash taro root and divide into ten parts. Make these into balls then flatten them.
2. Heat wok, add scallions and stir-fry half minute, drain and remove them leaving any oil in the wok. Put a few pieces of the scallions in the center of each flattened piece of taro.
3. Put two small shrimp on each taro piece on the scallion pieces.
4. Mix chestnuts, rice wine, and salt, then put one-tenth on the shrimp. Then close the taro around the things sitting on top of it and shape it into a ball. Put the balls into the wok oil with the oil left from cooking the scallions, Gently heat it and fry the balls until they barely begin to brown. Then add the cornstarch mixture and stir gently until it thickens and the taro balls are heated through. Then serve.

Spinach with Tangy Soy and Sesame dressing
Ingredients:
2 cloves garlic, minced
1/2 teaspoon salt
2 Tablespoons soy sauce
1 Tablespoon white vinegar
2 teaspoons chili paste
2 teaspoons sesame oil
2 teaspoons sesame seeds, toasted then crushed while warm
2 teaspoons brown sugar
1 and 1/2 pounds Chinese malabar spinach
1 teaspoon coarse salt
Preparation:
1.Crush garlic and salt together and stir in soy sauce, vinegar, chili paste, sesame oil, sesame seeds, and sugar. Mix well and set this dressing aside.
2. Wash spinach and spin or towel dry, then add the leaves to a pot of boiling water and salt. Blanch for no more than one minute, then drain, and rinse with cold water. Mince coarsely, if desired.
3. Mix spinach with dressing and serve six persons.

Chicken, Olive Nuts, and Tangerines
Ingredients:
1/2 cup vegetable oil
3 ounces olive or pine nuts
1 whole chicken breast, cut into half-inch pieces
1 egg white
1 teaspoon cornstarch
1/2 teaspoon salt
1 Tablespoon Chinese rice wine
1 Tablespoon green peas
3 Tablespoons tangerine segments
1/2 teaspoon dried tangerine skin, soaked for five minutes in warm water, then diced fine
1 Tablespoon cornstarch mixed with one tablespoon of cold water and one teaspoon of sesame oil
Preparation:
1. Heat oil to 250 degrees F and fry the nuts tossing until they start to get color, then drain them onto a paper towel, and leave the remaining oil in the wok.
2. Marinate chicken with egg white, teaspoon of cornstarch, salt, and rice wine for ten to fifteen minutes, then drain, and fry the chicken for two minutes in the oil left over from frying the nuts.
3. Add peas and tangerines and the nuts, stir quickly, then add cornstarch water and stir for about half minute until the sauce thickens and coats the chicken. Then serve.

Shredded Fish Rolls
Ingredients:
1/2 pound thick boneless fish fillet
1 Tablespoon Chinese rice wine
1/2 teaspoon salt
1/4 teaspoon ground white pepper
3 dried black mushrooms, soaked, stems discarded and sliced thin
3 Tablespoons Yunnan or Smithfield ham, cut in thin strips
3 scallions, cut in thin strips
3 slices fresh ginger,, cut in thin strips
1/2 teaspoon vegetable oil.
1 teaspoon sesame oil mixed with one teaspoon of cornstarch
Preparation:
1. Slice fish parallel with the cutting board into five sheet-like pieces, and put them on a large platter lined with pieces of plastic wrap. Sprinkle the fish with rice wine, salt and pepper and set aside for ten minutes.
2. Mix mushrooms, ham, scallion, and ginger strips and dividing that into five portions, put one near one end on each of the fish slices. Roll each one individually and gently using the plastic wrap to help, not tearing the fish.
3. Oil a plate, and put the fish rolls seam side down on the plate, discarding the plastic wrap. Gently brush then with the sesame oil mixture, and steam over boiling water for ten minutes, then serve.