Read 6252910 times

Connect me to:

Portland is Suzhou's Sister City
Chinese Food in the USA
Spring Volume: 2006 Issue: 13(1) page(s): 13, 14, and 15
---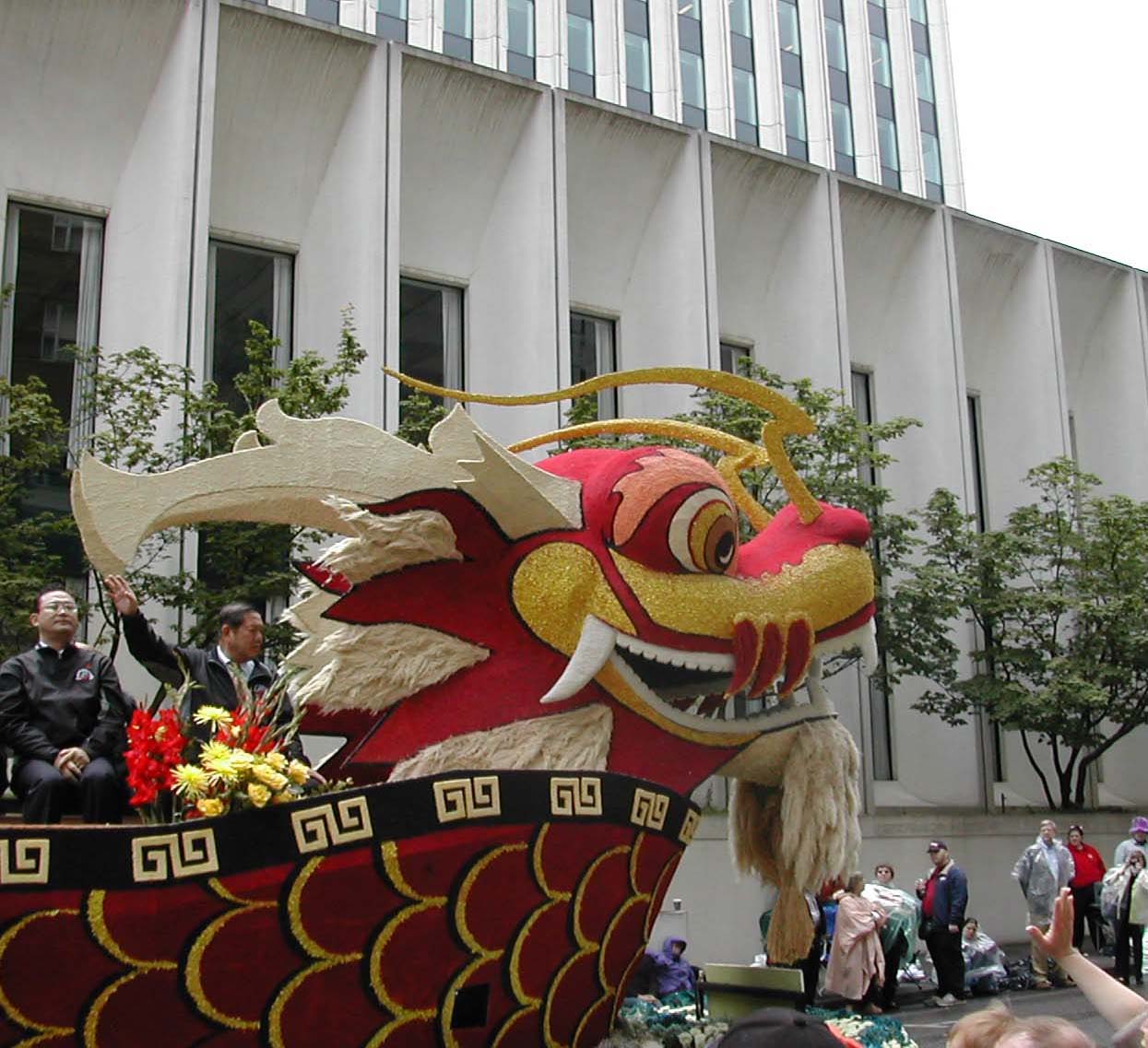 Oregon's urban metropolis of Portland has the name of Rose City, and it is Suzhou's sister city. The rose is becasue they have their own Rose Festival every June, and they have had a grand parade since 1907. Things Chinese soar in Portland. On our way there, we stopped at the Evergreen Aviation Museum in McMinnvile. It is off Highway 18 and is an inspiration to see the world's largest wooden aircraft, the H-4 or HK-1, better known as Howard Hughes' Spruce Goose. This huge 1940's aircraft, often called a flying boat, is worth the detour. The museum has other attractions and many programs. Check them out at www.sprucegoose.com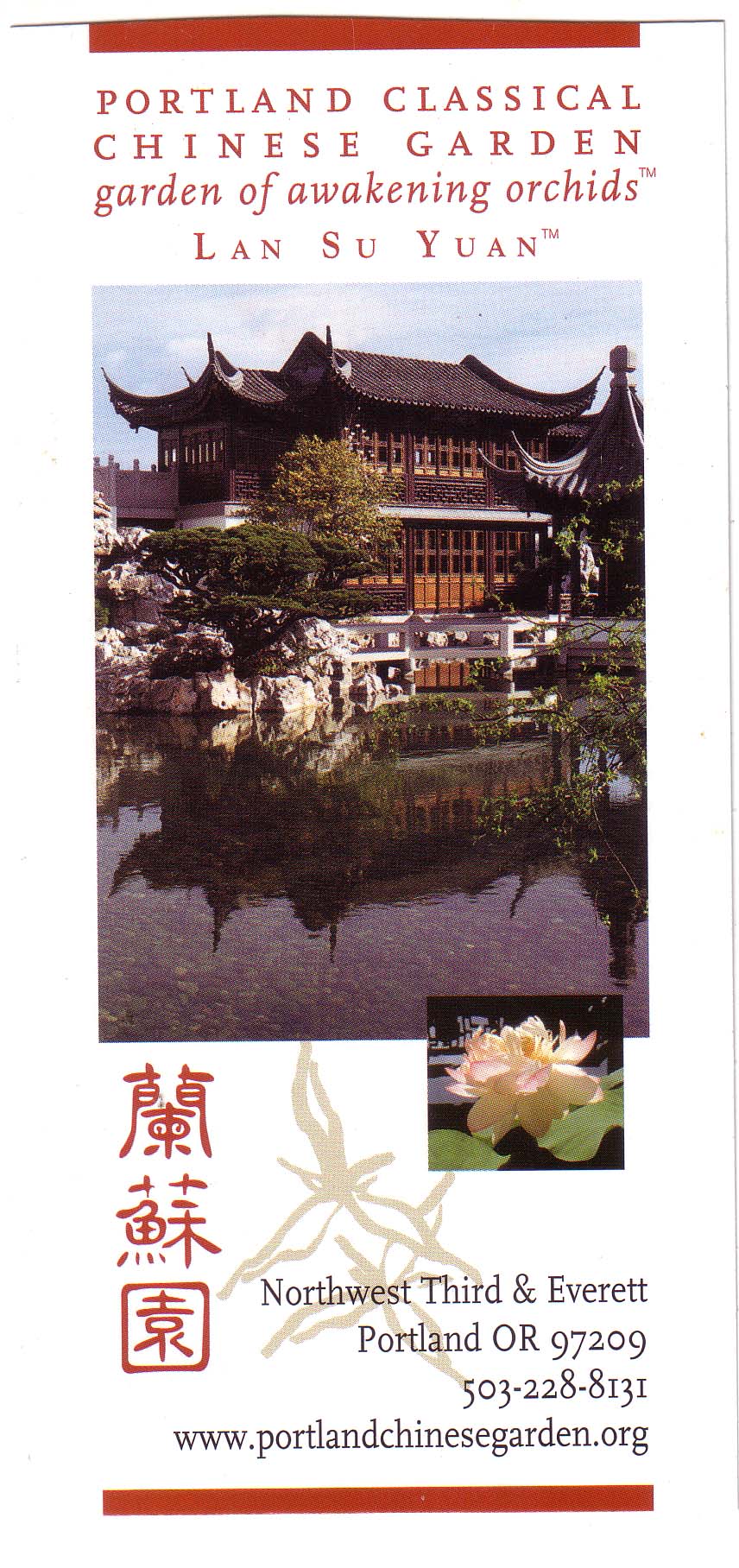 In the city of Portland people tout many things, gardens among them. One square downtown city block is worth its own detour. There, is the Classical Chinese Garden at 239 NW Everett Street This green oasis is calm, tranquility, and the largest Ming Dynasty Suzhou-style garden outside of China. You can learn more about this Portland's sister city in Flavor and Fortune's Volume 12(4) on pages 13, 14, 15 and 17. Why is a classical Chinese garden in Oregon? Why does Portland have two Chinese sister cities, the other in Kaoshiung, Taiwan?
Portland's strong connections with things Chinese began In 1890, Then its Chinatown was the second largest in the United States. In 1986, to honor its founders and the large number of Chinese sailors, loggers, and merchants who worked and/or settled here then and since, a five-roof Chinatown Gate was dedicated. This sixty-four dragon two huge bronze lion edifice commemorates the more than one hundred years of Chinese involvement with Portland Oregon.
Then in 1997, more than five hundred tons of rock, including limestone from Lake Tai near Suzhou arrives in Portland to build a classical Chinese Garden. Sixty artisans from the Chinese sister city work side by side with Oregonian craftsman, and in 1998, just ten month later, they complete the job. In 2002, a bronze replica of a Shang Dynasty elephant arrives from China. It now graces North Place Park. These are but some of the Chinese-Oregonian connections.
Portland's Classical Chinese Garden has more than five hundred different plant species, as found in other Suzhou gardens. Many are rare, all planted on or near winding and serpentine mosaic walkways, courtyards, lakes, and one of the nine buildings in the garden. There are several species of bamboo and jasmine. Also found are orchids; water and day lilies, wild ginger, plum, quince, chrysanthemum, loquat, and pomegranates. They are a delight, and help harmony meet nature.
This is a very relaxing garden; one not to be missed. Went twice in a like number of days, and enjoyed tea both times in the classic Tower of Cosmic Reflections tea house. It offers fine teas to enjoy while contemplating the garden's beauty, most shipped from China. This Ming Dynasty-type garden serves terrific teas and accompaniments building on the views from its tables. They change in every season.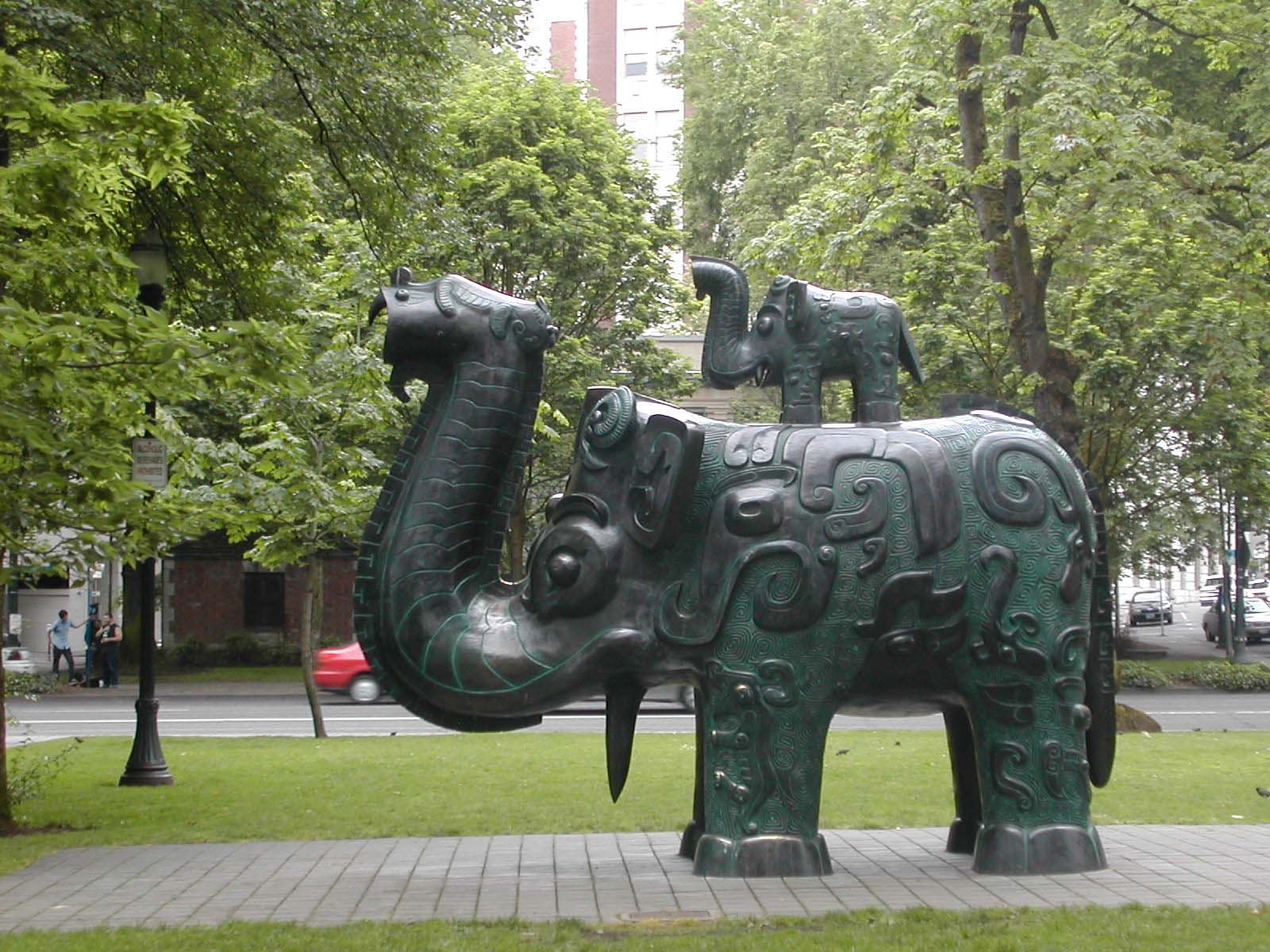 Called 'Lan Su Yaun' or 'The Garden of Awakening Orchid,' we awake and arrive before nine one morning thinking they open early, but they do not. All of Chinatown seems buttoned shut at nine that morning so we meander and come upon a larger-than-life bronze elephant. Based upon a three thousand year old Shang Dynasty bronze statue, this eleven foot tall, thirteen foot long beauty has a baby elephant on its back. Dragon figures decorate these pachyderms sitting at Burnside and Couch, between 8th and Park Avenues. They are a gift of a single donor, Huo Baozhu, to show his generosity and caring for a city so important to many Chinese. Cast at his foundry called the Five Rings Cultural Relics, he had the elephant atop another shipped to Oregon from Xian for all to enjoy. Check out the one at the Smithsonian, also shown in this issue; it is in the Shang Dynasty article. Do check their resemblances.
We enjoy them, then meander and both hungry and thristy, come upon a second delight, the only open coffee shop at the edge of Chinatown, called MONTE ROSA at 327 NW 4th Street and run not by anyone Chinese, but by a new Albanian immigrant with a big smile that matches her knowledge of Portland and its Chinatown.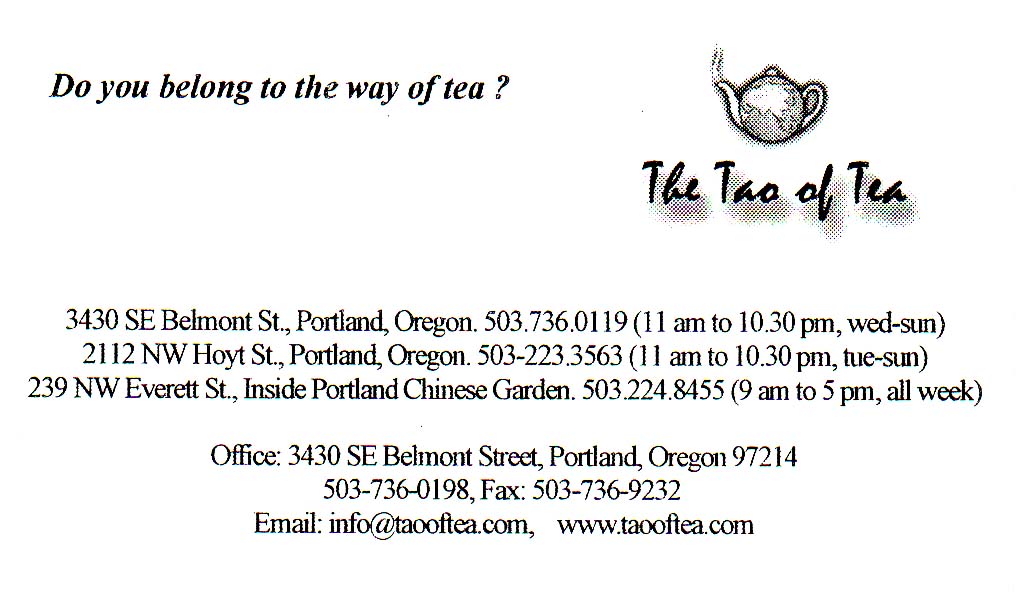 When the garden opens, we reluctantly leave to peruse the garden's bookstore/gift shop. Then, we take tea again, this time Chinese, and at the COSMIC REFLECTIONS PAVILION inside the garden. It tastes terrific, and the vender there calls their place THE TAO OF TEA; their phone is (503) 224-8455. They have an extensive menu, part shown on this page.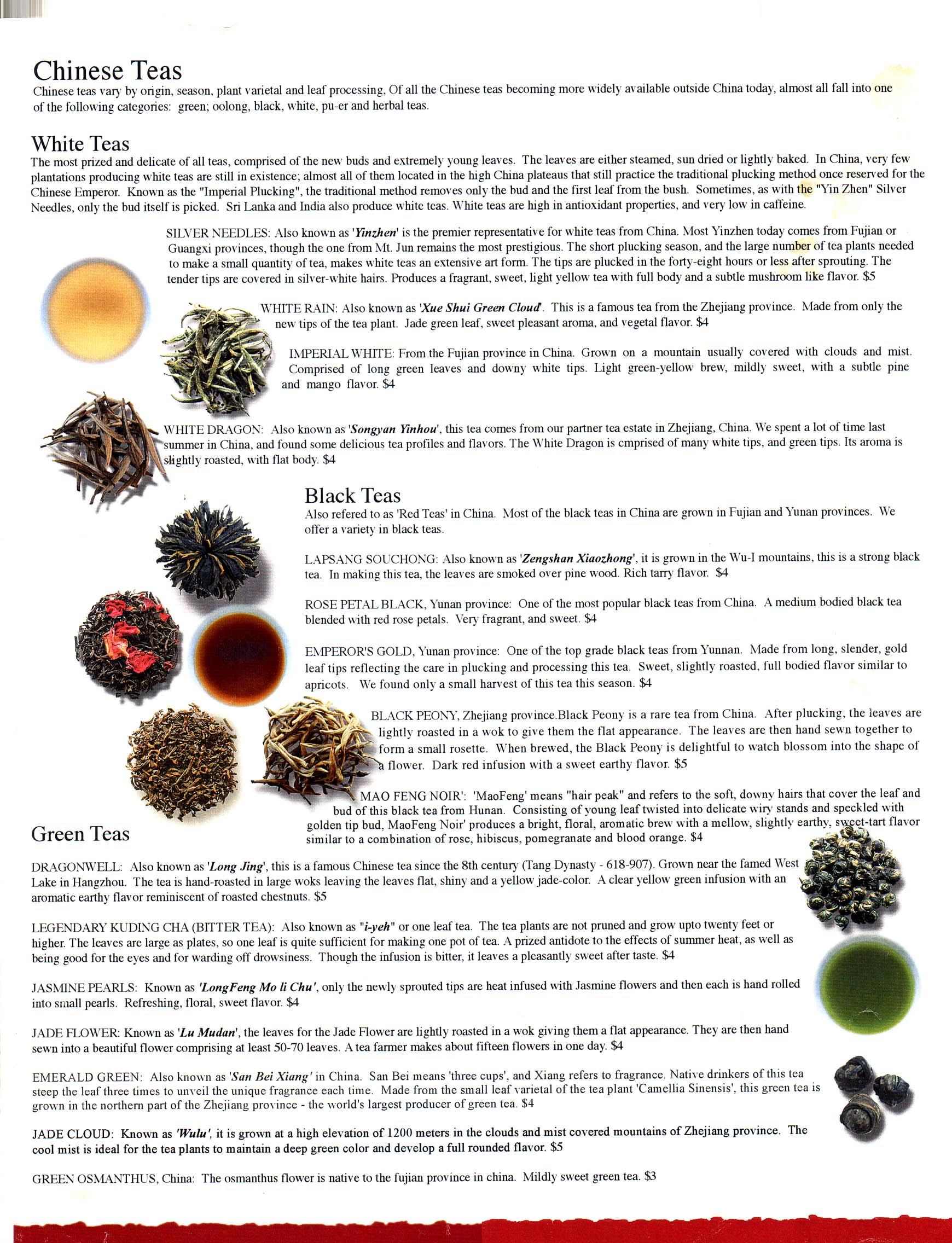 The menu includes the Ku Ding tea written about in the last issue (Volume 12(4) on page 17; they call this tea 'legendary' and 'i-yeh' or 'one leaf tea.' There are dozens of teas including White Rain, also known as Xue Shui Green Cloud tea. We enjoyed and wrote about that tea tasted in Restaurant China in Brugge, Belgium on page 9 of that same Volume 12(4) issue.
Tea here is ritual style, some are seasonal offerings, others available year-long. Most are Chinese, a few are Japanese, Indian, or Sri Lankan. At four dollars a pot, we share three pots for three of us, additional hot water is free and constantly replenished. They refresh, the leaves packed in the tiny teapots used here. We purchase some snacks to enjoy with these teas including almond cookies, sesame candies, dried plums, salted water melon seeds, and several dumplings. Similar to drinking wine, tea tastes better with food.
In the two visits, we savor Silver Needle, Jing Mai Green, Wenshan Baozhong, Tie Guan Yin, Organic Japanese Ball, and an Ancient Pu-er Green tea. There are two other venue for TAO OF TEA is also at 2112 NW Hoyt Street and at 3430 SE Belmont. They are nice, but with lesser karma. Information about any or all of them and their teas can be found at their website: www.taooftea.com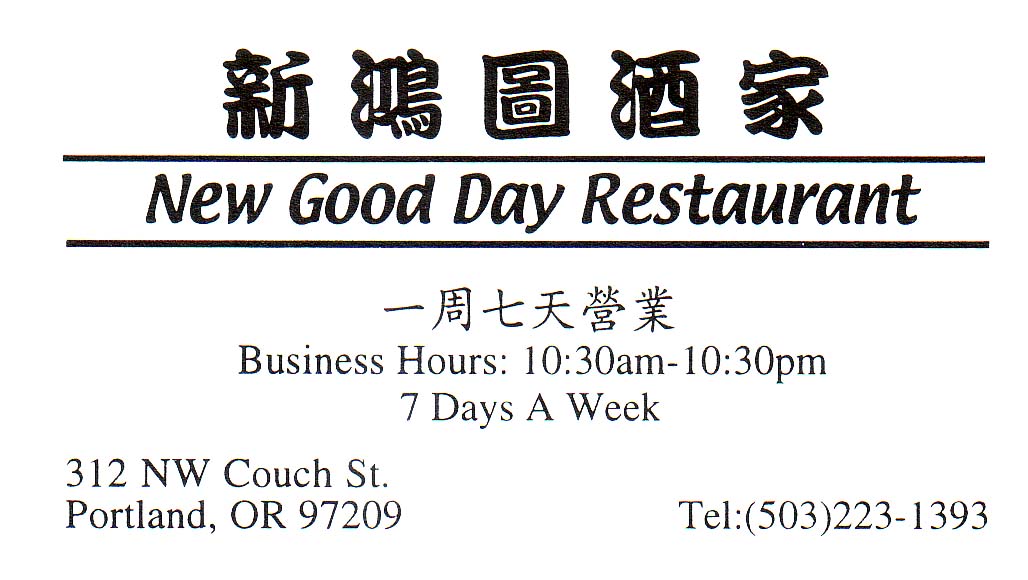 Beside the Classical Chinese Garden, there are lots of Chinese restaurants in Portland, some in Chinatown, newer ones outside of it. One touted on a web site, NEW GOOD DAY RESTAURANT at 312 NW Couch Street; phone: (503) 223-1393 looks empty so we walk by. It and most places open at 11 am. We go for a Hong Kong style dim sum fix at LUM YUEN at 28 NW 4th Avenue; phone: 503/ 229-1888. At dinner time they specialize in seafood; did not get back to try it, but one friend said it is just OK. We then go to FONG CHONG TA HOUSE at 301 NW 4th Avenue; phone: (503) 228-6868. They open half-hour earlier than most and are popular with the locals and tourists. We deem it OK. Some other restaurants entice with buffets, most look tired, and as reader should know by now, buffets are not our thing. Some restaurants simply look closed; they have few to no patrons. The oldest restaurant in Chinatown, the famed Hung Far Low maintains its huge sign touting chop suey but its doors are locked and a local paper says they are about to move.
Outside of Chinatown, newer Chinese eateries cater to more affluent and to younger customers. Southeast on eighty-second to eighty-seventh streets is a one new Chinese area. There, and in a SW region, are Chinese markets and restaurants looking bright and lively, We meander into a UWAJIMAYA at 10500 SW Beaverton-Hillsdale Highway. For those who do not know Uwajimaya, it is a Seattle-based Asian market, primarily Japanese, that has many Chinese ingredients. Within it is a great bookstore called Kinokuniya. We grab a cab and head for the one Chinese pastry shop with fresh-baked items across town at SE 82nd Street. Disappointed, because we find it closed.
Politicians tell us to look forward to a revitalized Chinatown. In the meantime go to the Chinese Classical Garden and the bronze elephants, and do make a visit to the Great Era Oriental Imports; 239 NW 3rd Avenue; phone: (503) 222-3636. The latter has wonderful Chinese gift items, lots more than the Garden's tiny gift shop. Furthermore, its owner is a Mrs. Hong and she is staying in Chinatown. Her nephew Dan tells fascinating tales and is raising this jam-packed corner store. He speaks about revitalization is in the works with 'festival streets' and granite sidewalks, even twenty engraved bronzed medallions and more than a hundred exotic trees. We will come back to see it completed.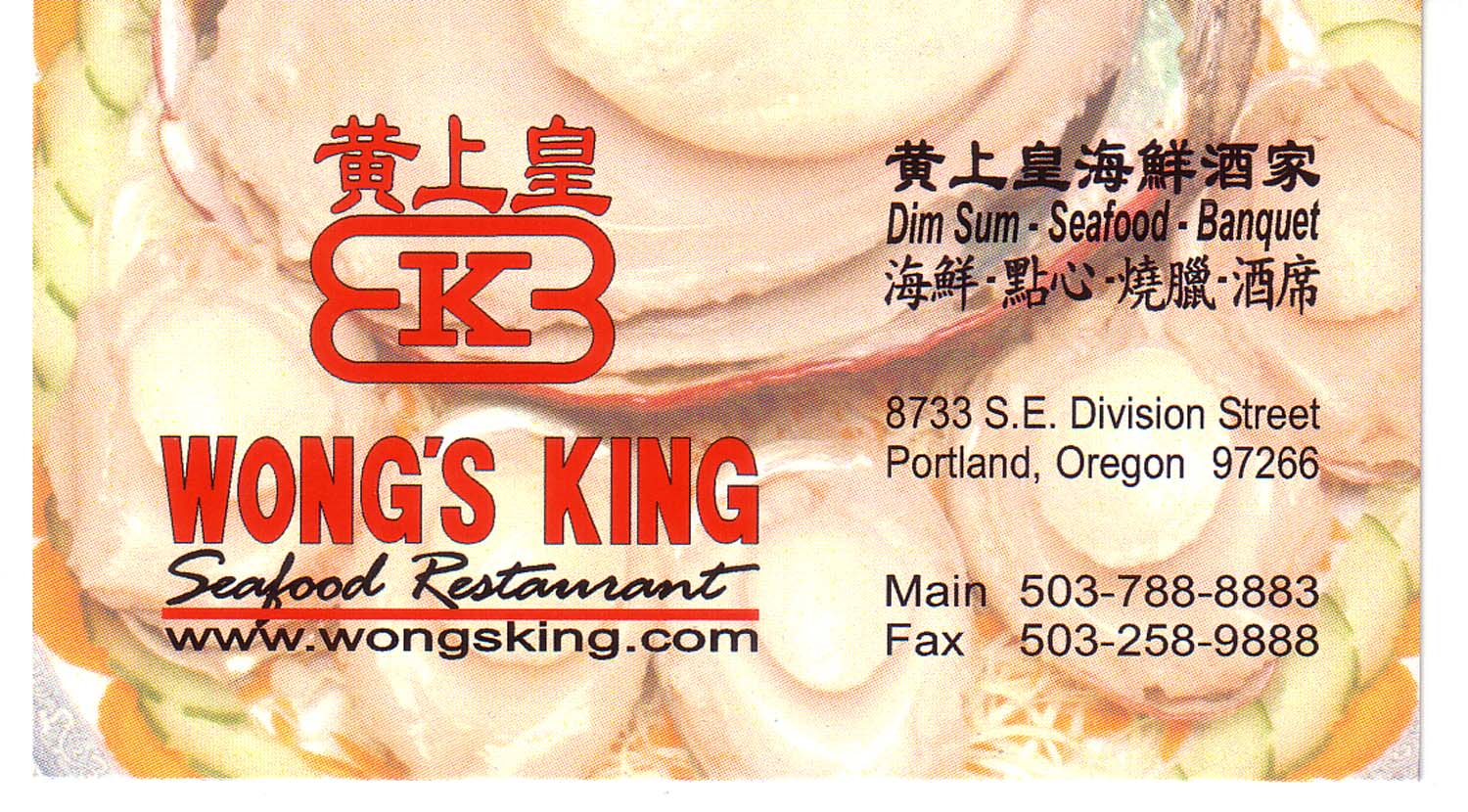 In the meantime, at WONG'S KING at 8733 SE Division Street; (510) 788-8883 we have fantastic Chinese food. Truth be told, we were briefed by a pair of readers before we came. They said it is the hottest new restaurant outside of Chinatown. How right they are. Some months later, its chef wins an award in China.
We pull into the parking lot just when it opens, walk in, and get seated immediately. One senses it is hot because twenty minutes later the place is full and that means folks sit in a comfortable anteroom awaiting their tables. Must be that everyone near and far knows Chef Fu Lai Wong is an award-winner. In 2004, this restaurant group gets listed among the Top 100 Chinese restaurants in the United States; they get that honor repeated in 2005. One award garnered was China's Fifth international Cooking Contest. Wow! Our congratulations to him and the restaurant owners.
Some months after we visit and eat at Wong's King, we meet a pair of their owners, Andy Wong and his lovely wife Amy. Where? Touring and speaking at an herbal conference in Taiwan, our sixth trip to that country. We are attending the same professional meeting they do. As participants, we eat together often, and in three cities.
Wong's King dim sum is the best. Their unbelievably expansive dinner menu impresses. We know of no other restaurant that offers so many hasma selections. Forgot what hasma is? See Flavor and Fortune's Volume 10 on page 6 to learn about this special frog gland food. At Wong's King, the manager on duty tells us that hasma is ordered by one or more patrons every night. We adore Baked Hasma with Fungus and Coconut and they serve it here. The Steamed Hasma with Dates and Lotus Seeds is a common combo in cookbooks and at banquets. It is frequently enjoyed at Wong's King, too. Another unusual item on their menu is Sea Cucumber with Shrimp Egg. It and dishes from Prawns with Honey Walnuts to Braised Shark's Fin with Dry Crab Soup are popular and delicious. Even an ordinary dish such as Dried Beef Chow Fun is great here. What to eat at dim sum or dinner is a difficult decision. There are many choices, their menu is extensive. If we lived closer, we would try everything top to bottom even though it would take several weeks to eat them all. A challenge we would adore!
At dim sum, and at dinner we find the Steamed Tofu topped with scallop outstanding;; the Salt and Pepper Squid a winner. Dumplings in the House Special Wonton Soup are yummy; Honey Barbecued Pork is a delight for those liking sweets. We suggest one not miss the Crab with Ginger and Scallions, nor the Eggplant with Black Bean Sauce. The latter is one of the best ever tasted. Matter of fact, virtually everything we taste at dim sum or from the dinner's hundred fifty plus menu items does not disappoint. We even love, not like, the simplest and the most complex Congee, the Chicken Feet, and the Egg Custard in its super-flaky crust.
We left this city before their nine-course banquet fund-raiser for the Lan Su Yuan or Portland Classical Chinese Garden. A pity! It features a Cold Appetizer Plate, Beijing Duck, Shrimp Ball Salad, House Special Seafood and Scallops Soup, House Special Chicken, Abalone with Mushrooms on Greens, Baked Lobster and Crab, Steamed Fish, and Double Happiness Fried Rice. Who could not be happy celebrating the Garden's fifth anniversary for fifty bucks, half a tax-deductible donation, and a fine way to do an honorable thing.
Check websites at the Garden for other events and check the one for Wong's King at www.wongsking.com We ate at only their newest restaurant, but the website shows there are three other Wong's King eateries in the area. They are in Sandy on Proctor Boulevard, in Estacada on Broadway and in Portland at SE Tacoma Street. We thank readers Peri and Al for introducing us to Wong's King. We request that other readers advise about their favorite Chinese food places.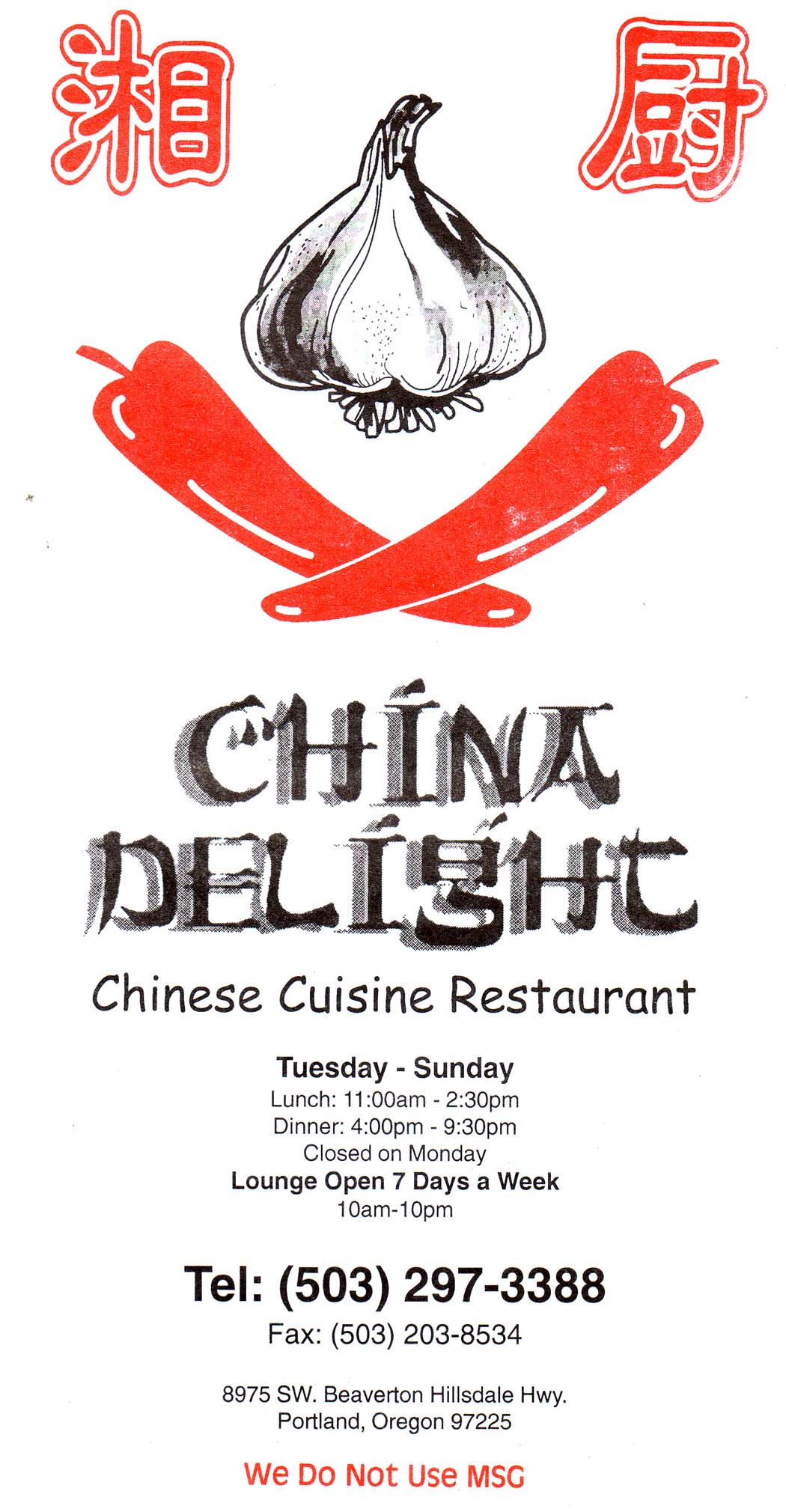 These 'new to Oregon' folk told us about another favorite Chinese restaurant twenty minutes from downtown in another direction. Smaller, and probably less well known, it is CHINA DELIGHT at 8975 SW Beaverton Hillsdale Highway (503/297-3388) . Their menu and their food show lots of kitchen talent. We enjoy their moist succulent and special Steamed Chicken; and delight and devour the Crab Casserole with its huge crustacean atop lots of onions and cellophane noodles. It is loaded with them. Bruce Kwei Yin Chen, the owner, on the phone, had suggested Hundred Year Old Tofu. It needs two plus hours, so we did order it ahead. Its black mushrooms, scallions, smoked meats, tiny chili peppers, garlic, ginger, and black beans meld making a dish with divine flavor and texture. We love it and an Eggplant Casserole served with it. So many things taste terrific here, even the 'we can't-stop-eating-them-peanuts' and their well-made pao cai. Both start and spark appetites. We love the hot piquantly-spiked bamboo shoots. Later, were we not so full, we would want a second order of that and the Scallion Pancake; it is special.
Portland's long history with things Chinese and our experience there shows that great Chinese food can be had in that Suzhou sister city. There are other fine Chinese eateries in nearby Salem, Eugene, Beaverton, and Corvallis. The Chinese newspapers including the Portland Chinese Times and the Asian Reporter, to name but two, speak of so many places to eat and things to do, all Chinese. One lists more than two hundred Chinese restaurants, more than twenty Chinese Churches, etc. Need to go back to savor them all, and soon!