Read 5776618 times

Connect me to:

Beijing Banquet
Chinese Food in the USA
Summer Volume: 2006 Issue: 13(2) page(s): 15
---
Over Labor Day weekend my girlfriend and I were guests of Vanessa Weng, owner of Eldridge Street's Dumpling House. The event was the first annual banquet for the newly-formed Beijing Association of New York, USA. We sat in a sea of hundreds of Beijingers at a ten-top with Vanessa, her son, and six other friends and business associates.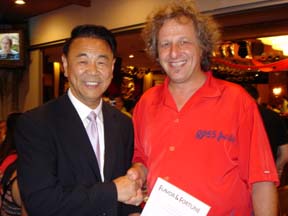 The meal was at the giant EAST MANOR at 46-45 Kissena Boulevard, in Flushing Queens. There were a lot of politicians in the house, including Jimmy Meng, of the 22nd Assembly District in Queens, the first Asian-American state legislator in New York. He acccepted and promised to read his copy of Flavor and Fortune, as did former Queens Councilwoman and State Assemblywoman Julia Harrison. I was also able to press a copy into the hands of the Chinese Consulate General in New York, the honorable Bi Wei Liu.
Around eight that evening, everyone stood at attention for the national anthems of the United States and China. Rather substantial bottles of Woodbridge Cabernet Sauvignon on each table, when opened and imbibed in, helped the audience through the speeches. There were many and they ran for close to an hour before famous Chinese singers and musicians garnered the stage for a variety of entertaining musical performances.
The banquet opened with a traditional cold plate. It included moist and sweet roast pork slices, densely flavored roast chicken, and sliced jellyfish. The latter came atop crispy turnip, exactly the shape and size of McDonald's fries. It was a cooling and rich presentation, perhaps the best of the night.
The first hot dish was a tangle of sautéed yellow chives with chicken, squid and ginger slices. These came on American celery and Chinese black mushrooms commonly known by their Japanese name of shiitake. Deep-fried shrimp were next, seated atop cubes of chilled cantaloupe and honeydew melon. The entire mass, save the crispy sugared walnuts, was lathered with mayonnaise, Hong-Kong-style.
Next we had fish stomach and dry scallop soup as a palate cleanser. These included the option of adding red vinegar to spike the rather plain chowder. After that, big, fat, steaky black Chinese mushrooms in silken oyster sauce. These sat on Cantonese baby bok choy, which got soggy. Not as satisfying as the more traditional and heartier-stalked Shanghai cabbage, said I. Fried fish fillets with tofu followed. Surprisingly, the dish was filled with several foods already enjoyed, namely, celery, roast pork and more mushrooms.
The room filled with excitement as they began to announce raffle winners. The best prizes include crystal chickens, apparently a raucous pun in Mandarin, and a round trip air ticket to Beijing. The dishes kept coming, and while roast chicken was another repeat, it helped ease the sting of not winning a single raffle. Crispy and moist, the hearty roasted flavor of the bird, including the livery-tasting head, renewed my palate's energy. When I spotted Beijing-style pork chop platters streaming out of the kitchen I thought they would be extra special for the occasion. Alas, they were over-fried in old oil. Yang Chow Fried Rice was a palatable closer; sweet-tooths then sated with watermelon and warm pureed red bean soup.
An enjoyable time was had by all. The night came with plenty of networking and promises of cooperation among Beijingers in New York. This association of Beijing lovers has been a long time coming. The fact that some six hundred people attended bodes well for this fledging organization. We look forward to Vanessa Weng and her fine colleagues taking the time to advise Flavor and Fortune months ahead of schedule so that we can inform our readers and then they, too, can meet, greet, and eat with this 'capital' crowd of great folk.