Read 5266134 times

Connect me to:

Chinese Favorites in the Big Apple
Chinese Food in the USA
Winter Volume: 2006 Issue: 13(4) page(s): 16, 17, 18, 29, and 31
---
What is your favorite Chinese restaurant in New York? Now there is a question I hear frequently. Inquirers who want a quick and easy answer often give parameters that fly in the face of what I prize about Chinese food. I hear things like: Some place close that delivers; No weird foods; A really good brown sauce; etc. I usually end up hemming and hawing. Why? Because, to be quite honest, I do not have a favorite Chinese restaurant. Rather, depending on mood and occasion, I have a running rotation of spots that hit the spot. Here is a rundown of twenty of the very best, tempered with a few stark disappointments.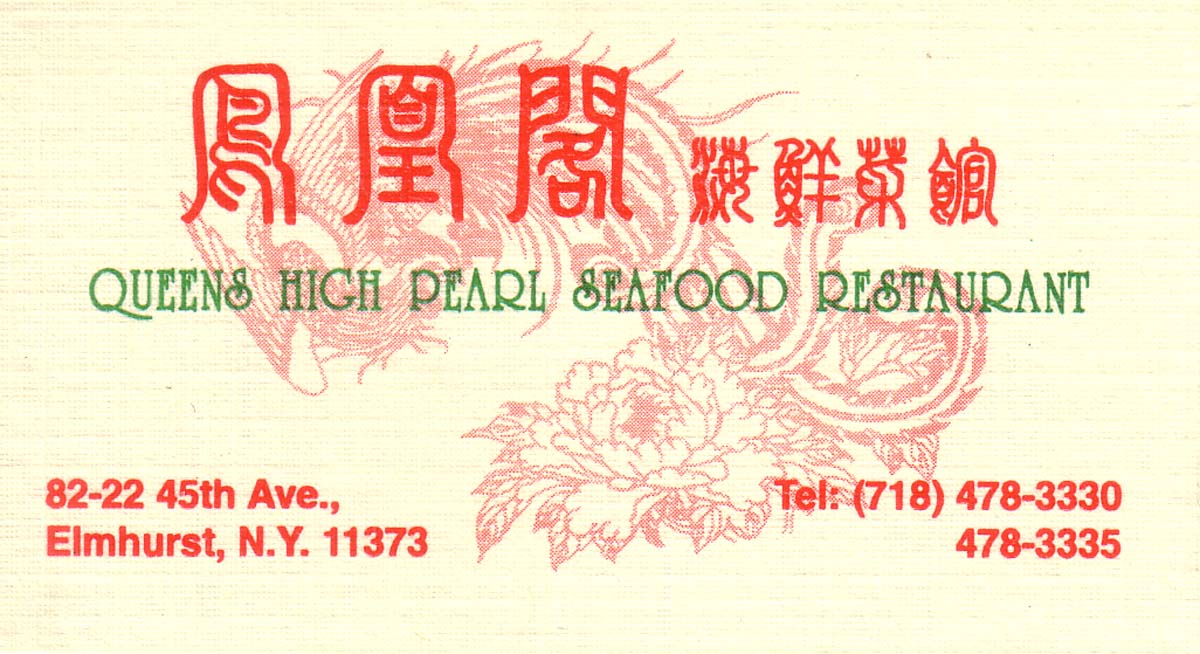 My favorite borough for Chinese food definitely is Queens. I know that QUEENS HIGH PEARL SEAFOOD RESTAURANT at 82-22 45th Avenue; Elmhurst; phone: 718/478-3300 has held court near Broadway since the 1980's. One mark of a superb kitchen is the use of a different black bean sauce for each protein. Queens High Pearl's sizzling boneless chicken, for example, comes with a ketchup-thick black bean sauce, while their snails in the shell are matched with a thinner sauce laden with whole fermented black beans, ginger, garlic chunks, and plenty of hot pepper. High Pearl sells ragged, handmade, and ethereally-light E-fu noodles with mushrooms or assorted seafood. It comes in a tawny mound the size of a loaf of bread. I always manage to wipe the plate clean.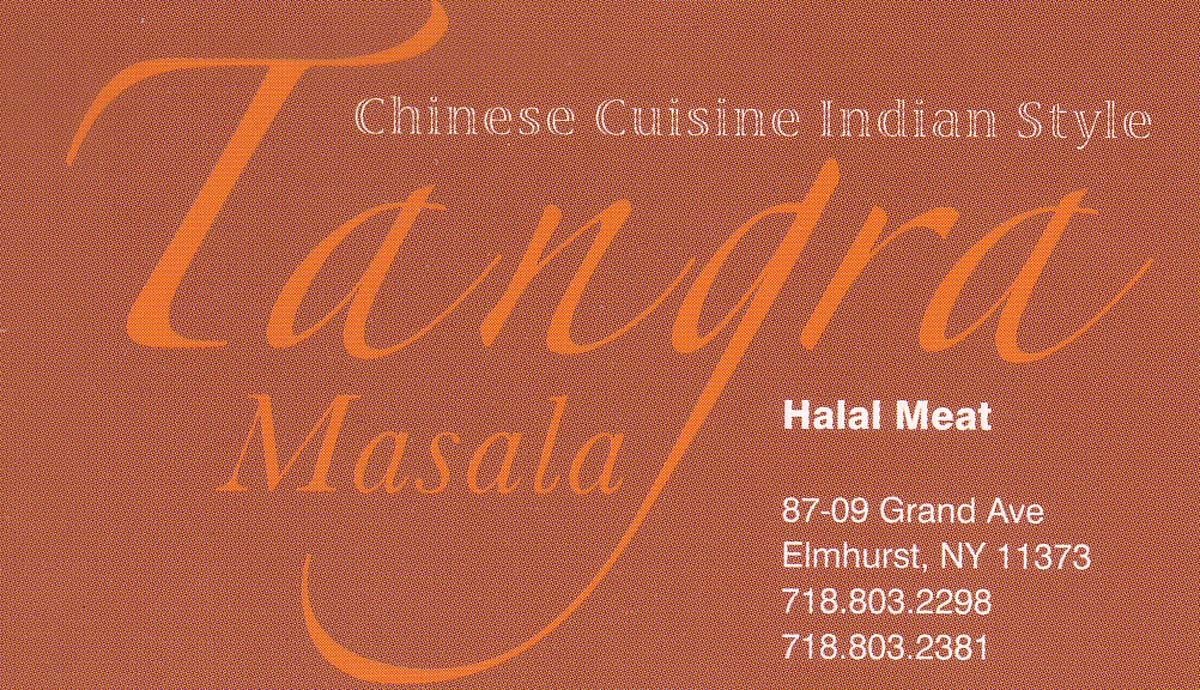 Well before Indian-Chinese restaurants like TANGARA MASALA at 87-09 Grand Avenue in Elmhurst; phone: (718) 803-2298 started making Chicken Lollipops, deeply-spiced Manchurian Goat, and other fine Chinese dishes for Indian-American palates, sub-Continental cravers for truly spicy Chinese food could be found happily scarfing at High Pearl. Open daily until 5 am, the wee hours are when their superheated woks work best.
Elmhurst has many more newcomer hot spots, but nothing beats lunch specials at LIN'S TAIWANEASE RESTAURANT at 82-02 Broadway is in Elmhurst; phone: (718) 429-4818. Formerly known as David's, here pork chops over a plateful of rice come alongside superbly-stewed pork tidbits and densely-flavored mustard greens. This hearty special costs under five bucks. Hungry men are often seen here sitting solo, joyously ingesting copious quantities of their above-average white rice with cakes of pork blood, intestine, pickled greens, and more in a dish with great internal rhyme. Zesty Intestine Hot Pot, another classic lunch at Lin's is perfectly seared pork with strips of seasoned tofu, fresh hot peppers and skull-numbing Sichuan peppercorns. This restaurant is one of the few spots offering a distinctly Chinese health food, Stinky Tofu, the aftertaste of which can be cleaned up nicely with Clam (or oyster) and Ginger Soup. Consisting of nothing more than shellfish in gingery broth, this dish is nothing less than delicious.
Flushing was primarily a Caucasian neighborhood when I came to New York in 1981. All that has changed now. Large and expanding populations of Chinese, Korean, Indian and other south Asian peoples share the bustle of Main and Roosevelt. It is a distinctly New York cultural mix.

One of your first stops should be the plebian WHITE BEAR on Prince Street in Flushing; phone: (718) 961-2322 is between Roosevelt Avenue and 40th Road. Their unique wonton offerings use a special vegetable from near Shanghai. They turn out plate after plate of perfect spicy noodles, thermally hot in winter, refreshingly chilled in summer, and a fine rendition of sautéed Shanghai-style rice cakes. Run by a dedicated couple who never seem to stop working, White Bear's most amazing confection is boiled dumplings stuffed with ground pork, bursting whole shrimp, and cubes of sea cucumber. Each juicy bite is a chin-dripping delight.

On the same street and down the block from White Bear, is the oddly-named WATERFRONT INTERNATIONAL ENTERPRISES at Flushing's 40-09 Prince Street; phone: (718) 321-1363 is New York City's only restaurant specializing in cuisine from Liaoning, Jilin and Heilongjiang, the three provinces comprising China's Dong Bei region, a cold Northeastern area akin to New England. North of Pyongyang, this area's hearty stews, soups, and meats are the source of shame for many Koreans who secretly like this style of cooking more than their own homespun specialties. Almost every table starts off with grilled whole jellyfish, reputed to be even better than seaweed for a woman's skin, and Triple Raw Vegetables, a typical Dong Bei starter comprised of scallions, cucumbers and hot green peppers in a spicy tofu-based sauce.
Northern Chinese dishes are just coming into fashion in New York. An early front-runner is Crispy Lamb with Chili Pepper, a light dish dusted with whole cumin seeds, a fairly uncommon spice in the southern Chinese canon. Cumin seeds also appear atop Waterfront's cabbage with chile sauce. Another standout is Country Style Green Bean Sheet Jelly, a cooling and healthful summer dish of translucent noodles, shrimp, pork and shredded vegetables. Their Crispy Chicken Intestines is a misnomer--the scrumptious platter contains no intestines; rather, it features crunchy slices of heart, gizzard and cartilaginous bits combined to create one hundred and ten percent chicken taste.
Perhaps the most popular dish in Dong Bei is a casserole-style soup with pork, sour cabbage and pig-blood cake. The Prince Street version is a veritable cornucopia of ingredients of truly sour cabbage, star anise on the stem, bacon, vermicelli, big shards of bok choy, and slices of tofu with the unique pockmarked appearance and tougher texture that comes from having been frozen. My favorite dish at Waterfront is called Home Made Style Blotch Soup. I mistakenly thought this was a mistranslation of borscht, China's northern neighbor Russia's famous beet soup. It turns out, though, 'blotch' is a slightly errant translation of 'goose bumps,' a reference to the soup's primary feature, spaetzle-shaped wheat dumplings that convey a wholesome broth of carrot, cabbage, scallion, and pork. Simply-flavored and full of a variety of fun textures, this soup, Gu Da Tang, is a comfort food equally prized by children and adults.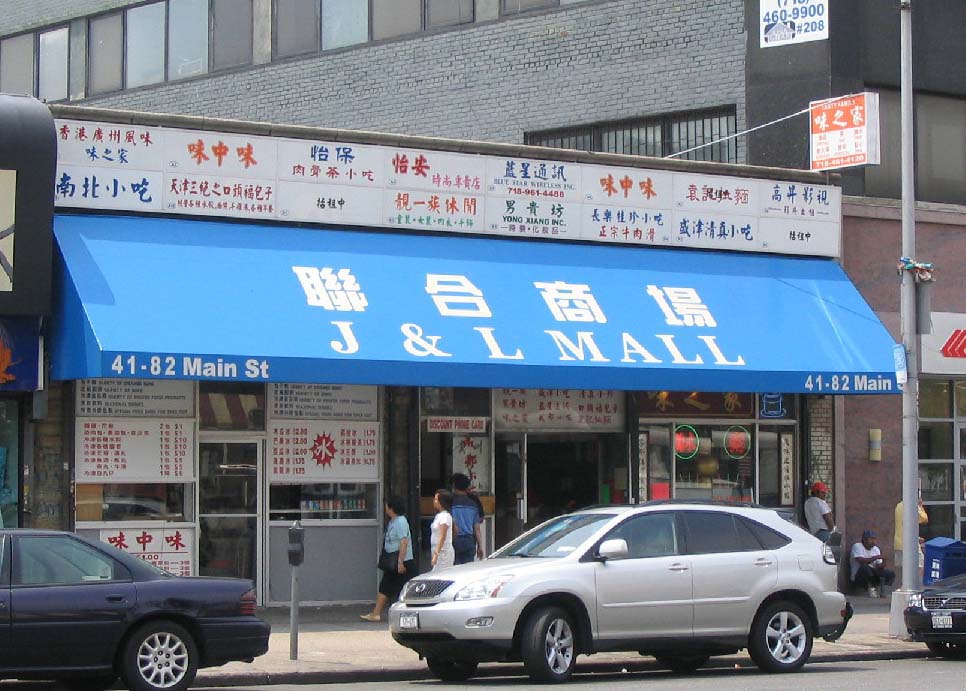 Part of the fun of Flushing is visiting shops run by immigrants so fresh they often have no command of English. Are you an adventurous hot pepper lover? Good at pointing? Can you spare a couple of bucks to try new and filling taste sensations? If so, you will not need Mandarin language skills to make the scene at J&L MALL at 41-82 Main Street in Flushing. This many-store site between Sanford and Maple Avenues is home to sixteen food stalls, many run by newcomers from China's Sichuan province. Along the back wall is a stand selling all manner of ultra-spicy and firm vegetables, such as broccoli stems inundated in fiery chile oil. Their Sichuan sausage makes beer go down like water; so does their mix of peanuts, dried tofu, salted vegetables, scallions and hot peppers. Such ferociously-textured cold appetizers put a silencer on the Rice Krispie claim to snap, crackle and pop. Halfway into this mall, on the left, is a man selling breads and buns of every description Try his one dollar rectangular Chive Boxes. A little larger than a fat business envelope, the powdery flour wrappers miraculously hold firm against the juicy chive, vermicelli and egg contents.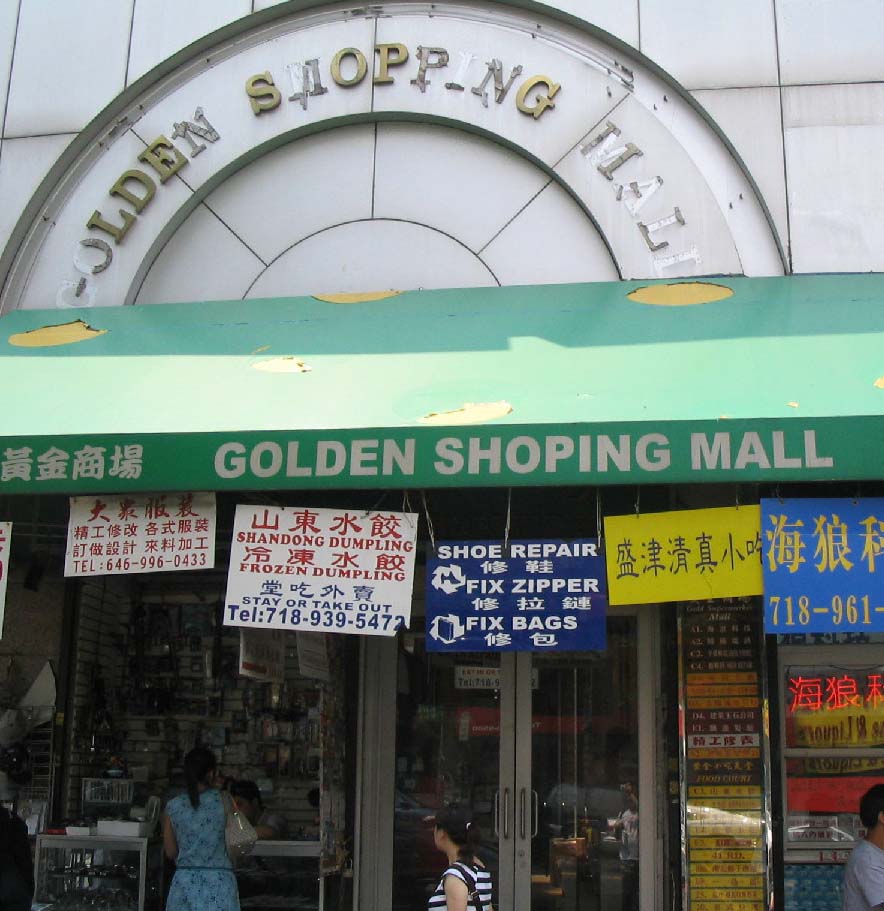 You can also sample New York's only true Uyghur-style cuisine. It is in the back of yet another scruffy Flushing food court called the GOLDEN SHOPING MALL at 41-28 Main Street. Here, a small stall with Arabic signs sells the most savory snack I know, beef and chive pies, a dollar each. They also dish up stewed beef spine so succulent it will have you gnawing and jawing like a pit bull.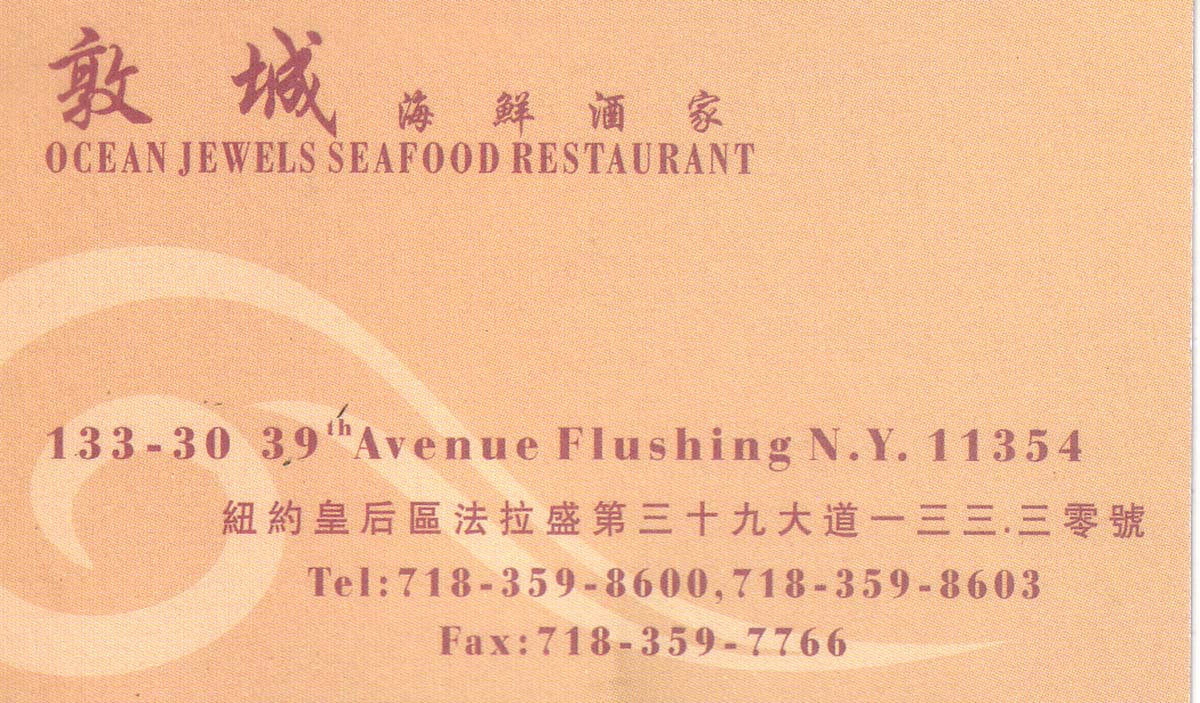 Hankering for Chinese tea lunch? There's no better assortment of dumplings and snacks than at Ocean Jewels Seafood Restaurant; 133-20 39th Avenue; Flushing; phone (718) 359-8600. It is across from the Flushing Mall. Boasting what might be the most tastefully appointed dining room in Queens, Ocean Jewels is a destination restaurant with sterling examples of classic dumplings like har gow and shu mai. Everything they make seems better than average. Ordinarily, I dislike the gummy rice-cake wrapped peanut, pork and vegetable dumplings called fun kor. Here, the delicious packets are thin-skinned and virtually grease-free. Finger-licking good barbecue specials like cuttlefish or baby pig are presented beautifully, and sesame-seed topped flaky triangles stuffed with roast pork are to chasiubao what Baked Alaska is to plain old ice cream. The best dim sum experiences I have ever had were in the burgeoning Chinese community in Brooklyn, west of the Hasidic neighborhood 18th Avenue on the border between New Utrecht and Bensonhurst Avenues.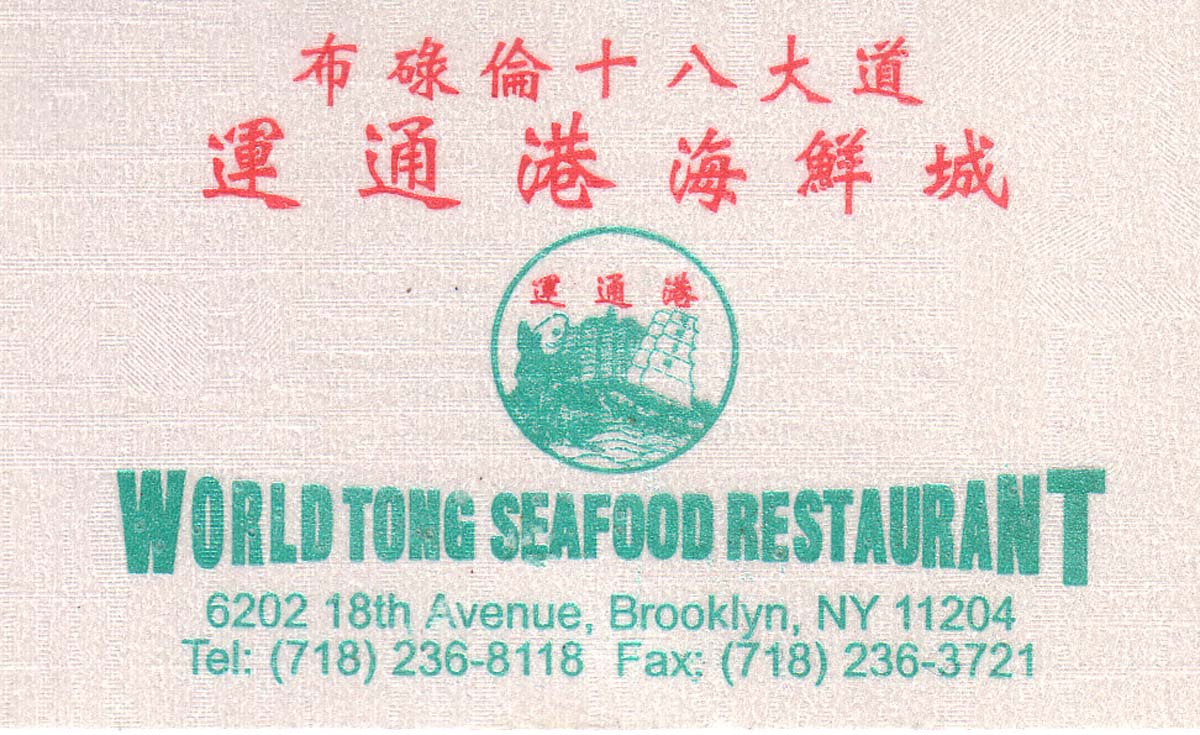 On the first day of Chinese New Year in 2004 and again in 2005, I led groups to WORLD TONG SEAFOOD RESTAURANT at 6202 18th Avenue which is near 62nd Street in Brooklyn. Both times I called several weeks in advance, sure that my requests to reserve tables would be honored. The first time it was for twenty, the following for thirty. A manager took the reservations without hesitation and I was surprised because I was sure it was made to deaf ears as ever so quickly he said OK. I was sure he did not record name, time, or numbers. However, even more surprisingly, when we arrived, the maitre d' honored them.
Also known as Ocean Port, World Tong is the only Chinese place where I have seen Brussel sprouts–a New Years day special--sliced in half and topped with salted duck egg yolk and pinches of either dried abalone or black sea moss. Fish head, usually prepared whole in bubbling cauldrons, here comes sliced into tiny chips and served in pony bowls. Its innate luscious unctuosity is heightened because the small pieces are easy to eat. You can select distinct parts rather than maw through bites containing the head's panoply of textures and flavors. Diminutive for dim sum, World Tong seats less than two hundred fifty, and so the kitchen can concentrate on hand-making an incessant variety of quaintly-plated treats.
Smaller-than-average dumplings are packed tightly and burst with flavor sensations. Clammering crowds fairly guarantee that every mouthful is piping hot. On weekdays, World Tong's working-class rice plate dishes, like pig's intestine with pickled vegetable or pork with dried fish, come in small dim sum portions, a move I have never seen elsewhere. One needs to be aware that variety on weekdays is much diminished. A visit on Mother's Day was also disappointing because many pretty specialties made to honor Chinese moms were cloying and annoying with their Westernized garnishes of maraschino cherries or Pringles.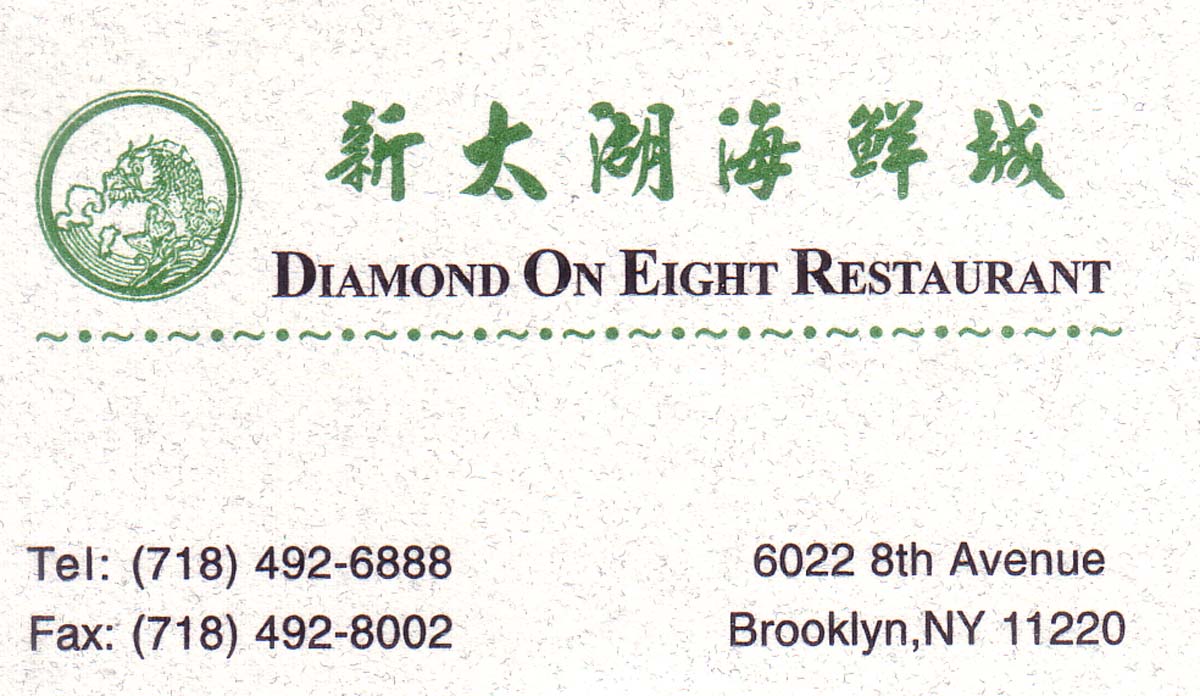 The new Chinatown developing on 18th Avenue joins existing Brooklyn Chinatowns on Avenue U, and the largest in the borough, along 8th Avenue in Sunset Park, where DIAMOND ON EIGHTH RESTAURANT at 6022 8th Avenue in Brooklyn; phone: (718) 492-6888 awaits. Formerly known as Jade Plaza, this giant seafood restaurant, turns out mountains of fresh dim sum on a daily basis. Their sticky rice in lotus leaf is the best my uncle has ever eaten, and he has been having Chinese food in Kings County since the 1930s!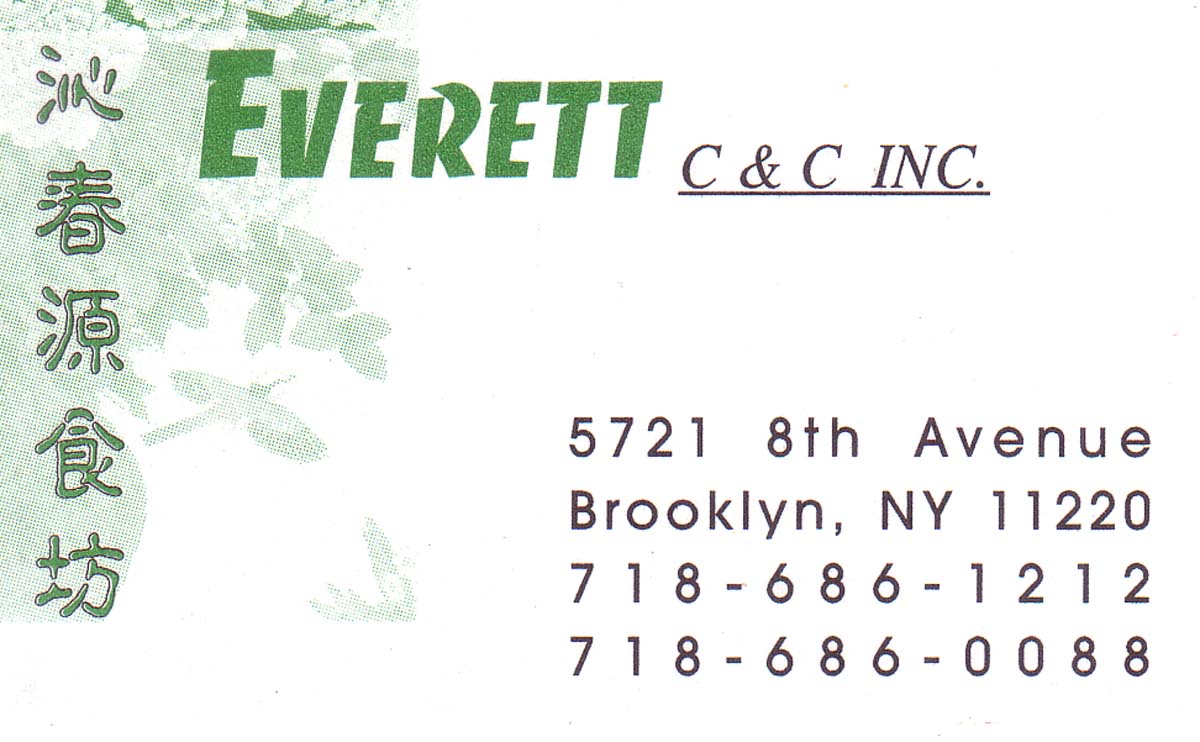 Another standout on 8th Avenue, where Chinese shops are bursting open faster than Jiffy Pop over a hot campfire, is EVERETT C&C INC. at 5721 8th Avenue, also in Brooklyn; phone: (718) 686-1212. This Fujianese seafood specialist has a couple of hundred authentic offerings that change with the day's catch.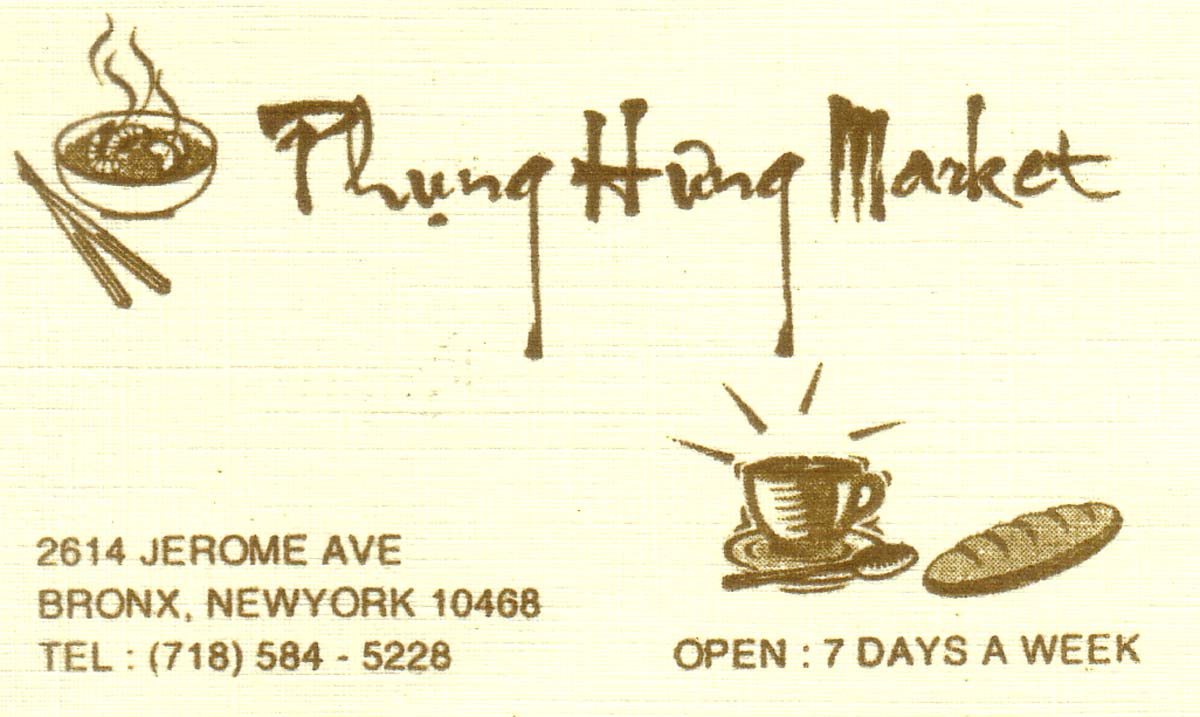 The only exceptional Chinese food I have been able to find in Staten Island or The Bronx are the substantial buck-fifty steamed 'everything' buns at PHUNG HUNG MARKET AND CAFE at 1614 Jerome Avenue; Bronx; phone: (718) 584-5228. This Vietnamese grocer has a few dining tables and is at the corner of 193rd Street, one block south of the Kingsbridge Armory. Be sure to try their other homespun wonders, especially the occasional special of caramelized quail--two perfectly burnished birds over rice, a steal at a fin.
Finally, for the borough-phobic, here is the scoop on Manhattan, where the quality of dim sum changes as quickly as weather in the Himalayas. I usually take tea lunch at a place where I have built a rapport with staffers who can do wonderful things like automatically alert you to daily specials. A surefire pleaser is the ORIENTAL FOOD RESTAURANT at 103 Mott Street in Manhattan; phone: (212) 219-8388. This is a classic parlor with bright lights, blinking-eye dragons, and giant photomurals of Hong Kong by day and night. Their best dumplings are yu chi gao, spiced pork and shrimp stuffing in pretty oblong wrappers, with actual strands of shark's fin ensconced in mustard-toned pleats. The shrimp inside their rice-noodle rolls called har cherng are often superbly-plump and juicy. And, their beef rib tips with black peppercorns are as mouth-watering as pepper steak in a bistro. Ordering plates from Oriental Food's kitchen, such as House Special Rice fried with dried scallop; steamed head-on shrimp with garlic; or any number of seasonal greens sautéed with garlic and topped with julienned Virginia ham, is a great way to turn tea lunch into a fine repast.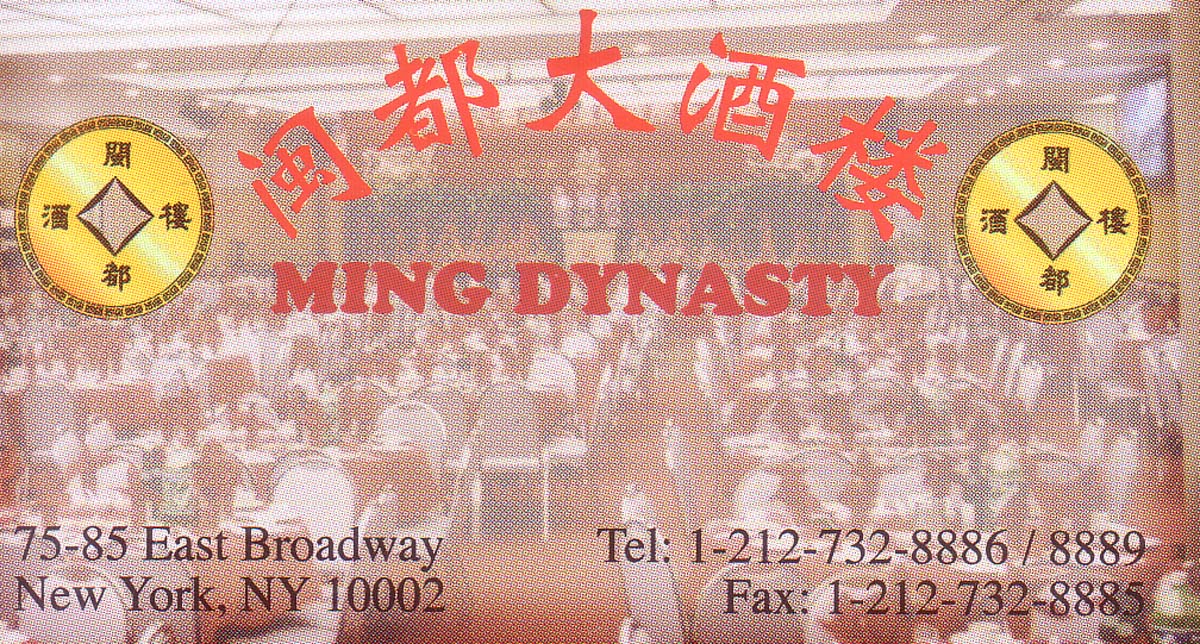 The only dim sum parlor I am aware of in New York that features Fujian-style foods is MING DYNASTY at 75-85 East Broadway in Manhattan; phone: (212) 732-8886. It is on the second floor of a mall under the southern edge of the Manhattan Bridge just past the Market Street playground, a place mainly filled with first-generation immigrants. Ming Dynasty's style is a change of pace, distinctly down-market from Cantonese counterparts like Nice Restaurant, 888 Palace, Jing Fong, and other dim sum warhorses. At Ming's, the emphasis is on seafood, simply seared with a goodly portion of Shaoxing wine from the neighboring province of Zhejiang. You will also see a lot of vermillion dishes, stained that color by the liberal use of another Fujianese favorite, an earthy-flavored paste made from fermented lees, a by-product of the manufacture of rice wine. Ming's features a sidebar of specialty items, including baby octopus plated with seaweed salad; wonderful fritters of corn and ground shrimp; and fried-to-order turnip or taro cakes.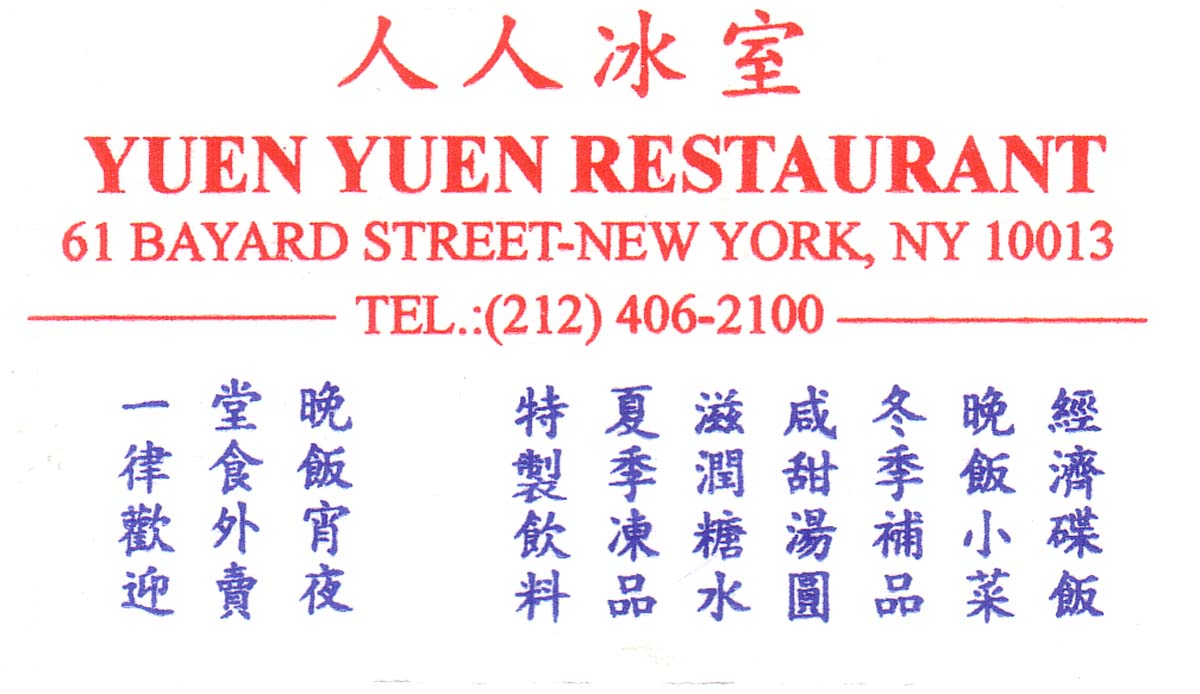 In the mood for old-fashioned Cantonese Chinatown? Try YUEN YUEN SNACK SHOP at 61 Bayard Street in Manhattan; phone: (212) 406-2100. Ceramic crocks of piping-hot chicken ginseng soup scare colds away, and a four-dollar lunch plate of steamed duck with taro has incomparable depth. Yuen Yuen is old. You should visit soon and often because I am worried their Mom-and-Pop style will not last forever in today's world of immediate gratification.
Looking to satisfy a penchant for handmade noodles? Alas, the talented and pristine couple who ran the GOLDEN WOK NOODLE HOUSE at 25 Catherine Street in Manhattan were unable to knead enough dough to pay the three and a half thousand dollar rent each month. Their restaurant closed in May, 2006, leaving fresh noodle lovers with only two Chinatown choices for Lanzhou La Mein. They are EASTERN HAND-PULLED NOODLES at 28 Forsyth Street in Manhattan and the second is SUPER TASTE at 26N Eldridge Street, also in Manhattan.
Still, one can find five kinds of delectable noodles at BO KY PHO on Bayard Street corner of Mulberry in Manhattan. It is the kind of Chinese soup shop found in Vietnam. Run by the knowledgeable and energetic Mr. Chivy Ngo, Bo Ky's flat egg noodles come in the richest and heartiest broth in Chinatown. Other offerings include curried beef belly soup, sliced pork leg over rice, and fried minced shrimp appetizers. All are tasty and varied enough to inspire daily visits from diehard fans.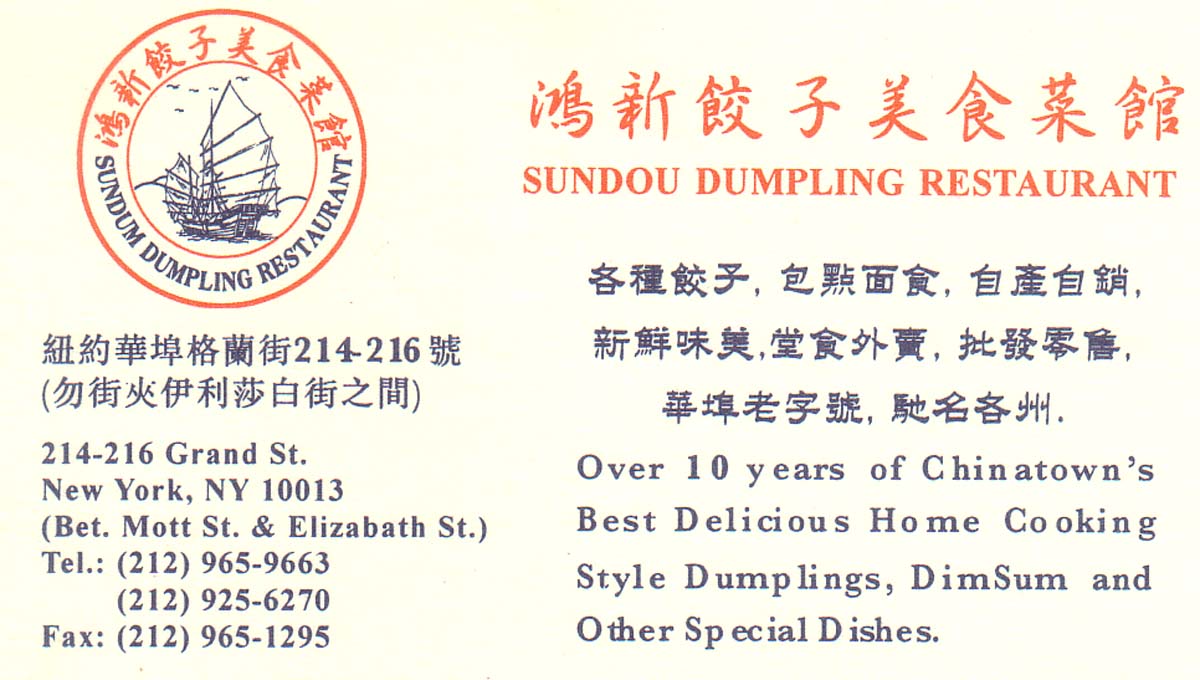 For those on the run, not much beats the street-side window at SUN DOU DUMPLING SHOP at 214-216 Grand Street in Manhattan; phone: (212) 965-9663. There is always a fresh batch of sheng jiang bao, four plump bready steam-fried buns for a buck. Another amazing bargain are the five-spice tinged steamed Fujianese dumplings at a place with no name at 15 Eldridge Street; Manhattan. It is below street level with kind staff who ate only Chinese-only speaking. The satisfying crescents only cost two dollars for a plateful, sided with a bowl of scallion green-flecked broth. NYC's best all-around dumpling shop is the Beijing hole-in-the-wall DUMPLING HOUSE at 118A Eldridge Street in Manhattan; phone: (212) 625-8008. There, try as I might, I have never been able to eat more than four dollars worth of food.
In the mood for fried? Nothing on earth compares to their pork and chive dumplings at only twenty cents apiece, or their gourmet boiled pork and yellow chive dumplings. Dumpling House's distinctly un-American Wonton Soup is laced with traditional ingredients like seaweed and whole teensy shrimp, and their multi-ingredient Hot-and-Sour Soup is, in a word, sublime.
Early this year, friends asked me to take them to a Chinese restaurant that was immaculate, one where 'price is no object.' While those parameters do not jibe with my normal gingery jaunts, the request brought to mind a newcomer boasting siren-like allure. The freshman 'see and be seen' revolves around the smooth personality of Mr. Stratis Morfogen, an Upper East Side bon vivant, who slipped a twenty to a busboy at Mr. Chow's to secure a meeting with head chef, Philippe Chow (no relation to owner Michael Chow).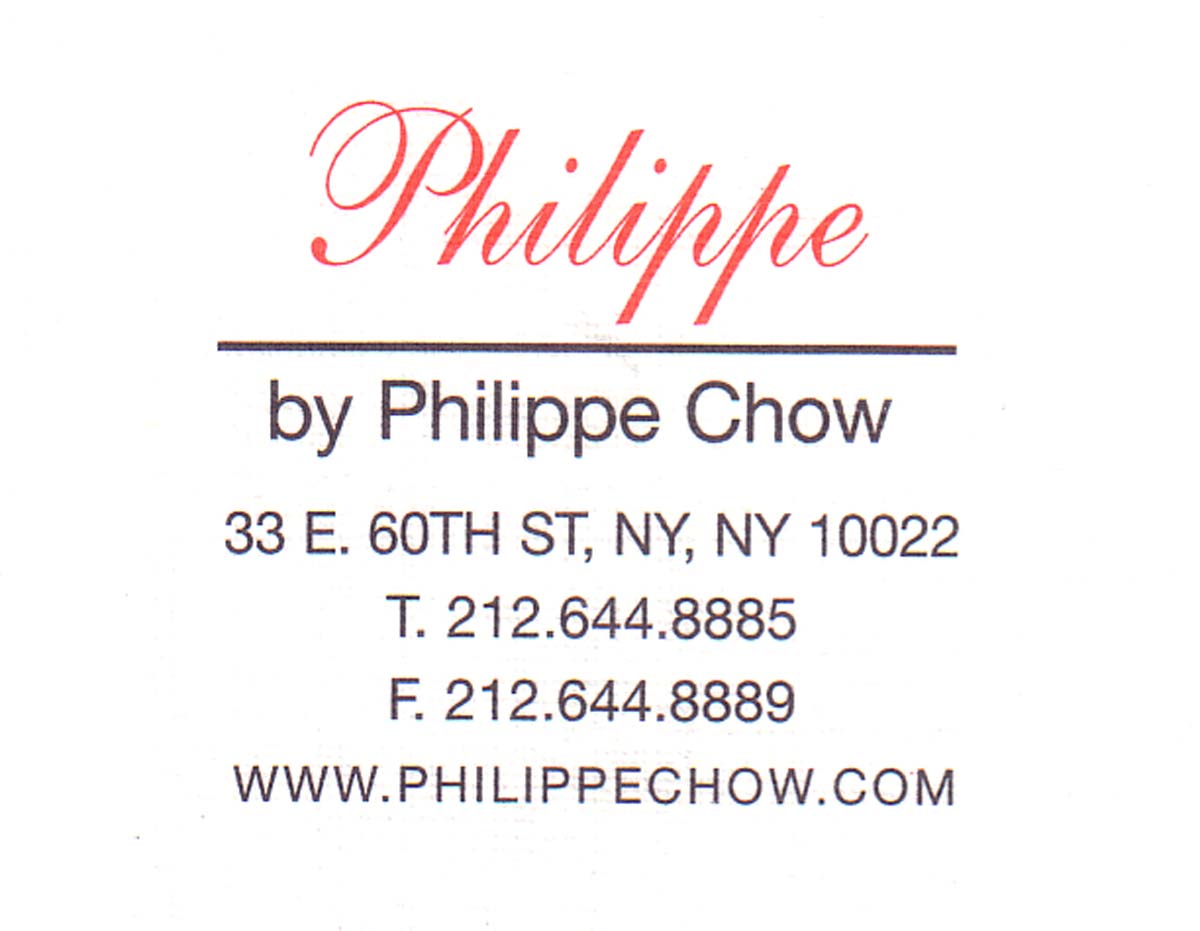 Within a year, on December 19th, 2005, Morfogen had hired him away and opened PHILIPPE at 33 East 60th Street in Manhattan; phone: (212) 644-8885. Immediately, the well-funded venture was in the news, the first media hit tellingly placed in: www.FashionWeekDaily.com Subsequent coverage was based on the restaurant's posture and attitude as much as its cuisine. There are reports of woe in the New York Post gossipy page six, and blistering exchanges on the New York Times dining blog.
Philippe is patterned on the famed Chinese restaurant in Paris, Davé, a favorite of the likes of Leonardo di Caprio, Giselle Bundchen, and Manolo Blahnik. "The fashion people eat mostly vegetables these days," says the eponymous eatery owner. "When they eat, besides bok choy, it is broccoli, steamed vegetables, and tofu. They are so afraid of carbohydrates. Deathly afraid," he revealed in an interview in the September 27th, 2004 New Yorker. How does Davé's chichi clientele feel about rice, a staple of the Chinese diet? "My God," he laughed, "they act like it is poison."
Two experiences at Philippe confirmed that such restaurants are more concerned with the likes of Hiltonian celebutantes than cuisine. Nothing was wrong with the food, per se, but nothing was memorable either, except the happy surprise of finding bamboo pith, a lesser-known and succulent Chinese foodstuff, in a plate of mixed vegetables. Nonetheless, devotees of Chinese culture and cuisine might want to steer clear.
Despite such upscale pretenders, proper Chinese restaurants can indeed work outside of a Chinatown. PATRICIA YAO'S at 24th Street in Manhattan, for example, successfully fuses Chinese, Malaysian and other Southeast Asian flavors. There are a few others, such as the half-dozen branches of Grand Sichuan.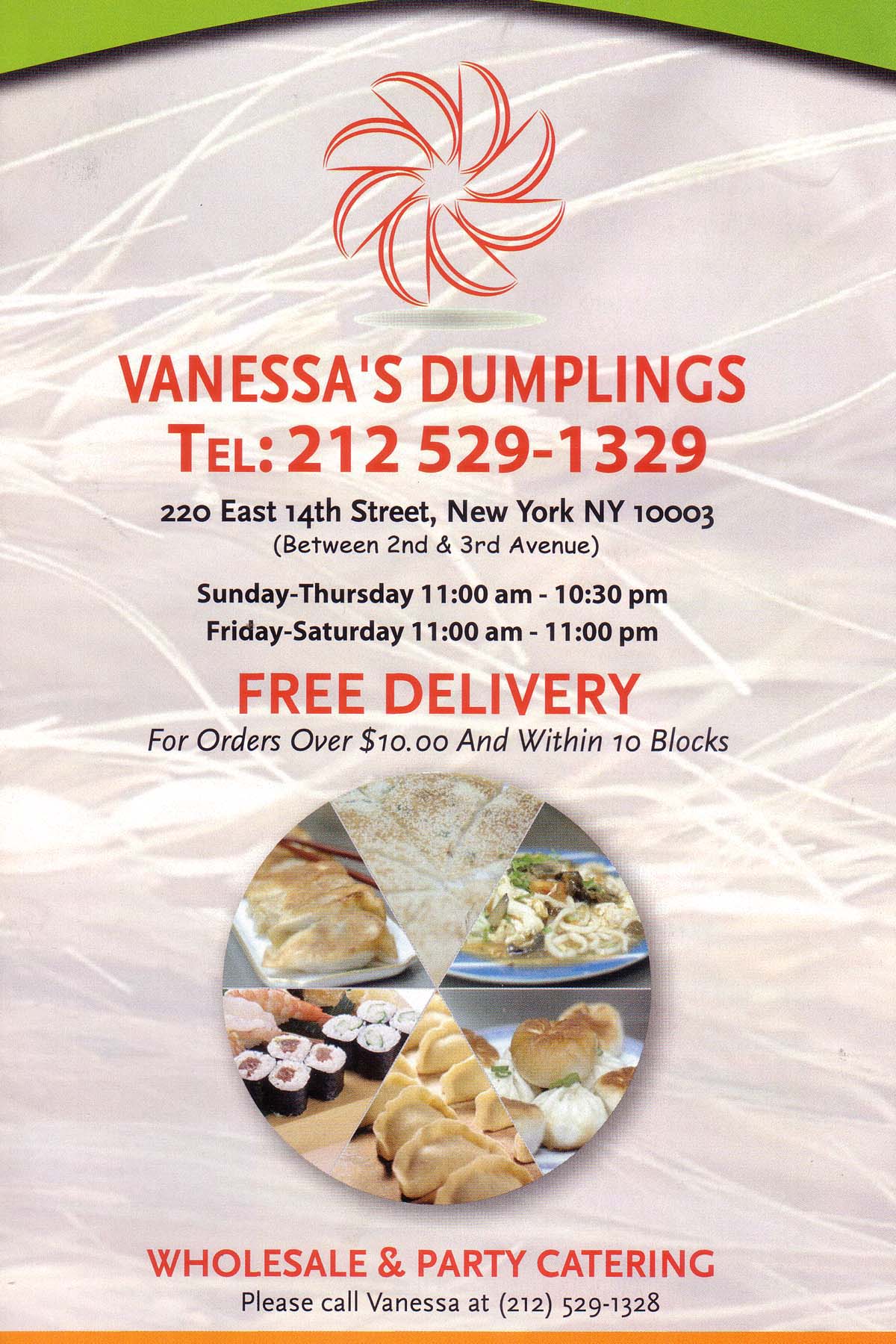 It is exciting to be among the first to report the opening of the latest Chinatown export. It is VANESSA'S DUMPLINGS at 220 East 14th Street in Manhattan; phone: (212) 529-1329 is near the corner of 3rd Avenue. This spot opened in May by the owner of Dumpling House and Mulberry Street's Tasty Dumpling. The bright and cheery new luncheonette has salad, sushi, and teriyaki in addition to its famous list of dumplings and Beijing snacks. Try its updated recipes for seafood, vegetarian, or chicken & mushroom dumplings in their pretty pink (beets), green (spinach), or yellow (pumpkin) tinged wrappers. The sushi is plump and reasonably priced, the smoothies are rich and fruity. And yes, they have created my new favorite treat, three dollar sandwiches of juicy roasted chopped pork layered with a goodly amount of veggies on homemade fresh sesame bread.
Now I have got an easy answer for whoever asks me where they should we go for great Chinese food. You might find me there soon; I am off to Vanessa's Dumplings just off Union Square.
_____
Thanks to Effi, Chi, Brooke, Rus, Paul, Mark, Alec, Ping, Dan & Nan, Jon, the Council of Brooklyn Neighborhoods, Cityreliquary.org, and most of all to my better two-thirds, Micki.