Read 5934625 times

Connect me to:

Discovering Dongbei Delicacies
by Wang, Tony Ta-Tung and Abelman, Lenny
Chinese Food in China, Hong Kong, and/or Taiwan
Summer Volume: 2007 Issue: 14(2) page(s): 5 and 14
---
From duck grilling on a wood fire in Beijing to dim sum steaming in Guangzhou, Chinese cooking conjures up vivid impressions and taste promises. So does French cuisine. However, Chinese cuisine is more extensive than the pastries of Paris, the sausages of Lyon, and the regional contributions from Burgundy to Normandy. That said, one must journey to the heartland of China to fully appreciate the genuine substance of Chinese folk food.
One region which makes an important contribution to China's culinary completeness is Dongbei, the Great Northeast, or to whet the appetite by a previous name, Manchuria. This region is made up of the three Northeastern provinces of Heilongjiang, Jilin, and Liaoning. It extends from the cold Northern reaches of Manchuria to the vibrant, busy port city of Dalian at its southern point. It is a cuisine whose very name translates to East-North.
The cuisine is described as oily and rich, full of flavors, spicy, earthy, fresh and delicious. Dongbei dishes bring to mind images of simmering stews and casseroles and steaming pots of sauces. This is a special cuisine from the north of China where it is necessary to take in powerful fuel to defend against the cold.
This northern region has a rich history along with its rich foods. It was the base for Manchu warriors who went from there to establish the Qing Dynasty in 1644. It borders on Mongolia, Russia, and North Korea, and Japan is close by. In earlier times, development and influences came from Russia and Japan. From the 1930's through the Second World War, it was an industrial center occupied by the Japanese puppet state of Manchukuo. This Northeast region was favored by Chairman Mao as the cradle of the industrial revolution of the People's Republic of China. Mines and factories, steel, coal, iron, oil, gas were produced, in this the biggest production area in China.
However, over the years, regions south of here took the economic lead. Today, there are new programs to revive and modernize the region. Fortunately, what has not changed is the continuity in vibrant food offerings in and from this region. There is richness, color, and variety in the bountiful basic materials available here. Together, they result in a unique cuisine that stands apart from other regions. There is richness in the folk culture, the forests, the fields, and the food. They have endured many changes and can not be forgotten.

Fortunately, it is not necessary to travel to the region to experience what is meant by Dongbei or northeast cuisine to see and savor the region's cultural heritage. There is a restaurant concept which has, as one of its missions, bringing the feel of the culture and authentic goodness of its food to the rest of China--eventually, to the world.
From an initial foray into a food establishment on Hainan Island in 1993, the Manchu Folks Restaurant, or simply 'Dongbeiren,' brings Dongbei food and culture to Beijing and other cities throughout China. This first author has visited several of the restaurants of the concept and truly believes these Dongbeiren restaurants capture the region's true spirit.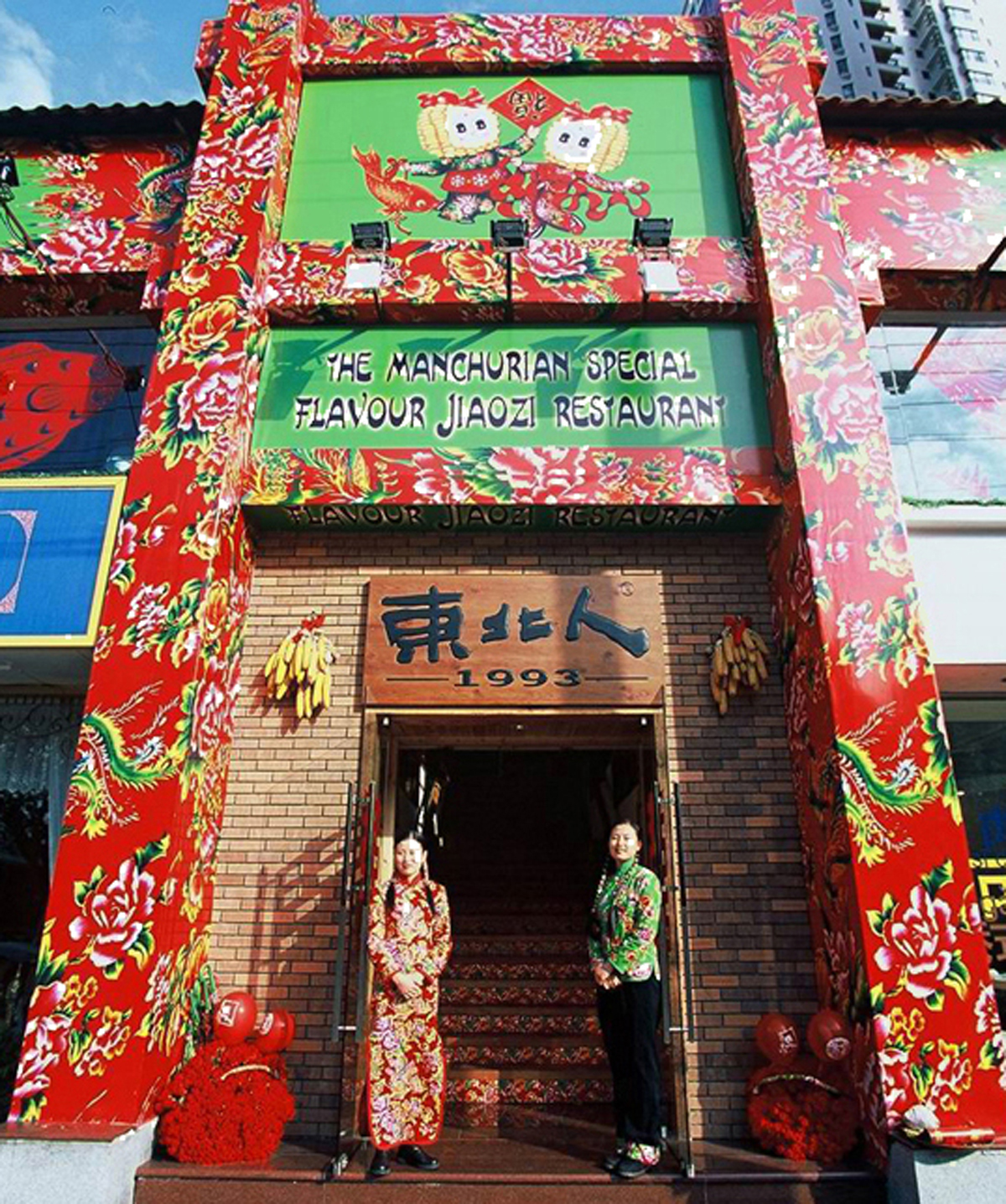 When visiting and eating at them, it should be noted that one does not enter their colorful three storey building in Dongzhimen, Dongchen District, merely to eat dumplings. game offerings. and forest mushrooms. One also goes for the lively atmosphere that provides an adventure of discovery. It is what it must be like to visit a village in the countryside of Dongbei and partake of food served to local families there. There are sights and sounds and smells creating sensations of warmth, friendliness, and freshness.
The colors are very special; there are bright red and green motifs with yellow and white flowers and leaves. These are found throughout the restaurant from the carts and carriages out front to cloth banners, designs, and paintings on the walls within. Even the waiters and servers are dressed with shirts and ties or blouses and dresses which contain these color motifs and designs. The impression is visiting a village festivity celebration. This atmosphere is further enhanced by the smiling and welcoming faces of the personnel. In addition, old farming implements and tools, musical instruments, bells, grindstones, water wheels, and old toys attract attention. All are reminders of the gait and color of old village life in the North.
The personnel do add a distinctive element. They convey pride in being a part of the spectacle. They greet guests when they come and sincerely welcome them. After guests are seated, they come by in small groups to visit and sing to them, in their local language. They are singing about dishes offered and soon guests are singing and clapping along with them.
The same warmth is conveyed when the customers leave the restaurant. They are suddenly surrounded by several smiling employees who help carry any packages of leftovers. They make sure everybody reaches his or her car safely. They even offer a final cup of tea if you have to wait for your transportation.
The restaurant consists of large dining rooms and smaller, private ones. Each is uniquely decorated to convey the folk, village atmosphere. Their brick, clay, and wood construction take you back in time and place. They recreate the styles of heating used in living rooms and bedrooms in the north. One sees traditional coal and fire burning; they create an aura of warmth and well being. This decor offers a feeling of Home Sweet Home. Anyone can hop up on a kang, the traditional bed used there, to sense and enjoy one aspect of living in the northeast.
The Beijing restaurant building takes on features of the old northeast. It goes beyond tables and dining rooms, kitchens, cooking areas, and kangs. Through large display windows, guests witness the various stations of preparing northeastern food delicacies. Large carts in the dining room contain various preparations of colorful fresh vegetables and fruit. Rooms with open windows allow one to witness fresh dough being made and noodles and dumplings being prepared in local northeast style.
Rows of casserole-shaped woks filled to the brim with delightful stews and folk dishes steam and simmer. Wonderful aromas waft from them. The food served here is healthy and hearty, nutritious and delicious. It evokes memories of home. The portions are large and almost everyone leaves taking some leftovers, nicely packaged.
Before actually dining, carts come by with an array of wonderful raw and wild mountain vegetables, spicy beans, mushrooms prepared with garlic and scallions, and other things to nibble on. Many are flown in daily from Dongbei. They can be followed by selections from the large variety of lamb, pork, shrimp, and vegetable dumplings, and their homemade wheat noodles. The dough that is used can be stuffed with various mixtures of egg, shrimp and pork; together or alone, these create unique tastes. Popular also are tomato, cucumber, carrot, celery, turnip, fish, beef, and chicken stuffings. The breads are also aromatic and come with many textures, lots of crispness, and even some sweetness. There are also delicious pancakes and buns made from corn.
Even the beverages are special here. They have regional origins. There is smooth corn fortified liquor for toasting friends, and healthy grain and wheat teas to satiate thirst. There is a wonderfully sweet and flavorful eight treasures hawthorn fruit and herb tea, and there is so much more to enjoy.
On a recent visit, we began our meal with some favorite Dongbei cold dishes. These included Home-style Assorted Wild Vegetables, Country-style Garlic with Pepper, Home-style Spicy Cabbage, and Korean-style Beef with Hot Pepper; and there was a wonderful House-special Pork Knuckle. All were fresh, flavorful, and fantastic.
We very much enjoy local vegetable dishes. There are many unique ones to choose from. A great one was Eggplant in Mom's Soybean Sauce; another goodie was Big Bean Curd in Dad's Sauce. Others we recommend are their unique Assorted Fresh Mushrooms braised in soy sauce, and their Stir-fried Cabbage and Mountain Mushrooms.
The traditional fish and meat dishes are also extraordinary. They remind of grandmother's cooking. We particularly enjoyed the sauced Lamb Shank, Braised Beef and Potatoes, the Stir-fried Mutton with Cumin, and the Gold Medal Spareribs. Other traditional country dishes we devoured were the Venison Balls, the Boneless Pork Knuckle, and the Flaming Dragon Fish. We have not yet tried the Village Xiangyangtun or Baked Fresh Donkey Meat, but we will on an upcoming visit.
Most of all, we enjoy the wonderful stews served here. They remind of delicious peasant dishes that are even better the next day. We have a preference for the stewed Meaty Pork Bone and Pickled Chinese Cabbage. This dish is a little like German sauerkraut but more delicate and delicious, very savory and pungent. Another dish just as delicious is their stewed Sparerib and Northeastern Fresh Green Beans. The latter are not stringy, just long and tender. They are the thinnest French haricots verts ever seen.
We often supplement our meal with some of the tasty grain items such as their wonderful dumplings. Yummy favorites include Baked Leek Dumplings, Home-style Layered Bread, and Fried Pancake with Radish. We did not, but need to, mention the soups or sweets available. Most often there is just not enough room; we always say "must try them the next visit."
As you can see, we are fascinated by the foods of this region. That and fond of exploring them there. Dongbeiren calls us back again and again; and we respond by going back. It is just like going home.
_____
Tony Ta-tung Wang has been in many restaurant businesses, back and front of the house, for more than forty years. He is credited with bringing American restaurant chains to China including but not limited to Kentucky Fried Chicken. Lenny Abelman is an international counsel and advisor who helped pioneer restaurant franchising in China and elsewhere. He has done so from the bistros of China to the beaches of Brazil. He has done the same for the vineyards of Burgundy, South Australia, and Mendosa.