Read 5429803 times

Connect me to:

Fortune Cookies
Fruits, Desserts, and Other Sweet Foods
Winter Volume: 2007 Issue: 14(4) page(s): 34 and 35
---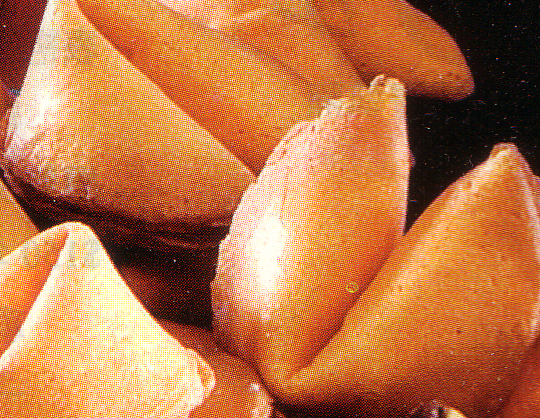 Fortune cookies are not Chinese. Their origin is as American as apple pie. Yet, the notion of sending messages in bakery products is very Chinese as very early messages were political inclusions.
To make these new-to-the-Chinese, soft circles of dough are poured onto hot plates. They are baked, a paper message dropped on to the just set dough, the dough folded in half, then in half again. Fortune cookies were popularized as items joining the bill in Chinese restaurants after World War II. Since then, other countries have been entranced with the idea of this final gift. Thus, they have made their way around the world.
There is a food used for carrying messages associated with one particular festival; and it is the moon cake. During the 14th century Moon Festival, messages were put inside with the intent of aiding those overthrowing the Mongol invaders. These messages were inserted in moon cakes telling of time and place for a proposed uprising.
Moon cakes then were distributed to many folk, particularly those with the desire to bring about political change. Most were distributed by Taoist priests, some were passed about by others. Today's fortune cookie is in no way related to this period of time nor to any moon cake.
The origin of the fortune cookie may belong to a few who claim responsibility. Most were born in California and related to Asian immigrants. One common tale is that a Japanese landscape architect, Sumiharu Hagiwara-Nagata, introduced them in 1914 at a garden he designed in San Francisco. The purpose intended was to accompany tea at this Golden Gate Park Japanese Tea Garden. This landscape designer did believe he was the first to make these cookies; he gave credit to Chinese folk for their successful marketing.
Another claimant on the origin of the fortune cookie was Baker David Jung. He sometimes gets credit, but for the cookie's birth in Los Angeles, circa 1918. Jung was a preacher who handed them out to the poor and homeless. His cookies were different; they had no fortunes within. What they did have was biblical messages of hope and encouragement. Some years later, Jung started the Hong Kong Noodle Company. There he continued to produce his cookies on a commercial scale.
Credit is also given to an east coast initiator of the fortune cookie. In the early 1930's, William T. Leong and his Key Fortune Cookie Company began to make cookies. each with a fortune within.
Each of these manufacturers hand-folded their fortune cookies, often with the help of chopsticks. San Franciscan Edward Louie, owner of the Lotus Fortune Cookie Company, was the first to invent a machine to fold them; that was in the 1960's.
With these Asian origins, the fortune cookie remained an item used in Chinese restaurants but not as a part of a meal. Rather, they were a restaurant owner's thanks arriving with the check. They were particularly popular with take-out, or what Asians call 'take-home' bags of Chinese food.
In the late 1970's, the fortune cookie had its own day. But, like many things about the fortune cookie, year, month, and day are shrouded in mystery. Was the date September 13th or was it sometime between April and the Fall? Heated arguments continue as to who and where this icon of a Chinese meal originated. The argument is almost always between San Francisco and Los Angeles. Once, to settle this tiff, a mock court was convened to determine the city of origin. While San Francisco did win, no one contested the case, and no one confirmed the correct date nor when to celebrate the fortune cookie's birth.
Today, companies on both coasts, and those in cities in-between make lots and lots to satisfy what has become a huge market. They are also made in a few other countries. No matter where they are baked, most are made of flour, sugar, flavoring, and water.
The Wonton Food Company uses the trade name Golden Bowl on their fortune cookies. They are considered the world's largest manufacturer of these folded crisp cookies. They make more than four million a day in their Brooklyn factory and a smaller number in their Houston, Texas plant. All their manufacturing is automated, with the exception of one line. This allows many parts of the process to be done manually so that small amounts of fortune cookies can be made with special messages. Another reason for small production is to make fortune cookies of unusual flavors such as chocolate, rum, pineapple, etc. The most popular personal use for fortune cookies is at weddings or important birthdays. My own daughter wanted and we arranged for a set made with her name and that of her husband's and the date of their marriage. They were given out after their wedding, as were long paper rolls of a 'mother-made' wedding menu complete with recipes for all dishes served.
There are other uses for fortune cookies. Mail order houses sell some with jokes, unusual words, even uplifting enclosures akin to the early biblical messages of hope and encouragement. A couple of companies sell some with jokes in poor taste. Fortune cookies are also used for advertising purposes. Billy Wilder's 1966 movie, 'The Fortune Cookie' distributed fifteen thousand with the message "There's a marvelous picture in your future."
The fortune in each cookie can be in English or another language, or bilingual, depending on country of sale. Besides their fortunes, smiley faces, jokes, advice, even lottery numbers are added, often on the reverse side of the fortune. According to the Powerball Lottery Commission, in 2005 there were more than one hundred winners from several states who claimed they used numbers from those printed on Golden Bowl fortune cookies. These were all made by the Wonton Food Company. Needless to say, their sales skyrocketed after that information hit the press.
This largest fortune cookie maker, Wonton Food, started business in Manhattan as the Wonton Noodle Company. They changed their name in the 1980's. In 1993, they began producing fortune cookies in a country that never knew about the fortune cookie, China. There, rare was the person who had heard about them, so the cookies were not popular. Soon thereafter, they ceased making them in China.
Not too many folk make these cookies at home. It is a difficult culinary exercise that burns fingers. To make them, timing is of the essence. The printed fortune needs to be put on the flat cookie while still soft and warm, and immediately thereafter, it must be folded twice. Fabric gloves help, but they do not keep fingers from getting very hot. It is best to only make few at a time. An assembly line helps when making them; and a friend and I once made fortune cookies, but truth be told, they were neither successful nor great.
Should you want to try your hand, below is a recipe for two dozen cookies. Mixing batter for more can be done, but making and baking more than five at a time is not recommended.

Fortune Cookies II
Ingredients:
1 cup all purpose flour
1/2 cup sugar
2 Tablespoons cornstarch
4 egg whites
1/2 cup plus two tablespoons vegetable oil
2 Tablespoons vanilla
2 dozen paper fortunes half-inch by two-and-a-half-inches
Preparation:
1. Preheat oven to 330 to 340 degrees F.
2. Sift flour and sugar, and resift with the cornstarch.
3. Beat egg whites until foamy, then add the half cup oil slowly and continue beating until stiff. Then add vanilla and beat into this batter another minute.
4. Use a teaspoon of the extra oil and brush the oil onto a cookie sheet.
5. Drop one tablespoon of batter onto the cookie sheet, and flatten out the dough with the bottom of a glass brushed with a little vegetable oil until the cookie dough is four to four and a half inches in diameter. Repeat this two to four more times. (Bake one cookie at a time until you get the hang of the entire process.)
6. Bake for ten minutes until golden, remove cookie sheet from the oven, put paper fortune on it, and with a spatula, fold cookie in half but do not press the dough down, then fold in half the other way, also not pressing any part of the dough to any other part. Place this folded warm cookie in a muffin or popover pan until cool; and repeat the process until all the dough is baked.