Read 6536925 times

Connect me to:

Menu Updates (for P.F. Chang's Bistro, and in San Francisco for R & G Lounge and the Old Mandarin Islamic Restaurant)
Restaurant Reviews
Summer Volume: 2007 Issue: 14(2) page(s): 27 and 28
---
Chinese restaurant recipes and menus are expanding. Some Chinese restaurants are wisely updating theirs. They teach and reach more people, Chinese and others, about how extensive are the numbers of dishes in this, the longest continuous food culture in the world. All food, Chinese and other, is like film in a motion picture camera. It moves frame to frame, changes in virtually every one of them. Yes, Chinese food is changing moment to moment and place to place.

P.F. Chang's Bistro is one such place to watch this change. This past February, they added another provincial menu set to their already popular menu. The first addition was half dozen dishes from the province of Sichuan. This newest addition is dishes from the province of Yunnan. Bob Tam, their corporate executive chef, was kind enough to forward one of the recipes to us for sharing with our readers. The last issue of Flavor and Fortune in Volume 14(1), featured this growing Chinese restaurant chain (see its pages 28 and 29). It ended with a recipe of theirs that we adore, Imperial Black Cod. Now when black cod is available locally, everyone can make it at home. Or like we do, go and devour that very recipe made by the professional chefs at P.F. Chang's Bistro.
Tam's newest item is a noodle dishes; and it is represents food from the newest Yunnan set menu addition. They call it 'Zodiac Noodles.' We thank him and the other P.F. Chang chefs who developed it and shared it with us and our readers. Want them to prepare yours, check out the location nearest to where you are or to where you are going by visiting their website at www.pfchangs.com We hope you enjoy this new dish from the province of Yunnan.
Zodiac Noodles
Ingredients:
5 ounces rice noodles
3 teaspoons vegetable oil, divided in teaspoon amounts
8 whole chili peppers 3 ounces pork loin, cut into thin strips 1 teaspoon garlic, minced
1 and 1/2 ounces Yunnan ham (or use a Smithfield or Serrano ham) cut into strips 2 scallions, cut into two- to three-inch pieces
1/4 cup sliced cabbage, cut into thin strips
1/4 cup Chinese black mushrooms, soaked, stems discarded, and cut into strips
1/8 teaspoon salt
2 Tablespoons soy sauce
1 teaspoon oyster sauce
1 teaspoon sugar
1/2 teaspoon sesame oil
Preparation:
1. Soak Vermicelli in very hot water for one hour.
2. Bring a pot of water to the boil, add noodles, boil them for one minute, then drain and rinse under warm water for one minute before draining them well. 2. Mix noodles with one teaspoon of the vegetable oil.
3. Heat a wok or fry pan over high heat, then add the rest of the vegetable oil, then add the chili peppers and the pork, and stir-fry until the pork is almost done.
4. Add the garlic, ham, scallion pieces, cabbage and mushrooms, and stir-fry for ten ot fifteen seconds before adding the drained noodles, salt, soy and oyster sauces, sugar and sesame oil. Stir-fry until all ingredients are mixed well. Then serve.

R & G Lounge in San Francisco has a new menu, too, and quite a few new dishes. On a recent visit there we again enjoyed their food. They were kind enough to give us a menu so that you can see just one page of dishes that can and do tempt their diners, we among them.
The new menu welcomes folk to this twenty-plus lovely Cantonese eatery. It touts and delivers freshness in their dishes. Five of its pages have six photographs each, one such illustrated on this page. It shows how lovely the dishes will look; and they do. They are lovely and cooked to a turn. They are many terrific looking Appetizers, Soups, Low Calorie Recommendations, Clay Pots, Poultry, and Combination Platter sections.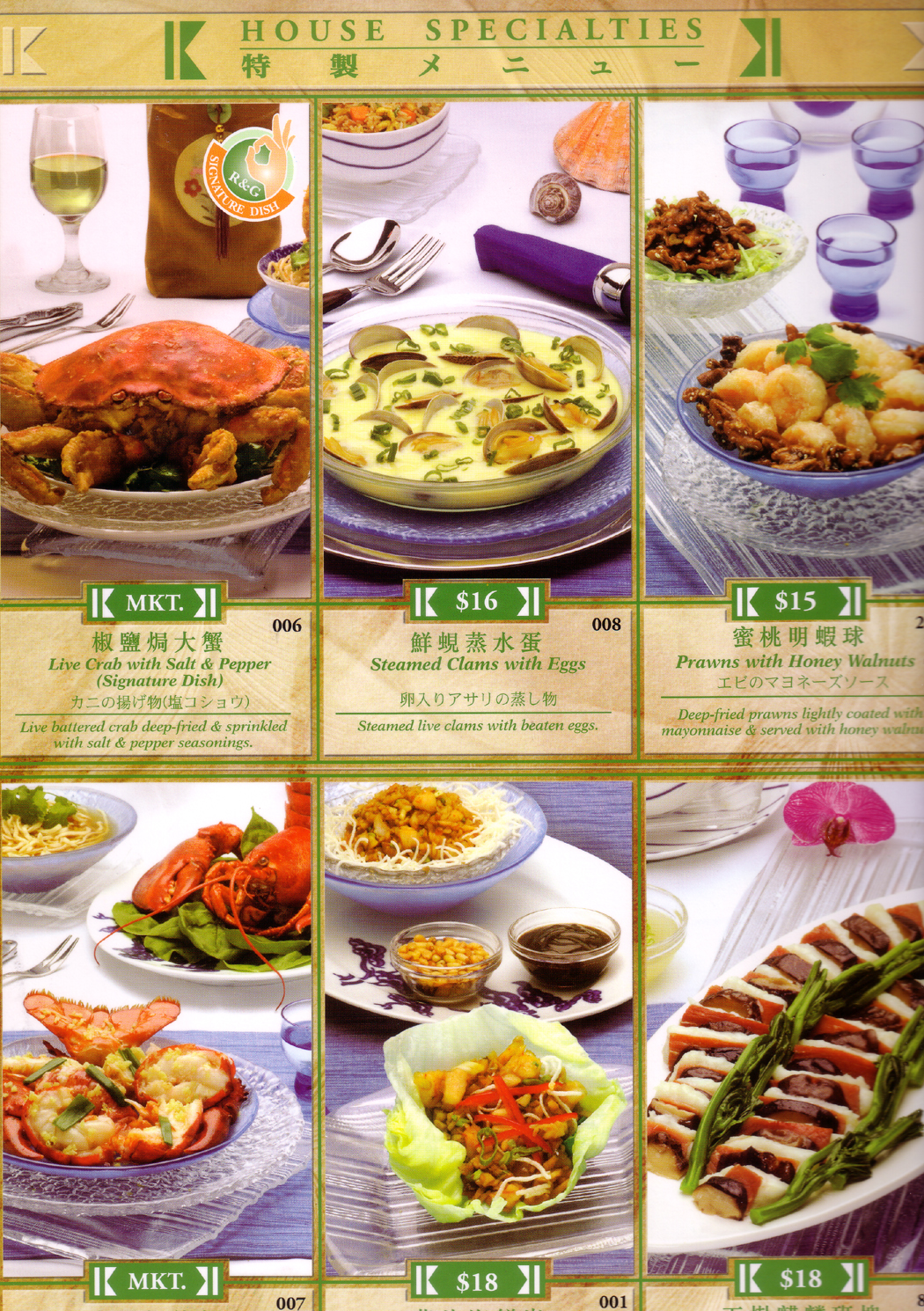 When there, we began imbibing Belfast Sparking Cider with our Live Crab with Salt and Pepper. It is one of their signature dishes; and we devoured it. Information about this very San Francisco beverage is discussed on page 17 of this issue and on our website. The crab comes battered, deep-fried, and delicious; it is succulent and super, cooked to a turn, and it turned on our salivary glands.
The whole Roasted Squab ordered was good, golden, crisp, and captivating. So was the Eggplant with Garlic Sauce that included shredded pork, cloud ear fungi, scallions, and bamboo shoots. We love a green vegetable at every meal and the gailan, on their menu called Tender Greens in Supreme Broth, was very tender and very tasty.
We have touted this lovely eatery before (in Volume 12(3) on pages 27 and 28); it, too is in Restaurant Reviews on this website. The newest menu cries out: Order and eat more of their fine food; and we did. Portions are large, ingredients fresh, and culinary skill makes dishes delectable. The new menu is gorgeous and has to increase business because a beautiful menu does increase a customer's desire to order from it.
Old Mandarin Islamic Restaurant, also in San Francisco, has a new menu. Like other clever restaurant owners, this small place can be proud of its improved menu look. We revisited, and we are glad we did. It became a Top 100 Chinese Restaurant in 2006. They were recognized for their great food; the new menu makes it easier to order as not everyone knows Chinese Beijing-style Islamic food. Now eaters here come for it from near and far. One night we met folk who drove from Palo Alto, and when they arrived the place was full. They were not disappointed because they knew the food was great, and they knew the restaurant has a back room to serve them in. This small local restaurant menu looks better than when we ate there for the review in Volume 12(3) on pages 29 and 30. Only the menu has improved, the food remains 'top of the line.'
On this visit, first on a Monday evening, every table was occupied. We were lucky and had made a reservation. When we arrived we were seated at the last empty table. We loved their Beijing Style Hot Pot we had that night, and adored every item ordered and served with it. The lamb was delicate and delicious, the beancurd fresh and sweet. Tong hao and cabbage were tops, and the fish fillet so fresh it was as if just plucked from the sea. We also loved the Leek Flower Dipping Sauce and the Sweet Garlic Sauce; do order both with you hot pot; they enrich dipping and the final soup. My husband adored everything so much, he garnered a colleague and drove out the twenty plus minutes from our hotel a second time three days later. Unfortunately, I stayed in bed recuperating from a bad cold. I remained jealous that I only ate there once on this western sojourn.
Every section of Old Mandarin's take out menu and the in-house one has color pictures of every type of completed dish. There is a number associated, matching the picture to a specific menu item. No errors of ordering can happen with this item of clarity. This clever notion is one all restaurants might copy as a picture of every dish can be both repetitive and expensive to produce.
Flour foods here remain very special. The Braised Hot Lamb Ribs are still stupendous, and the Boiled Lamb, and the Beef Balls in Warm Pot are as tender and terrific as can be. Mu Shu dishes delight, as do Chef's Specials. Clearly, this 'must eat there on every trip to San Francisco' place has super dishes waiting to be dived into.