Read 6519883 times

Connect me to:

Beyond Beer: The Best Wines to Accompany Chinese Food
Beverages
Spring Volume: 2008 Issue: 15(1) page(s): 13, 22, and 23
---

Years ago, my friends and I would typically order beer with Chinese food. It was and still is a good partner with many Chinese dishes. That was, however, before we learned to love wine. Then everything changed, and we needed to discover what wines go best with Chinese food. Over the years, I have done some research and some experimenting, and I learned a thing or two. Because different people have different tastes. You will probably have to do a little experimenting of your own. Here are some guidelines that should help.
GENERAL PRINCIPLES: When matching any food with wine, there are several basic rules to keep in mind.
1) Similar foods and wines pair well. A delicate dish, for example, demands a delicate, light-bodied wine, and a hearty, rib-warming meal needs a rich, powerful, full-bodied wine.
2) Contrasting foods and wines can also be good partners, although these matches are trickier.
3) Food and wine should complement, rather than overpower, each other. As wine importer Rudi Wiest likes to say, "Whatever is on the plate is already dead. You do not have to kill it again." You do not want a wine that will overwhelm a dish; you want one that will stand up to it.
4) Fiery dishes are best with wines that are low in tannins and alcohol, which fan the flames, and with off-dry (slightly sweet) and sweet wines, which tone them down.
5) In general, the lower the alcohol the sweeter the wine.
6) If beer goes well with a dish, sparkling wine will too.
7) Here is a rule of thumb: the milder the dish the drier the wine; the spicier, the fruitier; the hotter, the sweeter.
But that is not all. There are other things to take into account, like cooking methods. Fried foods, for example, are great with sparkling wines because the bubbles cut through the richness. And then there is seasonality: The wine you choose to accompany roast duck served on a cold winter day should not be the wine you pour with roast duck on a patio. Sauces too play a crucial role in deciding what wine to select, which is especially important in a cuisine like Chinese. In fact, as wine importer Terry Theise advises, you should "match the wine to the sauce, not to the meat. Orange-flavored Beef calls for sweet Riesling, not Châteauneuf-du-Pape."
TAO OF CHINESE MEALS: It is also important to keep in mind two other distinctive things about Chinese food:
1) the frequent combinations of sweet, salty, sour and spicy flavors, which play a great part in determining which wines are appropriate, and
2) the wide array of vegetable, bean curd, seafood, poultry, pork and beef dishes served at the same meal.
Given all these factors, it may be tempting to raise your hands in surrender and say, "I will have a Tsing Tao." But, in a way, these considerations make the choice of wine easy: The best thing to do is to serve the most food-friendly wines.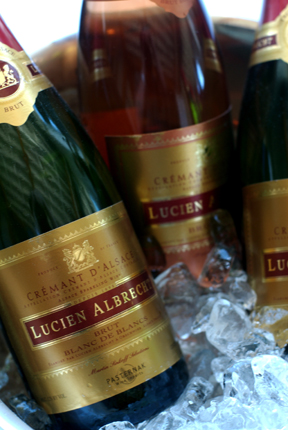 SPARKLING WINES: There are no more versatile wines than sparkling wines. One of their many virtues is that they can be served throughout the meal. While sparkling wine may not necessarily be the best wine for a particular dish, it's usually at worst a good accompaniment--and often much more. Sparkling wine does not have strong flavors or tannins that overwhelm food; its thousands of tiny bubbles do a stellar job of cleansing and refreshing the palate; and its acidity and fruit temper spicy heat in food. Sparkling wines are wonderful with Chinese food. (The Chinese themselves gravitate toward bubbles with meals, although bubbles of a different sort: They often mix carbonated drinks like 7-Up with wine, whiskey or brandy.) These days there are many excellent, inexpensive sparkling wines on the market.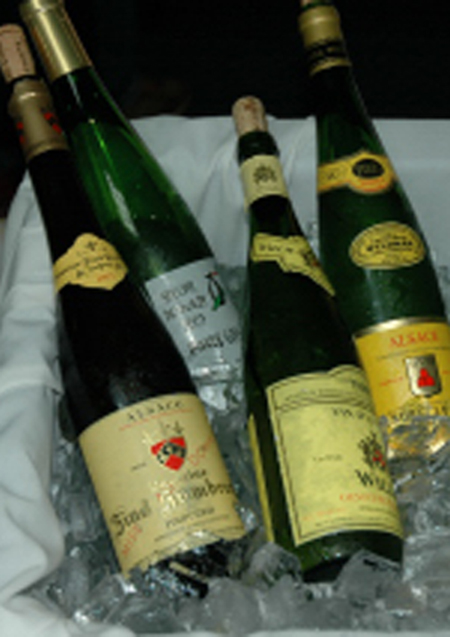 If expense is not a consideration or you are celebrating a special occasion, you might opt for Champagne. As importer Theise says, "Do not forget Champagne! In fact, never forget Champagne." (Actually, I personally would be likelier to forget my own name than to ever forget Champagne!)
Champagnes and some sparkling wines come in several sweetness levels: Brut nature or Extra brut or Ultra brut: bone dry; Brut: no perceptible sweetness; Extra dry: slightly sweet; Sec: noticeable sweetness; Demi sec or Dry: very sweet; Doux: sweetest of all. (Brut is most common.)
ALSACE WINES: After sparkling wines, when eating Chinese, I often turn to Alsace and its food friendly, aromatic white wines. Their fruity flavors and (generally) high acidity cool the palate and complement flavorful, spicy and sweet dishes. Their lack of oak is also a plus. "[Aromatic] white wines excel particularly with cuisines that are challenging for other wines," especially those with some sweetness or hot spiciness, write Mary Ewing-Mulligan and Ed McCarthy in Wine Styles. "Alsace wines in general are great choices when the meal has you wondering what wines could possibly work."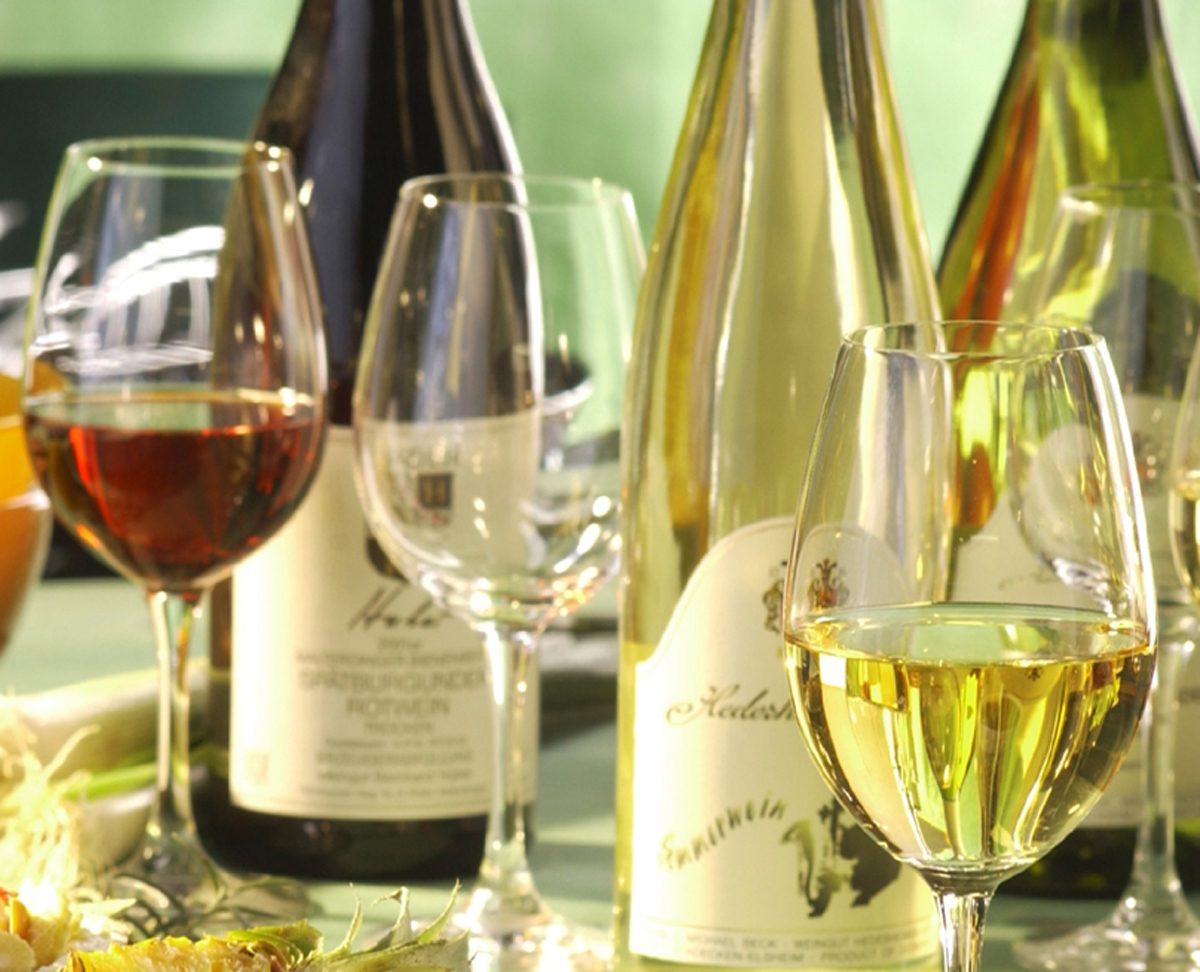 There are several Alsace wines to consider. Riesling is its outstandingly flexible star. (Actually many think it is the greatest and most versatile of all white wines.) Riesling is an excellent choice when you want one wine to serve with many different dishes–from seafood to fowl to meat. It can be fruity, flowery, sometimes minerally, usually crisp, often elegant. Pinot Blanc, sometimes called the poor man's Chardonnay, is a light, crisp, fresh, lively, delicate, all-purpose wine. Pinot Gris is like Chardonnay in weight and texture. It is dry, rich, round, opulent, powerful, complex, sometimes smoky, with lots of fruit flavors. While it has the acidity of a white wine, it is full bodied and can often take the place of a red. Pinot Gris is an excellent choice with very flavorful dishes. Gewürztraminer is extremely expressive and exotic, highly aromatic, with scents of lychees, rose petals and honeysuckle. It is full bodied and sometimes slightly sweet. For these reasons, it's often recommended with spicy cuisines.
GERMAN REISLINGS: Also at the top of the list as accompaniments to Chinese food are German Rieslings. Generally low in alcohol, they have high acidity, which makes them crisp, fresh, zesty and good with food. The sugar in them is balanced by acidity. They can handle the wide range of dishes served at Chinese meals. (Some pair Rieslings with game, like venison, pheasants and wild duck. Others recommend them with braised meat or steak.)
German Rieslings are made in several ripeness levels, which are indicated on the label. The most important styles for our purposes include: Kabinett–light, delicate, refreshing wines from ripe grapes with a touch of sweetness; Spätlese–fuller, more flavorful wines, characterized by high acidity and light sweetness, from grapes picked at least a week after normal ripeness; and Auslese–fuller, riper wines with significant sweetness, made from ripe and overripe grape clusters.
The Kabinetts favor subtly flavored, delicate dishes with light sauces. The Spätlese cut the heat of spicy foods and are also good with dishes with some sweetness. The Ausleses demand aggressively flavored dishes, including those with sweet-and-sour and orange-flavored sauces that benefit from more residual sugar.
OTHER REISLINGS: Austria, New York, Washington, Oregon, parts of California, Australia and New Zealand also produce very good Rieslings. This varietal has at last been regaining popularity as people learn how food friendly it is. According to consumer researcher AC Nielsen, sales rose twenty-four percent by volume in the fity-two-week period ending June 2, 2007.
MORE GOOD OPTIONS: There are several other fine choices. Albariño is the floral, citrusy, sometimes minerally, usually dry white wine that the Spanish drink with all fish and seafood; you might try it with the same. Sauvignon Blanc has herbal elements that pair well with ginger and distinctive herbs like cilantro, aka Chinese parsley. Grüner Veltliner, Austria's dry, high-acid white wine, can also be herbal, slightly vegetal, spicy or fruity, with mineral undertones. It's appropriate with vegetable or shellfish dishes. Off-dry (slightly sweet) Chenin Blancs match well with moderately spicy Chinese food. Pinot Bianco is the Italian version of Pinot Blanc, and Pinot Grigio is the lighter Italian version of Pinot Gris. White Burgundies are elegant and complement elegant dishes. And then there is Viognier, which the Wall Street Journal describes well: "At its best, Viognier can have the cleanliness of Riesling, the juiciness of Sauvignon Blanc and the orange-blossom charm of Muscat. It tends to taste of peaches, apricots and mango, and sometimes has a bit of weight."
Rosé is another food friendly wine that takes to Chinese food. Jeff Morgan, author of Rosé and co-owner of SoloRosa, a rosé-only winery, writes, "Rosé is blessed with a fruit-driven, bright-edged core that blends well with the fiery, ripe fruit found in chiles. Refreshingly chilled, dry, pink wine also cools down the palate." He recommends it with many dishes, but especially with Sichuan cuisine. If you are a red-wine lover, I recommend Pinot Noir with Chinese duck and meat dishes. Some enjoy Beaujolais, Cabernet Franc, Zinfandel, Côtes-du-Rhône, Shiraz and Syrah, Burgundy, inexpensive red Bordeaux, Sangiovese and Barbera.
I invite you to experiment, if you have not already, and to seek the guidance available at a good wine shop. Chances are, you will find many pairings that appeal to you. And if not, remember, there is always Tsing Tao.
SOME WINE PAIRINGS:
Cantonese food has some sweetness, is not very spicy, has many dishes that are sweet-and-sour, uses fermented black beans and/or soy sauce and is salty. Try sparkling, Pinot Blanc or Riesling (especially for seafood), Pinot Gris, Chenin Blanc, Sauvignon Blanc, Gewürztraminer with roasted meats and poultry, and rosé.
Sichuan foods are spicy, use hot-and-sour sauces, soy sauce, sesame oil, ginger and garlic. Pair with sparkling wine, Pinot Blanc, Riesling, Pinot Gris, Gewürztraminer, Moscato d'Asti, rosé and Beaujolais.
Hunan foods go well with sparkling wines, Riesling, Gewürztraminer and Beaujolais.
Shanghainese foods partner well with Pinot Gris and Gewürztraminer.

Food and wine combinations to try:
Barbecued Spare Ribs: sparkling wine, Riesling, Gewürztraminer, Albariño, rosé
Chicken with Cashews: Gewürztraminer
Chicken Chow Mein: sparkling wine
Deep-fried dishes: sparkling wine
Dim Sum: sparkling wine, Riesling
General Tso's Chicken: Riesling, Gewürztraminer, Pinot Blanc, rosé
Hot Pepper Prawns: sparkling wine, Viognier
Kung Pao Chicken: Riesling, Gewürztraminer, Albariño
Lobster Cantonese: white Burgundy
Lobster with Ginger and Scallion Sauce: white Burgundy
Minced Squab with Hoisin Sauce: Zinfandel
Mu Shu Chicken: sparkling wine, Pinot Noir
Mu Shu Pork: Chenin Blanc, Riesling, Gewürztraminer, rosé
Noodles with Sesame Sauce: Gewürztraminer
Orange-flavor Beef: Riesling
Peking Duck: Pinot Gris, Riesling, Gewürztraminer, Pinot Noir
Roast Duck: Pinot Noir
Salt-and-pepper Shrimp, Salt-and-pepper Squid: sparkling wine
Sesame Chicken: Pinot Grigio, Riesling
Shellfish dishes: sparkling wine, Pinot Blanc, Riesling, Albariño
Singapore-style Noodles: Sauvignon blanc, rosé
Soup Dumplings: sparkling wine
Spring Rolls and Egg Rolls: sparkling wine, Pinot Blanc, Pinot Gris, rosé
Stir-fry Chicken and Vegetables: Riesling, Sauvignon Blanc, Gewürztraminer
Sweet and Sour Pork: Pinot Blanc, Riesling, Gewürztraminer, rosé
Tea-smoked Duck: Pinot Noir
Twice-cooked Pork: sparkling wine, Riesling, Chenin Blanc, Albariño, Pinot Noir

I recommend the following producers for sparkling wines: Lucien Albrecht, Astoria, Domaine Chandon, Freixenet, Hill of Content (red), Joseph (red), Albert Mann, Mionetto, François Montand, René Muré, Nino Franco, Saint-Hilaire, Segura Viudas, Pierre Sparr, Veuve du Vernay, Willm, Yarden and Zardetto. For Champagne she suggests Chartogne-Taillet, Gaston Chiquet, René Geoffroy, Mark Hebrant, Krug, Jean Lallement, Dom Pérignon, Pol Roger, Moët & Chandon, Taittinger and Veuve Clicquot. She likes Alsace wines from Lucien Albrecht, Paul Blanck, Léon Boesch, Albert Boxler, Marcel Deiss, Hugel, Josmeyer, Marc Kreydenweiss, Kuentz-Bas, Albert Mann, René Muré, Ostertag, Stoeffler, Schofitt, Trimbach, Weinbach and Zind-Humbrecht. And she recommends German Rieslings from Georg Breuer, J.J. Christoffel, Darting, Dönnhoff, J.u.H.A. Strub, Kerpen, Meulenhof, Monchhof (Robert Eymael), J.J. Prüm, Schaefer, Selbach-Oster, Two Princes, St.-Urbans-Hof, Von Schubert, Robert Weil and Zilliken. For other Rieslings she relies on Chateau Ste. Michelle, Covey Run, Eroica, Dr. Konstantin Frank, Hogue, McWilliams, Navarro, Pikes, Salmon Run, Swedish Hill and Hermann Weimer.
_____
Sharon Kapnick has written about food and wine for many magazines, including Time and Food & Wine, and for many newspapers, thanks to the New York Times Syndicate. She won an APEX award for excellence for the story "What's for Breakfast," published by Hemispheres. She contributed to The Oxford Companion to American Food and Drink. Although she has a bachelor's degree from the University of Chicago and a master's from Boston University, the 'degree' she cherishes most is the Sommelier Certificate she earned atop the World Trade Center from the Sommelier Society of America.
_____
The editor of Flavor and Foprtune would like to thank the Alsace Wine Bureau and Wines of Germany for pictures used in this article, some cropped to elimnate foods the Chinese usually do not eat, such as cheese. She also advises that this story, in a somewhat similar version, was posted on www.seniorwomen.com